Fish stock is a traditional recipe that makes an impressive base for soups, chowders, and a number of sauces. This easy fish stock recipe is the quickest of all the types of bone broth but many people never try to make it themselves. This might be because it appears complicated or undesirable, but I'm here to say a homemade fish stock is worth making at least once in your life!
Fish stock only takes 30 minutes on the stovetop and is a resourceful way to use all parts of the animal. It is very satisfying to not let anything go to waste while at the same time, nourishing yourself with healthy unprocessed foods.
Table of Contents (click to view)
What is Fish Stock?
The term "fish stock" refers to the water left over after simmering fish bones, meat scraps, and heads with aromatic vegetables and herbs for just 30 minutes.
The result is light in color, yet full in flavor. This liquid is most popular in French and Asian cuisine.
The French "fumet" might be the most well-known fish stock. Only the frames (bones) are selected and they are simmered briefly to reduce and concentrate the liquid.
It's also possible to make Fish Bone Broth. The procedure is fairly simple and uses the same ingredients as my Carnivore Diet Bone Broth recipe but exchanges beef bones for fish bones instead.
Flavored with a handful of aromatic herbs and ingredients, this broth is an essential ingredient to many low-carb holiday seafood recipes.
How to Replace Fish Stock
In a pinch, chicken or vegetable stock will replace fish stock in many recipes. I usually have beef bone broth in the freezer (Slow Cooker Beef Bone Broth is great for meal prep) and use that as a substitute when needed.
Fish sauce is another viable substitute. Dilute 1 teaspoon of fish sauce in a cup of water or vegetable stock. Then proceed with the recipe. Fish sauce has a very concentrated flavor so you just need a small amount.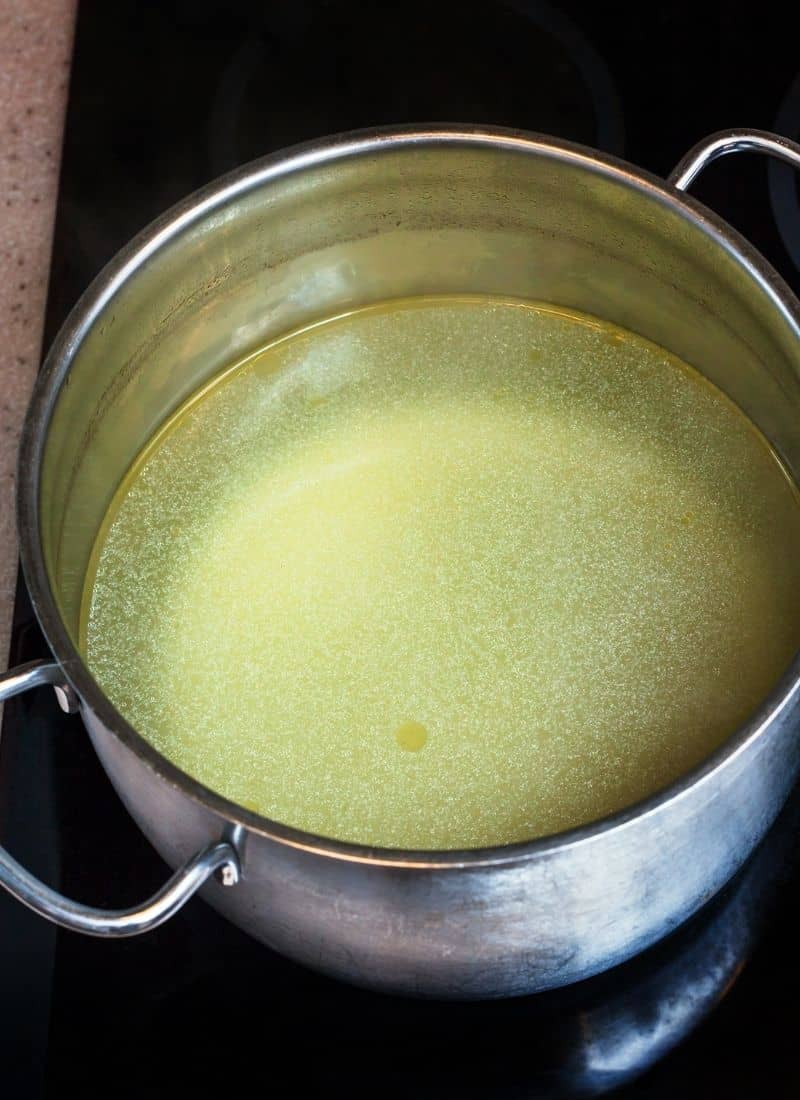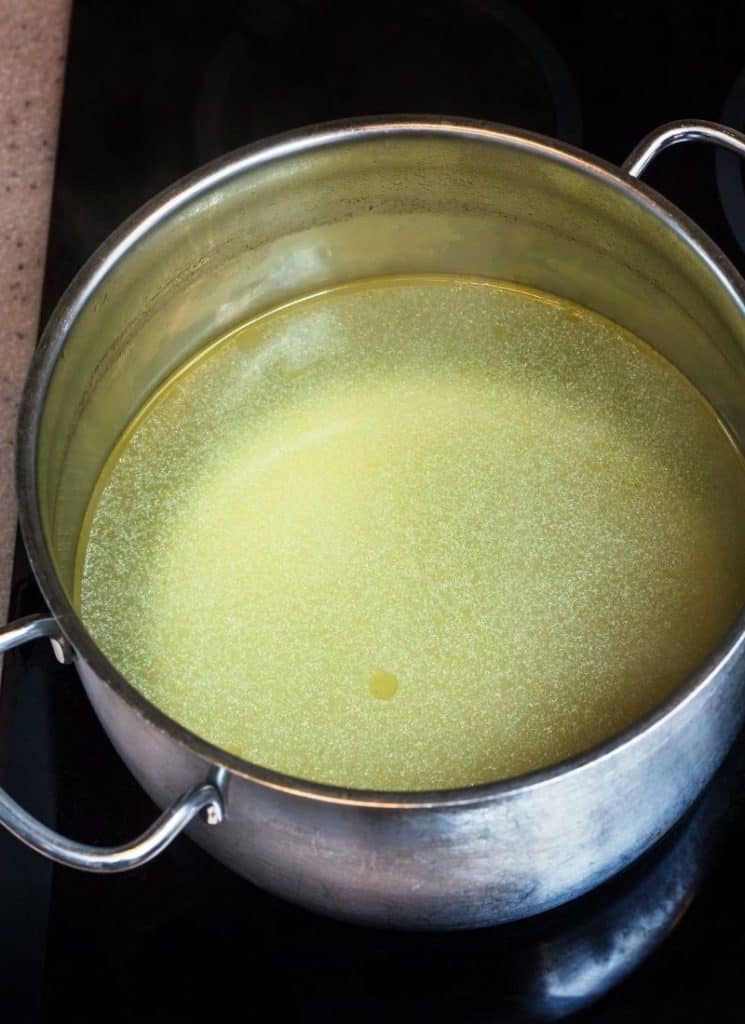 Is Fish Stock Healthy?
Is fish stock healthy or just a weird culinary technique that sounds impressively brave and totally foreign to most modern day zoomers?
By now, I have enough of my own experience healing nutritional deficiencies and remineralizing teeth to know the importance of animal foods. If you have any doubt, read these ex-vegan stories and you're sure to change your mind.
Some of the most culturally rejected ingredients, like organ meats, provide the most nutrient density ounce for ounce when compared to other foods. There is a myriad of organ meat benefits and once you figure out how to cook organ meat you'll soon learn how easy and delicious they are!
It's no secret that homemade meals cooked from scratch are going to be healthier than store-bought options.
Since this recipe is made entirely from organic, unprocessed whole food ingredients, it's a great choice for any health-focused diet including the keto diet, carnivore diet, paleo, whole30, and other wellness styles.
I'd say in addition to the potential health benefits of fish broth, it's also extremely economical. You can reduce food waste with the frugal choice of simmering the bones with low carb vegetables and aromatic herbs and get an awesome result! Consider making fish broth whenever you want to eat fish on the cheap.
Fish stock is healthy for your body and wallet!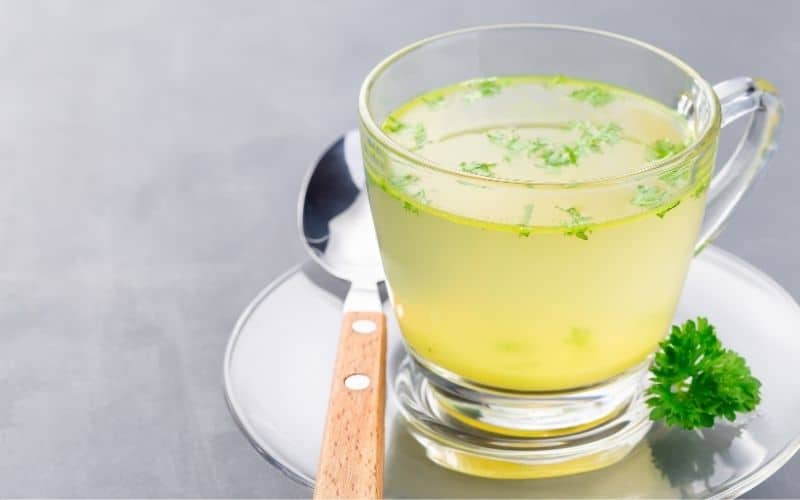 Fish Broth Benefits
Four thousand years ago, Chinese doctors rejuvenated aging patients with a soup made from the thyroid glands of animals. According to ancient texts, this treatment helped patients feel younger, gave them more energy, and often restored mental abilities. (1)
Many traditions claim that fish head broth contributes to virility since it is such a quality source of iodine. When you use whole fish heads, the thyroid glands go into the pot as well. This adds thyroid hormone to the stock and will, in turn, nourish our own thyroid. (2)
This has yet to be studied in any in-depth capacity although we can note that the 2007 Norwegian Hordaland Health Study on cognitive performance among the elderly in relation to dietary fish intake clearly demonstrates a "diet high in fish and fish products is associated with better cognitive performance…"
They observe "Nonusers had a somewhat poorer health status. The prevalence of several diseases was significantly higher among those who did not eat fish and fish products than among those who did." (3)
Animal foods are highly bioavailable sources of nutrition. Fish stock is no exception. It is rich in iodine, calcium, magnesium, phosphorous, silicon, and sulfur.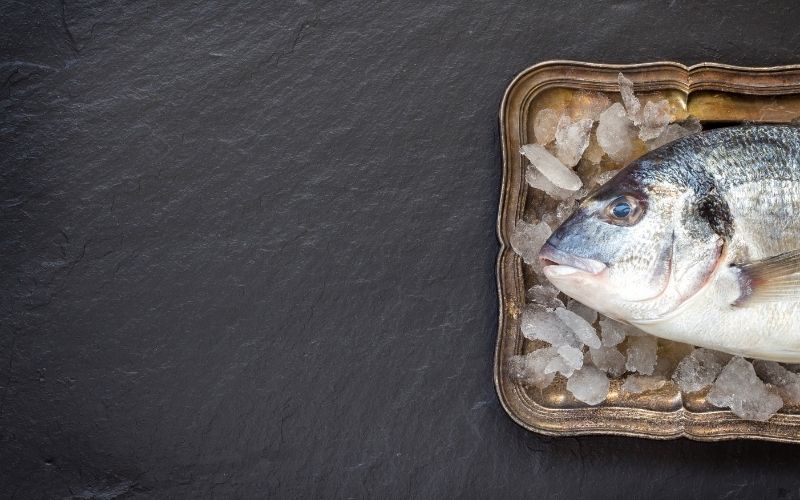 Fish Stock & Iodine
Iodine is an essential nutrient for proper thyroid function. It is not naturally synthesized in the body and therefore, must be included dietarily.
Approximately 30% of people worldwide are at risk of iodine deficiency. (4)
Iodine deficiency (5) includes:
Fatigue
Weight gain
Trouble tolerating cold
Join and muscle pain
Constipation
Frequent colds and flu
Inability to concentrate
Thinning hair
Depression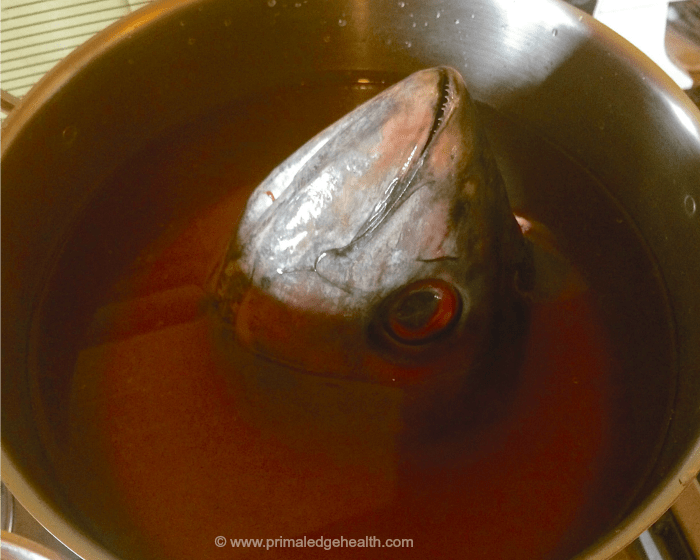 How Do You Make Fish Stock From Scratch?
Making fish stock from scratch is super easy!
It is the simplest stock to make because the cooking time is short and there is no pre-roasting required.
With less than 10 ingredients and just 30 minutes of simmering, you can make a delicious savory stock in your own kitchen.
There's nothing to be intimidated about!
The best fish bones to use are from lean white fish rather than an oily fish like salmon, mackerel, or tuna. These can be used but be aware that the broth becomes very strongly flavored and is only suitable for those fish-specific recipes. For example, salmon stock makes an unbelievably perfect salmon chowder but not much else.
So make the most of your effort here and pick a white fish:
Bass
Cod
Flatfish
Stripers
Pacific rockfish
Lingcod
Halibut
Flounder
Sole
Turbot
Snapper
Walleye
Perch
Tilefish
Porgies
Redfish
Sea trout
Bluegills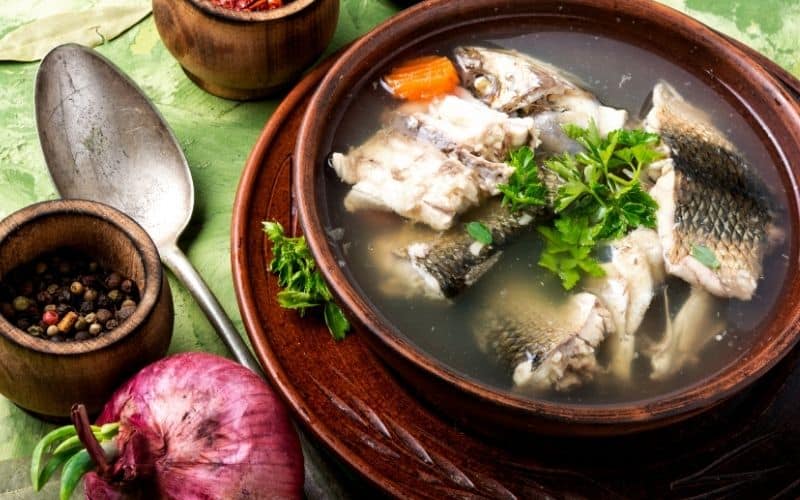 It's actually easy to get fish bones. Just visit any local fishmonger and ask for a few pounds. They will be very cheap, if not free!
Take advantage of your location if you live near the coast or freshwater source of fish. Visit the fish market and pick up material from the freshest catch.
Do make sure the bones are cleaned and don't have any blood or gills. If these parts are added to the stock and simmered, it will be bitter and cloudy.
The heads are the best parts so don't shy away from the opportunity to use them.
Run the material under cold tap water to thoroughly clean and remove the slime from is not already done for you.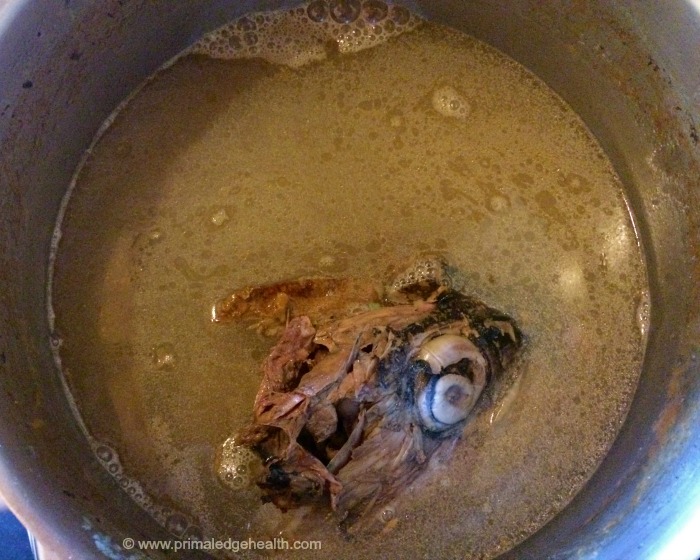 How to Prepare Fish Stock
I am happy to report this easy fish stock recipe is enjoyable to make and delicious to eat! It does not smell offensively fishy while cooking or leave any unpleasant odors lingering in the air afterward.
Begin by warming the butter and sautéing the onion in a heavy bottomed stockpot until translucent.
Next, add all the remaining ingredients and cover the material with 2-inches of water.
Bring it to a simmer, then reduce the heat until the liquid just lightly simmers. Maintain this temperature for 30 minutes. Skim off any foam or scum that rises to the top.
Strain the stock through a fine mesh strainer or line a bowl with a cheesecloth and pour the contents through it.
Pick the meat away from the bones and save it to add in your soup later. The meat will save in the fridge or freezer, so you can use it in a soup or salad later.
The stock is best used immediately. If you're not going to get to it right away, store it in the fridge in jars or an airtight container. It will stay good for up to a week in the fridge. Transfer to freezer-safe containers and keep in the freezer for long-term storage.
Since it is so quick to make, you might consider making a big batch every once in a while and stockpiling your freezer.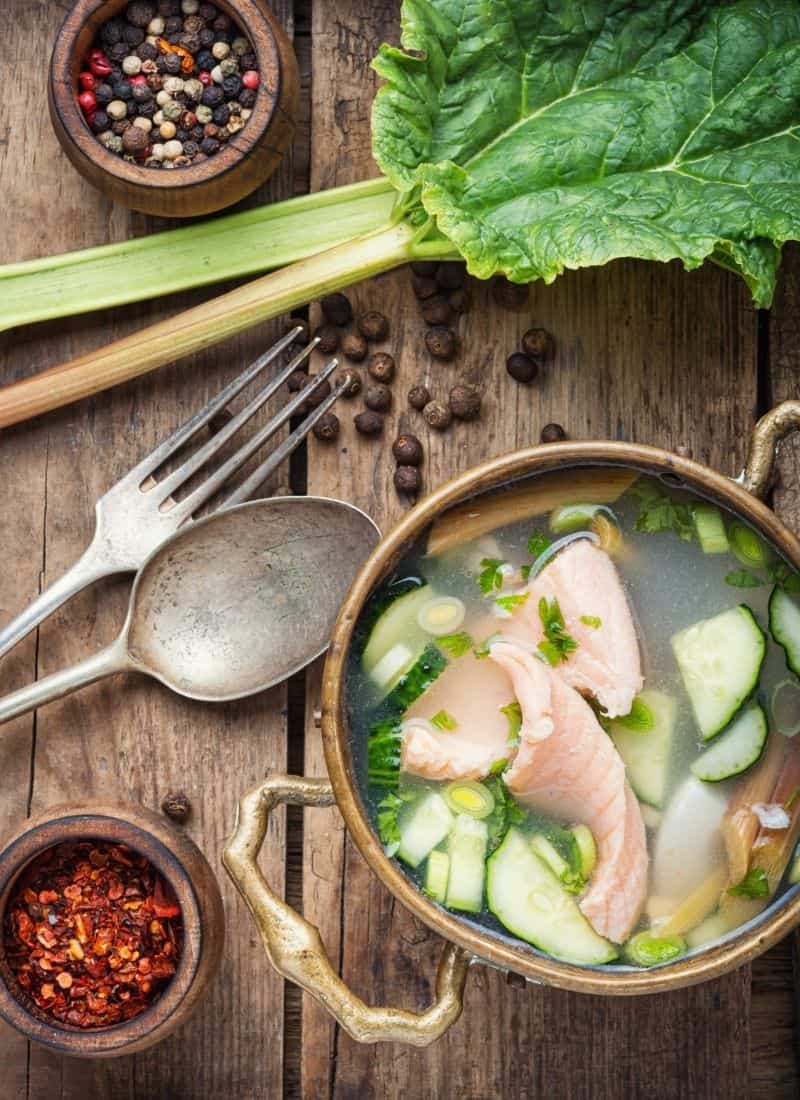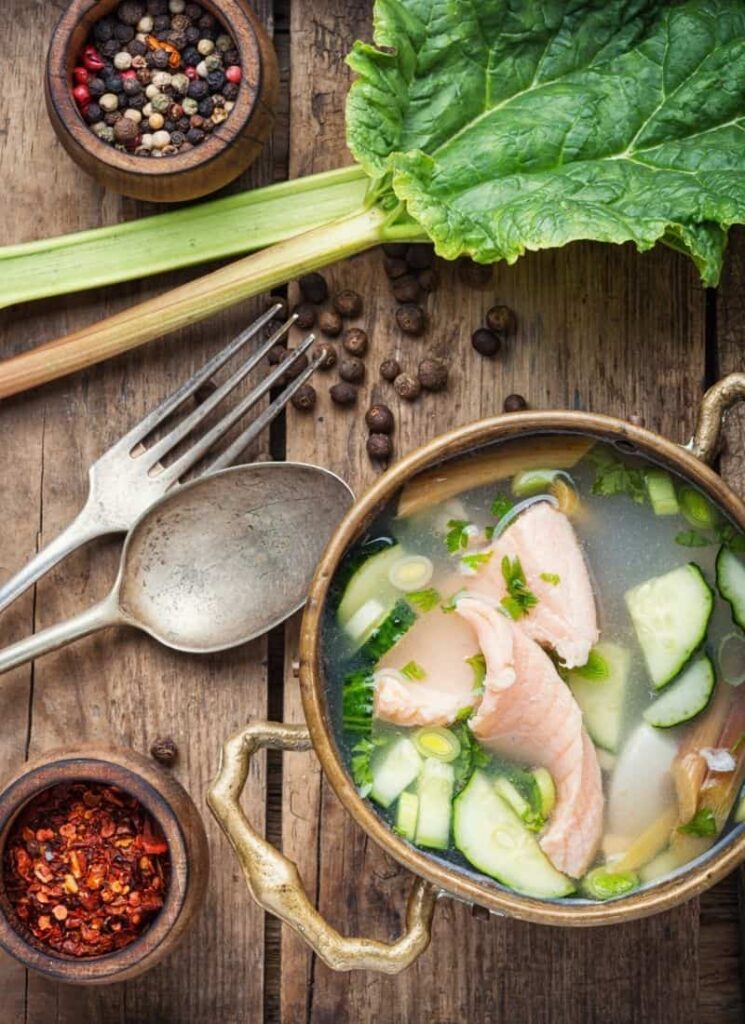 What Can I Use Fish Stock For?
A quality fish stock will take any seafood dish to the next level. It's the perfect ingredient to add to chowders, bisques, stews, and sauces.
You can even drink it hot like tea! It's delicious with dulse flakes. Seaweed is another traditional food that's worth keeping around and adding in whenever possible.
What Recipes Can Fish Stock Be Used In?
I'm so glad you ask! I was wondering the same thing so I asked some other bloggers for their favorite recipes with homemade fish stock and these are the ideas we came up with together.
The Best Recipes with Fish Stock
Cioppino (Seafood Stew)
She Crab Soup (South Carolina Carb Bisque)
Lobster Bisque
Maryland Crab Soup
Bouillabaisse
Seafood paellas
Kedgeree
There are more fish stock uses than just adding it into keto soups.
If you have a small amount of fish stock leftover, use it to reheat vegetables or share it with your dog or cat so they can get the benefits too!
Many sauces use fish broth as a base. It is essential for a fish velouté that will take your fish pie to the next level. Fish velouté is a "mother sauce" that acts as the base for multiple "daughter sauces" like Bercy and Normande.
You can reduce the fish broth to a demi-glace or full glace. As it reduces, the flavor concentrates and the liquid naturally thickens.
One more use for fish stock is making a simple pan sauce. Whisk in chilled butter to hot stock, squeeze in lemon juice, and season with fresh herbs like thyme or parsley.
With all these ideas, I think you'll be busy for a while!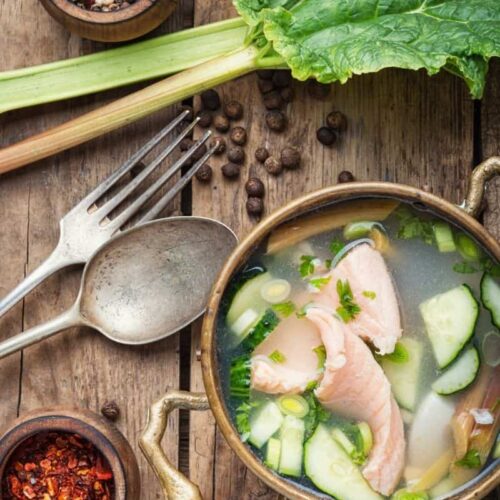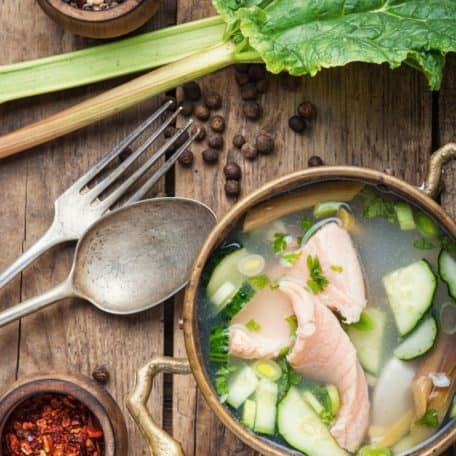 Easy Fish Stock Recipe
Use this Easy Fish Stock recipe to add depth of flavor to your fish dishes or sip on like tea. You only need to simmer less than 10 ingredients together for 30 minutes in order to make a delicious and affordable broth!
Instructions
Heat the butter in a stockpot. Sauté the onions for

5-7 minutes

, until slightly translucent. 

2 tablespoons butter,

1 medium onion

Add the white wine and all remaining ingredients. Submerge all contents with water by 2-inches.

½ cup dry white wine,

¼ cup parsley,

6 sprigs thyme,

4 whole whole black peppercorn,

1 bay leaf,

4 pounds fishbones

Bring water to a simmer, then reduce it to a very light simmer. Cook over this heat for

30 minutes

. Skim off any foam or scum that rises to the surface.

Strain the stock through a fine-mesh strainer or cheesecloth.

Best served or used immediately. It will keep well in the fridge for up to a week. Transfer to freezer-safe containers for long-term storage and save in the freezer for up to 3 months.
Notes
Makes approximately 2 quarts (8 cups).
Nutrition & Macros
Serving:
1
cup
Calories:
46
kcal
Carbohydrates:
2
g
Protein:
1
g
Fat:
3
g
Saturated Fat:
2
g
Sodium:
28
mg
Fiber:
1
g
Net Carbohydrates:
1
g
To obtain the most accurate representation of the nutritional information in a given recipe, please calculate the nutritional information with the actual ingredients and amounts used, using your preferred nutrition calculator. Under no circumstances shall the this website and the author be responsible for any loss or damage resulting for your reliance on the given nutritional information.
Made this? Leave a Rating! ⭐⭐⭐⭐⭐
Tag a photo with @Primal_Mom and #PEHRecipe on Instagram to share with us!
Originally published April 3, 2015, this post was updated with new images and information on Oct 21, 2020.
As featured on MeatRX.
Save