Sip on a warm cup of broth, use it to braise veggies or as a base of soups. Whatever your pleasure, broth can have a valued place in your monthly or weekly food prep planning. Learn how to make bone broth with grass-fed beef bones in your own kitchen with just a few simple steps.
We've been drinking broth for years and years and love seeing the popularity and appreciate for broth grow. Broth is recommended it for its many benefits, from boosting gut health and fighting inflammation to providing a dose nutrients like magnesium, potassium, calcium, amino acids, and collage.
Recommended Reading: Your Guide to Bone Broth
Think about the most mineralizing tea ever made, loaded with amino acids like glycine and proline…you don't have to imagine, you can make it right now!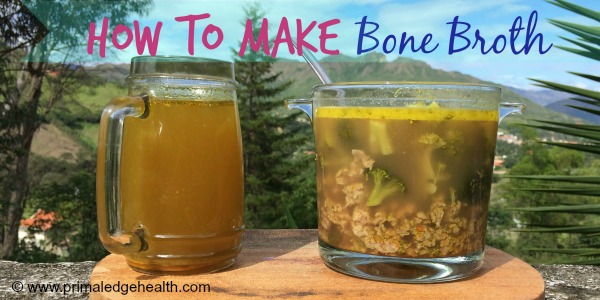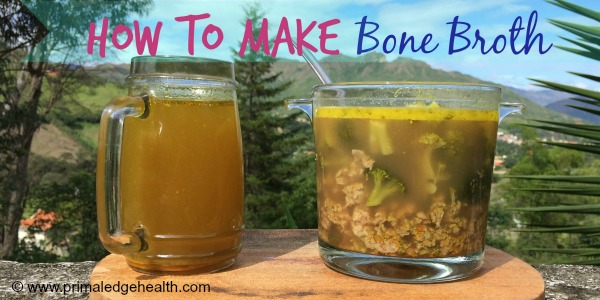 "Brotheries" are popping up in many cities. Pass on the Starbucks drive through and head over to a local food cart or small cafe to pick up a hot cup. Many people are sipping on warm chicken and beef broths in to-go ups, incognito. Brodo is an example, of a small business making big change. If you are in New York, I suggest you pay them a visit! I have the Brodo cookbook, it's a complete guide to all you'll want to know about broths. They suggest flavor add-ins like fresh grated turmeric, roasted garlic paste or coconut milk to kick it up a notch.
Lean How To Make Bone Broth (with Grass-fed Beef)
Endless Broth…
Does the idea of endless broth and soft, easy to add into every meal slow-cooked meat make you start drooling? Keep your keyboard clean and read my recipe for "Endless" Homemade Bone Broth. The last step in the recipe is your key to making a never ending supply of rich, mineral and electrolyte rich bone broth.
Stove Top vs Crock Pot
Choose your favorite way to make a golden pot of broth. If you like your crock pot and leave the house a lot, you might want to make my crock pot bone broth recipe. If your kitchen counter space is too precious to commit to employing the assistance of a crock pot (like mine!), go ahead and learn how to make bone broth on the stove top. Scroll down a bit more, you're almost to the recipe.
Use it up!
You've made your first batch – congratulations! Now what are you going to do with it? How about a simple Low-Carb Egg Drop Soup or Creamy Avocado Bone Broth Soup? Any of these 8 Keto Chicken Soups will warm you up and may help recover from any under the weather symptoms. Pan-friend Paleo Burgers with onion pan sauce aren't too bad either.
How to Make Bone Broth
What you need:
6 pounds of bones
1/4 cup acidic cooking liquid
Now let's get down to the details:
BONES Ideally you want a mixture of meaty bones, marrow bones, and knuckle bones as they provide a nice selection of marrow, cartilage, sinew, and connective tissue. If you can get a foot, have the butcher cut it into smaller 2-3 inch sections and throw that in as well.
ACIDIC MEDIUM The purpose here is to add something to your bones that will leach out the minerals. Raw organic apple cider vinegar, lemon or lime juice are all appropriate choices.
GRASS-FED vs CONVENTIONAL Always source local grass-fed beef produce whenever possible. Check out the online directory, EatWild, to connect with local farmers and livestock ranchers. If your area doesn't offer much, US Wellness (affiliate link) is an online distributor of grass-fed products, they ship frozen items all over the country.
Source Grass-Fed Bones and Beef from US Wellness
What to do:
Put marrow, knuckle, and optional calf's foot into a large stockpot. Cover by at least 1-inch with clean, filtered water.
Dry roast meaty bones at 350* for about 20 minutes until lightly golden brown. This step is optional, used mostly to enhance the flavor of the broth. Add the bones to the stockpot once they are cool enough to touch.
Pour in the acidic liquid of your choice. Double check the water level, make sure all material is covered. Place the lid on your pot, I keep mine cracked a bit to maintain the right temperature.
Heat your water and bones over low heat. You'll be infusing your water over low heat for a long time. Cook for at least 24 and up to 72 hours. If this is your first time making a big pot of broth, keep your eye on the pot to make sure the temperature does not rise to a boil and your water doesn't evaporate too quickly. I usually start a pot in the morning, add more water at night before going to bed and then turn it off the next morning.
If you want to add herbs or vegetables like carrot, celery, and onion for flavor, chop the ingredients in to largish parts and toss them in during the last two hours of cook time. This step is optional. If you like the flavor go for it, it not, no pasa nada.
Let your broth cool a little, then skim the top off. Sometimes a fine layer of crust forms, if you see that remove it with a spoon. Strain the broth and optional veggies through a cheese cloth or fine mesh strainer. Store in the refrigerator for up to 5 days, freeze for longer. Once broths cool, a layer of tallow (the fat) forms. You can scoop this out and use it in cooking. It is especially good for high heat and fried recipes. Dogs love it too.
Interested…but not quite ready to make it yourself?
You can stock you pantry with high-quality beef and chicken broths made from 100% organic ingredients. Kettle and Fire makes the only shelf-stable bone broth without a bunch of preservatives and stabling agents. I thought it was too good to be true, until I tried their broth myself! They are the real deal 🙂 Try Kettle and Fire Broth before you take a swing yourself.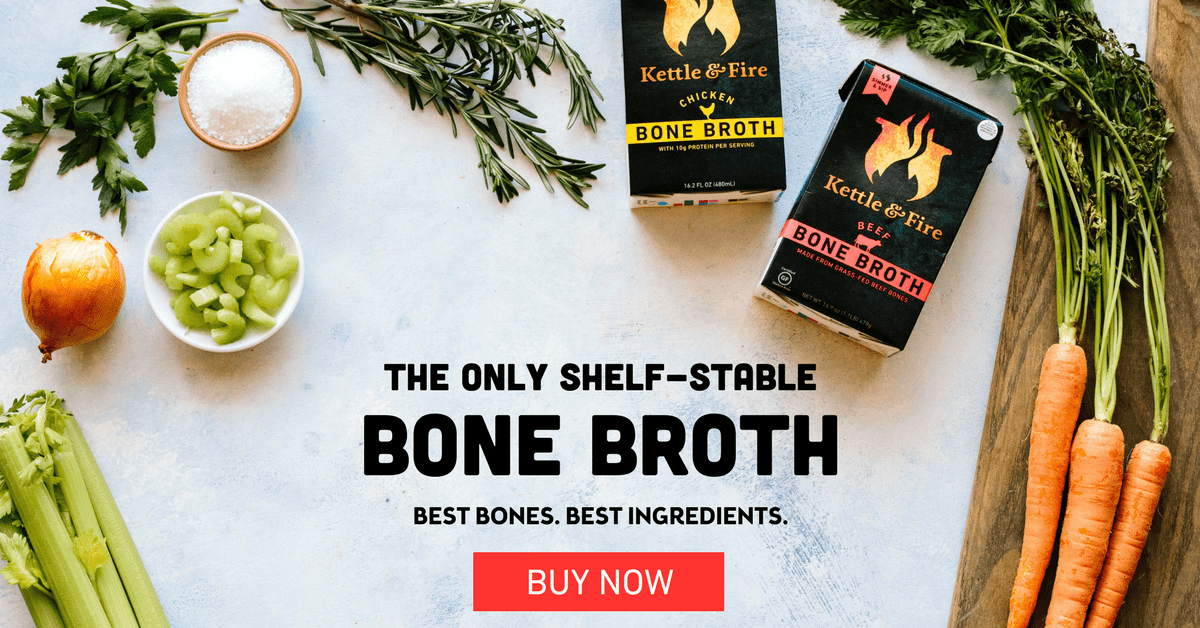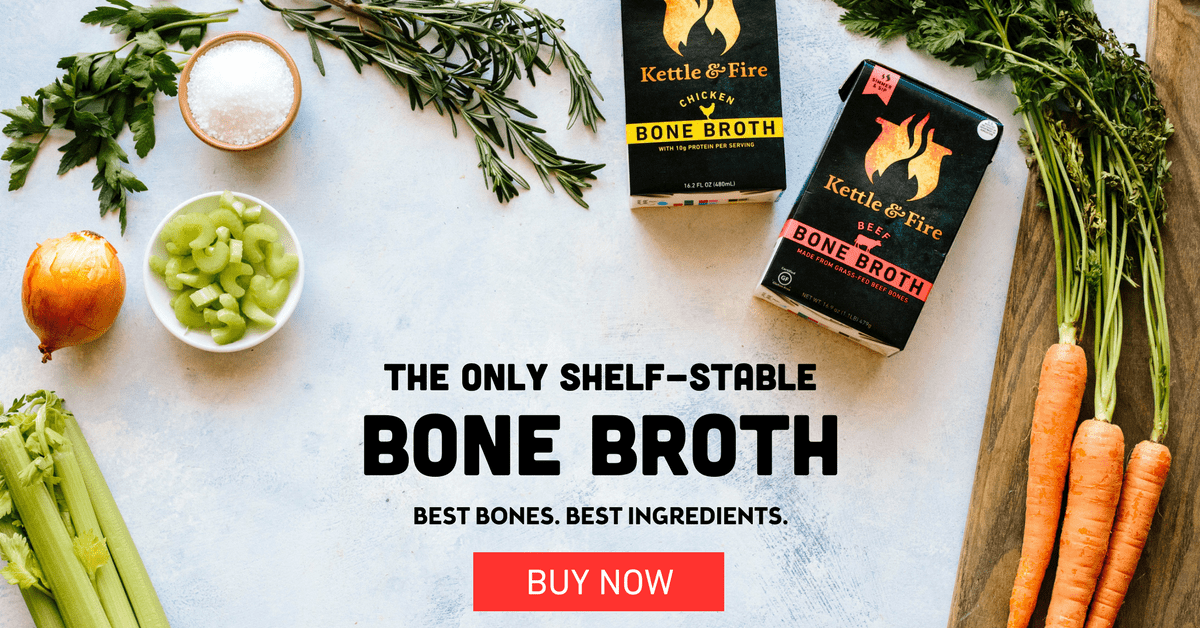 Enjoy maximizing nutrient density in your daily diet?

It is a great kitchen resource and inspiration for low-carb, ketogenic, and paleo cuisine!
Available only in our shop – come and support our work!
Check out the free preview here.