Follow this ultra-simple carnivore diet bone broth recipe so you can add nourishing broth into your monthly food prep routine and get all the benefits of pure animal foods without any potential irritants from plant-based ingredients or fibrous foods.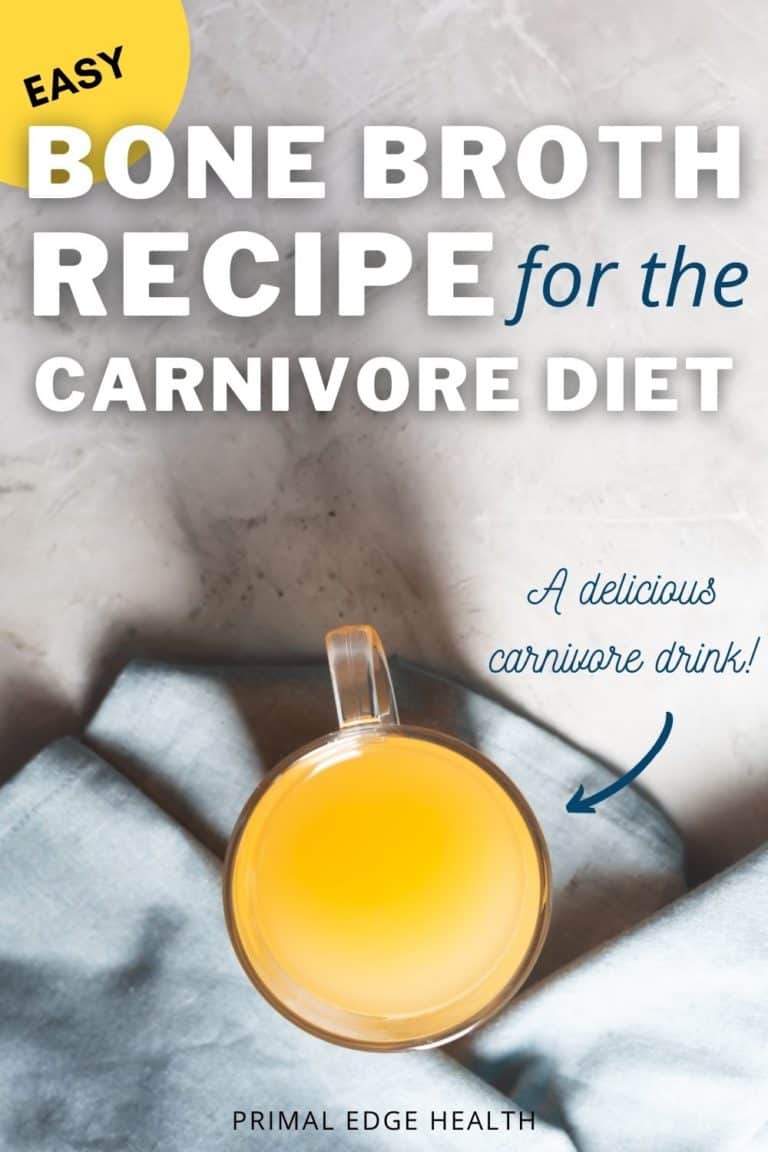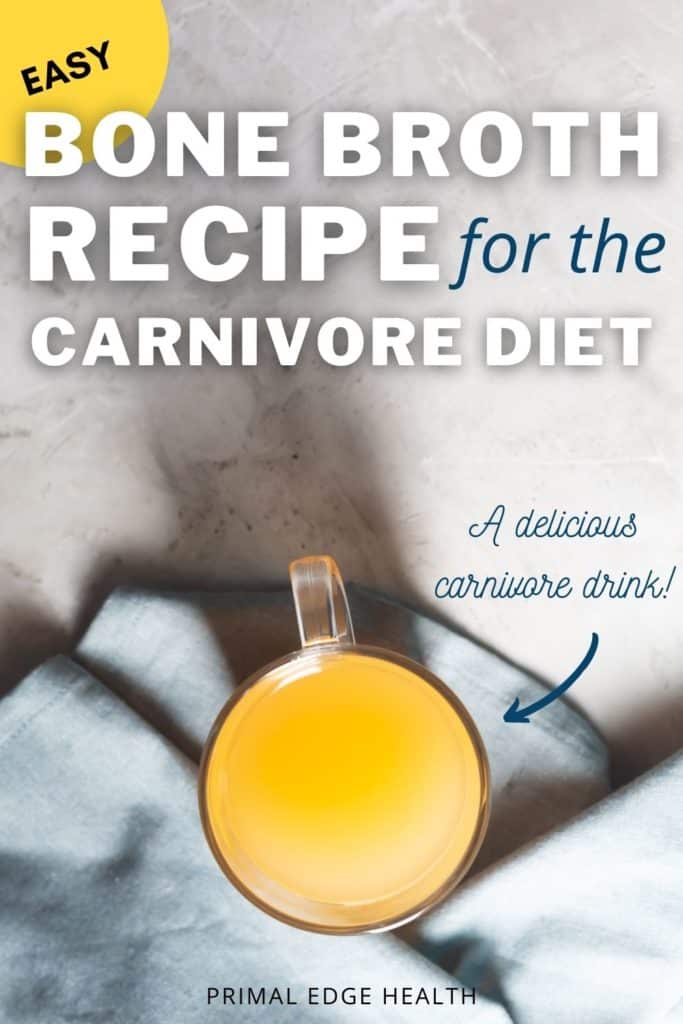 Table of Contents (click to view)
Is Bone Broth Allowed on Carnivore Diet?
Bone broth is an easy carnivore diet recipe that is warm and comforting any time of the year.
A carnivore diet, in the purest form, consists of nothing but animal foods.
Recipes like my Traditional Homemade Bone Broth Recipe and Slow Cooker Beef Bone Broth, usually use some added plant-based ingredients such as onion, garlic, celery, and aromatic herbs like rosemary and thyme for flavor.
Omitting those ingredients is easy, just leave them out!
The basic process of making broth doesn't change much.
Bone broth is a delicious drink while on a carnivore diet.
There are different ways to use bone broth on a carnivore diet:
If you're wondering what else to eat on a carnivore diet, we have lots of resources for you and can walk you through a nice and easy transition.
Can I Eat Bone Broth While Fasting?
By definition, fasting is "voluntarily not eating food for varying lengths of time". (1)
Various medical therapies employ the practice of fasting because it has a wide range of potential benefits (2). Many spiritual practices also incorporating fasting into their rites.
Personally I have found fasting to be a useful tool to decrease inflammation (3) and lose weight (4).
Setting the purpose aside, the main point to note is that fasting means the absence of food.
If you want to fast, fast for real.
Drink water, have a pinch of salt if needed. Then, use broth to break your fast as desired.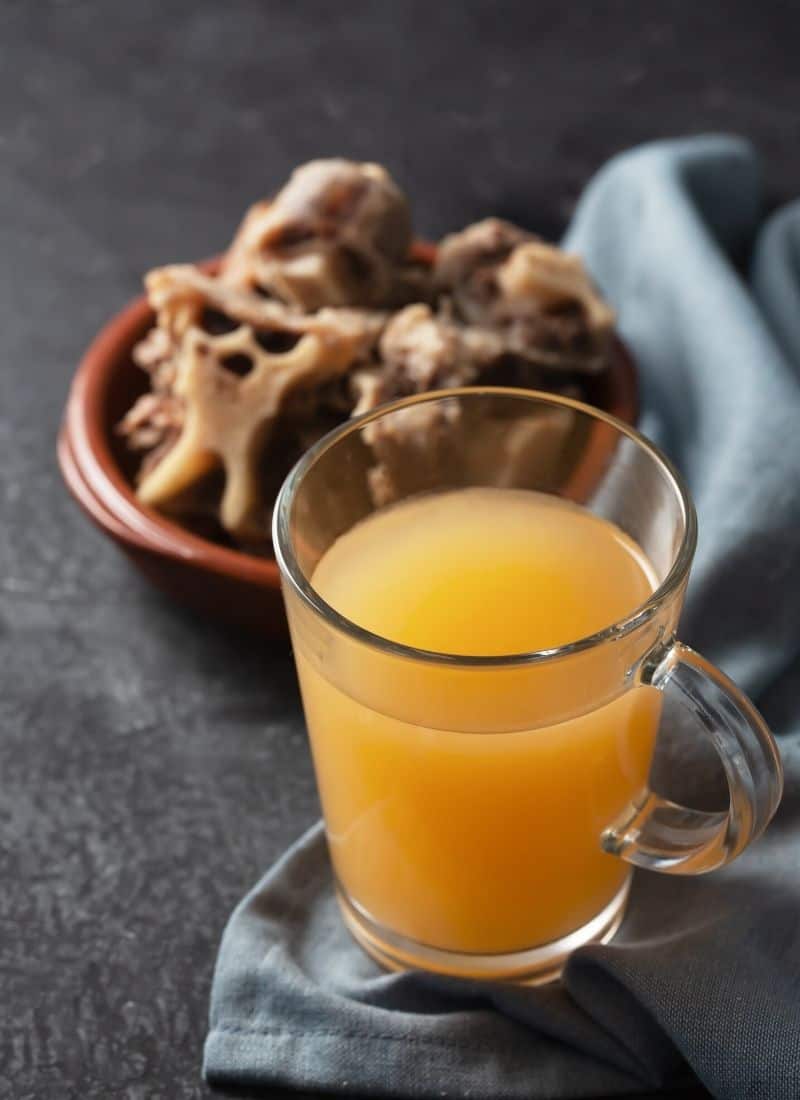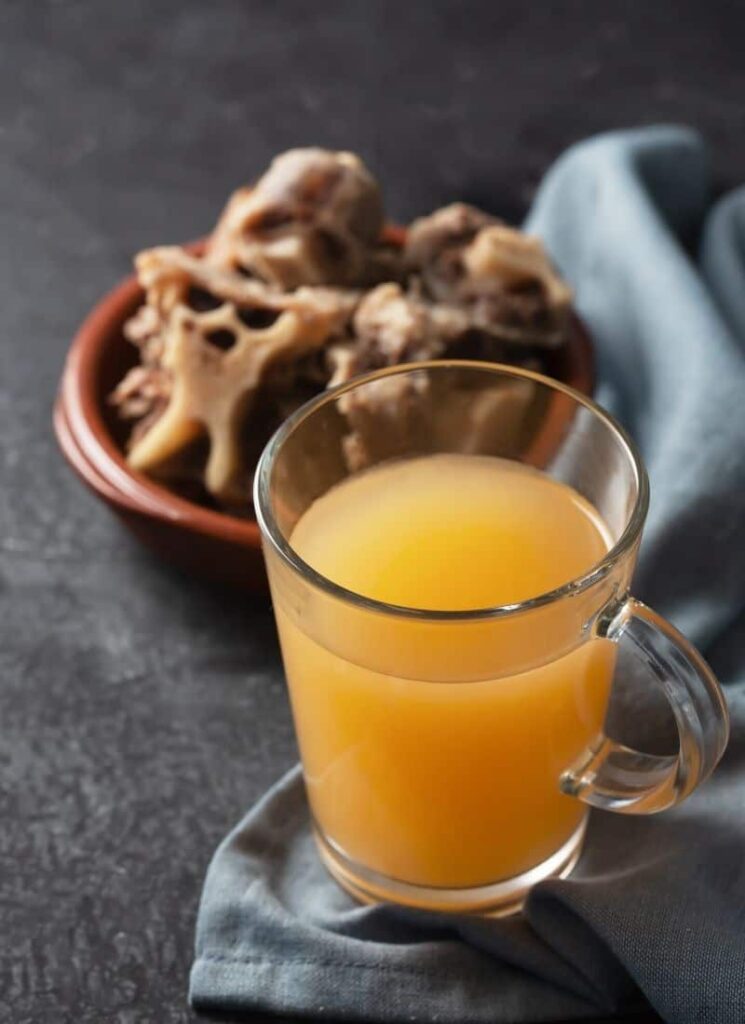 How to Make Carnivore Bone Broth Recipe
We will use beef bones in this carnivore bone broth recipe. Lamb, mutton, goat, or other ruminant animal bones can be substituted if you want to use those instead. Pork is another option.
If you want to make chicken broth, follow the same procedure, but simmer it for only 12 to 18 hours.
Simmering bones at a low temperature over a long period of time makes the best broth.
In a very basic sense, we put bones in a pot, cover them with water and simmer for about 24 hours.
Are you craving easy and delicious carnivore recipes? Check out my Carnivore Cookbook for simple and straightforward recipes you'll love!
Best Seller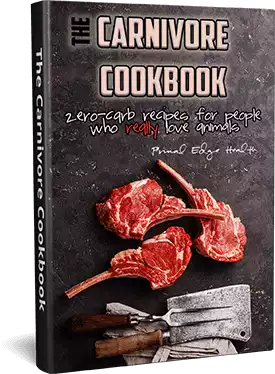 What Bones Are Best?
Ideally, you want a mixture of meaty bones, marrow bones, and knuckle bones as they provide a nice selection of marrow, cartilage, sinew, and connective tissue. If you can get a foot, have the butcher cut it into smaller 2-3 inch sections and throw that in as well.
Is Vinegar Necessary?
The thought behind using apple cider vinegar is that an acidic medium is needed to break down the bones and extract the vitamins and minerals. If you are sensitive to ACV, replace it with lemon or lime juice.
I make broth both with and without the acid and do not notice a difference in quality. If you prefer to omit it entirely, it will not be to the detriment of your broth.
Roasting is Optional
The step for roasting bones is optional. It changes the flavor a bit. Experiment to see if you prefer one way over the other.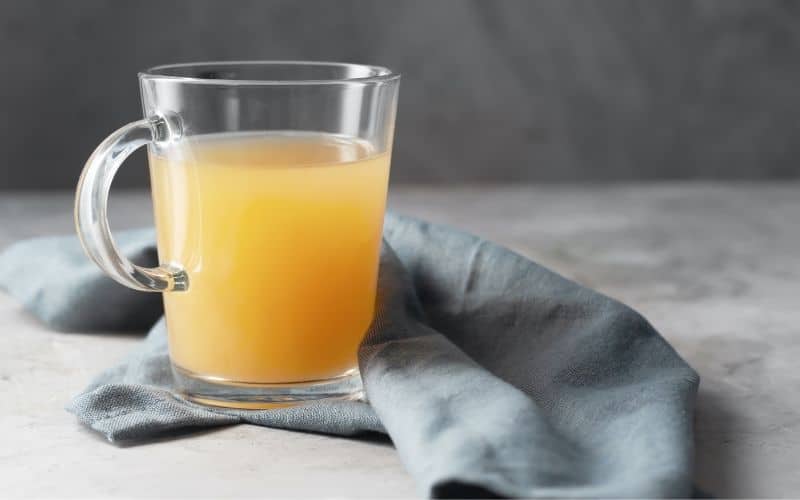 Can You Put Meat in Bone Broth?
Want to hear a carnivore meal prep tip? Put meat in your bone broth!
Adding meaty bones or collagen rich meat to your carnivore diet bone broth recipe gives you a quick and easy protein source to eat later.
Not only do you get a few liters of delicious golden liquid, but also nutrient-dense slow-cooked meat. It's easy to pull from the pot and serve hot or reheat after separating from the broth and storing it in the fridge.
Ask your butcher for meaty bones, beef cheeks, or shanks. Any tough cut of meat will do well for slow cooking.
I've created an Endless Bone Broth Recipe for those of you who get really into this meal prep strategy. Cycling slow-cooked meat into your menu multiple times throughout the week is a great time saver!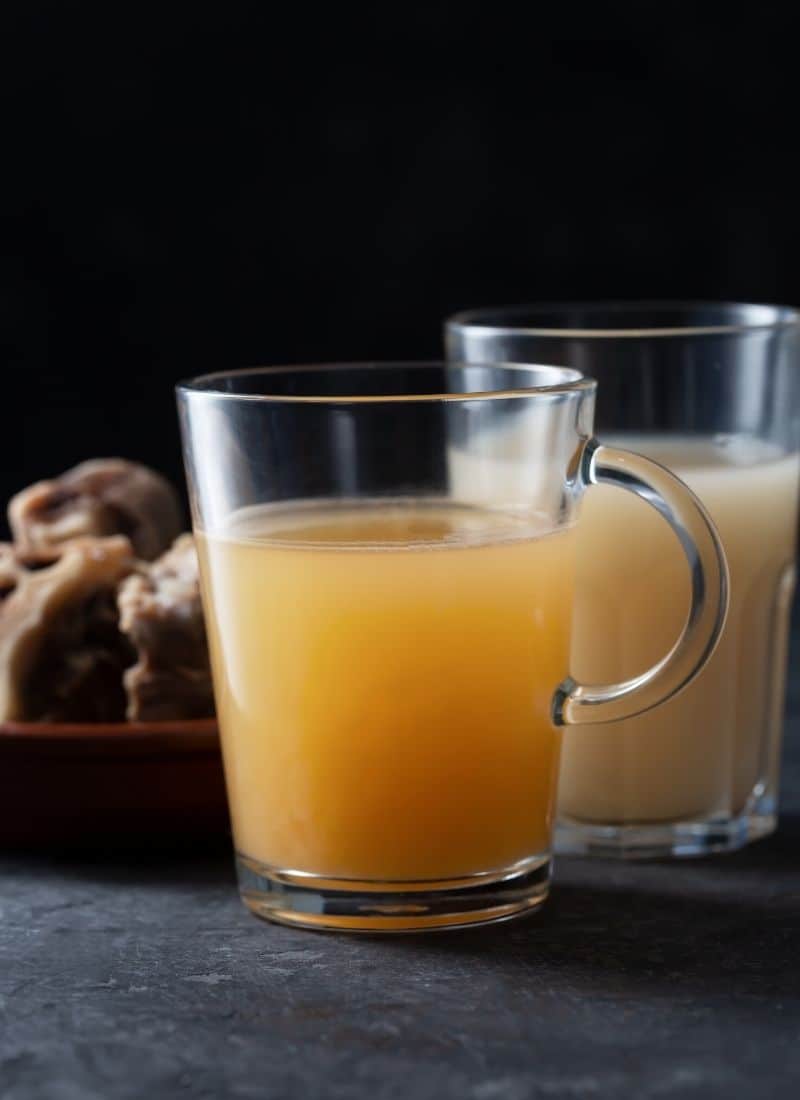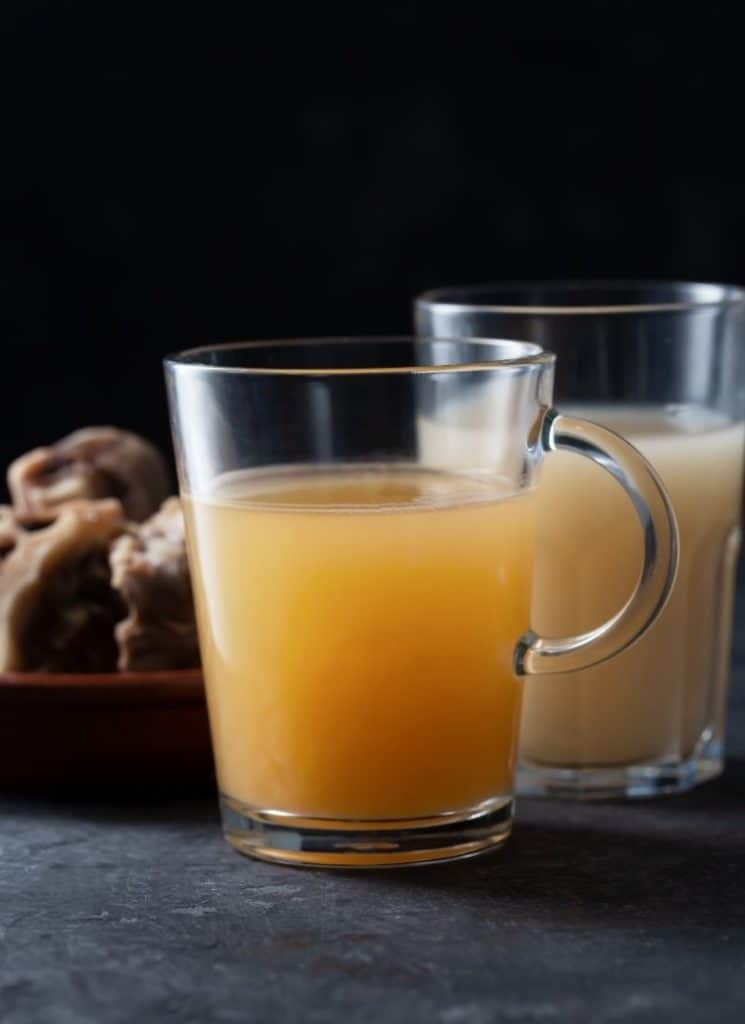 Carnivore Broth in the Slow Cooker
Making carnivore broth in the slow cooker isn't that much different than this stove-top version. Follow my directions on How to Make Bone Broth in a Crockpot but simply omit the vegetables and herbs to make it 100% carnivore.
In most cases, adapting recipes to be carnivore diet-friendly is easily achieved by removing all the plant-based ingredients that don't suit you.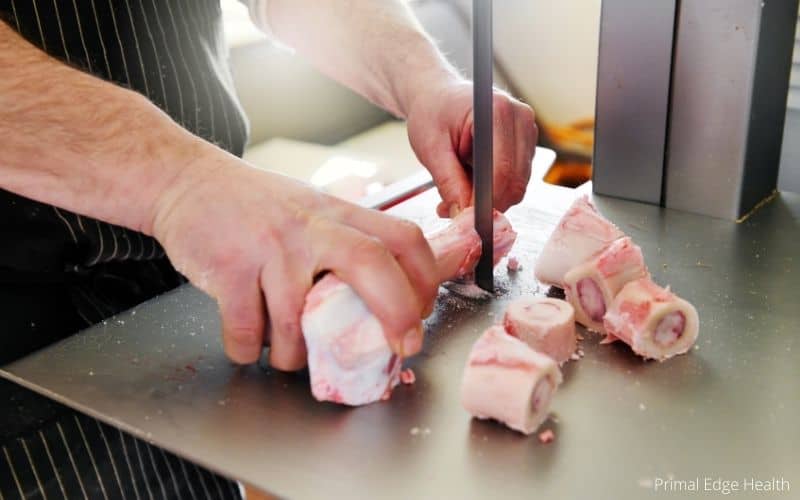 Where to Buy Bones to make Bone Broth
I recommend talking with your butcher to find the best deal on bones. You want a selection of marrow bones, knuckle bones, or joint bones. Ox-tail is also an excellent choice.
Follow my tips to find quality-food as direct as possible.
If you prefer to order online, I suggest shopping with any of my favorite grass-fed, grass-finished meat producers.
White Oak Pastures offers grass-fed oxtail and an assorted variety of beef, lamb, and pork bones that are perfect for homemade broth. Farm owner, Will Harris went from being a "conventional" feedlot beef producer to a vocal proponent of regenerative grazing methods as a means to improve soil quality. Learn about his journey and why these choices make better quality meat in the podcast we recorded together.
US Wellness Meats sources from various US-based farms and ships knuckle bones, marrow bones of various sizes, neck bones, oxtail, and soup bones from beef, lamb, and pork.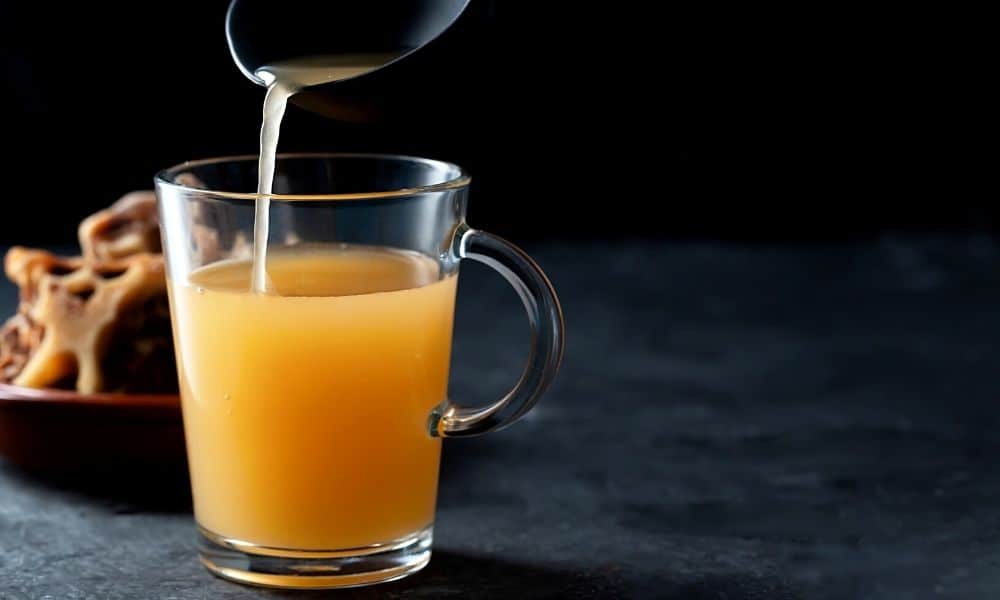 If you're looking for pre-made broth, read my Kettle & Fire Bone Broth review to learn why I recommend it in the list of carnivore and keto emergency foods.
Otherwise, try this recipe and add it to a Carnivore Beef Stew crockpot meal for dinner!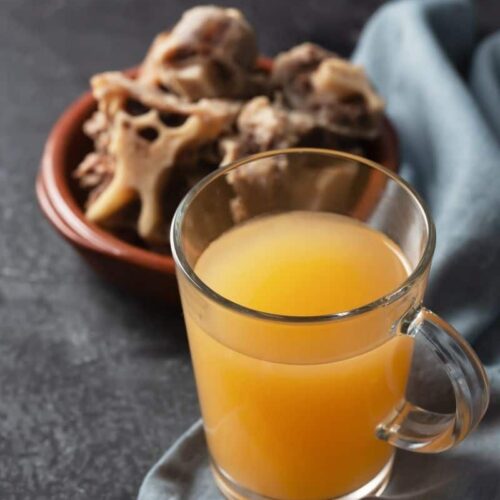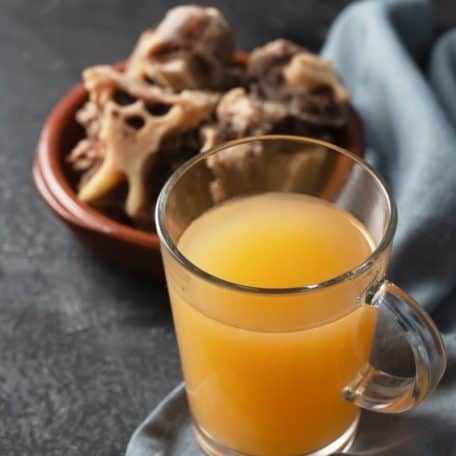 Carnivore Diet Bone Broth Recipe
Follow this ultra-simple carnivore diet bone broth recipe so you can add nourishing broth into your monthly food prep routine and get all the benefits of pure animal foods without any potential irritants from plant-based ingredients or fibrous foods.
Instructions
Arrange the bones in a single layer in a large roasting tray and place them in the oven at

450

°F

(232°C) for about

20 minutes

, until golden brown. NOTE: This step is optional and followed to affect the end flavor of the broth.

Place all the bones in a large stockpot. Fill with enough water to fully cover the material.

Pour in optional vinegar.

¼ cup raw apple cider vinegar

Bring the water to a boil, then reduce down to a simmer. Adjust the flame and pot lid to maintain a low simmer.

Cook for at least

18 hours

, and up to

72 hours

. I tend to pull my batch after about 24 hours. Check periodically to ensure the water remains over the bones. Add extra water as needed.

Let the broth cool slightly. If a layer of scum or film appears over the top, skim it off with a slotted spoon. Strain the broth through a fine-mesh strainer or cheesecloth. Store in glass jars in the fridge for up to 5 days or in the freezer for longer.
Notes
Please read the full article above for thorough details on the best type of bones to use, why or why not to add vinegar and my experience with roasting. I also discuss where to buy bones and share other useful tips so you can make the best broth possible.
Bone broth does not contain a full amino acid profile. Therefore, it is not a source of complete protein and does not need to be counted toward daily macro intake.
Nutrition & Macros
Serving:
2
cups
Calories:
3
kcal
Carbohydrates:
1
g
Sodium:
1
mg
Net Carbohydrates:
1
g
To obtain the most accurate representation of the nutritional information in a given recipe, please calculate the nutritional information with the actual ingredients and amounts used, using your preferred nutrition calculator. Under no circumstances shall the this website and the author be responsible for any loss or damage resulting for your reliance on the given nutritional information.
Made this? Leave a Rating! ⭐⭐⭐⭐⭐
Tag a photo with @Primal_Mom and #PEHRecipe on Instagram to share with us!
Do you need meal ideas? Try these 30 Easy Carnivore Diet Meal Ideas.
This post was originally published on June 1, 2018 and later updated with new images and information on Sept 30, 2020.