I offer you genuinely delicious sugar-free Keto Peppermint Patties with creamy white filling and dark chocolate shell, made exclusively from whole foods ingredients. With my easy keto recipes, you can recreate all your favorite candies and high carb foods for a keto diet!
This recipe contains zero white sugar, corn syrup, emulsifier, soy lecithin, natural flavor, or invert sugar which is more than any York peppermint patty can claim.
Once upon a time, before I learned how to properly transform mass-produced candy in a healthier alternative made from real food ingredients, I used to chow down on York peppermint patties.
It was one of my favorite supermarket checkout aisle candies. For some reason, my teenage mind thought it was smart by getting the "healthy" options: cinnamon Trident gum and peppermint patties (made by Hershey's!).
Where it got that notion, I have no idea.
A truly healthy option would be some sort of coconut cream–filled chocolate round. Oh yes, that's just what I want to share with you today!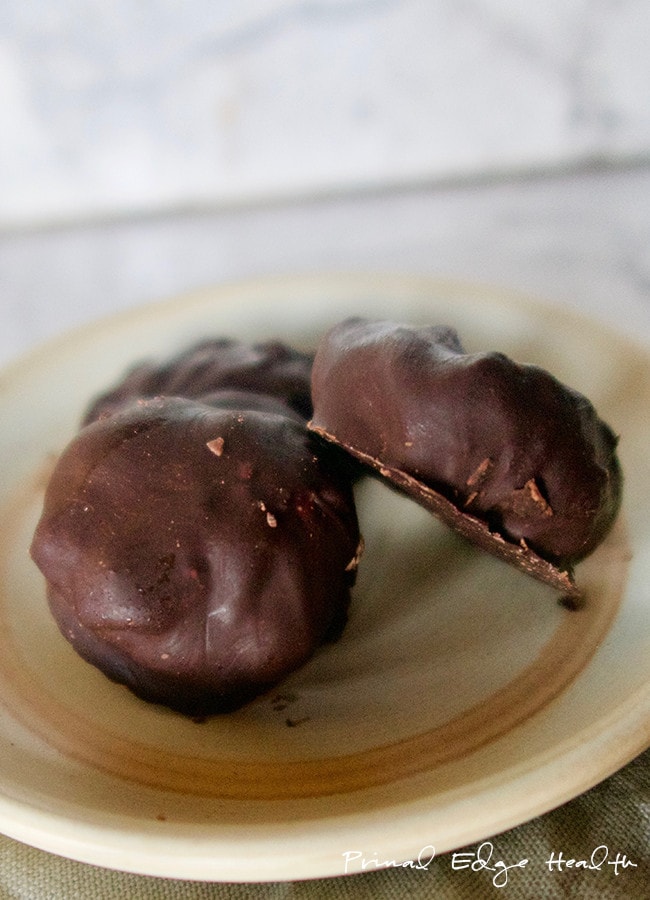 How to Make Keto Peppermint Patties
Chocolate mint candies are pretty simple to make and so much better for you than anything store-bought.
York peppermint candies have a whopping 32 grams of sugar per patty. You can easily swap that in for 1 gram net carb in this homemade version!
I'd take a keto peppermint patty with coconut and dark chocolate over a needless sugar-rush (not to mention trigger food!) and questionably processed ingredients any day of the week.
Begin by whipping the filling together in a large mixing bowl. Then transfer to a mold of choice.
You may use a mini muffin or chocolate candy mold made of silicon or a regular mini muffin tray with liners inserted into each well. The goal is to form the filling into small discs or mounds that can be easily removed from the mold and then dipped into and coated with melted chocolate.
Kitchen Tips for Sugar-Free Mint Chocolates
I like working with peppermint spirits because it brings a minty fresh peppermint flavor along with digestive toning properties. You may also substitute with peppermint extract.
Peppermint patties are freezer friendly and can be made in bulk. They will technically last up to 3 months if properly frozen, however, it's likely that they will be eaten way before that!
Store candies the freezer, remove ahead of time and thaw for 10 minutes before eating.
Or enjoy frozen like a chocolate-covered ice cream bite. The frozen version reminds me of It's-It ice cream sandwiches I used to buy from the middle school vending machines.
Use my favorite keto sugar substitute to keep chocolate free from refined sugar, added sugar, or artificial sugars.
This recipe yields 24 peppermint patties made in a mini muffin pan. Servings vary depending on the mold of choice.
With only 1 g net carbs per serving, Keto Peppermint Patties are a delicious, guilt-free way to enjoy a chocolate dessert while staying on the path of a keto diet.
The recipe below is 100% gluten-free, grain-free, paleo, low-carb, nut-free, ketogenic and sugar-free!
The Secret for the Best Sugar-free Chocolate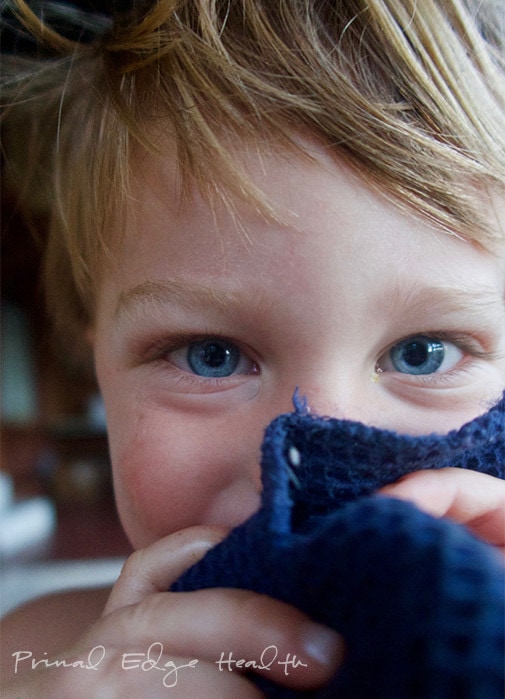 Quality ingredients.
The difference between cacao is palpable. Living in Ecuador (known in the chocolate world for its heirloom cacao seed) has afforded me the opportunity to source real quality cacao products. I've shared what makes our cacao stand apart from others, in short it is a fair-trade certified artisanal cacao bean, 100% organic and biodynamically grown in old growth shade forests. We offer all the cacao foods you need for homemade chocolate making in our shop with domestic USA shipping. International shipping tends to be very expensive but if you are interested in a quote on a bulk order, contact me here.
In this recipe, a pinch of sweetness (without the blood sugar roller coaster and crazy mental/emotional triggers) is made possible by Lakanto's powdered Monkfruit sweetener.
Lakanto is my first choice as a keto-friendly sweetener for all keto desserts. In this recipe, I prefer the powdered formula over whole erythritol because it blends well into the cacao mixture, sometimes the whole crystals leave a slightly crunchy texture.
Save 20% on LAKANTO products with our coupon code PRIMALEDGEHEALTH
Alternatives?
I use Lakanto exclusively but you also may use whole or powdered erythritol or liquid stevia drops instead. Replace Lakanto with equal amounts of erythritol, use stevia drops to taste.
Other Ketogenic Chocolate Recipes You Should Try
Can you believe these guilt-free keto chocolate recipes? I want to try them all.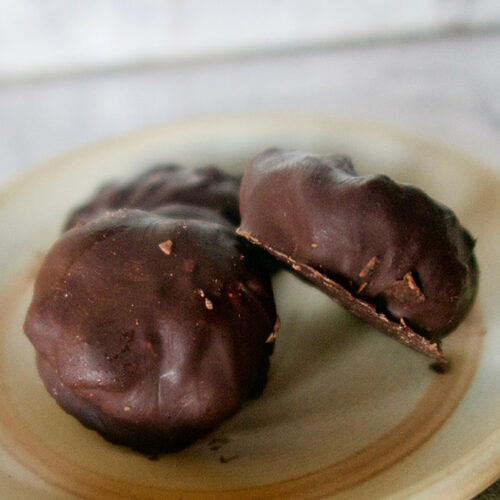 Sugar-free Keto Peppermint Patties with Dark Chocolate Shell
Dark chocolate covered keto peppermint patties are the best
healthy replacement for a sugar-free, minty, York-like dessert.

Instructions
Add all the ingredients for the filling to a large mixing bowl. Combine well with a hand mixer at high speed. The texture will be paste like once done.

Spoon filling into a silicone mold (see notes). Transfer the mold to a freezer and leave until solid, about 1-2 hours.

Once filling is frozen, set a double boiler over low heat and melt the cacao paste. Stir occasionally. Melt just enough so the chocolate is still thick.

Pop out the peppermint coconut fillings. Insert a fork into each piece and dunk it in the melted cacao. Coat well on all sides.

Place each patty on a baking sheet lined with parchment paper. Once all fillings are dipped, return them to the freezer for at least 10 minutes, until the dark chocolate shell is hardened.

Once ready to eat, remove from the freezer and thaw for 10 minutes prior to eating. Or enjoy frozen like a chocolate covered ice cream bite.
Notes
The mold may be a silicon mini muffin or chocolate mold, or regular mini muffin tray with liners to prevent the filling from sticking to the pan.
Store in the freezer, remove ahead of time and thaw for 10 minutes before eating. Or enjoy frozen like a chocolate-covered ice cream bite.
Nutrition & Macros
Serving:
1
patty
Calories:
76
kcal
Carbohydrates:
2
g
Protein:
1
g
Fat:
8
g
Saturated Fat:
6
g
Sodium:
5
mg
Fiber:
1
g
Net Carbohydrates:
1
g
To obtain the most accurate representation of the nutritional information in a given recipe, please calculate the nutritional information with the actual ingredients and amounts used, using your preferred nutrition calculator. Under no circumstances shall the this website and the author be responsible for any loss or damage resulting for your reliance on the given nutritional information.
Made this? Leave a Rating! ⭐⭐⭐⭐⭐
Tag a photo with @Primal_Mom and #PEHRecipe on Instagram to share with us!
Add this recipe to your list of keto Christmas dinner recipes and serve as the best after dinner mint ever!