This collection of sugar free, gluten free, & keto chocolate recipes has all the variety you could possibly want! You'll love this round-up of the best low carb keto chocolate candies that are totally guilt-free!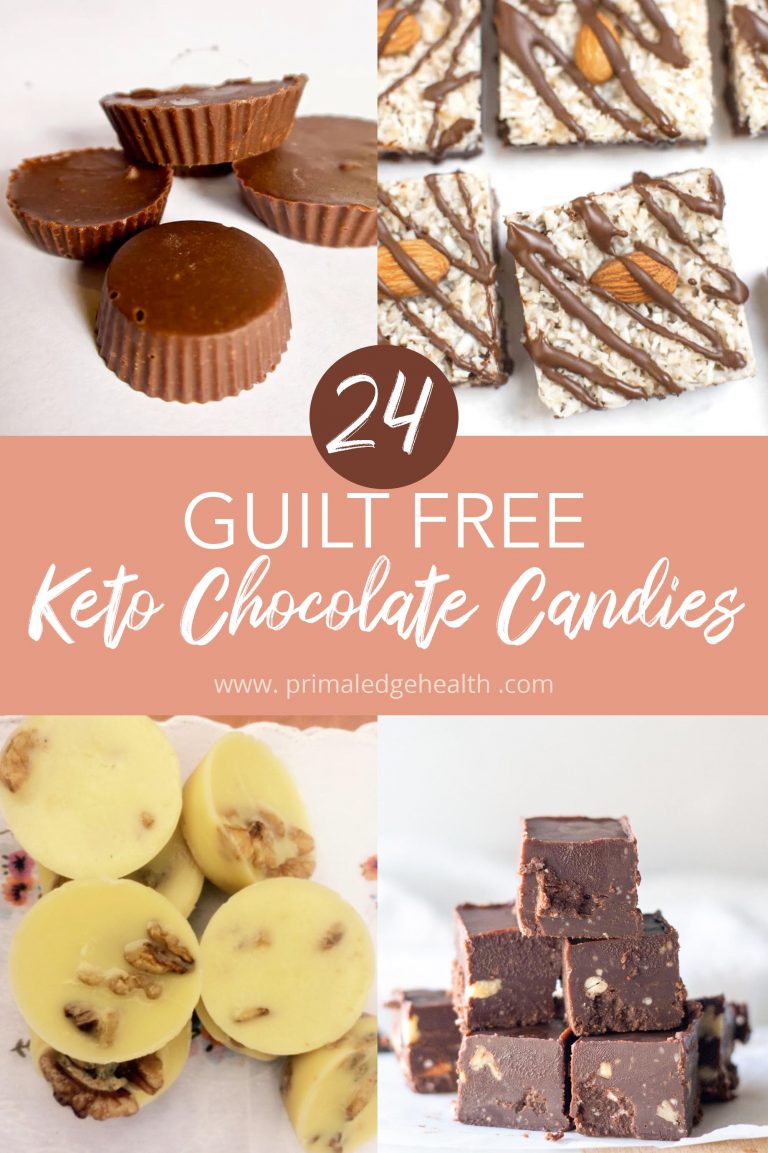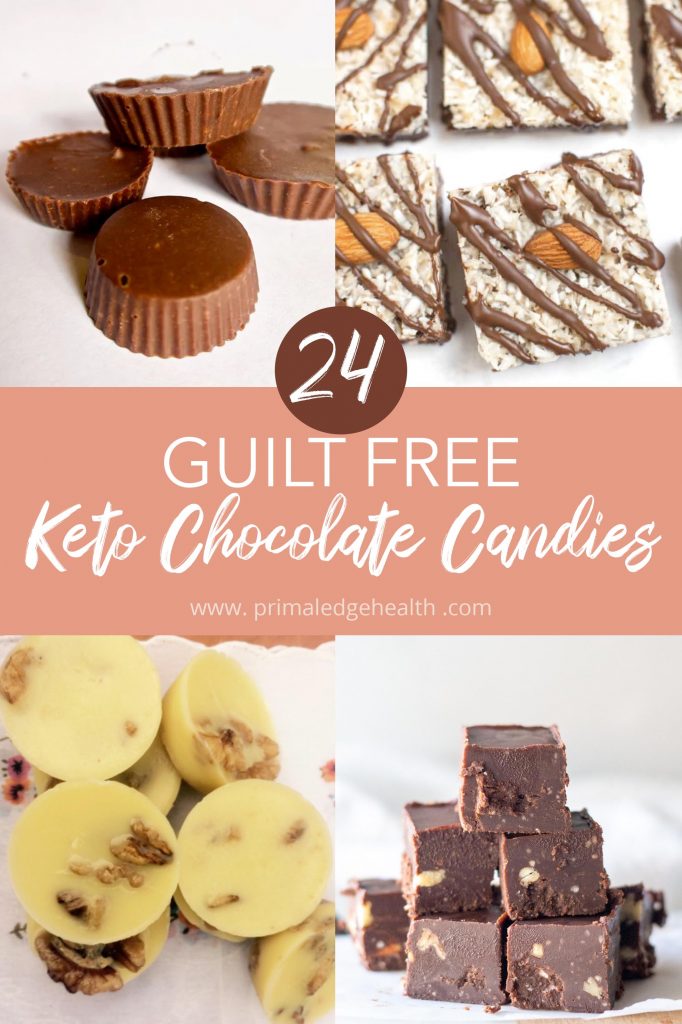 Once you learn how to make it right, chocolate can have a place in a well-formulated keto diet. Afterall, cacao isn't the problem – it's all the sugar that comes with it!
Cacao, or raw chocolate, is something I use quite often. You'll see it listed as an ingredient in both of my cookbooks and in recipes like No-Churn Chocolate Keto Ice Cream and 10-minute Chocolate Keto Pudding.
Table of Contents (click to view)
Ingredients You Need for Keto Chocolate
Each of the recipes included below is different and unique but they all have more or less the same staple ingredients.
To make any truly delicious keto chocolate candy recipe you'll need a handful of essential ingredients on hand.
Chocolate powder or paste (like baker's chocolate but even better)
Fat (usually coconut oil, cacao butter, or nut butter)
Sweetener (I recommend Lakanto, use the code PRIMALEDGEHEALTH in the check out to get 20% off!)
Optional: a pinch of salt and a splash of vanilla extract
These are the necessary ingredients you'll find in just about every low-carb chocolate recipe.
If there's something you are missing, just click the link below and add it to your cart!
Save 20% on the best Keto Sweetener
I highly recommend Lakanto's powdered sweetener! It's the best choice for chocolate making. Visit here and try a bag for yourself, don't forget to add the code PRIMALEDGEHEALTH in the checkout for 20% off!
The best cacao ingredients in the world
One of the joys of living abroad in Ecuador is getting to connect with local, small scale organic cacao farmers. Not all chocolate is created equal, the source of your ingredients is going to make a big difference in taste, texture, and nutrition!
We choose to work with Pacari Cacao who is known for their ethical business practices, permaculture production, and award-winning chocolate.
Buying the right brand is important when it comes to cacao, not all chocolate is created equal.
Learn more about the full story behind Pacari Cacao and why we love them so much. Once you see all the great things they do for their community, environment, and our taste buds, I have no doubt you will agree with me too!
24 Guilt-Free Keto Chocolate Recipes
Whether it's for a special Valentine, birthday celebration, or just because it's a day that ends in Y, you will love these keto chocolate candies!
Some may look too pretty to eat, but I bet you can manage just fine.
Keto Chocolate Candy Recipes
Keto Friendly Chocolate Fat Bombs, Truffles, Fudge, and Bark!
There you have it! 24 of the best keto chocolate recipes every made!
Enjoying these guilt-free desserts means you don't have to worry about any hidden sugar, artificial flavorings, or weird preservatives.
If having a whole batch around is a little too much, pop half of them in your freezer to keep them safe for later.
From scratch, homemade food is always better. Now you see how easy it can be to make your own chocolate desserts.
More Keto Chocolate Recipes