This dark chocolate Flourless Keto Brownies Recipe is an utter delight! They are light and moist, thanks to a secret ingredient that replaces the need for any flour. Each bite will taste so good, no one can tell they are sugar-free! Easy keto recipes like this one are great ways to introduce yourself and others to the variety available on a keto diet.
Table of Contents (click to view)
Sugar-Free, Low Carb, and Gluten Free
This keto brownies recipe is 100% dairy-free, keto, sugar-free and gluten-free! With only 2 g net carbs per serving, it's a great low-carb dessert for any day of the week.
Enjoy these after a nourishing meal of protein and fats and you'll satisfy your desire for a chocolatey dinner dessert.
There's no reason to feel restricted on keto, with great recipes like this, all your favorite foods can be remade to fit keto macros.
Take a look at this list of best keto baking ingredients if you want to know more about what to store in your pantry.
Can I eat a brownie on keto?
Choose the brownie wisely and you'll be ok.
The nature of a keto diet is low-carb. You usually want to cap daily intake of carbs at a maximum of 30 g net carb or 50 g total carb. This is a limit, not a goal.
A standard brownie made from wheat flour and white sugar isn't going to do you any favors with this. According to CalorieKing a 2-inch square could have 12 g carb, which is nearly half the allotted daily intake in just a few bites of food.
Furthermore, the sugar can raise blood sugar levels, negatively affect cognition and trigger unhealthy patterns of eating.
Once you know when you're in ketosis you will be able to clearly feel and identify the consequences of eating off-plan food. You can make the choice if the decision to eat off-plan is worth it or not.
Food choices are important on a keto diet and cooking simple meals at home will help build healthy habits long term. Fortunately, there are so many great recipes to try!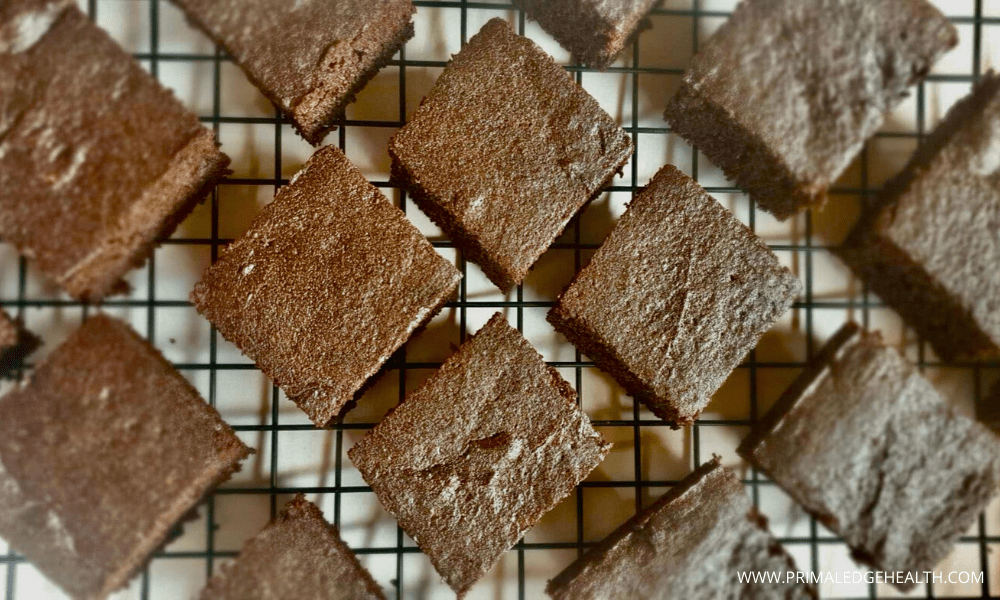 No Coconut Flour, No Almond Flour
Too many ketogenic brownies are dry, dense and bitter. Not these!
Adding psyllium husk powder to the batter is the secret ingredient that makes these brownies flourless while still being light and moist. I love the perfect bread-like texture of The Best All-Purpose Keto Bread and wanted to bring that same wheat-based consistency to a brownie.
Psyllium is hydrophilic, meaning it loves water, which makes it the ideal way to achieve a delicious low-carb homemade brownie that won't crumble when you serve it.
For more sweet and savory keto baked goods, check out The Ultimate Guide to Low-Carb Baking for healthy keto bread, muffins, cakes, crackers, and more!
Flourless Keto Brownies Recipe
This recipe is great for families, pool parties and picnics. It's easy to make in the morning before an event, set aside, and take it on the go later in the day.
What you need for keto brownies
Coconut oil
Cacao paste
Eggs
Vanilla Extract
Sweetener
Cacao powder
Psyllium husk powder
Salt
Baking soda
Apple cider vinegar
Boiling water
How to make keto brownies
Begin by preheating the oven to 350 degrees F (175 degrees C).
Then get out a double boiler or rig up a DIY version with a bowl inserted in a small saucepot with a few inches of water in it. Melt the coconut oil and cacao paste.
You'll be working with three bowls now. One for the eggs and vanilla which are whisked together and set aside. A second for the dry ingredients: sweetener, cacao powder, psyllium, and salt. Finally, a third bowl for the baking soda and vinegar.
Now that like is mixed with like, add each combination into the eggs, one at a time and stirring in-between.
Continue mixing until the batter is completely smooth.
Pour it into a greased 8×8-inch baking dish and bake in the oven for 30 minutes. Once done, the center will be set and the edges will separate slightly from the pan. Test by poking a toothpick or knife into the center and remove it. If the object is clean, the brownies are done.
Let cool before cutting and serving or storing.
Use optional powdered sweetener to dust the brownies. We do this the same way as in a Keto Gooey Butter Cake. Hold a fine mesh strainer over the cooked brownies, gently place a few tablespoons of sweetener on top of the mesh and tap the side with your finger so that the sweetener falls through the holes. Sprinkle it evenly across the square surface area.
As an alternative to dusting, Dairy-Free Ketogenic Icing is also very nice to decorate with!
Make Keto Brownies Fudgy in One Step
Enhancing the fudge factor on these brownies is as simple as letting them chill in the fridge. As they cool off, the cacao paste and coconut oil solidify and alter the texture from a light and fluffy brownie to a gooey, fudgy one.
You can test this with leftovers and see which way you like best.
The brownies store very well. If kept in an airtight container, in the fridge, they can easily last up to a week if not longer. Freezer for long-term storage.
Keto brownie cookies are another delicious choice!
Dairy Free Keto Brownies
Coconut oil makes these brownies completely dairy-free. If you prefer to cook without dairy, I highly recommend stocking up on coconut oil.
Use equal parts of oil to replace butter in any recipe. Coconut oil is almost exactly the same consistency as butter and is a flawless alternative.
My favorite place to buy coconut oil in bulk is at Wildly Organic. They offer a variety of sizes from 16 ounces up to a 5-gallon tub. It's very convenient to have a large tub of oil tucked in your pantry and will last a very long time without spoiling.
I prefer to shop in bulk whenever possible. Not only do I tend to get the best deal this way but it also ensures I have what I want when I need it.
More Keto Chocolate Recipes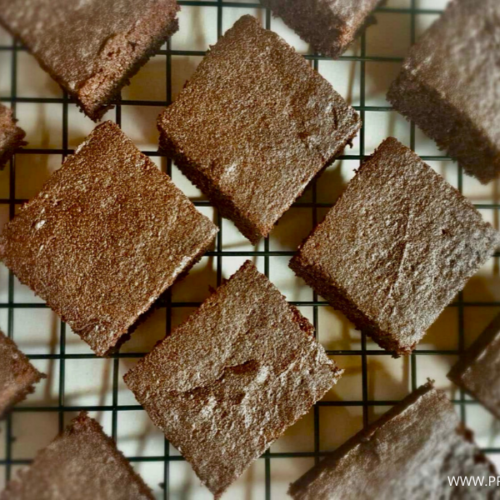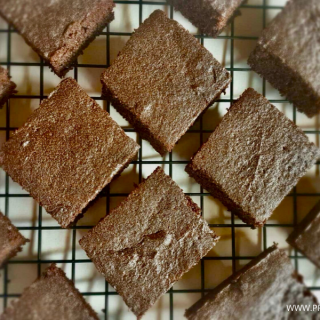 Flourless Keto Brownies Recipe
This dark chocolate Flourless Keto Brownies Recipes is an utter delight! They are light and moist, thanks to a secret ingredient that replaces the need for any flour. Each bite will taste so good, no one can tell they are sugar-free!
Instructions
Preheat the oven to 350° F (175° C).

Melt the coconut oil and cacao paste together in a double boiler over medium-low heat.

Whisk the eggs and vanilla extract in a medium mixing bowl.

In a separate bowl, combine Lakanto, cacao powder, psyllium husk, and salt.

In an additional bowl, mix the baking soda and vinegar. Let it fizz up and set aside.

Combine the melted oil and cacao into eggs. Mix in the dry ingredients. Add the baking soda and vinegar. Continue mixing, smash out any lumps. Finally, add the boiling water and stir until the batter completely smooth.

Grease an 8 by 8-inch glass baking dish. Transfer the batter in the pan, make sure it is evenly spread. Bake for 30 minutes, until the center is firm and the edges pull away from the pan. Test by placing a toothpick in the center and check that it comes out clean.

Cool before cutting. You may dust with powdered sweetener if desired.
Nutrition & Macros
Serving:
1
piece
Calories:
90
kcal
Carbohydrates:
5
g
Protein:
2
g
Fat:
9
g
Saturated Fat:
6
g
Sodium:
108
mg
Fiber:
3
g
Net Carbohydrates:
2
g
To obtain the most accurate representation of the nutritional information in a given recipe, please calculate the nutritional information with the actual ingredients and amounts used, using your preferred nutrition calculator. Under no circumstances shall the this website and the author be responsible for any loss or damage resulting for your reliance on the given nutritional information.
Made this? Leave a Rating! ⭐⭐⭐⭐⭐
Tag a photo with @Primal_Mom and #PEHRecipe on Instagram to share with us!
This recipe was originally published Feb 13, 2018, and has since been updated with additional tips and images.
Looking for more flourless keto desserts?
Check out these creative ways to make delicious low-carb recipes without flour from some of my favorite people around the web. Flourless chocolate candies, cookies, and even cakes can be made from scratch at home!
Be sure to drizzle some Peanut Butter Sauce over the ice cream and Sugar-Free Strawberry Sauce on your cheesecake for extra flair.
Flourless Low-Carb Desserts