Add a beautiful final touch to your favorite baked good. Use a dairy-free ketogenic icing to finish off a scone, cupcake, sweet bread or cookie. The application of this simple and minimalist recipes versatile and there are with several possible flavor variations.
The icing is sweet and creamy with a ultra-smooth texture, thanks to Lakanto's powdered monkfruit sweetener.
We use Lakanto to sweeten our ketogenic baked goods. Our whole family likes the taste and feels great after using it. Our children don't get crazy energy rushes and crashes and I don't feel inflamed or digestive discomfort.
There is ZERO EFFECT on blood sugar or insulin levels, making it a great sweetener for blood sugar and weight management. Ideal for heath enthusiasts, ketogenic diets, and those trying to cut sugar out of their diet.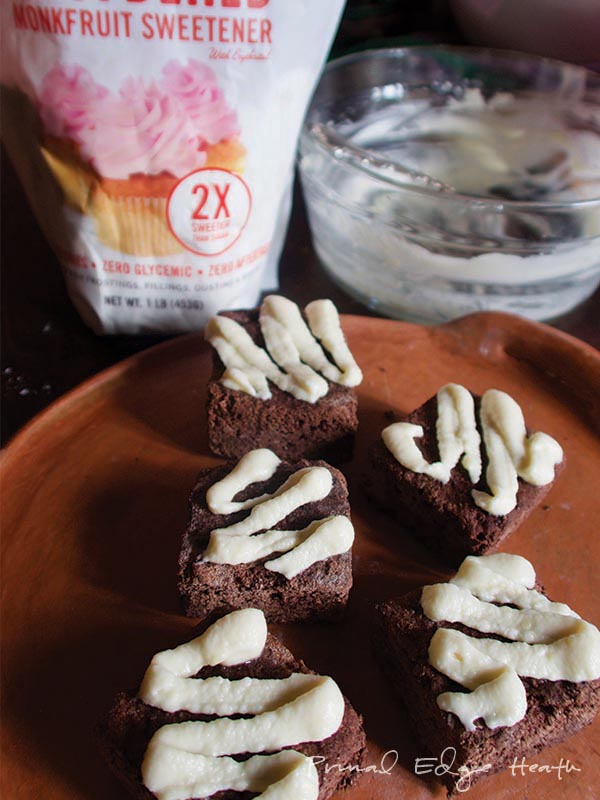 I have added this keto icing to Fudgy Keto Brownies and the Pure Cacao Brownies from my low-carb baking cookbook. It's a toss up as to which is better, you'll have to let me know!
Add this Keto Icing to
As you'll see in the video (coming soon) this icing is very kid friendly! Both our little munchkins enjoyed licking the spoons and scraping the bowl clean. I thought they would eat it all but they self-limited (as they often do) once they reached satisfaction. Too much of even a good thing will still be too much. Our 6 year old still surprises me with her ability to self-regulate her food intake. She's consistently good at listening to her body and is very in tune of her needs. I think the way we approached nutrient-dense foods in her toddler years was instrumental to this healthy development.
Quick & Easy KETO ICING
9 Variations for Keto Icing
Vanilla Keto Icing – add 1 teaspoon vanilla extract
Chocolate Keto Icing – melt 2 ounces of cacao paste with the butter, add 1/2 teaspoon vanilla extract and mix in with the other ingredients
Mocha Keto Icing – combine 2 teaspoons coffee grounds with 2 tablespoons cacao powder
Cinnamon Spice Keto Icing – spread the regular glaze over muffins or spice cake, sprinkle ground cinnamon mixed with Golden Lakanto on top while the icing is still wet
Citrus Infused Keto Icing – substitute half the amount of milk with lemon juice, add 1 teaspoon lemon zest
Berry Delicious Keto Icing – mash 1/2 cup ripe berries (straw, black, blue etc) Combine into the mixing bowl with an extra 1/2 teaspoon vanilla extract. Add more milk if needed to thin out.
"On the Lighter Side" Keto Icing – substitute hot water for the milk. Thin icings are nice for ketogenic Pound Cake, Lemon Poppy Seed Bread and Cinnamon Spice Bread (recipes from The Ultimate Guide to Low-Carb Baking)
Extra Rich Keto Icing – use heavy cream or coconut cream in place of the coconut (only coconut cream will make a dairy-free recipe)
Nutty Keto Icing – sprinkle chopped pecans, walnuts or almonds onto the glaze before it hardens
Keto Icing Tips
In some cases, it might be desirable to take a cupcake or muffin, turn it upside down and dip it directly into the bowl of icing.
Adapt the icing to your recipe by adjusting the amount of liqud (coconut milk, nut milk or hot water) added to the recipe. Thinner icing uses more liquid, thicker icing uses less.
Place your baked goods on a cookie sheet or piece of wax paper. Having a surface to catch the drips makes clean up easy, you may be able to reuse the drips or at least lick it with your fingers.
Rating

Servings

12

servings

Prep Time

10

minutes
In a medium bowl, combine all ingredients unti smooth. Add enough milk for desired consistency. Up to 8 tablespoons will be fine. Sheet cakes and layer cakes may call for more glaze, thinning it makes it spread over more of the surface area and drip down the sides (bonus points for making it look super pretty!)

Store leftover in the fridge, use on various keto baked goods - cookies, cakes, scones, brownies, and sweet breads. The icing freezes well also, store in an airtight container for up to 6 months in the freezer.
Macros per serving: 4.7 g fat, 0.2 g NET carb, 0.0 g protein
Enjoy maximizing nutrient density in your daily diet?

It is a great kitchen resource and inspiration for low-carb, ketogenic, and paleo cuisine!
Available only in our shop – come and support our work!
Check out the free preview here.
From our kitchen...
...to yours
PRACTICAL
Save Time in the Kitchen
CREATIVE
Nutrient Dense Recipes
FAMILY-FRIENDLY
Picky Eater Tested and Kid-Approved Recipes