Stuff light and fluffy keto strawberry shortcake muffins with whipped cream and fresh strawberries, it's a beautiful summer dessert. This is a great example of how quick and delicious easy keto recipes can be!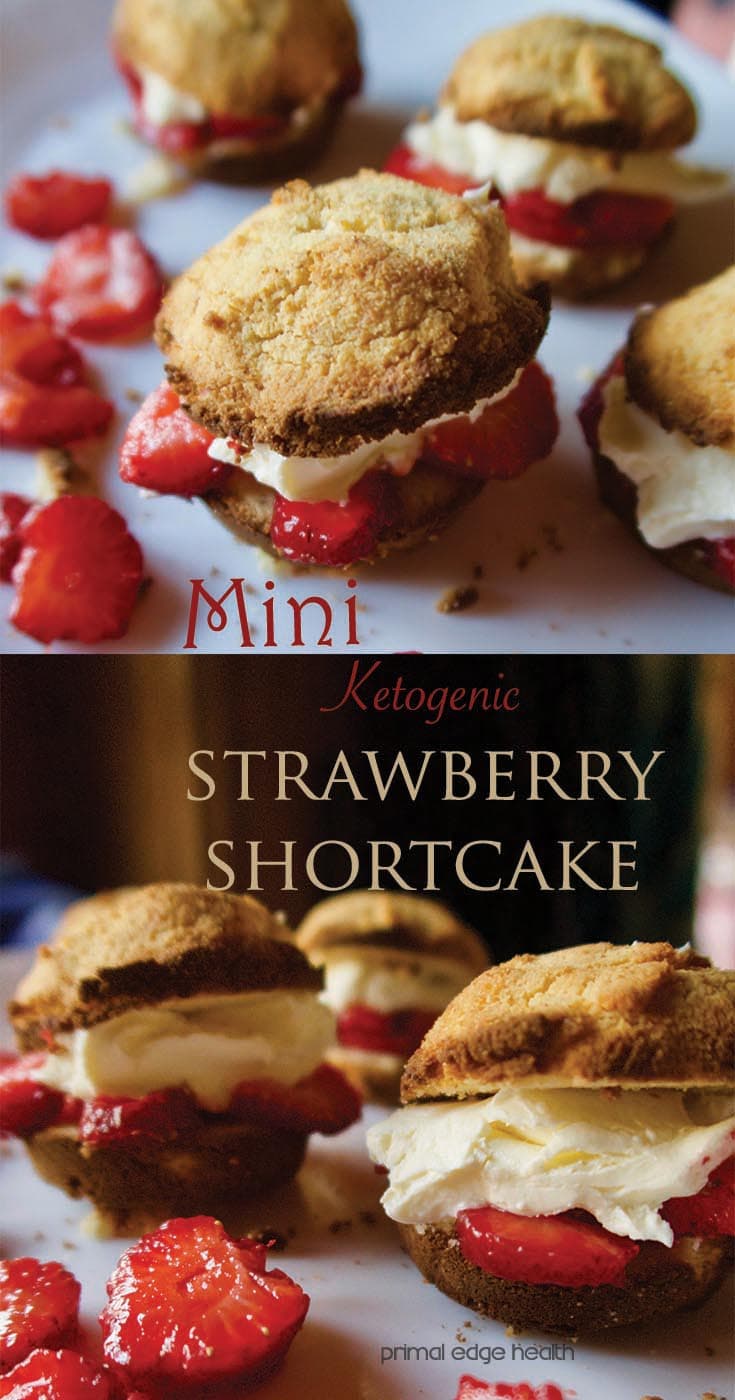 Vanilla muffins are the base which sandwichs sliced strawberries and whipped cream. Served as individual shortcakes, serving size and portion control is made easy.
These vanilla muffins can have many purposes – just take a look at my modifications below!
Table of Contents (click to view)
Full-bodied Sweetness
The vanilla extract carries a smooth flavor throughout the batter.
This essence is enhanced with Lakanto, our preferred ketogenic sweetener. Both the Classic or Golden are good to use in this recipe. Lakanto adds a clean sweetness with no weird, artificial aftertaste.
Take a look at these other keto desserts sweetened with Lakanto to see how to use it.
Lemon juice is the third element that creates a full-bodied sweetness. The tangy liquid gives more flavor than sweetness but the hint it adds complements the entire recipe very nicely.
I like the combination of lemon with fresh strawberries. Together, they find a nice balance. Finally, the cream. Whether you use whipped cream or mascarpone cheese, these mini keto strawberry shortcakes will be super tasty. Both ingredients have a subtle dairy sweetness.
Make an unbeatable recipe by finishing off the top with a swirl of Dairy-Free Keto Icing! Ohh-la-la.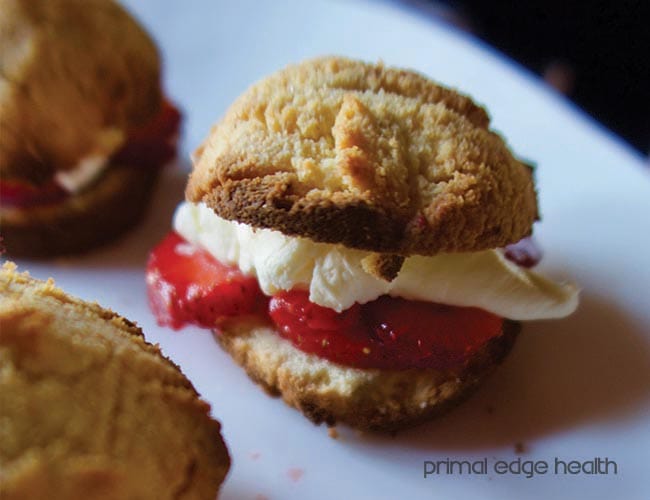 Shortbread, Angel Cake and Vanilla Cupcakes
This recipe works best if you use an electric mixer. The rapid rotation of the blades creates a light and fluffy, mousse like batter that bakes into a cake-like texture. If you don't have an electric beater, don't sweat! I've made this recipe both ways and it always comes out nicely. Mixing by hand creates a more dense, shortbread or cookie like result. I think it is pretty neat to have a recipe that you can customize in such a specific way, depending on your preference.
This recipe is highly adaptable. The addition of 1/2 cup yogurt makes the final muffin the exact texture as angel cake! The bake time increases by 15 minutes and they take longer to cool. It's worth it once you bit into a delicate, light and fluffy muffin…you will swoon!
I'll throw in a third way to modify this muffin base, just for fun
Swirl a sugar-free ketogenic frosting on top of their pretty little heads and you get vanilla cupcakes! I know my Ketogenic Maple Buttercream would be amazing. The classic cream cheese frosting from my carrot cake would also be good, it has lemon in it that would match nicely with the flavors presented here. Picture this: vanilla cupcakes with cream cheese frosting and sliced strawberries on top. If you're fancy, you might even blend the strawberries into the frosting itself and make strawberry cream cheese frosting! Call me for dessert!
Recommended Recipe: Maple Buttercream Ketogenic Frosting
And if you're loving the "mini" part of this recipe (so fun for party planning!), check out these delish keto mini cheesecakes from Tasteaholics!
Love Keto Baking?
It's easy once you learn what ingredients to use and know how to adapt your techniques to low-carb recipes.
Use The Ultimate Guide to Low-Carb Baking to prepare for the holidays, appease cookie cravings with healthy, ketogenic recipes, and serve oven-fresh baked goods the whole family can enjoy.
More Keto Recipes with Strawberries
There are many delicious and nutritious keto treats to try with fresh or frozen strawberries!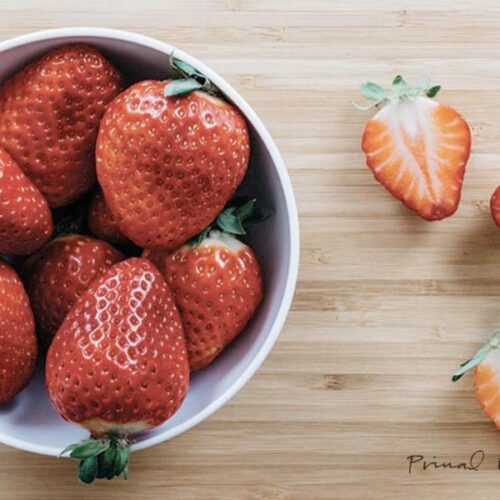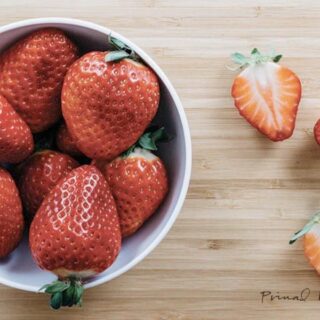 Mini Ketogenic Strawberry Shortcake
Vanilla muffins stuffed with whipped cream and fresh strawberries
Ingredients
Filling
1/2

cup

strawberries

sliced

1/2

cup

Heavy cream for whipping

or mascarpone cheese
Instructions
Preheat the oven to 350 degrees F. Grease a 12-cup muffin pan.

Cream the butter, cream cheese, lemon juice and vanilla together until light and fluffy. Add in the eggs, two at a time.

SLOWLY add the dry ingredients. Begin with 1/3 of the bowl, mix and add the second third. Mix again and add the final third. Aim to keep the batter mousse-like. If the batter gets thick and chunky, that's ok also. It makes for a more dense muffin, closer to shortbread, rather than a fluffy cake-like base.

Divide the batter equally into all the muffin wells. Bake for 350 degrees for 30 minutes until golden brown around the edges. They should be firm to touch in the top, once done. Remove from the oven, let cool. After at least 10 minutes, separate the edges with a knife and remove them from the pan. Place on a cooling rack.

Whip the cream and gather the strawberries. Once the muffins are cool, slice in half and stuff with fresh strawberries and a generous amount of whipped cream. Top with extra whipped cream if you have it. If you use mascarpone cheese, just spread a bit on one half of the muffin and sandwich on top the strawberries.
Nutrition & Macros
Calories:
186
kcal
Carbohydrates:
7
g
Protein:
6
g
Fat:
15
g
Saturated Fat:
9
g
Sodium:
160
mg
Fiber:
4
g
Net Carbohydrates:
3
g
To obtain the most accurate representation of the nutritional information in a given recipe, please calculate the nutritional information with the actual ingredients and amounts used, using your preferred nutrition calculator. Under no circumstances shall the this website and the author be responsible for any loss or damage resulting for your reliance on the given nutritional information.
Made this? Leave a Rating! ⭐⭐⭐⭐⭐
Tag a photo with @Primal_Mom and #PEHRecipe on Instagram to share with us!
Featured image Designed by D3images / Freepik