The quick and easy keto flatbread recipe from The Ketogenic Edge Cookbook is a HUGE hit! Catching up with the Savory Broccoli Muffin recipe, these flatbreads are becoming one of our most talked about easy keto recipes.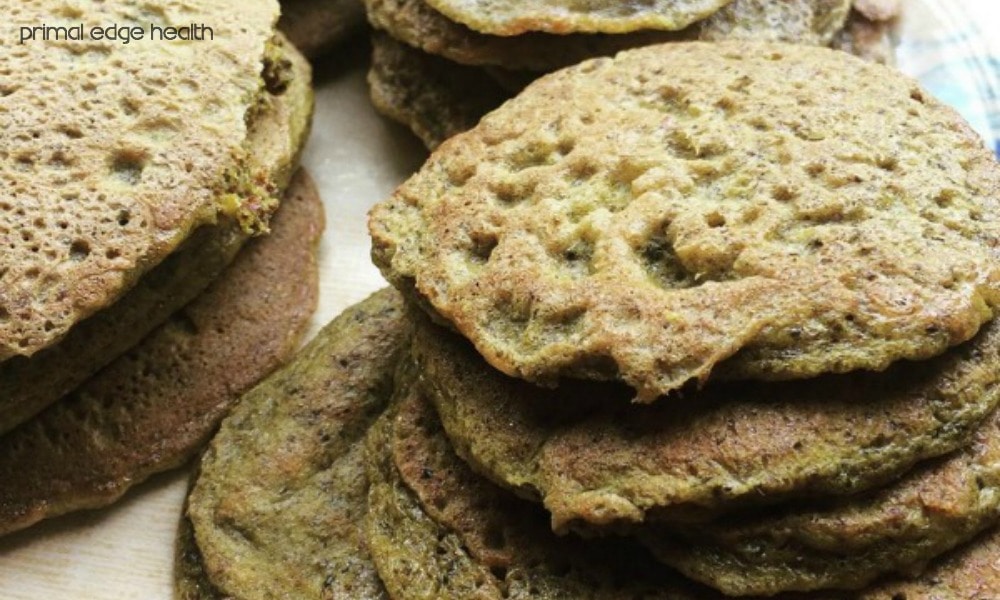 I see a theme evolving here, y'all like warm bready things 😉
That's good news because I am only a short while away from publishing our second cookbook – The Ultimate Guide to Low-Carb Baking! It will be complimentary to The Ketogenic Edge Cookbook and stuffed with 102 recipes for sweet and savory baked goods.
There is a lot of behind the scenes work that goes into making up your own recipe. It took months of experimenting to get this low-carb, all-purpose bread substitute just right. Now people across the world can enjoy this guilt-free, fiber rich, almost zero carb bread on a keto diet!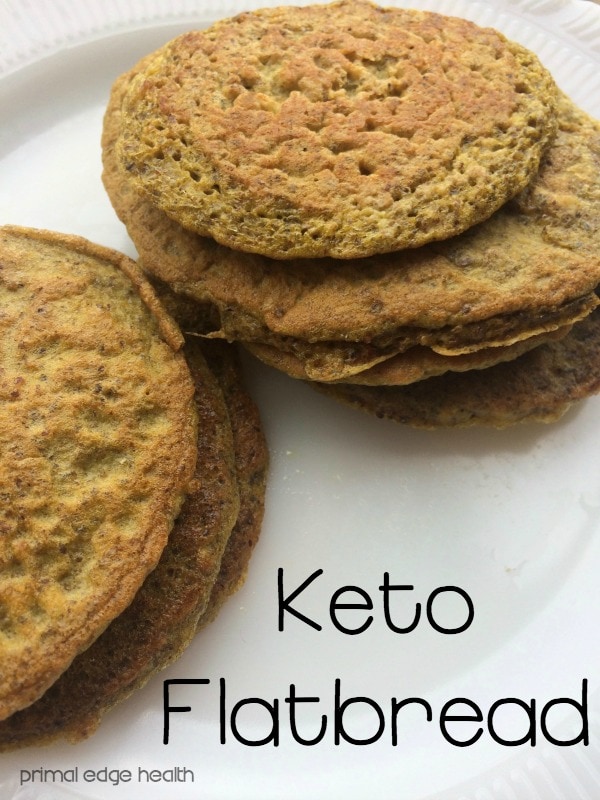 Thank you to all the people who have shared their ideas with us via email, instagram, and facebook. We are inspired by the many creative ideas that showcase the versatility of the Keto Flatbread recipe. I have collected the ideas here for everyone to try out.
The original recipe is simple and takes only 5 ingredients. Watch the Keto Flatbred recipe video for full details.
Recipe Tips:
A fellow flatbread lover advised adding 1/4 teaspoon baking powder to the batter which increases their puffiness when cooked
Use chia and flax interchangeably; you can substitute one for the other
Whole chia may also be used in place of ground chia.
Make a double or triple batch and freeze leftovers. They freeze well and thaw quickly.
These are just one of many keto breakfast recipes to add to your weekly meal prep.
Without further ado, let's get into the 33 variations!
Sweet Keto Flatbread Variations
Pancakes
Serve the flatbreads just like Coconut Flour Pancakes, warm and spread with butter! Top with whipped cream and low-carb berries too, just like Strawberry Shortcake Pancakes. Then, drizzle with yacon syrup and garnish with chopped almonds or hazelnuts.
I have a popular collection of keto pancake recipes you don't want to miss!
Crepes
Wait until the frying pan is hot, then pour a large spoonful of batter in the shape of one large crepe. Cook over medium heat, watch carefully and lift at the edges as they cook. Move the crepe around a bit to make sure it doesn't stick. Cook for a minute or two on each side. Serve with Vanilla Whipped Cream (recipe in The Ketogenic Edge Cookbook) and raspberries.
Chocolate Bread
Add 2 tablespoons to 1/4 cup cacao powder and 1/4 to 1/3 cup Lakanto to the batter and mix well before cooking.
Spiced Bread
As you mix up the bowl of batter, add in 1 teaspoon vanilla powder, 1 teaspoon ground cinnamon, 1/4 teaspoon ground nutmeg OR 1 tablespoon pumpkin pie spice OR 1 tablespoon 5 Chinese spice blend
Healthy Kids Breakfast
Many of our readers are cooking for multiple diet types and the Keto Flatbread serves as a great tool to nourish the whole family. Dress up a plate of flatbreads for your growing kids with seasonal fruits (banana, peaches, apples, etc), local raw honey, and a dollop of full-fat Greek yogurt or homemade coconut yogurt. Kids only need to restrict carbs if they have serious medical reasons, otherwise ample amounts of whole food carbohydrates are completely acceptable for children. Use these flatbreads as a grain-free, gluten-free source of fiber, protein, and fats to nourish your young ones. Provide a hot breakfast in the morning or pack them into lunches.
There are many family-friendly keto breakfast ideas to make!
More ideas from The Ketogenic Edge Cookbook for SWEET Keto Flatbread:

Herbs and spices from the "Sweet Flavor Family" discussed in the Herbs and Spices chapter
Sweet flavors pulled from the listing of Medicinal Herbs and Spices
Compound Butters
Vanilla Whipped Cream
Berries and Cream
Lemon Curd
Chocolate Mousse
Berry Ice Cream
Double Chocolate Nutella (plus 4 more homemade nut butter recipes)
Savory Keto Flatbread Variations
Burger Bun
Take a mix of your favorite hamburger fixings. Make the Mediterranean Beef Heart Burger Patties or Southwestern Burger Patty (from The Ketogenic Edge Cookbook). Layer on grilled onions, blue cheese, bacon, lettuce, tomato, homemade mayo, and avocado slices. Nestle these between two flatbreads and you have yourself a legit low-carb burger.
Recommended Recipes: Salmon Burgers, Bunless Burgers, Cheeseburger Skillet
Fish Tacos
Fold the flatbread into a taco shape and stuff fill with canned sardines, minced cilantro, chopped onion, salt and a few squeezes of lime juice. Serve with avocado on the side.
Quesadilla
Cook the flatbreads, then sprinkle your favorite cheese, grated, on one half, fold over the other half and warm over medium heat until the cheese is melted.
Recommended Recipe: Tuna Melt Keto Quesadilla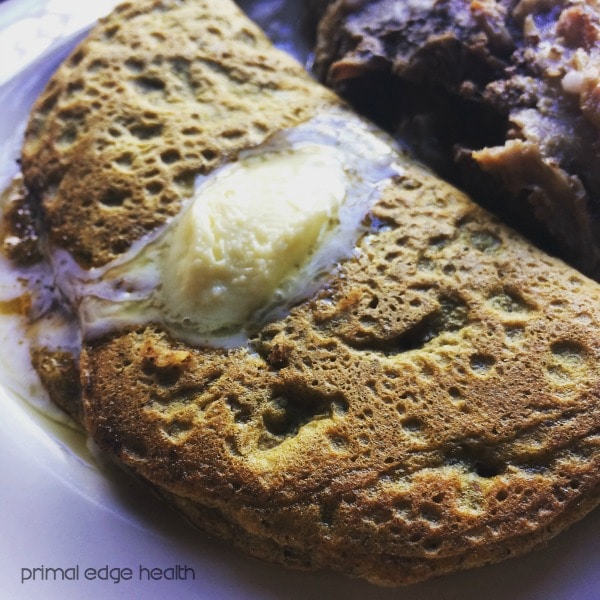 Grilled Cheese
Take two already cooked keto flatbreads, spread a light coating of butter on the outsides and place a piece or two of cheese in the middle. Grill just like bread! Serve with a side salad garnished with oregano and olives.
Recommended Recipe: Ketogenic Grilled Cheese Sandwich
Pizza Crust
Pour the batter in a large single circle in a hot pan. Cook until done, then spread a marinara or pesto sauce, melt cheese, and add sauteed mushrooms on top. Slice into little pizza slices and serve warm.
This Nut-Free Keto Pizza Crust is also a fantastic option.
Sandwich Bread Alternative
Prep and pack into a lunch just like bread slices.
Recommended Recipe: Avocado Tuna Melt
Veggie Wraps
Make a large crepe sized round and fill with arugula, sprouts, mashed avocado, cucumber, and tomato.
Garlic Bread
Flavor with nutritional yeast, garlic powder, and dried oregano for a delicious keto garlic bread.
Curried Naan Bread
Mix in 1 to 2 tablespoons of sweet or spicy curry powder to the batter and cook both sides until done.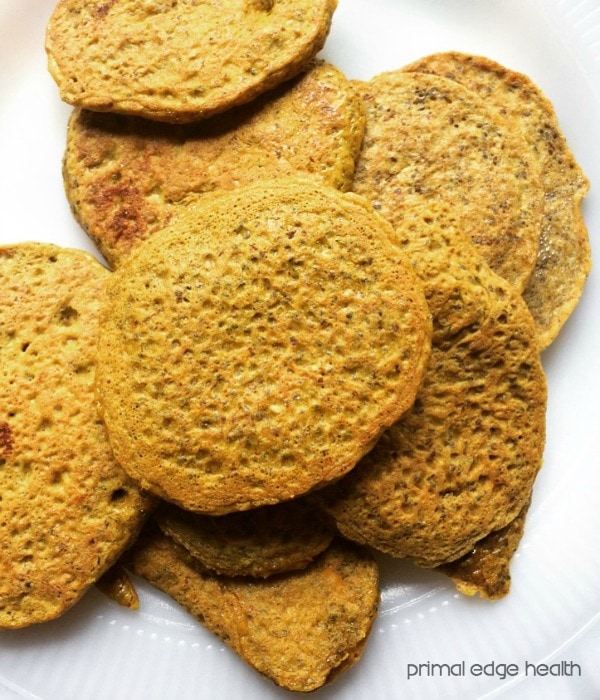 More ideas from The Ketogenic Edge Cookbook for SAVORY Keto Flatbread:

The recipes for many of these sauces and dips include additional variations, giving you even more ideas on how to enjoy these flatbreads! A well-formulated ketogenic diet is never boring or restrictive!
Herbs and spices from the "Herbal", "Hot", or "Spicy" Flavor Families discussed in the Herbs and Spices chapter
Savory flavors pulled from the listing of Medicinal Herbs and Spices
Flavor Infused Fats
Hollandaise Sauce
Homemade Cream Cheese
Caper and Dill Tartar Sauce
Zucchini Hummus Dip
Basil Pesto
Guacamole 2.0
Aji Criollo
What other fun things can you do with the Keto Flatbread?
SaveSaveSaveSaveSaveSaveSaveSave