Quality wild-caught canned fish can be a great quick and easy protein source for those on a ketogenic diet (or any diet!).
It is a compact source of vital nutrition, easy to pack in a lunch, and can be purchased in bulk, and conveniently stored for a long period of time.
Let me show you my favorite recipes for FREE!
Sign up to get my new recipe ebook
This most may contain affiliate links. Primal Edge Health LLC may receive a small commission at no extra cost to you for any orders made through these links. All thoughts and opinions are my own and I never promote something I wouldn't use myself.
This quick and easy keto recipe mixes salmon with fresh summer squash cooked in coconut oil. Once cooked, the summer squash is soft and succulent. Garam masala and coriander seed provide a robust, flavorful accent to the meal that is sweetened with a cilantro leaf garnish.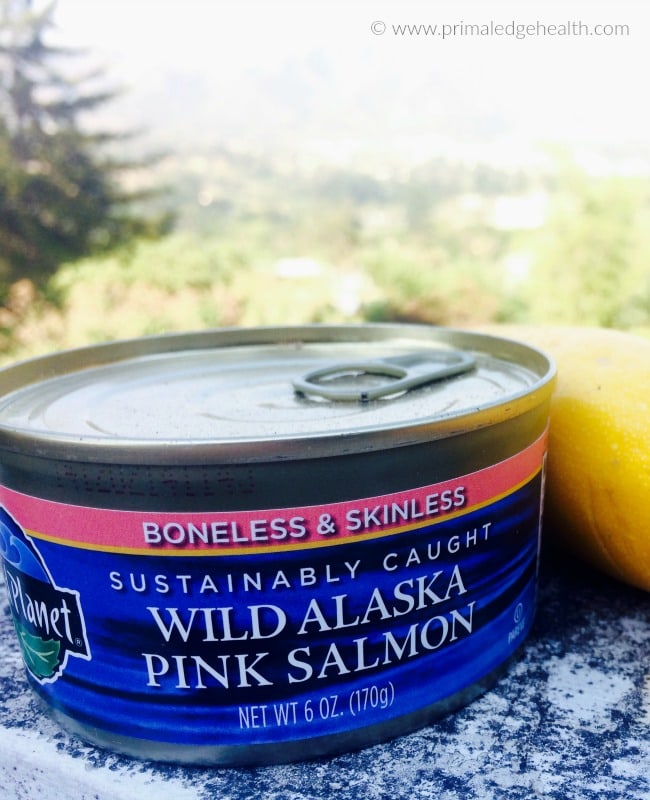 Wild Planet's canned wild-caught Alaskan salmon is a great pantry staple to have on your shelves. Maintaining a stock of canned fish makes formulating quick and easy keto meals very simple. Salmon is a fish with one of the best nutrient profiles. It is rich in protein, DHA, and Omega 3 fatty acids. We recommend this brand of salmon because it is sustainably caught in Alaskan waters and packaged by a company that supports the conversation of natural marine ecosystems. Wild Planet's canned salmon comes in pop-top BPA free tins which makes them ultra convenient to pack into a lunch or bring traveling. You will not need a can opener, just pop the seal and peal back to open.
For more information on their sustainability and fishing practices, products, and recipes, go to their website.
Want less or more protein?
use 1/3 can of salmon for 17g total protein or a whole can for 41.7g protein
add a few eggs on the side for extra protein and fat
Want additional fats?
increase the amount of coconut oil used
add extra botija olives
drizzle with extra-virgin olive oil
serve with a sliced avocado
Read More from the "Quick and Easy Keto Recipe" Series
The Quickest Nutrient Dense Keto Meal Ever
FOLLOW PRIMAL EDGE HEALTH on INSTAGRAM, PINTEREST and FACEBOOK for more low-carb, ketogenic recipes and diet tips!
Rating

Prep Time

5

minutes

Cook Time

10

minutes
Slice summer squash in small rounds and warm the coconut oil in a skillet over medium-low heat. Add garlic and spices to the pan, mix in squash and sauté for 10 minutes, until the squash is soft.

Chop cilantro, almonds and olives. Open the can of salmon and arrange it on a serving plate.

Serve squash warm next to the salmon, topped with almonds and olives. Garnish with cilantro.

Adjust the macros of this recipe by adding fried eggs or an additional can of salmon. Add an avocado or drizzle extra-virgin olive oil over the entire plate for additional fats.
Macros per serving (including almonds and olives): 17 g fat, 23.7 g protein, 19.1 g carb, 11.5 g net carb
I love seeing when you make my recipes! Please share your version on Instagram with the hashtag #PEHrecipe and tag @PrimalEdgeHealth so I can repost my favorites.
Pin it for Later: