Carnivore Cheesecake may sound too good to be true but it's not! This is a no bake keto dessert recipe that celebrates the best part of every cheesecake – the filling. The easy creamy filling is all you need to satisfy a dessert craving or treat yourself without fiber.
With this crustless version, you don't have to turn on the oven or prepare a water bath. I believe in easy keto recipes and love making options for those (like me!) who are interested in zero-fiber carnivore diet recipes too.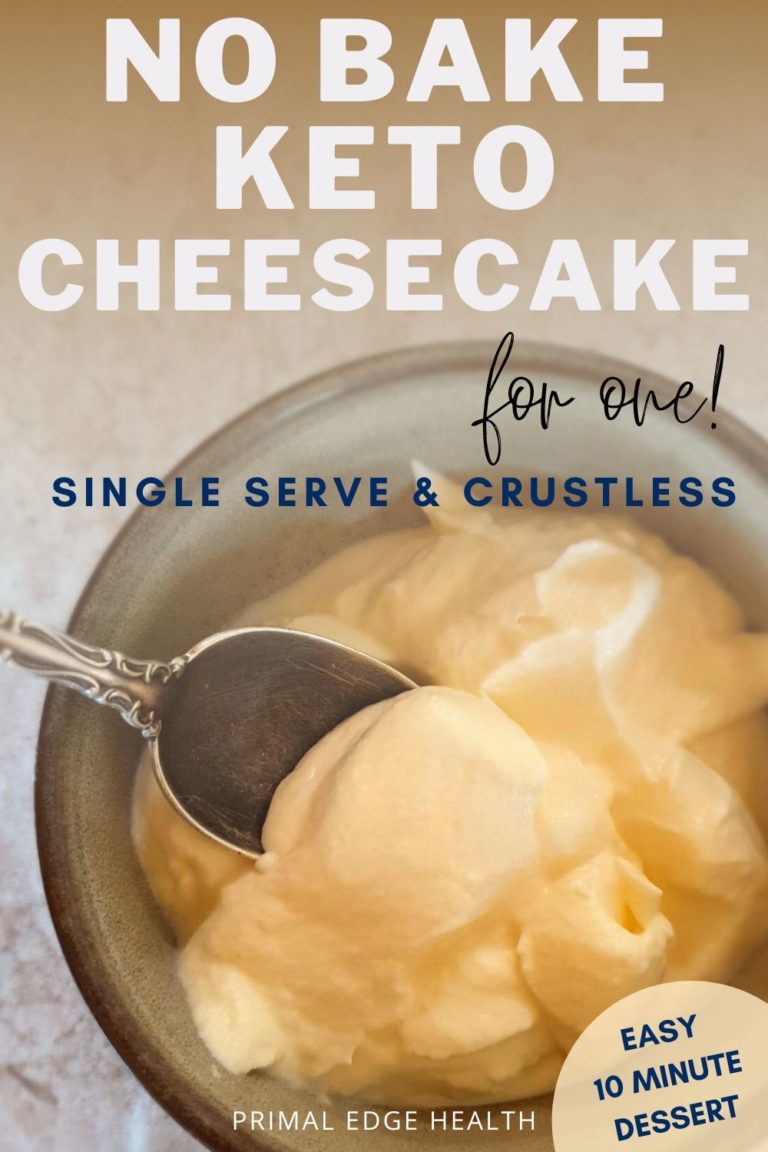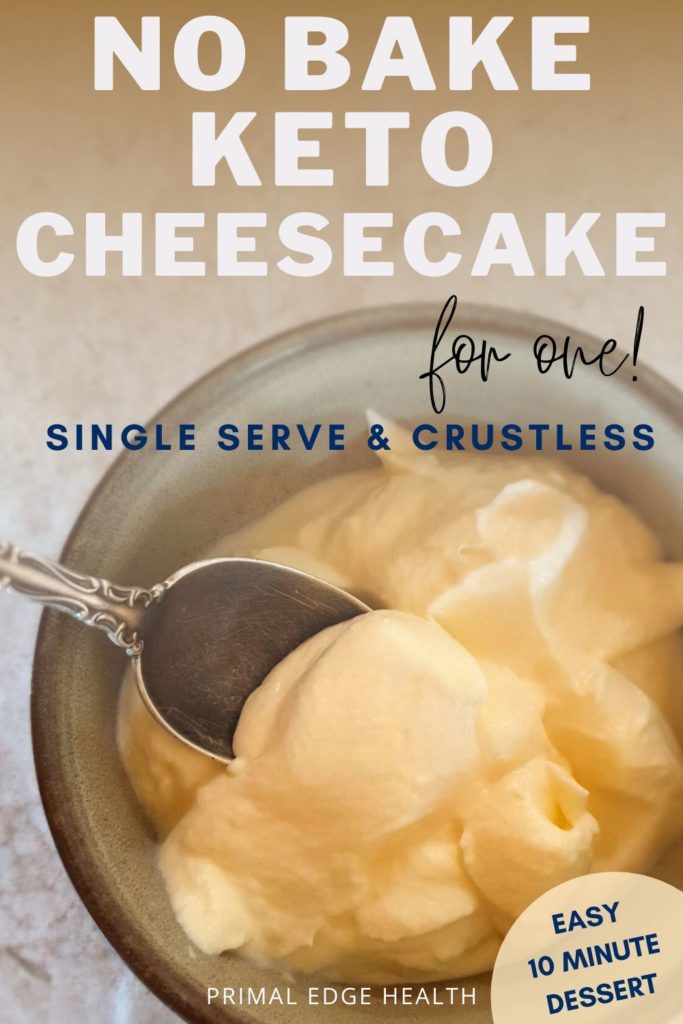 Table of Contents (click to view)
Quick No Bake Keto Cheesecake
A keto no bake cheesecake filling is a delicious, guilt-free way to enjoy a healthy dessert while staying on a keto diet.
This is a low carb, almost zero carb dessert recipe that takes just minutes to prepare. No crust, no bake, no fuss!
You can make it ahead of time and store in an airtight container in the fridge for a few days until ready to eat. The recipe is also freezer friendly so you can double or triple batch the recipe and freeze whatever you don't need right away.
I sweeten with powdered monk fruit which you can buy online or at local health food stores. Erythritol will work as well. Powdered sweetener is better than granular sweeteners because it blends into a smooth texture while the granular options remain gritty. To powder it yourself, just measure out the amount you need and grind it in a coffee grinder or small blender until powdery.
Save 20% on LAKANTO products with our coupon code PRIMALEDGEHEALTH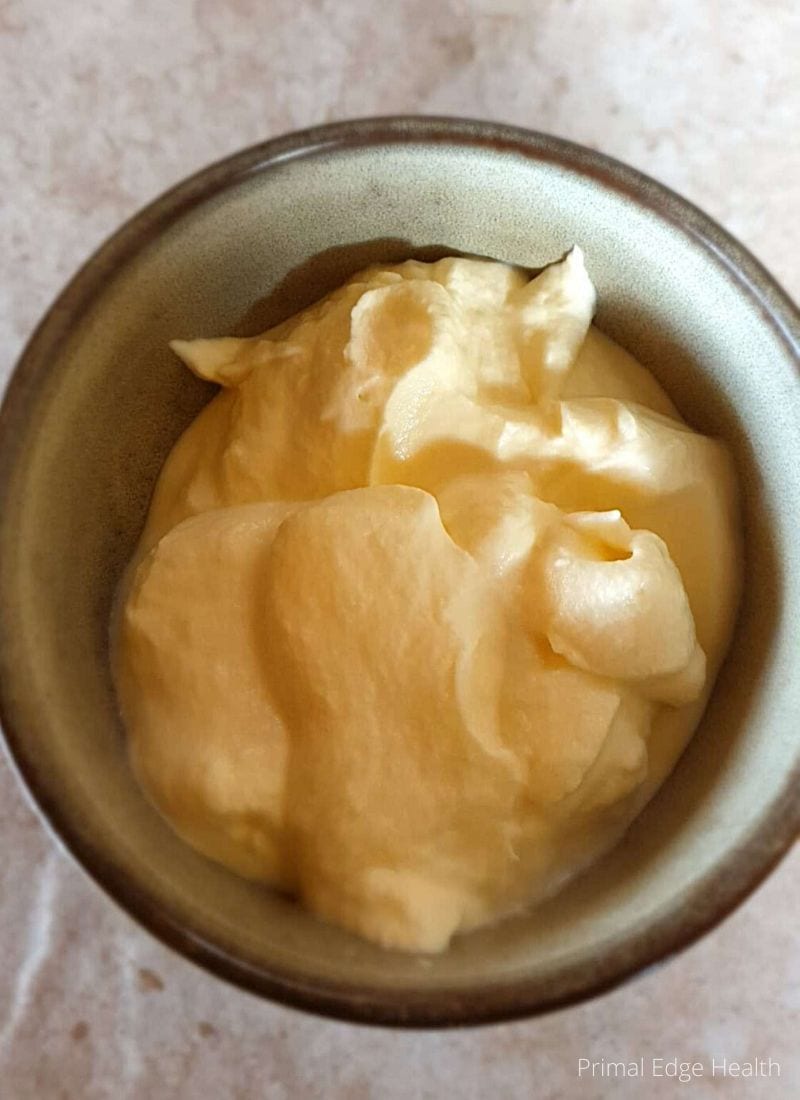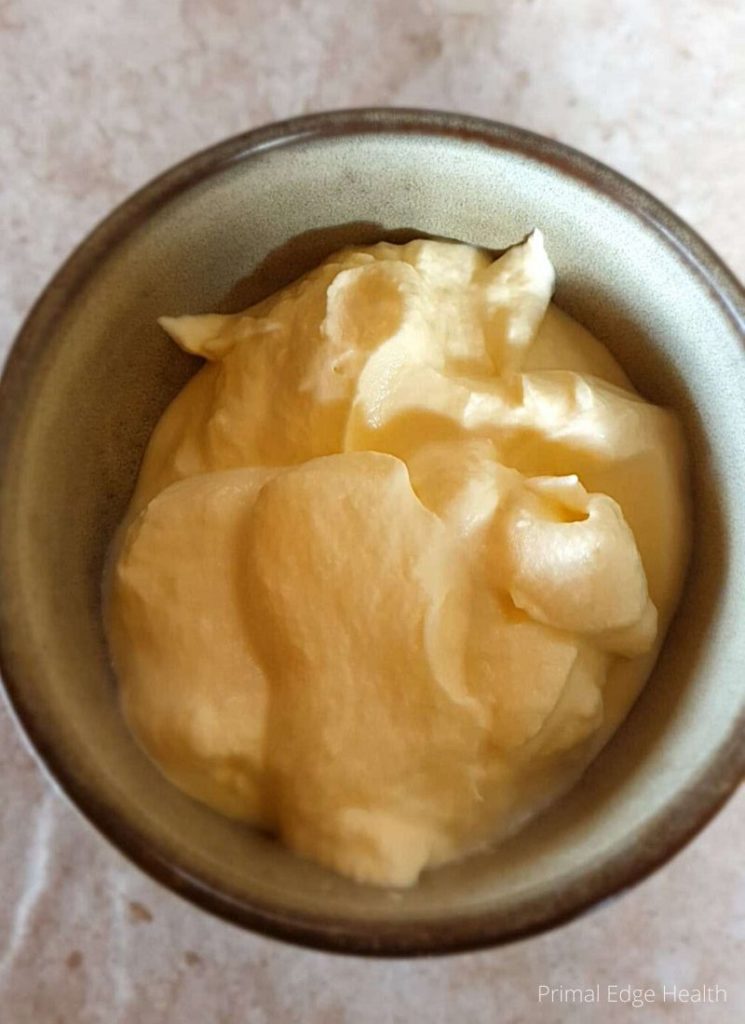 Crustless Cheesecake for One
Cheesecake crusts are usually made with graham crackers. In the case of low-carb cheesecake, crusts are prepared with almond or other nut flour. Delicious as they may be it's not what we are looking for on a carnivore diet.
Graham crackers are out of the picture because they are made with wheat and sugar. Nut flours are not used because of the high fiber content, phytic acid, and oxalate.
If you have never heard of oxalate, read about a Low Oxalate Diet and review my low oxalate food list to learn more!
Once we eliminate the crust the cheesecake starts looking a lot more carnivore friendly!
Essentially we whip all our favorite diary foods together, add a pinch of monk fruit sweetener, and a splash of vanilla extract for flavor. The filling is almost made entirely from animal foods, which are exactly what to eat on a carnivore diet.
Would like to get all my carnivore dessert ideas in a simple, easy-to-use ebook?
Sign in to download our free ebook below.
The non-animal foods have no fiber and are used in very small amounts. Since this is a cheesecake recipe for one, you only need enough for you and can adjust the ingredients to taste if needed.
There's really nothing better than raw dairy which I recommend you use whenever possible. It can be challenging to find so I suggest using the directories I have listed in my guide on How to Find Quality Foods.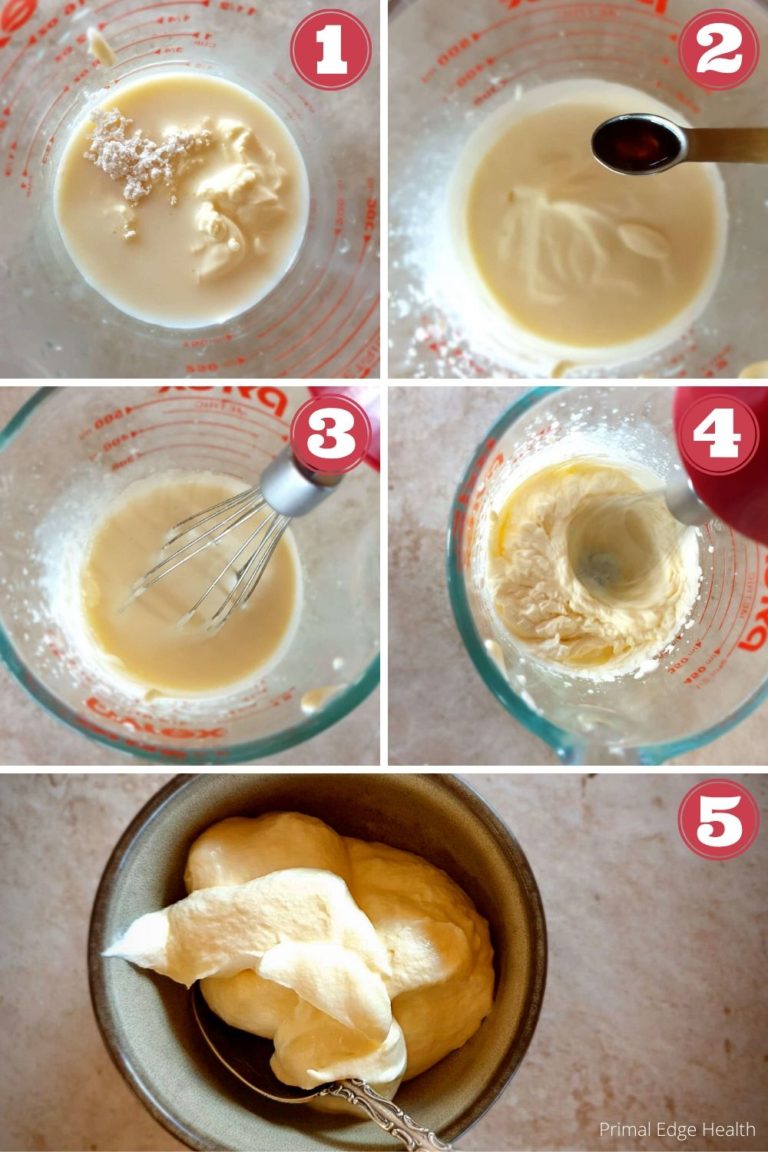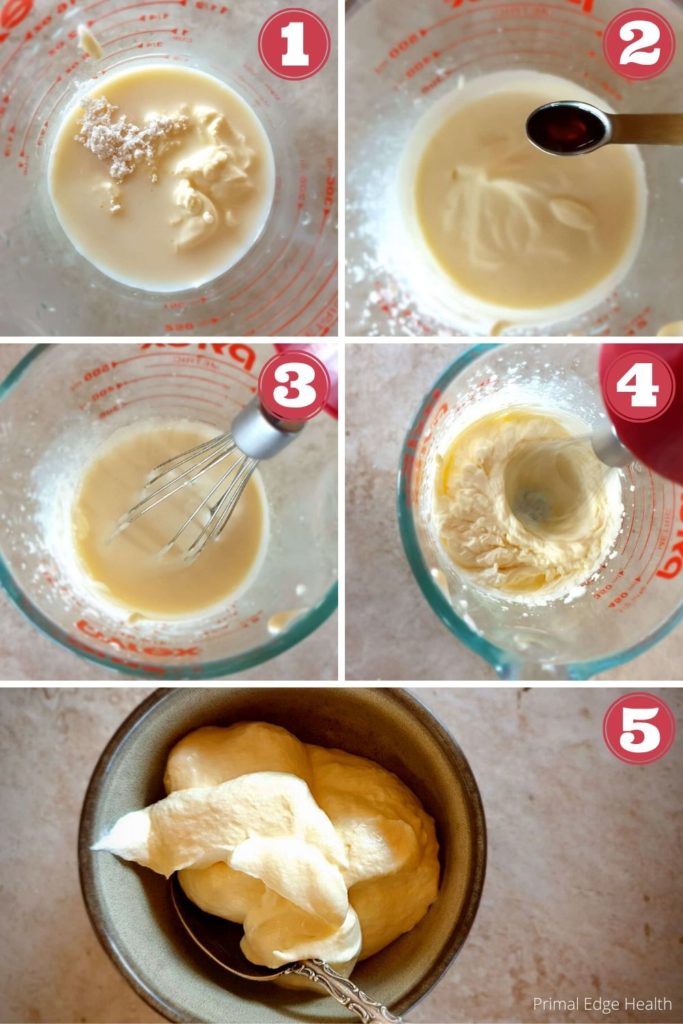 How to make a Carnivore Cheesecake Recipe
The process of making this carnivore cheesecake recipe is quick and easy. Those are two of my favorite words when it comes to cooking!
Gather all the ingredients together, add them to a bowl and beat until smooth.
Since this is a recipe for one, we don't even need to drag out a big electric mixer. I use a 2-cup measuring cup and immersion blender, but you can use a bowl and a handheld electric mixer instead.
When served fresh, the cheesecake filling is light and fluffy like whipped cream but tangy like cheesecake. Let it chill in the refrigerator for 30-60 minutes and it will firm into something more dense like cheesecake.
With 5 simple ingredients, this is a delicious dessert for one. Single serve desserts make portion control easy so you won't be tempted to overeat.
Do you need meal ideas? Try these 30 Easy Carnivore Diet Meal Ideas.
More Carnivore Desserts
Having carnivore diet dessert recipes can help you stay on track. Rather than blowing out on a pint of ice cream, make one of these recipes instead. They are easy fiber-free carnivore diet sweets made with animal foods and just a pinch of sweetener.
Carnivore Diet Ice Cream Recipe – This is from the original Carnivore Cookbook! Made with 3 ingredients, all of which are animal foods, it's a recipe all carnivores will love.
Carnivore Cake – Take just 3 essential ingredients and 10 minutes of prep time! This is an excellent carnivore birthday cake idea with variations for keto carnivore, carnivore carbs, and strict carnivore cooking styles.
Carnivore Custard – Make it with only 3 ingredients and 10 minutes of prep time!
No Bake Cheesecake Pudding – The ideal keto carnivore-friendly dessert! It's smooth and creamy sweet, plus it only calls for 3 main ingredients and 10 minutes of your time to prep it.
Carnivore Egg Pudding – Soft boiled eggs are the secret here. Blend them with a few other animal-based foods and you'll get a quick 5 minute no bake pudding!
No Bake Custard (Carnivore-Friendly) – This no bake keto carnivore custard has the same great flavor and silky smooth texture as traditional custard but is less work to make!
Peppermint Custard with Gelatin – Combine a hand full of ingredients together for this minty fresh keto carnivore dessert any day of the week.
No Bake Crustless Eggnog Cheesecake – Another no bake recipe, this carnivore approved dessert is a pudding made with grass-fed gelatin and cream with a taste of cinnamon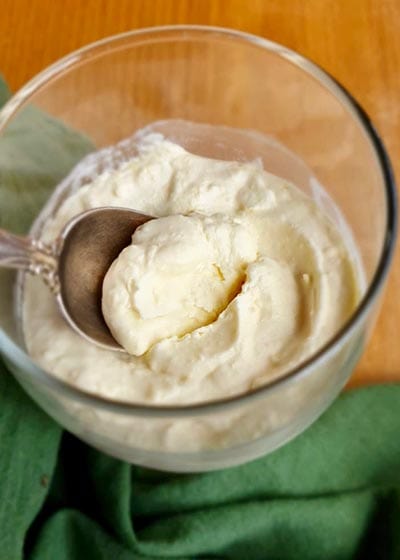 No Bake Keto Cheesecake for One
Make a No Bake Keto Cheesecake for One from start to finish in less than 10 minutes! What a simple, single serve dessert to enjoy after dinner – no crust to bother with and super easy to mix together. Plus the recipe is zero fiber and almost zero carb too.
Instructions
Beat all ingredients together with an electric mixer. Continue mixing until smooth.

Serve immediately or chill for 30-60 minutes.
Nutrition & Macros
Calories:
296
kcal
Carbohydrates:
3
g
Protein:
4
g
Fat:
30
g
Saturated Fat:
18
g
Sodium:
200
mg
Net Carbohydrates:
3
g
To obtain the most accurate representation of the nutritional information in a given recipe, please calculate the nutritional information with the actual ingredients and amounts used, using your preferred nutrition calculator. Under no circumstances shall the this website and the author be responsible for any loss or damage resulting for your reliance on the given nutritional information.
Made this? Leave a Rating! ⭐⭐⭐⭐⭐
Tag a photo with @Primal_Mom and #PEHRecipe on Instagram to share with us!