Inspiration for this Peppermint Keto Custard came from the classic summertime dessert, grasshopper pie. It's a beautiful dessert combining a minty cream filling with a chocolate pie crust. Usually served chilled, this pie is ultra reviving to the palate when temperatures rise.
…but it's a multi-step prep process
…and takes at least 30 minutes to make, plus, in some cases, prebaking the crust (when it's really too hot for the oven!) and then you still have to let it chill…
Easy keto recipes don't have to be difficult! I'm on a mission to prove that.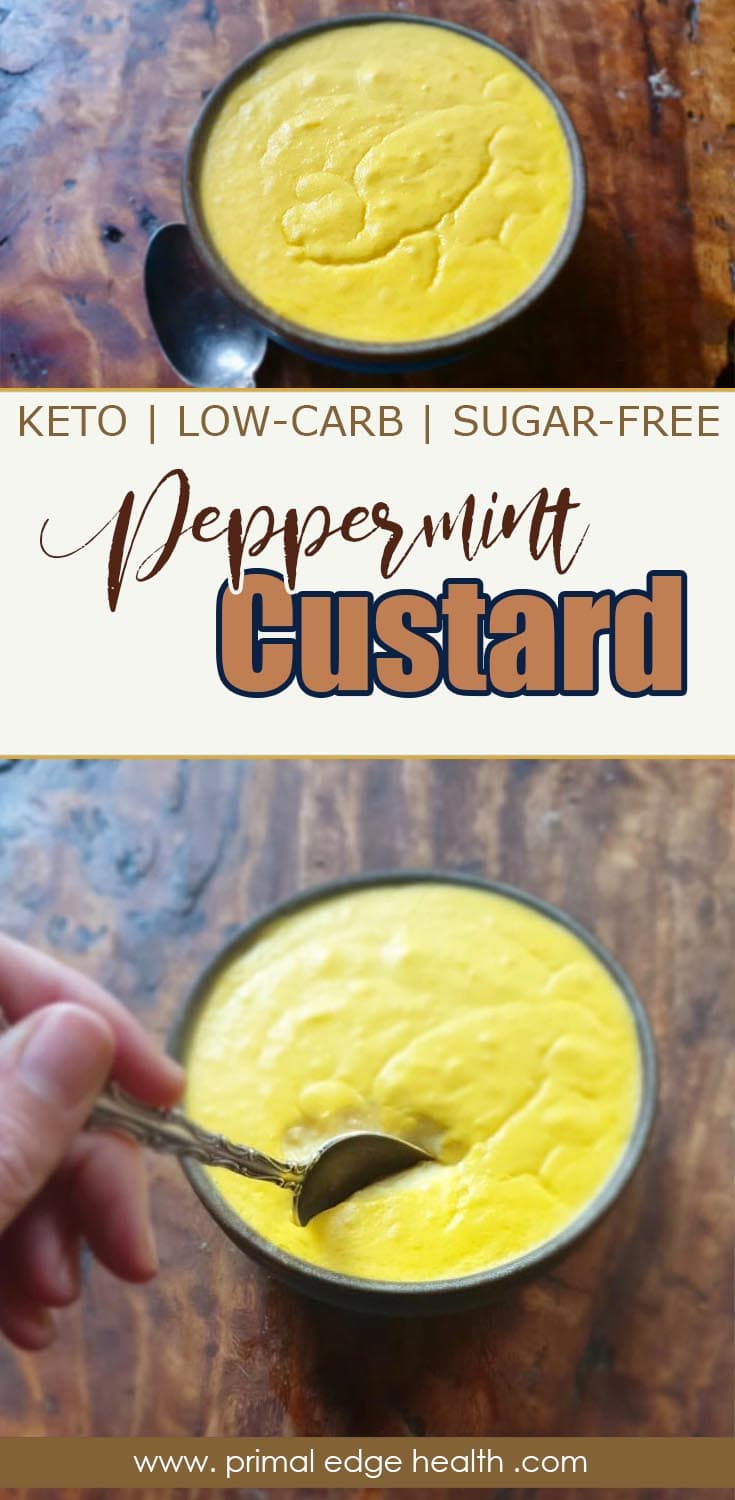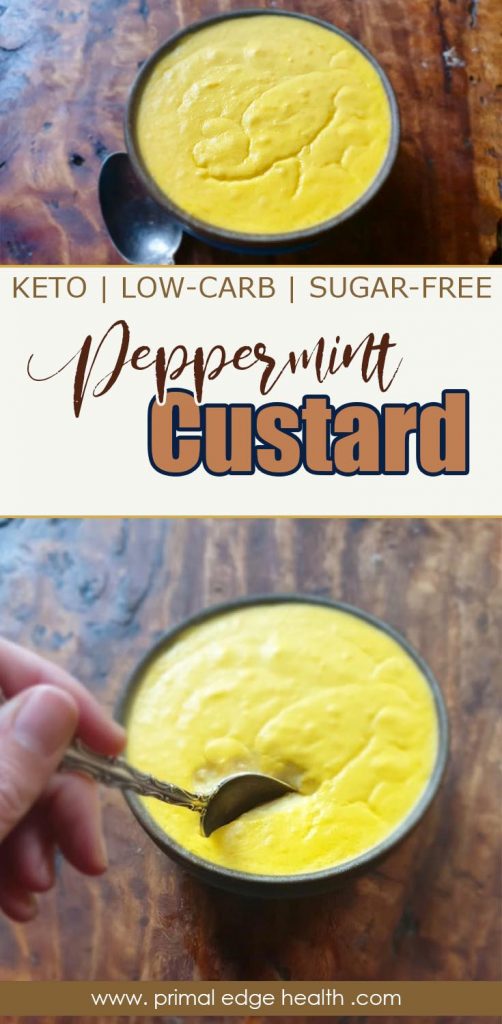 For this recipe, I focus just on the delightfully creamy filling and make a crustless filling, tummy toning, keto custard.
It's sugar-free and low-carb which is perfect for anyone on a keto diet!
All in all, it becomes a more foolproof recipe and perfect for busy (and practical) people who like good food but don't want to spend all day in the kitchen. Story of my life!
Cooking Tips For Keto Custard
Keto custard can be made entirely from natural, organic ingredients without any artificial flavors, preservatives, or added sugar. A homemade custard is far superior than anything you can find at the grocery store!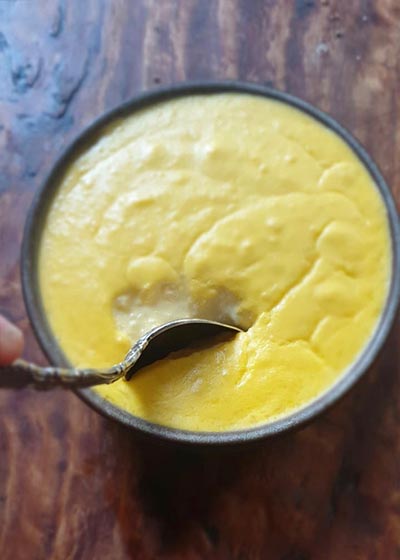 Love the mint chocolate combo of grasshopper pie? Serve with grated cacao paste shavings on top or mix in 4 tablespoons of cacao powder to the bowl of eggs and sweetener. If you add cacao, you want to use 2-4 tablespoons sweetener.
If serving for guests or a special occasion, top with extra whipped cream
Source raw, unpasteurized dairy whenever possible. Use our directory list here to source quality foods in your area.
Make ahead of time and store in the fridge until ready to serve. It will be good for a few days after making, just keep in an air tight container.
Serve in on big dish or separate into 4 small ramekins for individual portions.
Batch the recipe and store in the fridge or freezer to last all week!
This recipe yields 4 servings.
With only 3 g net carbs per serving, Peppermint Keto Custard is a delicious, guilt-free way to enjoy a healthy dessert while staying on a keto diet.
The recipe below is 100% gluten-free, grain-free, nut-free. low-carb, ketogenic, and sugar-free!
Sugar-Free Peppermint Custard
A pinch of sweetness (without the blood sugar roller coaster and crazy mental/emotional triggers) is made possible in this recipe by Lakanto's Monkfruit sweetener.
Save 20% on LAKANTO products with our coupon code PRIMALEDGEHEALTH
Lakanto's Monkfruit Sweetener is
ZERO GLYCEMIC – Will not increase blood sugar
ZERO CALORIES – With no sugar or added artificial flavoring
USEFUL – Flavor drinks, chocolate, cakes, and more!
EASY – Convenient for on-the-go or everyday use
Non-GMO Verified Monk Fruit
DELICIOUS with no bitter aftertaste
Alternatives:
I use Lakanto exclusively, but if you can't get it delivered to your area, use liquid stevia drops, a different brand of monkfruit sweetener, or erythritol instead. This recipe is pretty good on it's own with out any sweetener added. It's up to you if you want to boost the flavor up a sweeter notch or not.
Low Fiber & Carnivore-Friendly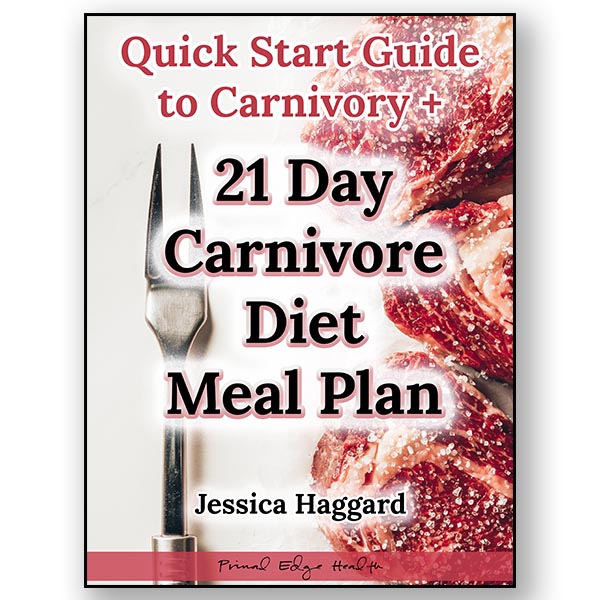 Some folks find they prefer a fiber-free Carnivore Diet and can remedy auto-immune conditions, improve mental health, and achieve rapid fat loss with carnivore diet recipes.
This custard is not suitable for strict carnivore dieters but keto carnivore recipes are great for those who can tolerate select plant foods. A pinch of plant-based sweetener and peppermint extract may not cause reactions for some people. If you prefer to use honey (and don't mind the carbs) you may substitute it in an equal amount.
If you're looking for more delicious zero-fiber recipes, get The Carnivore Cookbook with over 100 recipes made from just the essentials: animal protein and fats or browse through my free collection of Carnivore-Friendly recipes.
And don't miss my Keto Carnivore Diet Desserts: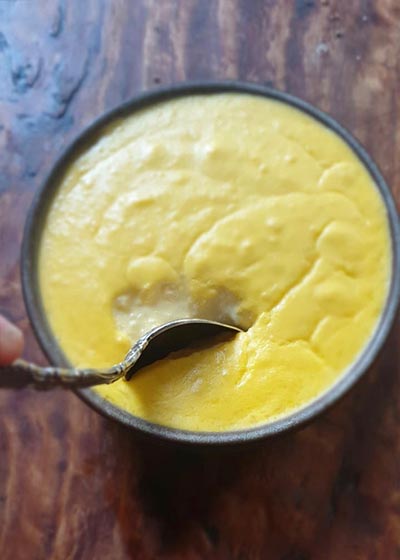 Peppermint Keto Custard
A minty fresh Peppermint Keto Custard is satisfyingly sweet and refreshing on a hot afternoon! With less than 10 ingredients, you can make an easy flavorful low-carb, keto dessert any day of the week.
Instructions
Bring water to a simmer in a small saucepan. Remove from heat, sprinkle gelatin over the surface of the water. Set aside to sit for a few minutes.

Combine milk and peppermint spirits or extract. Add to water gelatin mixture.

In a medium bowl, whisk the egg yolks with optional sweetener. Continue whisking and slowly add the peppermint milk. Continue until thickens, remove all clumps.

Refrigerate until thickened to a pudding-like consistency, about 30 minutes.

Meanwhile, beat the cream into stiff peaks. Once mint mixture is chilled, gently fold in the whipped cream.

Refrigerate to set completely, about 3 hours.
Nutrition & Macros
Calories:
174
kcal
Carbohydrates:
3
g
Protein:
2
g
Fat:
18
g
Saturated Fat:
11
g
Sodium:
31
mg
Net Carbohydrates:
3
g
To obtain the most accurate representation of the nutritional information in a given recipe, please calculate the nutritional information with the actual ingredients and amounts used, using your preferred nutrition calculator. Under no circumstances shall the this website and the author be responsible for any loss or damage resulting for your reliance on the given nutritional information.
Made this? Leave a Rating! ⭐⭐⭐⭐⭐
Tag a photo with @Primal_Mom and #PEHRecipe on Instagram to share with us!