This Braised Cabbage Recipe is an easy to make, low-carb vegetable side dish that might just be the absolute best way to eat cabbage! Not only is it affordable, but also great for meal prep and can be paired with such a wide variety of entrees. With a simple ingredient list, this recipe is approved for keto, whole30, paleo, and dairy-free diets too!
It might not sound like much yet but hang tight because this is one of my all-time favorite easy keto recipes.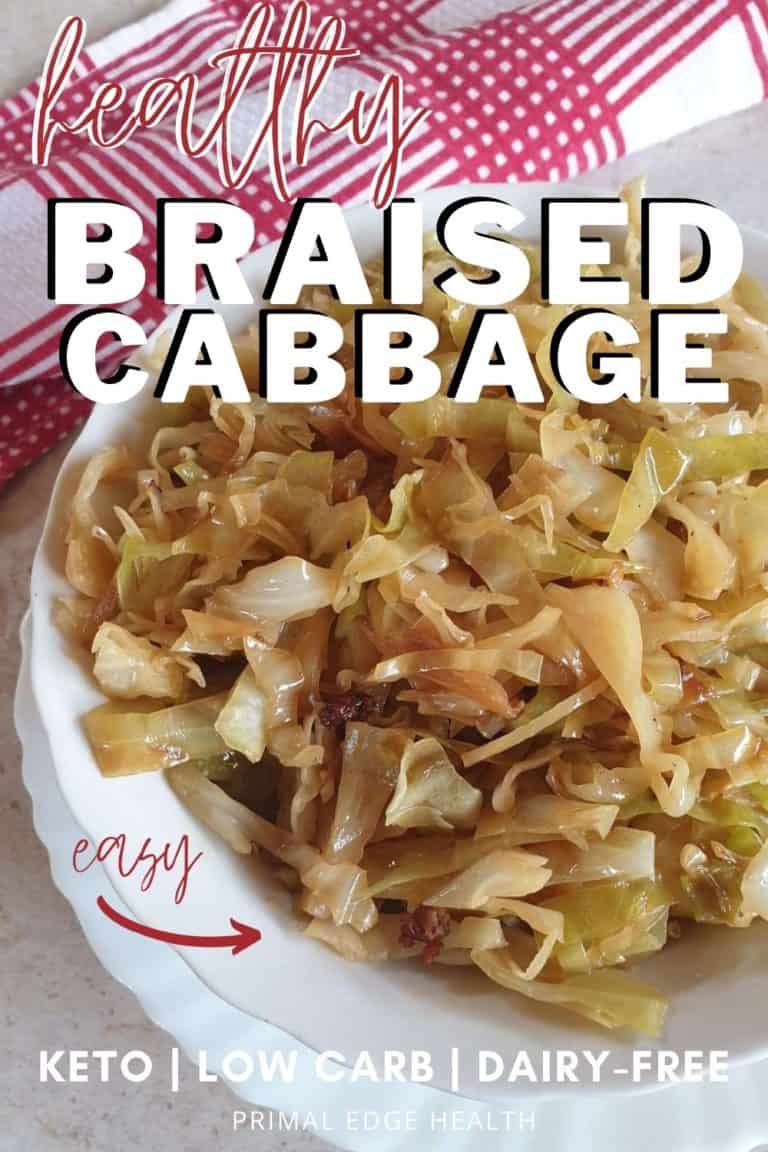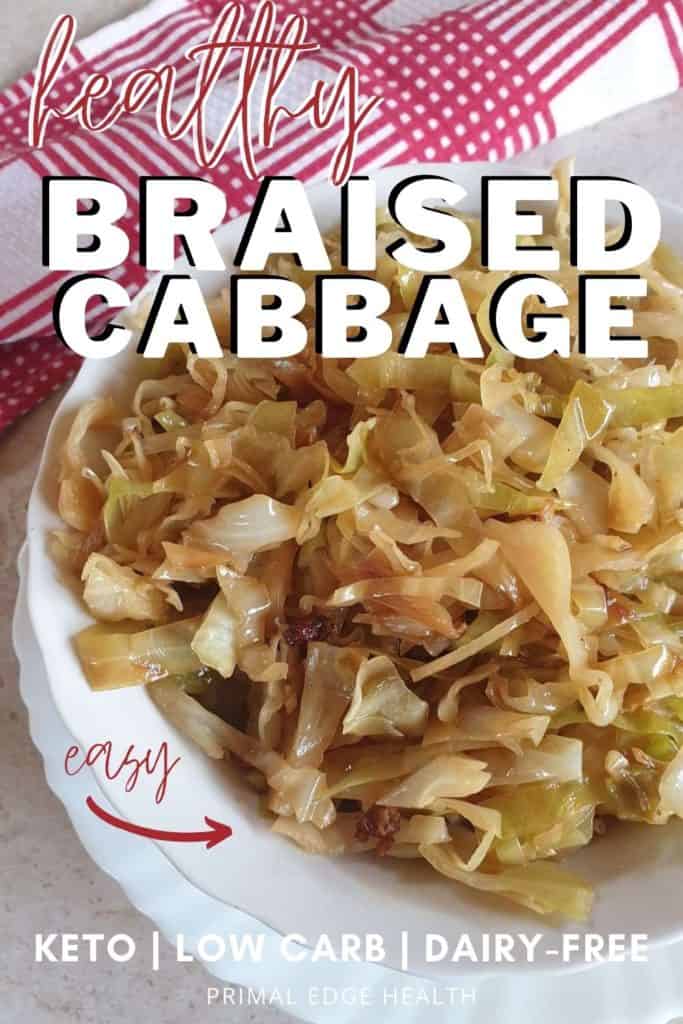 Table of Contents (click to view)
Braised Green Cabbage
There is something magical that happens by pan-frying a humble cabbage and simmering it in a rich, nutrient-dense broth.
I learned about braising while working on The Ketogenic Edge Cookbook, mastering low-carb vegetable prep techniques was pretty easy but I didn't feel like I had enough until I was able to include braising as one of the six food prep methods we teach.
Braising rounds out our introduction to preparing keto diet approved vegetable dishes so everyone can feel confident in their keto kitchen cooking. I go into detail on how to prepare the best low-carb vegetables, which ones work best with various methods, and also suggest compatible entrees so you can make a complete meal morning, noon, and night.
Braising is the perfect approach for meal prepping warm and comforting meals that don't take a lot of time or effort to put together.
Simmering chopped cabbage in bone broth with butter and salt creates a tender, melt on your mouth, savory side dish.
What is Braising?
Braising is a French-inspired cooking method that employs both wet and dry heat. First, the main ingredients are sautéed or seared over high heat and then finished in a covered pot at a lower temperature with a small amount of liquid.
Vegetables and meat can both be braised. I find the end result to be similar to slow cooking, in that the ingredients become very soft and tender. However the cooking time for braising tends to be much faster. For a braised meat recipe, check out Braised Beef Heart Recipe (Slow Cook).
This technique works well with all sorts of vegetables, particularly ones with less water content like cabbage, asparagus, and green beans.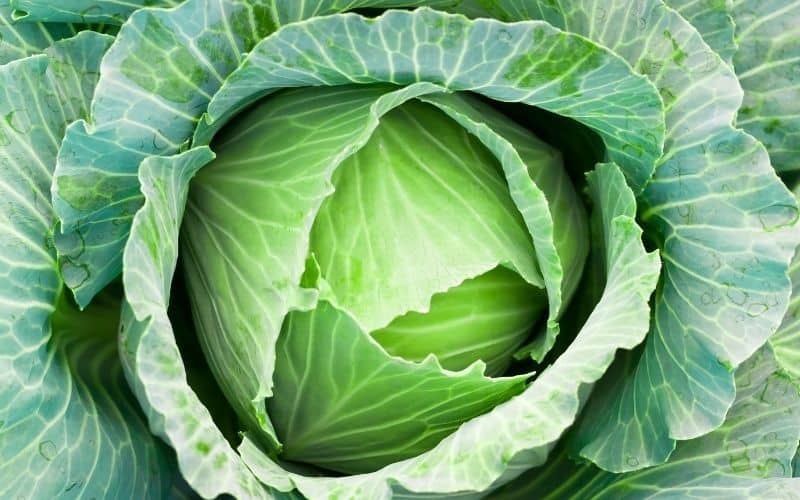 Simple Braised Cabbage
Cabbage itself is a pretty simple vegetable. If I'm not making a lacto-fermented Homemade Sauerkraut, I usually braise it.
Not only is this a healthy side dish that looks totally gourmet (but doesn't require a culinary degree) but it is also a flexible vegetable recipe that goes well with a wide variety of main dishes. From roast chicken to roast beef and broiled fish to broiled lamb shoulder, pretty much any cold-weather meaty entree will pair well.
If properly stored, raw cabbage will keep for up to 3-4 weeks in the refrigerator. This sounds like one of the best ingredients to have around for meal prepping!
Braised Cabbage Variations
I'm giving you the basic recipe here today. If you fall in love with it as I do, there are many ways to can customize it and make it our own.
Mix in 1/2 teaspoon of your favorite spice mix into the cooking fat before sautéing the cabbage. I use garam masala and Chinese 5 spice often. Caraway seeds also go well with cabbage and emphasis the subtly sweet taste.
Dice a white onion or two fresh leeks and add it with the garlic to the cabbage and sauté together.
Dulse and seaweed are particularly tasty too.
Sprinkle in fresh herbs like chopped parsley or thyme at the end. The French seasoning Herbs de Provence is delightful too!
Love cheese? There is nothing stopping you from grating some hard aged cheese over the hot cabbage before serving. Parmesan, Gouda, or Gruyere would be lip-smackingly good.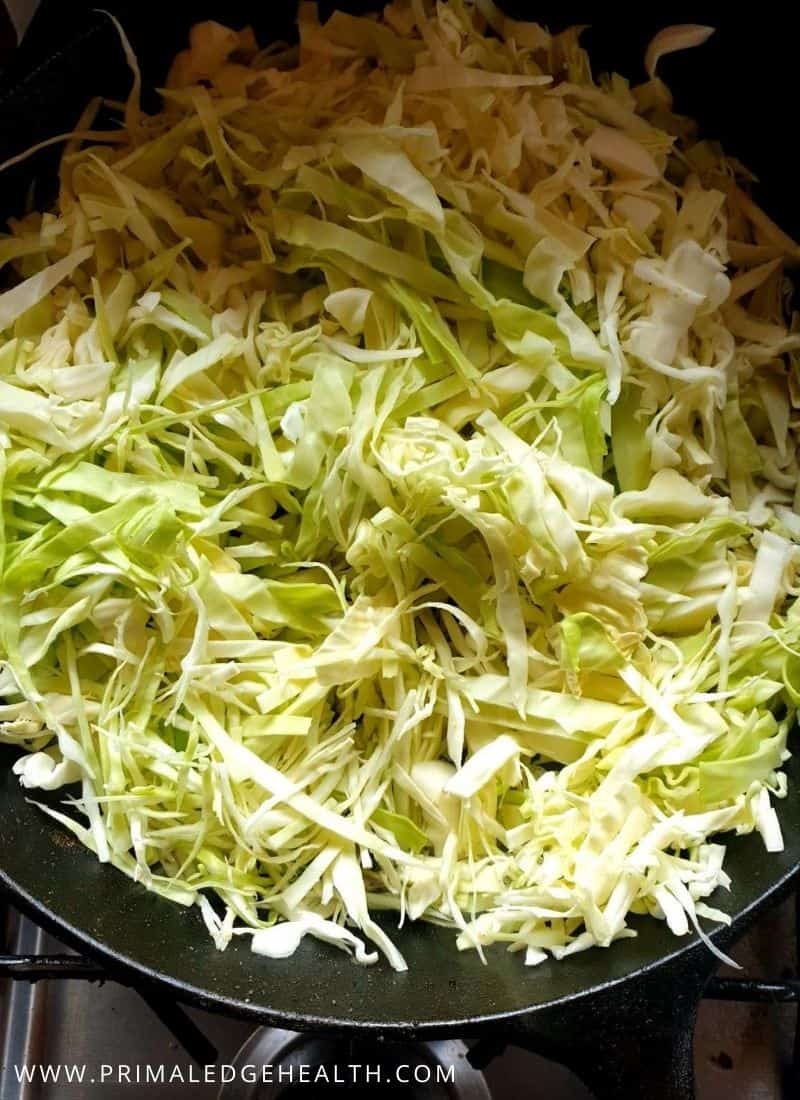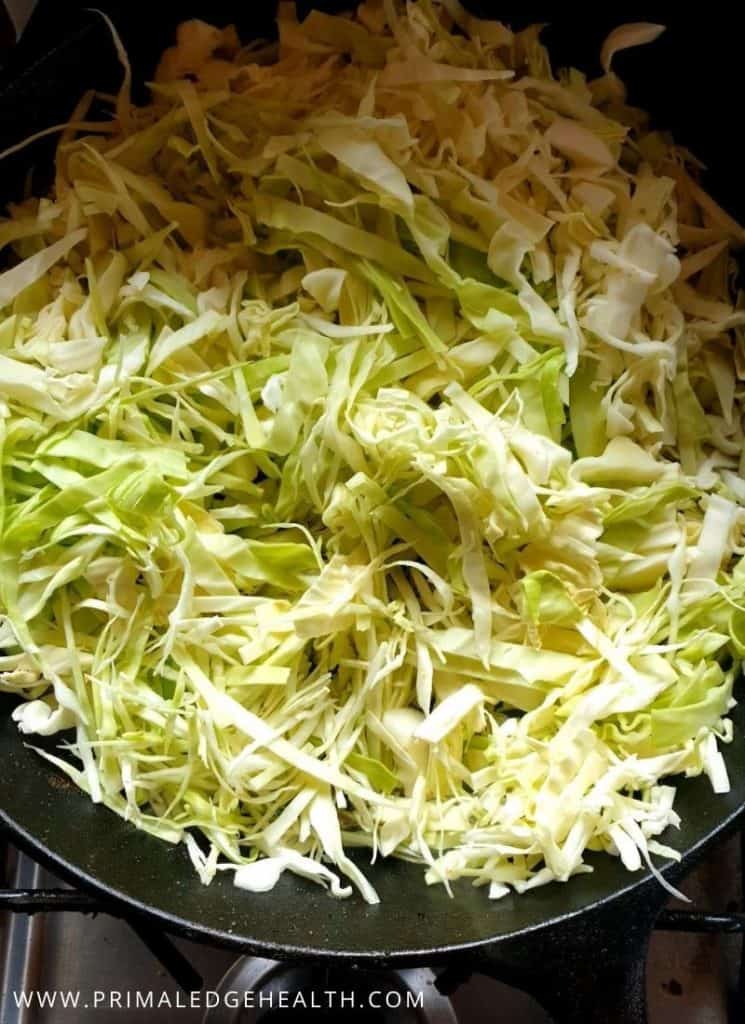 Is Braised Cabbage Keto?
Absolutely! Cabbage is a keto-approved ingredient and we're cooking it with savory herbs and bone broth. There's no sugar or many carbs to consider so it is great any time of the year.
How Many Net Carbs Are In Cooked Cabbage?
Cabbage is not a starchy vegetable and naturally low carb. Green cabbage is a low-carb vegetable you can eat anytime on keto.
For every 100 grams of raw green cabbage, there are only 27 calories. Calories come from 5 grams of carbohydrates, 1.5 grams of protein, and essentially 0 grams of fat. There are only 3 grams of net carb per serving.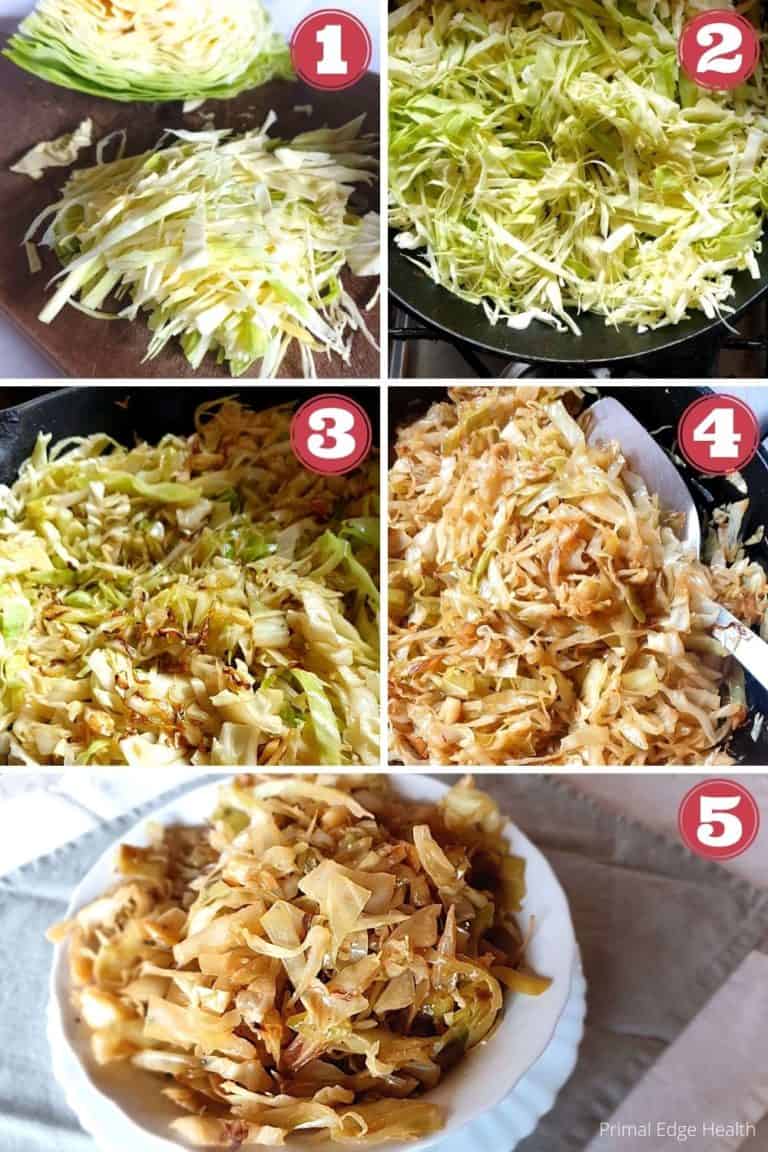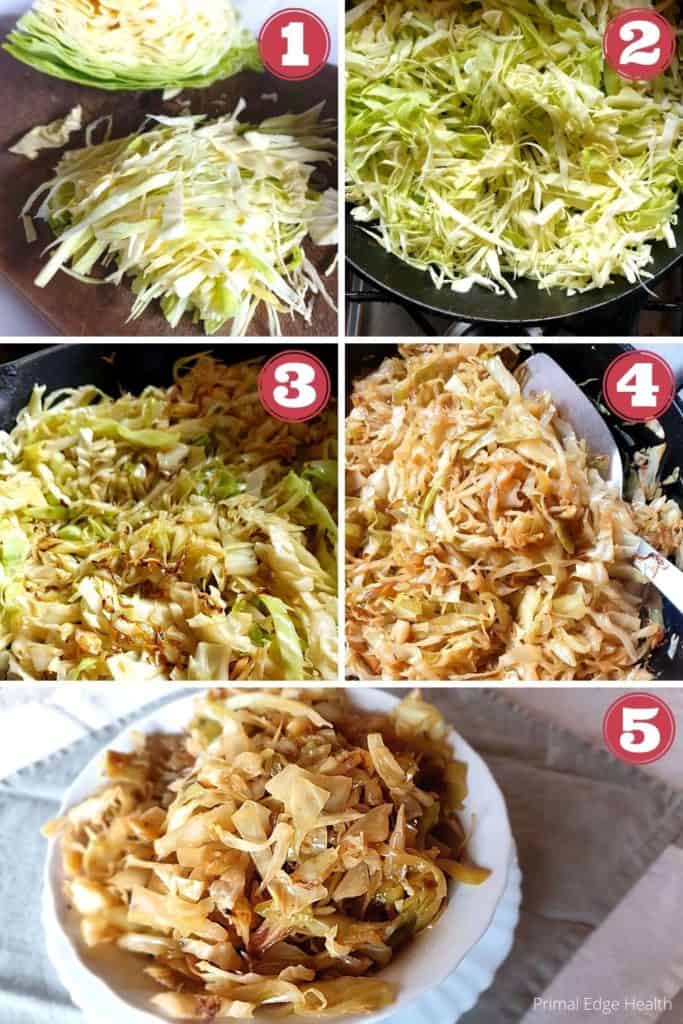 How to Make Braised Green Cabbage Recipe
You can make an easy braised cabbage recipe in about 20 minutes from start to finish.
Step 1 Prepare the cabbage.
Finely slice the cabbage into small, uniform slices. You can use a food processor if you want, but I usually use a sharp knife and cutting board.
Make the slices as similar in size as you can so they cook evenly.
Step 2 Brown the cabbage.
Choose a cast-iron skillet or frying pan that has a lid and heat the cooking fat in it over medium-high heat. Once hot, arrange the cabbage in a single layer and let it cook for 2 minutes without moving it, so the bottom layer turns golden brown and crisp at the edges.
Step 3 Mince the garlic and mix it into the cabbage.
Sauté for another few minutes.
Step 4 Pour in the broth and cover with a lid.
Leave it cracked to regulate the temperature so the liquid simmers. Let it simmer over reduced heat until the broth significantly reduces and the cabbage is well cooked about 5 minutes. Check and stir the mixture halfway through the cooking time.
I usually use Homemade Beef Bone Broth or Slow Cooker Beef Bone Broth, but you can also add chicken broth instead.
Step 5 Remove from heat.
Season with salt.
Cool slightly and transfer to a serving dish.
Serve warm.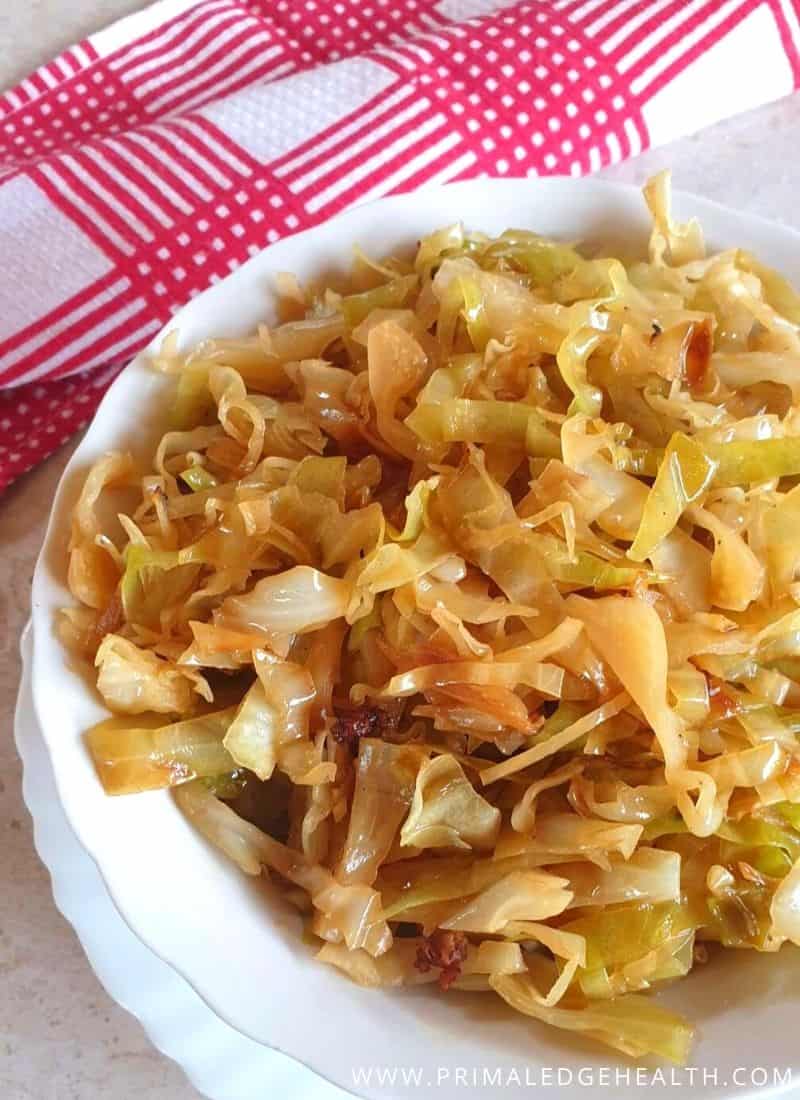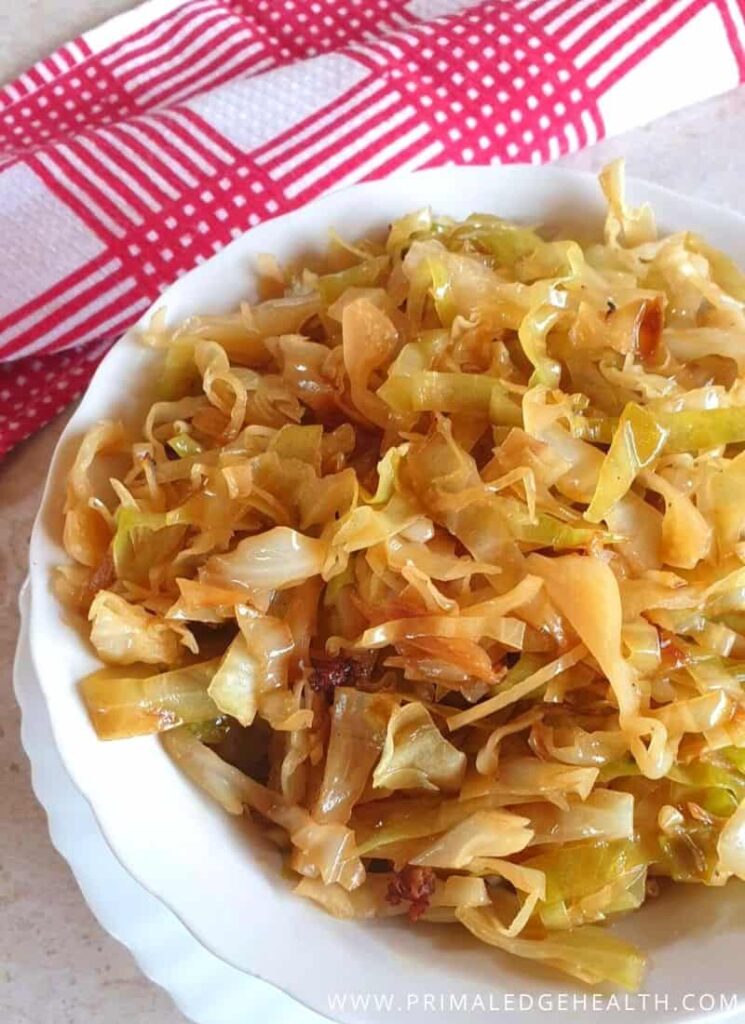 More Low Carb Side Dishes
Meal prepping is easy when you have a few favorite recipes you can rotate in your diet throughout the week.
These recipes are elegant enough to add to your list of keto Christmas dinner recipes, but also easy enough to bulk prep for your keto meal plan.
I recommend these best low carb side dishes for meal prepping: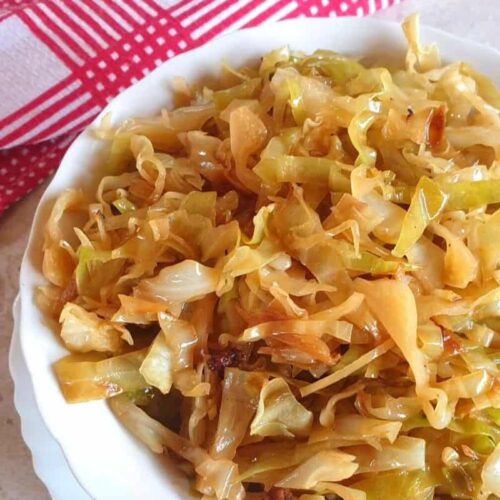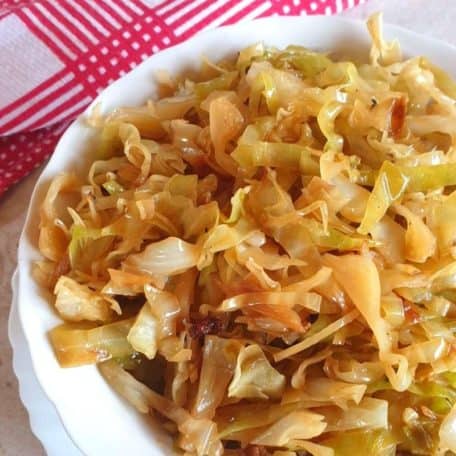 Easy Braised Green Cabbage
This Braised Cabbage Recipe is an easy to make low-carb vegetable side dish that might just be the absolute best way to eat cabbage! Not only is it affordable, but also great for meal prep and can be paired with such a wide variety of entrees.
Instructions
Finely chop the cabbage into even pieces.

Warm butter in a skillet over medium heat.

Add the cabbage in an even layer, cook for

2 minutes

without stirring until golden brown.

Add garlic to the cabbage, mix in to combine. Saute for another

2 minutes

or so.

Pour in the broth, cover with a lid and simmer over low until the broth is significantly reduced and the cabbage is well cooked, about 5 more minutes. Check it and stir halfway through the cooking time.

Season with salt as desired and serve warm.
Nutrition & Macros
Serving:
1
cup
Calories:
114
kcal
Carbohydrates:
11
g
Protein:
7
g
Fat:
6
g
Saturated Fat:
4
g
Sodium:
418
mg
Fiber:
4
g
Net Carbohydrates:
7
g
To obtain the most accurate representation of the nutritional information in a given recipe, please calculate the nutritional information with the actual ingredients and amounts used, using your preferred nutrition calculator. Under no circumstances shall the this website and the author be responsible for any loss or damage resulting for your reliance on the given nutritional information.
Made this? Leave a Rating! ⭐⭐⭐⭐⭐
Tag a photo with @Primal_Mom and #PEHRecipe on Instagram to share with us!
Wouldn't this be a perfect side dish to our Beef Shank Slow Cooker Recipe?!
Browse through Low-Carb Vegetable Recipes for more easy side dishes.