You'll be mind blown by how good this easy beef kidney recipe is. It is very exciting to find organ meat recipes you actually want to eat! If you are interested in eating nose to tail carnivore diet recipes or like exploring healthy ways to add organ meats to your diet, this 3-step stovetop dish is a great way to normalize the presence of nutrient-dense foods in your home.
Table of Contents (click to view)
An easy beef kidney recipe you have to try
Truth be told, kidney hasn't received much attention in my nose to tail journey until a few months ago and I wish I hadn't waited so long!
I've spent a good amount of time experimenting with different ways to make kidney.
From soaking to sautéing to braising to grilling, there are many different approaches to take. However, nothing can compare to the ease and simplicity of this keto carnivore kidney recipe.
These beef kidneys are more than just easy to make; they taste good too!
You might be as surprised as I was to learn this but it's true! Without any fancy sauces or cooking technique and without trying to disguise them, kidney is right there in the open for all to enjoy.
Please tell me in the comments what you think of this dish. It's the only way I make kidney now and feel like everyone should be talking about it! Do you love it as much as I do?
Where to buy beef kidney?
A few decades ago, kidney could still be found in most supermarkets. Unfortunately, today they are not always so easy to come across.
Ethnic grocers (think Eastern European, Russian and Mexican markets) often sell kidney as do local butchers. Ask whoever stands behind the glass display case for an order of fresh kidney. If they don't have any at the time, you may be able to make a custom order and have them source it for you.
If you prefer to shop online, I highly recommend grass-fed beef kidneys from US Wellness. They offer grass-fed beef, bison, lamb and goat kidney.
As with most foods, seek a fresh source of the best quality you can access. Some people consume conventionally raised organ meats without any problems, however, I prefer to prioritize grass-fed organs.
How do I prepare and clean beef kidneys?
Little to no preparation is required before adding the kidney to the boiling water. Depending on how the kidney is sold to you and on your personal taste, you may or may not want to trim the central piece of fat.
My family prefers to leave on as much fat as possible. In fact, we playfully fight over the fatty bites. They are always the first pick.
To trim, use a very sharp knife and thin out the fat or remove it completely by cutting away carefully between the membranes of meat and the fat. Once removed, you will have a small piece of suet, which is prized for rendering into tallow. This cooking fat is excellent for steak, burgers and high temperature searing or frying. Save fat to cook with later.
How to Cook Beef Kidney
Cooking time may vary due to the size of kidney. I cook the average 16 ounce (454 grams) beef kidney for 8 minutes, extra-large ones may go for as long as 10 minutes. Lamb, sheep, and goat kidneys are smaller, typically I only boil them for 4 to 5 minutes or so.
Boiling beef kidney for 8 minutes cooks the outside while leaving the inside rare. For a well-done kidney, boil for as long as 12 minutes.
I recommend you stop early rather than continue longer and enjoy the tender inside. Kidney has a soft texture and flavor full when kept rare.
Most people find rare and blue rare meat digests better than medium and well done.
The more you cook kidney, the more it shrinks. As it condenses, it will become more firm. Overcooked kidney will be slightly rubbery. This texture is nothing like a tough piece of meat but you will need to chew it more and the flavor is noticeably blander.
Do you have to soak kidney before cooking?
In many recipes, it is recommended to soak the kidney in brine prior to cooking. This draws out the "kidney flavor" and mellows the taste significantly.
I would do this for grilling or pan-frying but not in this recipe where we boil.
After boiling, the kidney tastes good. There is no hint of ammonia or potentially offensive smell or taste.
Maintaining a full boil is important for the entire length of cooking. Regulate temperature by adjusting the flame and setting the lid more or less cracked (open) to find the sweet spot of boiling but not boiling over.
Each stove is a little different. You will soon learn how to achieve this in your own kitchen. I cook on a medium burner and reduce the flame from high to medium-low once kidney is added. The lid gets cracks by about an inch or so after kidney is added.
The best way to serve boiled kidney
To serve, simply cut in half, medallions or bite-sized pieces. I place the kidney on a small cutting board and cut it at the table. You can just as easily use a plate. Because the fat is in the middle, each bite may be slightly different. I find it is best to serve all pieces on a platter of sorts (in my case, a cutting board) and people can pick and choose what they want, piece by piece.
You may sprinkle quality mineral salt to taste, although I tend not to use any. A few pats of cold butter on the side are very complimentary.
Kidney is best as an appetizer or side to the main entrée. A large beef kidney can easily serve up to 4 people this way.
I'm sure you see how easily this recipe may be doubled if needed. You should look for a larger pot and add more water. Cooking times remain the same.
Chop it up and serve with keto cheese sauce!
Are beef kidneys good for you?
Eating offal, also known as organ meats, is good for you in a number of ways. Beef kidney is
an affordable source of protein and fat-soluble vitamins
a respectful way to use all parts of an animal, leaving minimal waste
new and novel for most people, adding a sense of excitement to cuisine
Apart from just health, there are other benefits of organ meats too!
I love using the combo of ground beef with liver, heart, and kidney premixed for me. It's an easy way to get a great nutritional bang for your buck and super easy to add to any ground beef recipe without anyone giving it an "eww".
Keto Organ Meat Recipes
If the above combo of ground meat and organs appeals to you, order some online or ask your butcher to make a blend for you.
The ground organ meat may be used as the main meat portion in any of these keto diet approved recipes (all are fantastic for a carnivore diet too!)
Beef kidney nutrition
According to NutritionData beef kidneys contain significant amounts of bioavailable
Protein
Vitamin C
Zinc
Thiamin
Riboflavin
Niacin
Vitamin B6 and B12
Folate
Pantothenic Acid
Iron
Phosphorus
Copper
Selenium
Animal organs are known to be packed with nutrients! Once you know what to look for shopping and cooking is easy. Your wallet will thank you too!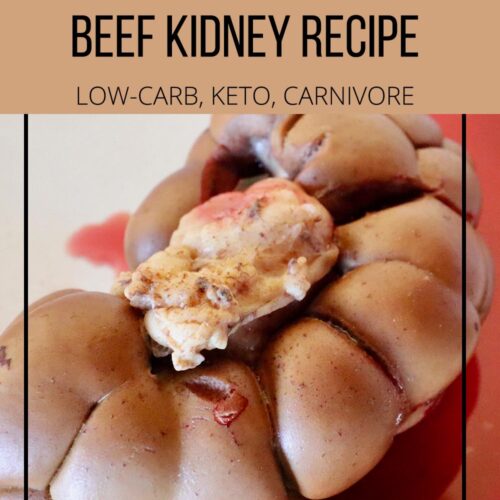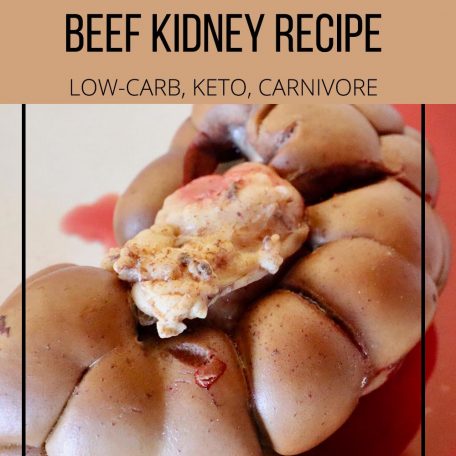 Easy Beef Kidney Recipe (Keto Carnivore)
You'll be mind blown by how good this easy beef kidney recipe for keto and carnivore diets is! If you want to eat more nose to tail, this 3-step stovetop dish is a great way to normalize the presence of nutrient-dense organ meats in your home.
Instructions
Fill a small pot with enough water to submerge the kidney.

Cover and bring water to a boil over medium high heat.

Reduce the heat, add kidney and leave the lid cracked to allow heat to escape.

Boil for 8 minutes, monitor the heat so water does not boil over.

Remove from heat. Drain water and quickly rinse kidney under cool water if desired.

To serve, simply cut into half, medallions or bite sized pieces. Sprinkle with optional salt to taste and eat with cold butter ad libitum.
Notes
The fat is excellent and should be left on.
Cooking time may vary due to size of kidney. I cook the average beef kidney for 8 minutes, extra large ones may go for as long as 10 minutes. Lamb, sheep, and goat kidneys are smaller, typically I only boil them for 4 to 5 minutes or so.
You want the kidney to boil for the full cooking time. Regulate temperature by adjusting the flame and setting the lid more or less cracked (open) to find the sweet spot of boiling but not boiling over.
Nutrition facts are for a 4 ounce serving of beef kidney; butter not included.
Nutrition & Macros
Serving:
4
ounces
Calories:
117
kcal
Carbohydrates:
1
g
Protein:
20
g
Fat:
4
g
Saturated Fat:
1
g
Sodium:
207
mg
Net Carbohydrates:
1
g
To obtain the most accurate representation of the nutritional information in a given recipe, please calculate the nutritional information with the actual ingredients and amounts used, using your preferred nutrition calculator. Under no circumstances shall the this website and the author be responsible for any loss or damage resulting for your reliance on the given nutritional information.
Made this? Leave a Rating! ⭐⭐⭐⭐⭐
Tag a photo with @Primal_Mom and #PEHRecipe on Instagram to share with us!
Take a look How to Cook Meat on a Carnivore Diet and brush up your skills with other cuts and techniques!
More Beef Kidney Recipes
This easy kidney recipe with calf's kidney makes a delicious and nutrient-dense meal. It is very satiating and perfectly suited for low carb diets.
Enjoy the incredible nutritive benefits of grass-fed beef kidney in a truly delicious, warm, and comforting pie, perfect for winter. The crust is gluten-free, Paleo, AIP, and has an incredible buttery flavor.
You've never fully enjoyed beef kidney until it's pan-fried and sautéed with garlic, butter, and lemon.