There are many different types of salt from all over the world. Not only is salt an important commodity for many countries, but it also has a rich history in various local cuisines and cultures. Each type of salt is special and comes with its own unique qualities and specific purposes.
This post is sponsored by Mountain Rose Herbs.
How Many Different Types of Salt are There?
You might think that all salt is interchangeable. After all, salt is salt, right?
Dig a little deeper and you'll soon learn that there are noticeable differences in flavor, appearance, texture, and mineral content. (source, source)
Since Mountain Rose Herbs is my favorite place for high-quality herbs, spices, teas, and essential oils, I thought it would be fun to go through their catalog of gourmet salt and describe each type one by one.
I had so much fun taste testing these different salts! I hope you have as much fun exploring these options as I did.
Originally, I felt skeptical that a different salt could make that much of a difference, but I was wrong!
Noticing the subtle differences between each kind of salt was an eye-opening experience.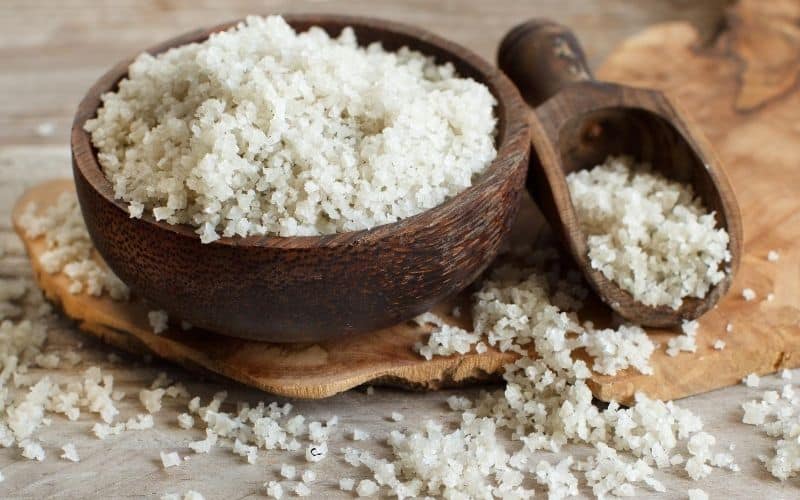 Types of Cooking Salt
My attention first turned to salt when I started a keto diet because it is essential for electrolyte supplementation on keto. Using salt correctly is needed for an easy keto-adaptation and helped me avoid keto flu.
Now, I am currently on a carnivore diet, and salt remains an important component of energy regulation.
Each different type of salt adds a unique flavor to the meal without any extra effort.
If you'd like to learn what to eat on a carnivore diet, start by downloading my free printable pdf Carnivore Diet Food List.
Seasoning with different salts is a great way to add variety to ultra-simple carnivore diet recipes!
7 Different Types of Salt
Here are 7 different types of salt, plus 26 recipes for how to use them that are sure to intrigue and excite your taste buds.
Read my Mountain Rose Herbs review to learn more about this company.
Best Salt for Cooking
All of these yummy recipes clearly illustrate a variety of ways to use salt in cooking. From sweet to savory dishes for breakfast, lunch, dinner, and dessert, salt has an important role in flavor, appearance, and even texture.
It's fun to have all of these salts on your spice shelf so you can pick and choose which one you want under different circumstances.
Using different salts is the easiest way to add variety to a meal without changing anything else. There are many recipes that come out noticably different by simply substituting one type of salt of another.
The bottom line is that you want a clean, unrefined, natural salt that is affordable and budget-friendly.
Deciding what the best salt for cooking is will depend on the specific purpose it is used for. Some are best for adding smoky flavor and others lend a touch of sweetness, while still others are more eye-catching than anything else.
You may be able to find a quality local salt that isn't listed here, in that case, try it out! Support local producers as much as possible. Look for regional food production in your area to see what you might find and share your success with us in a comment below!
References
I originally published this article on March 29, 2018 and updated it on August 9, 2020.