I had crispy salmon burgers dripping juices down my hands while I bit into the patties sandwiched between two pieces of keto flatbread. With my easy keto recipes, you can make all your favorite high carb foods like burgers keto style! Don't even hold the bun.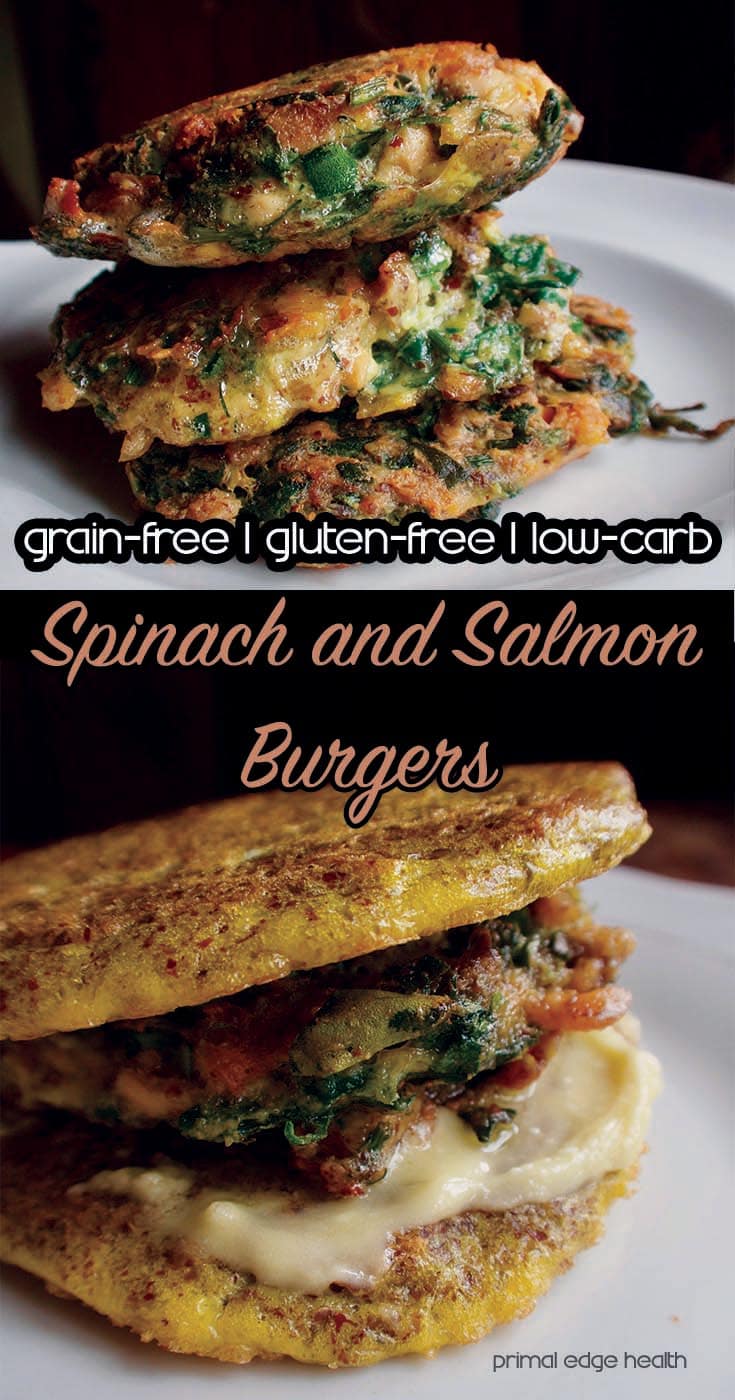 The dill is rich and pungent, pairing nicely with the onion and salmon. These flavors are so classic. I love the slightly tangy herb with spicy onion smoothed over by homemade mayo.
Beef tallow is the best fat for frying and gives such great flavor!
This is a great low carb burger option for a keto diet.
Recommended: 33 Variations on the Keto Flatbread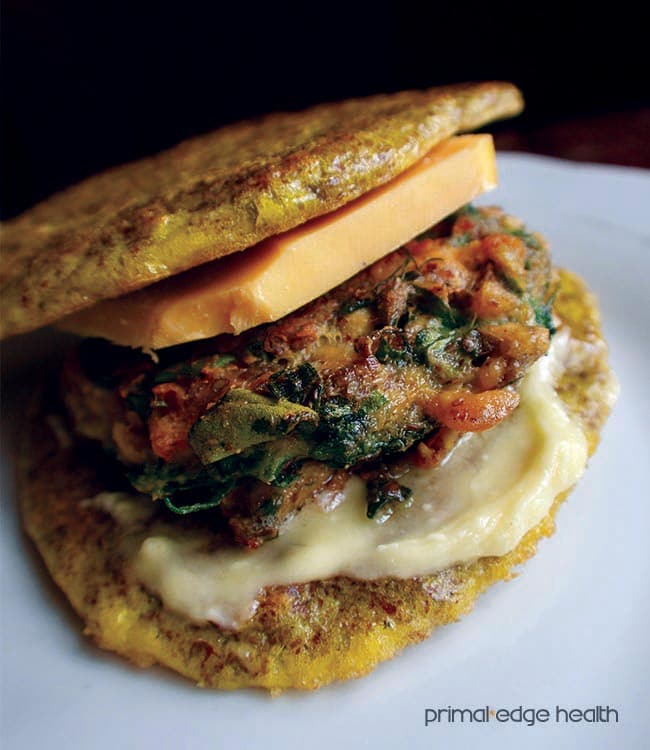 Table of Contents (click to view)
Simple Meals with Bulk Prep
Usually, I put a lot of energy into making hot breakfasts and leaving the rest of the meals to come together on their own from in-the-moment inspiration or a mix up of leftovers.
I'm always cooking in bulk so our fridge is usually pretty well stocked with egg muffins, slow cooked meat (left over from bone broth), and meatballs. Our pantry is filled with a nice selection of wild-caught, canned fish. With these readily available sources of protein, pulling meals together quickly has always been easy.
Consistency is Key
Lately, I've been very inspired by Tristan's love of consistency and the way he encourages healthy habit building. I have some habits of my own I'd like to work on. Having the same breakfast every day gives me a strong foundation for the day. My meals are easy and reliable.
Currently, my mornings are very family-centric (rather than work-centric). A typical day, revolves around red light therapy and daily movement, caring for our two children and growing collection of animals (dogs, chickens and two horses), playing in and tending to the garden, and focused home-school time. Keeping a set breakfast makes fueling my body a breeze. I usually make fried eggs in butter with cayenne. Eggs are easy and the kids will eat them too. Sometimes I mix in bananas, homemade nut butters or leftover veggies and meat for them.
This past year, I did a lot of developing and testing recipes in the morning. My first two cookbooks are published and for now, I plan to just develop recipes for the blog. My focus on new recipes is shifting to the afternoon. I keep a staple breakfast with two backup recipes for variety. It is a wonderful time saver and helps me stay on track.
Forming New Habits
Making family-friendly, nutrient dense keto/low-carb lunches is a new goal of mine. Planning ahead helps me with grocery shopping and picking fresh produce from the garden. This is a new rhythm I've introduced but so far, the children are much more willing to help prepare and be involved with lunch time than they were with breakfast. We get to recharge together and flow into the afternoon. I love the help and always encourage their input.
Finding Inspiration
This lunch was inspired by cans of wild-caught salmon and a fresh bunch of spinach from the garden. Even after completing our training manual for ketogenic cuisine (The Ketogenic Edge Cookbook) over a year and half ago, I still use it as my own kitchen resource. If this recipe looks familiar to you, it is because I make an adaptation on the "Crab Cakes" from the Fish and Seafood section. I also spread "Homemade Mayonnaise" on the "Keto Flatbreads".
You might also like: Salmon with Garam Masala Summer Squash
We all dug into this meal and silence ensued for a few minutes. You know everyone likes the food when they are quiet and peacefully focused on eating!
These burgers are also great with Smoked Onions. YUM!
More Keto Burger Recipes
You might also like keto chicken cakes.
★ FOLLOW ME ON FACEBOOK, PINTEREST, AND INSTAGRAM FOR MORE EASY KETO RECIPES.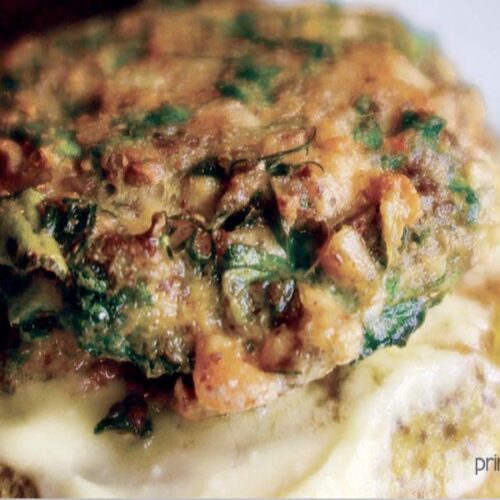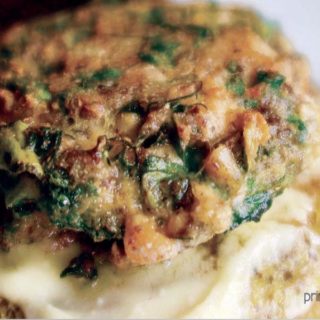 Spinach and Salmon Burgers
Crispy salmon burgers sandwiched between two pieces of low-carb keto flatbread are a quick low-carb dinner you can make in 30 minutes. Make this healthy dinner meal on any busy weekday night!
Ingredients
1

cup

wild-caught salmon

1

handful

spinach

finely chopped

1

whole

egg

2

teaspoons

sour cream

1

tbsp

lemon juice

1

tbsp

fresh dill

minced

1

handful

spinach

chopped

1

small

pearl onion

diced

1 1/2

tablespoons

ground flax meal

2

tablespoons

beef tallow

or coconut oil

mayonnaise

<-- try this one, it's made with avocado oil!
Instructions
Mix salmon, spinach, egg, sour cream, and lemon juice in a bowl.

Combine the dill and onion with the flax meal in a second bowl. Pour into the egg and fish mixture. Combine well with hands or spoon.

Heat cooking fat in a frying pan over medium heat. Form 8 mounds to look like burger patties in your hands. The batter will be runny, press it as best you can and place in the hot oil. Fry for 2 to 3 minutes, flip and continue on the second side for another 2 to 3 minutes. You want each side to be golden brown and crispy. These patties only hold together if they are cooked long enough. If it is difficult to flip, leave them to cook longer then try again after a minute passes.

Serve with Keto Flatbreads, cheese, mayonnaise, and any other burger fixings you like.
Notes
Macros are calculated for 1 patty only. If using Keto Flatbreads add: 7.5 g fat, 5 g carb, 0.5 g net carb, 5.25 g protein per two pieces.
Nutrition & Macros
Calories:
124
kcal
Carbohydrates:
2
g
Protein:
8
g
Fat:
9
g
Saturated Fat:
4
g
Sodium:
80
mg
Fiber:
1
g
Net Carbohydrates:
1
g
To obtain the most accurate representation of the nutritional information in a given recipe, please calculate the nutritional information with the actual ingredients and amounts used, using your preferred nutrition calculator. Under no circumstances shall the this website and the author be responsible for any loss or damage resulting for your reliance on the given nutritional information.
Made this? Leave a Rating! ⭐⭐⭐⭐⭐
Tag a photo with @Primal_Mom and #PEHRecipe on Instagram to share with us!
This is one of many great low-carb 30 minute meals you can enjoy for lunch any day of the week!