Beef heart is affordable and highly nutritious, it pairs well with all the classic burger toppings. It's so exciting to make organ meat recipes you actually want to eat! With a few simple modifications, this recipe can be fiber-free and a great option for those looking for carnivore diet recipes.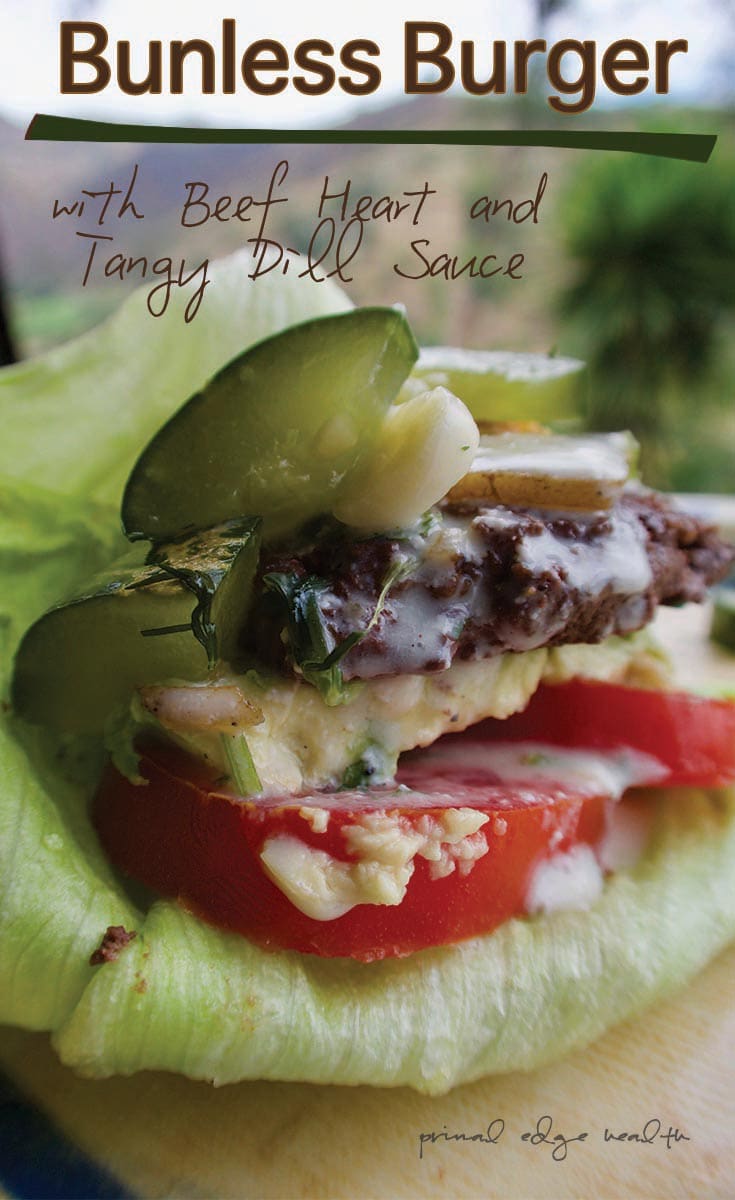 Organ meats provide many health benefits and are very affordable foods. They are not to be missed!
If you are on a keto diet, you already know buns out of the picture, but this bunless burger recipe is so delicious, you will never miss the carbs!
Prep nutrient dense low-carb bunless burgers in under 30 minutes. The tangy yogurt dill sauce adds a creamy mouth feel with a cooling contrast to the tongue. I also make this sauce with homemade Raw Milk Yogurt.
If you want to add variety to the types of meat you consume or need to budget more tightly. I can't recommend ground beef heart enough!
Heart is one of the easiest pieces of offal to incorporate into your diet. As an entire organ, the heart may look a bit shocking but once it is trimmed, sliced, and laying on your plate it looks as inconspicuous as any other well known cut of beef or game meat.
Nose to tail eating is a respectful way to utilize the whole animal, provide your body with important nutrition, and save a few dollars in your wallet.
Table of Contents (click to view)
Beef Heart Food Prep Tip
Adding ground beef heart to normal ground beef is an excellent combination that adds only a slightly different flavor with a whole lot more nutrition.
Ask your butcher to grind the heart for you. Take it home like this or get it combined into normal ground beef. Once the heart is ground, it can be used in any of the same ways as ground muscle meat.
Heart has a tender, succulent flavor and is wonderfully nutritious. It can be ground, seared, grilled (and paired with keto grilled vegetables!), or eaten raw. We often eat beef heart as a family. When our daughter was two (so many years ago!) she greatly inspired us with her love of raw beef heart. It was her favorite way to eat it and so easy for me to prep, just dice it up and serve!
US Wellness has a great selection of organs and organ meat sausages. If you don't have a local source, check them out online!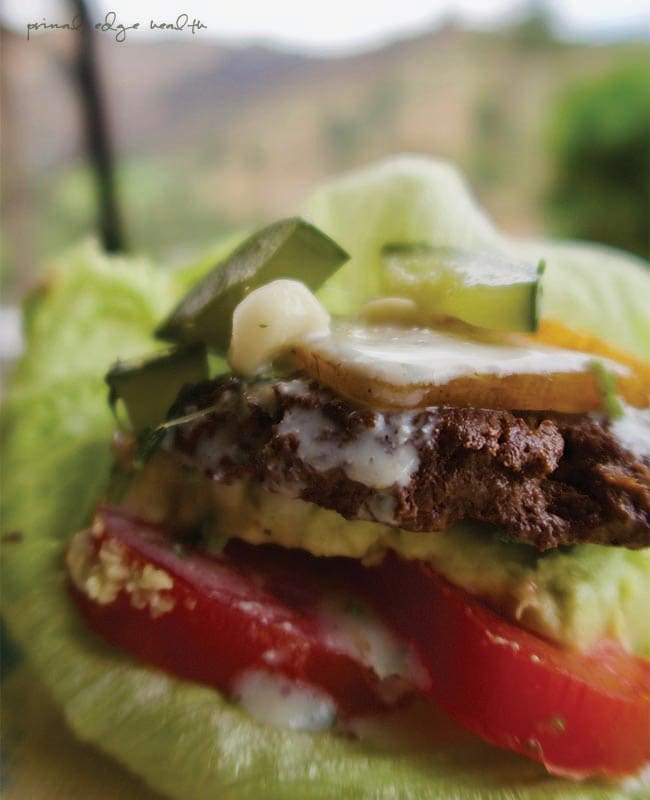 Hidden Organs?
If you prefer to keep the organs "hidden" in your foods try some of these recipes and use a combination of beef heart and ground beef:
More Beef Heart Recipes
Try 5-ingredient Keto Flatbreads (and the 33 variations!) or Cauliflower Tortilla stuffed with these meaty burgers if you enjoy a more "bready" meal.
My baking guide, The Ultimate Guide to Low-Carb Baking has many more choices for low-carb, ketogenic burger buns and breads!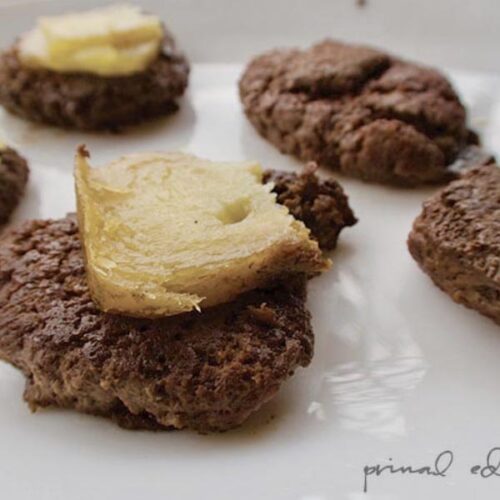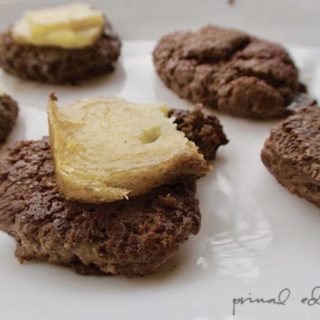 Bunless Burgers with Beef Heart Patties
Ground beef heart takes a simple low-carb bunless burger recipe to the next level! Flavored it up with a quick prep sour yogurt and tangy dill sauce.
Instructions
Peel and rinse the large outer leaves from a head of lettuce (these are the largest). Set aside.

Divide the meat into 8 sections, each patty will be 2 ounces. Press into burger shapes between your hands. Add to a small amount of cooking fat in a hot skillet over med-high heat. Wait for the oil to be super hot before adding the meat. Flip burgers after a minute or two, once the first side becomes crispy. Cook the second side until done to your liking.

If you want to make cheeseburgers, add the piece of cheese while the second side cooks. Cover with a lid until it melts.

While the burgers cook, mix all the ingredients for the sauce. Finely chop the dill, juice the lemon, mince garlic, and mix into the yogurt. Season with salt and pepper. Stir well to combine.

To assemble, arrange the patties on a piece of lettuce toward the bottom part that attaches to the stem. Top with pickle relish, tomato slices, and grilled or sautéed onions (all optional). Pour a few spoons of sauce over it all.

Wrap up the contents with the lettuce, tuck the side ends in first, then roll down the top to close. Double up with a second piece of lettuce if needed.
Nutrition & Macros
Calories:
304
kcal
Carbohydrates:
1
g
Protein:
22
g
Fat:
23
g
Saturated Fat:
9
g
Sodium:
231
mg
Net Carbohydrates:
1
g
To obtain the most accurate representation of the nutritional information in a given recipe, please calculate the nutritional information with the actual ingredients and amounts used, using your preferred nutrition calculator. Under no circumstances shall the this website and the author be responsible for any loss or damage resulting for your reliance on the given nutritional information.
Made this? Leave a Rating! ⭐⭐⭐⭐⭐
Tag a photo with @Primal_Mom and #PEHRecipe on Instagram to share with us!
More Keto Burger Recipes
There are so many great low-carb 30 minute meals you can enjoy for lunch or dinner any day of the week!