Blend a keto green smoothie for breakfast or a quick snack. It's the perfect way to power up in just a few minutes! This vegan recipe is creamy, green, and has a refreshing lemon-mint flavor.
Easy Avocado Spinach Smoothie
This healthy keto green smoothie has saved me in the heat of summer, particularly post-workout. When I'm hot, tired, and hungry, I blend this winning combo of lemon juice, coconut milk, vanilla for a pleasant pick-me-up. It's cool, rich, and creamy. Plus, the avocado makes the snack very filling.
This recipe is perfect if you want a keto green smoothie for weight loss!
It's also an ideal breakfast option or a quick snack for the family when people need something quick or on-the-go in the morning. Smoothies are awesome in your meal prep repertoire and will fill in any gaps.
I love the recipe because it takes green smoothies on keto to the next level. In five minutes, I can make a seriously delicious snack to carry me through the rest of the day.
How to Make a Keto Diet Green Smoothie Recipe
Gather eight ingredients, and you'll be halfway to making a delicious vegan green smoothie recipe with avocado in five minutes or less!
It's a simple job of tossing the ingredients into the blender and clicking it on. What a quick fix when you need nourishment fast!
You can customize this smoothie any way you like, but I highly recommend trying it as is because, well, it's delicious!
Ingredients
Avocado – The incredibly versatile avocado is an excellent source of healthy fats, potassium, and lutein. (1) It also gives this smoothie a rich, creamy texture.
Spinach – If you're looking for a way to add spinach to your diet, blending it in a smoothie is super easy. If needed, substitute for sprouts, kale, or other leafy greens.
Coconut milk – Along with a high amount of MCTs, (2) coconut milk also contains electrolytes plus anti-inflammatory and anti-viral properties. (3, 4, 5) This dairy-free milk gives the smoothie a velvety consistency; It can be diluted with water if you want to reduce the overall caloric load. You can also substitute with nut or seed milk, if desired.
Lemon juice – Delivers a sweet tang to this keto green smoothie and keeps the flavor light and interesting.
Vanilla extract – Doesn't vanilla extract make everything better? Add a little sweetness in a splash.
Mint – Mint extract or a small handful of mint leaves gives a refreshing mint taste and aroma.
Liquid sweetener – Use store-bought or Homemade Stevia Extract.
Ice cubes – Add more or less ice to get the texture you love. I like a thinner smoothie and blend 1 cup of water with a handful of ice cubes.
Have you ever considered freezing leftover tea in ice cube trays and substituting them in recipes like this smoothie? Not only are the ice cubes a fun way of adding flavor, but they are also a shortcut for saving leftovers and stretching ingredient across multiple recipes.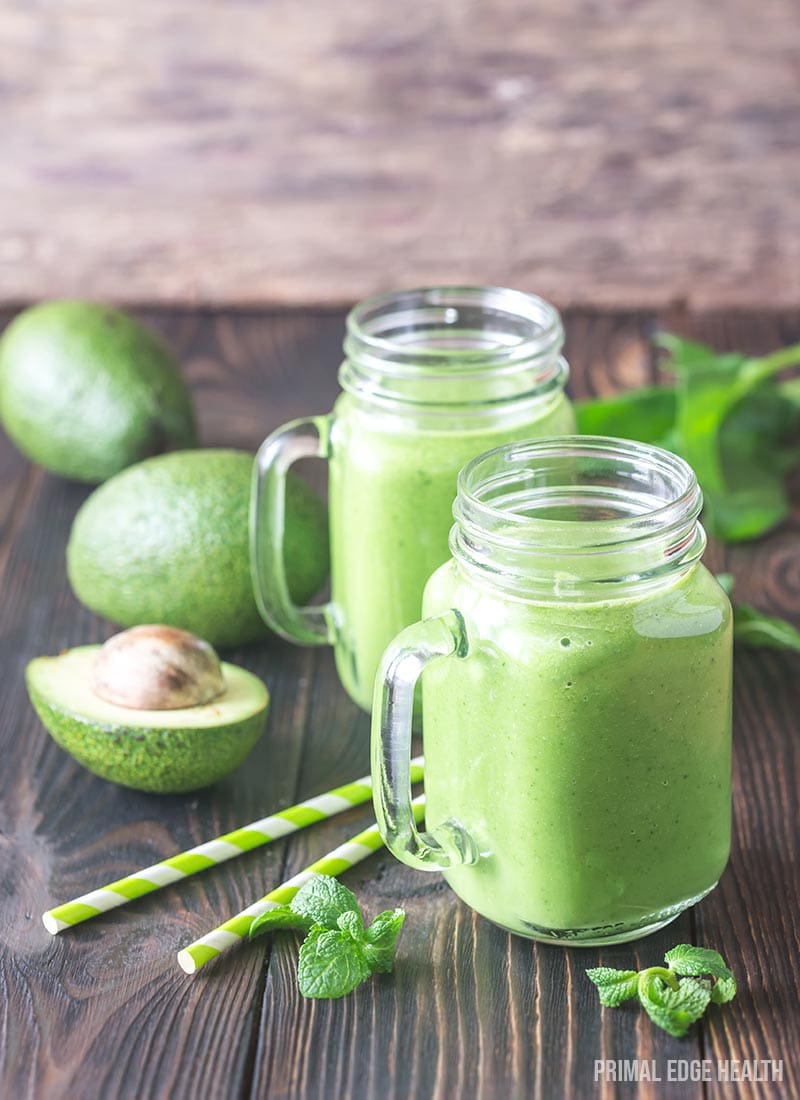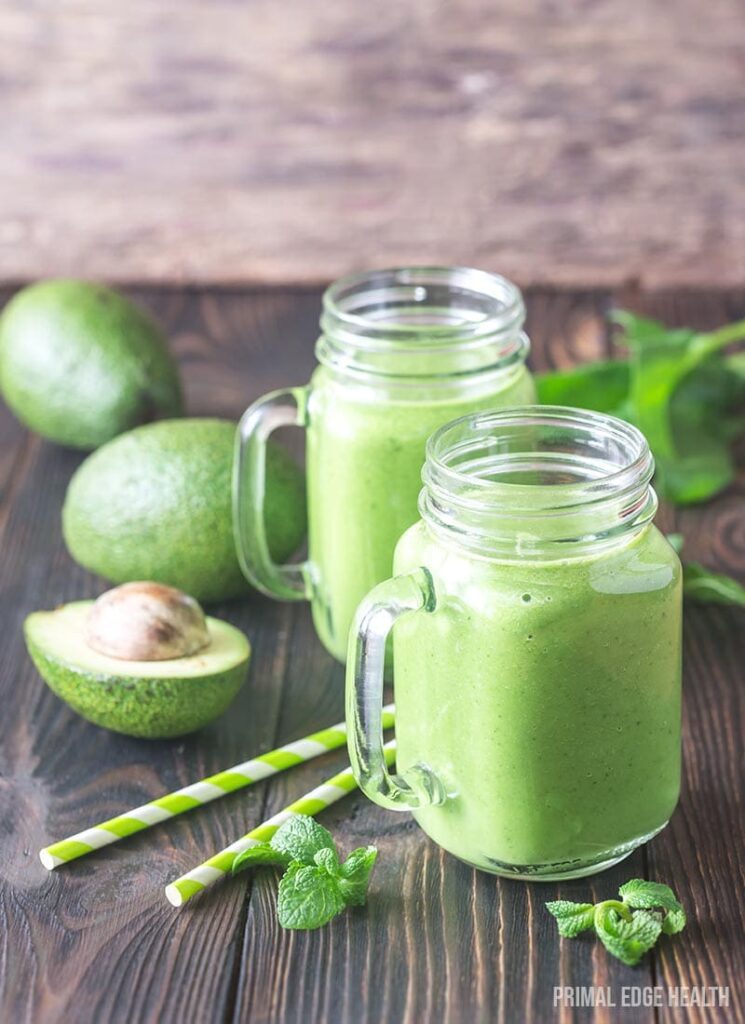 Optional Add-ins
Add a moderate amount of berries like blueberries, strawberries, or raspberries to mix it up.
Cacao nibs give the smoothie a nice crunch and a chocolate flair.
Spirulina is a complete protein that will spike your smoothie with vitamins and minerals.
If you do ok with dairy, use raw milk yogurt as the liquid base instead.
Consider slicing mango or other fruit to get kids to eat healthy foods.
Directions
Begin by choosing a perfectly ripe avocado. Test the firmness by applying gentle pressure of your fingertips around the top where the stem was. The fruit should give a little. To me, the avocado makes this just like a milkshake, but it's completely dairy-free!
Then, open up a can of coconut milk and combine it with the avocado in a blender. If you want a BPA-free option, choose a coconut milk product from a carton instead. Please, read the label carefully and buy one without sugars and chemical preservatives.
Add spinach, either fresh or frozen. Heads up, if you use frozen spinach, it may make your smoothie more runny. If that's the case, you might not want to add any ice cubes.
Next up, add the lemon juice, vanilla extract, and mint. If you have fresh mint, a handful of the leaves will do. Otherwise, mint extract or frozen mint tea ice cubes will work just fine.
Add all the ingredients to a blender and blend on high until smooth. Taste and adjust as desired.
Keep in mind that taste testing is important when you are making green smoothies on keto. Get comfortable tweaking the flavor to best fit your liking.
Finally, pour into a glass and serve immediately. YUM!
Low Carb Green Smoothie FAQ
If you're new to low-carb meal prep or don't have much experience with keto smoothies, you might be asking these common queries. Let me help!
How many calories in a green smoothie?
There are 480kcal in this recipe. The combination of coconut milk and avocado makes this one exceptionally rich in calories from healthy fat sources. If you're interested in a lower calorie option, see the substitution ideas listed above.
How to make a green smoothie taste good?
If you follow a tried and true recipe like this one, you are off to a great start. All the ingredients are perfectly balanced to give you a creamy, refreshing, slightly sweet keto green smoothie.
Can you lose weight drinking green smoothies?
High-fat, low-carb smoothies like this one will satiate you and provide ample fuel for a ketonic metabolism. However, by themselves, they don't guarantee fat loss. While they can be part of the whole picture, expecting to loose weight just by eating green smoothies is unrealistic.
How long do green smoothies last in the fridge?
Smoothies aren't the best option for meal prep because they usually don't save well unless you freeze them. Instead, I recommend drinking the smoothie shortly after making it.
More Keto Breakfast Recipes
There are so many keto breakfast recipes to try! Here are some of my favorites:
More Keto Smoothie Recipes
Celebrate summer with more tasty keto smoothie recipes! Each flavor is a unique low-carb summer treat.
And if you're in a snacking mood, browse some great ideas with Healthy Snack Recipes for Weight Loss.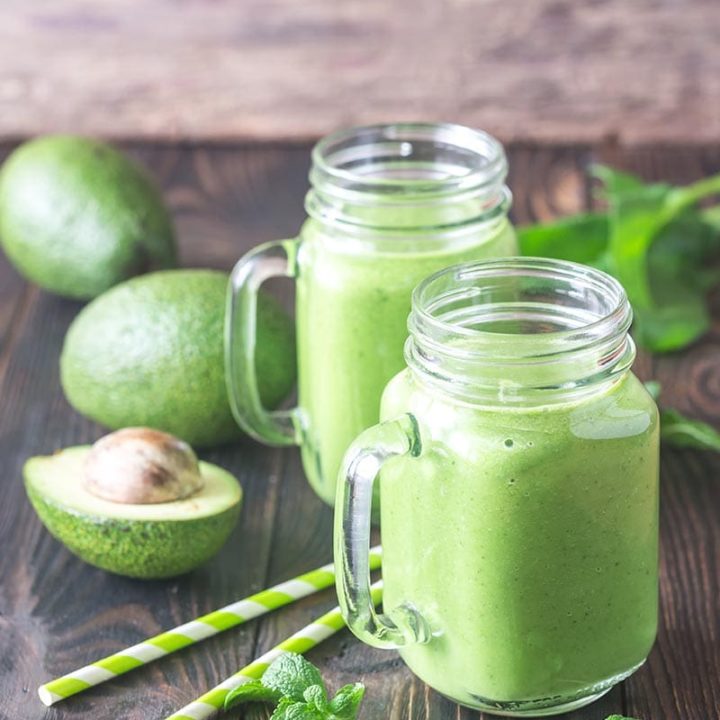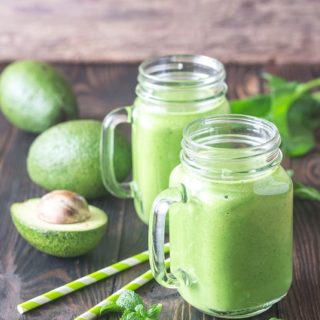 Keto Green Smoothie (Vegan & Dairy-Free)
Mix up a low-carb, keto green smoothie for breakfast or a quick snack in just a few minutes. It's a healthy vegan and dairy-free recipe with a refreshing lemon-mint flavor.
Instructions
Add all ingredients to a blender and blend on high until smooth.

Taste and adjust as desired. Serve immediately.
Nutrition & Macros
Serving:
1
smoothie
Calories:
480
kcal
Carbohydrates:
12
g
Protein:
7
g
Fat:
54
g
Saturated Fat:
26
g
Sodium:
53
mg
Fiber:
7
g
Net Carbohydrates:
5
g
To obtain the most accurate representation of the nutritional information in a given recipe, please calculate the nutritional information with the actual ingredients and amounts used, using your preferred nutrition calculator. Under no circumstances shall the this website and the author be responsible for any loss or damage resulting for your reliance on the given nutritional information.
Made this? Leave a Rating! ⭐⭐⭐⭐⭐
Tag a photo with @Primal_Mom and #PEHRecipe on Instagram to share with us!
Take a look at Low-Carb 30 Minute Meals for more family-friendly inspiration
More Avocado Keto Recipes
Originally published July 10, 2017.
SaveSaveSaveSave