Easy keto smoothie recipes make meal prep a breeze. Blend low-sugar fruit with healthy fats into a delicious frozen treat ready in 5 minutes or less. Here are six tasty flavors you can try today!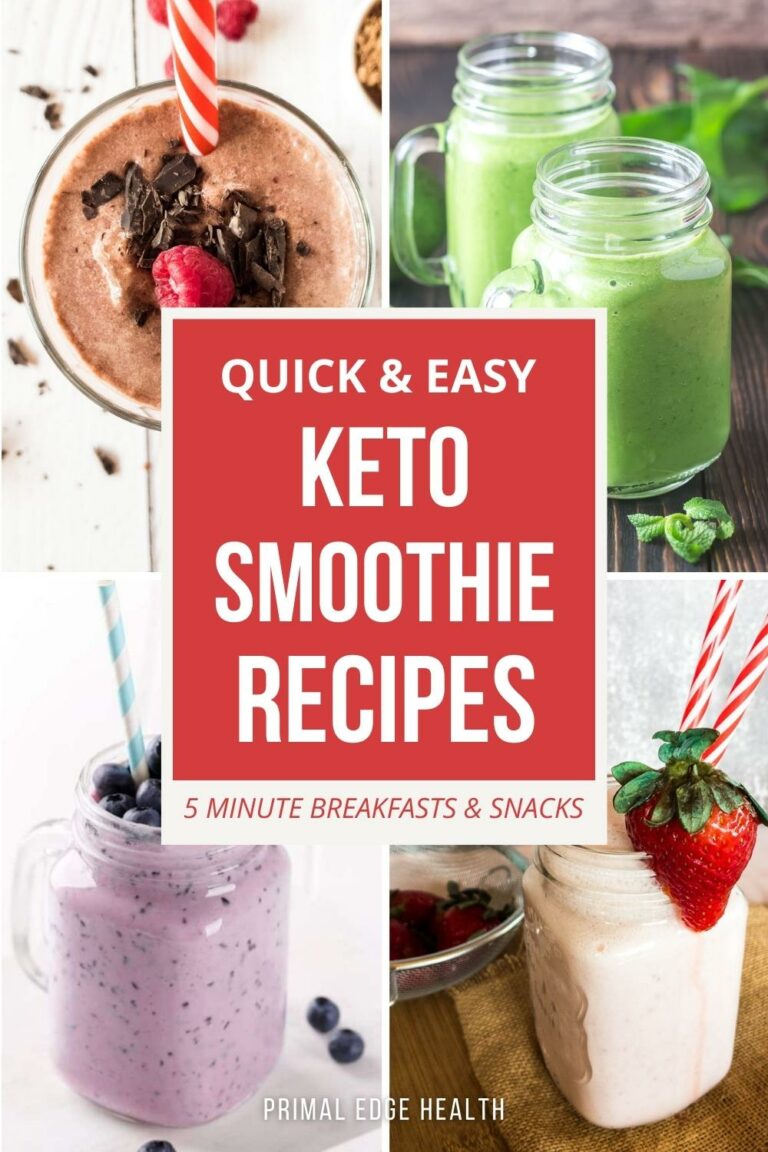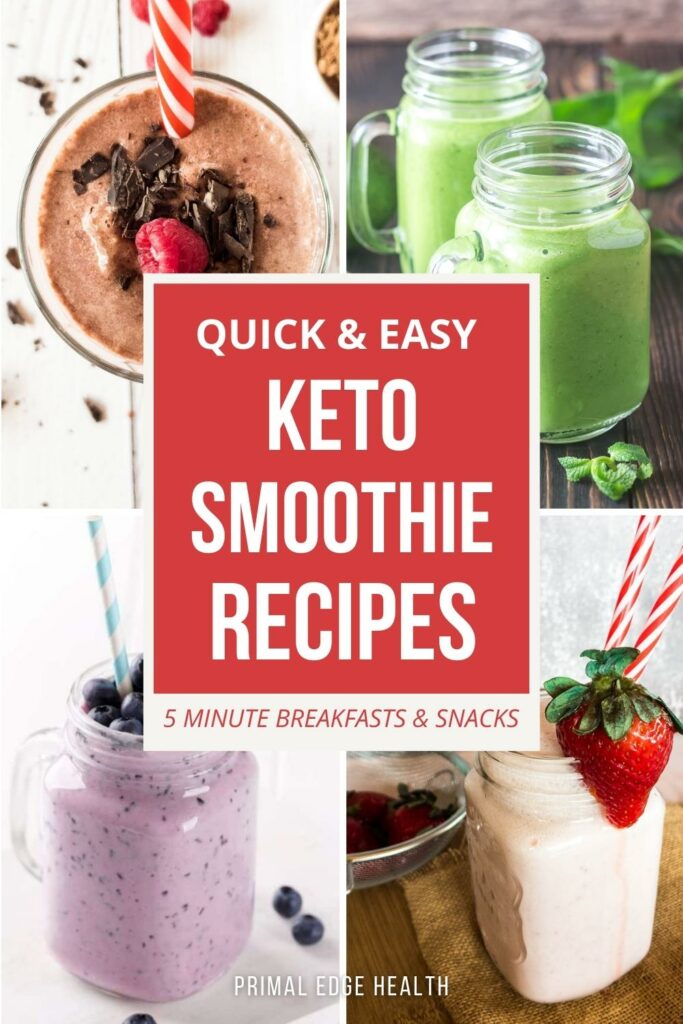 Table of Contents (click to view)
Keto-Friendly Smoothies
Usually, when we think of smoothies, blending milk, honey, and frozen bananas come to mind. However, these ingredients don't fit into a low-carb or diabetes-friendly way of eating.
So, are smoothies keto?
The answer is yes, and no.
Smoothies are great on a keto diet when you make them yourself and follow low-carb recipes like the ones listed below.
However, take caution when ordering a smoothie at a restaurant. Read over the nutrition facts first and choose wisely. Usually, restaurant smoothies are not low-carb, but you might make a custom request and tailor a blend better suited for your macros.
Still confused? Can you have smoothies on keto?
Assuming you have a low-carb smoothie, then yes! Smoothies are perfect for quick meal prep. For example, start your day with a keto breakfast smoothie or make a kid-friendly snack for the family in the afternoon. Smoothies are easy to pack in a mason jar or thermos and take on the go.
What are the best ingredients for a keto smoothie?
Common keto smoothie ingredients vary but often include:
Nut milk or coconut milk
Heavy cream, coconut cream, or Greek yogurt
Berries
Chocolate or vanilla
Avocado or nut butter
How to Make a Keto Smoothie
Since ketosis is a metabolic state in which you burn fat (rather than carbs) for fuel, we want to pack keto smoothies full of low-carb, high-fat ingredients.
Healthy fats are essential for thick, creamy, and delicious smoothie recipes. Full-fat dairy has many important nutrients and links to reduced blood pressure and triglyceride levels. It may have beneficial metabolic effects on our cardiovascular health too. (1, 2)
All the best recipes for keto smoothies follow a few basic steps:
Start with a liquid. Coconut milk, almond milk or other nut milk, yogurt (I make Raw Milk Yogurt), heavy cream, water, and herbal teas are keto-friendly choices with great flavor and texture.
Add a thickener. No bananas for us because they are too high in carbohydrates, but we have other choices like avocado, chia seeds, nut butter, protein powder, or shredded coconut, which will thicken the smoothie nicely. Healthy fats make the best thickeners. (3, 4)
Pick a flavor. This is usually the fruit part of the smoothie. Berries (blueberries, strawberries, blackberries, boysenberries, etc) are yummy keto-friendly options. Gourmet ingredients like cocoa powder, pumpkin puree, lemon juice, mint leaf, and cinnamon can also add flavor.
Enhance with optional add-ins. A scoop of collagen powder or hemp seeds adds a subtle flavor and extra nutrients. Tossing in ½ teaspoon of spirulina or chlorella is also tasty. Finally, cacao nibs are fun to top a smoothie with because of their delightful crunchy texture!
Blend until smooth. Add all ingredients to the blender bowl and blend until smooth and well incorporated. A high-speed blender will do the job in 30-60 seconds.
Serve immediately. Keto smoothies, or any smoothie for that matter, are best served right away. Divide between glasses, garnish if desired, and enjoy!
Sugar-Free Smoothie Recipes Tips
Are fruit smoothies good for keto?
Blending a fruit smoothie is great for keto if you choose low-sugar fruits. You can get a moderate amount of calories and source various macro and micro nutrients. For example, berries are known for containing fiber, vitamin C, and antioxidant polyphenols.
What smoothies can you have on keto?
Hopefully, after reading this far, you're convinced it's 100% ok to enjoy a keto smoothie. As you might imagine, there are many combinations and flavors to try. From classics like vanilla and chocolate to unique flavors like Dirty Chai, plus different seasonal berry blends, I have many tested recipes you can make. Browse the list below to find all my best keto smoothie recipes!
Keto Friendly Smoothie Recipes
You only need a few ingredients for these quick and easy keto smoothies packed with healthy fats, fiber, and low-carb fruits. Make your keto diet easy by adding more smoothies for breakfast or as a snack.
More Keto Recipes for Weight Loss