Make this quick and easy low-carb baked omelette for breakfast or brunch. It's a fast meal idea you can put together during the week or dress up for guests on Sunday. Combine 5 ingredients, plus salt, and bake until done!
Easy keto breakfast recipes like this one are sure to make your diet a success.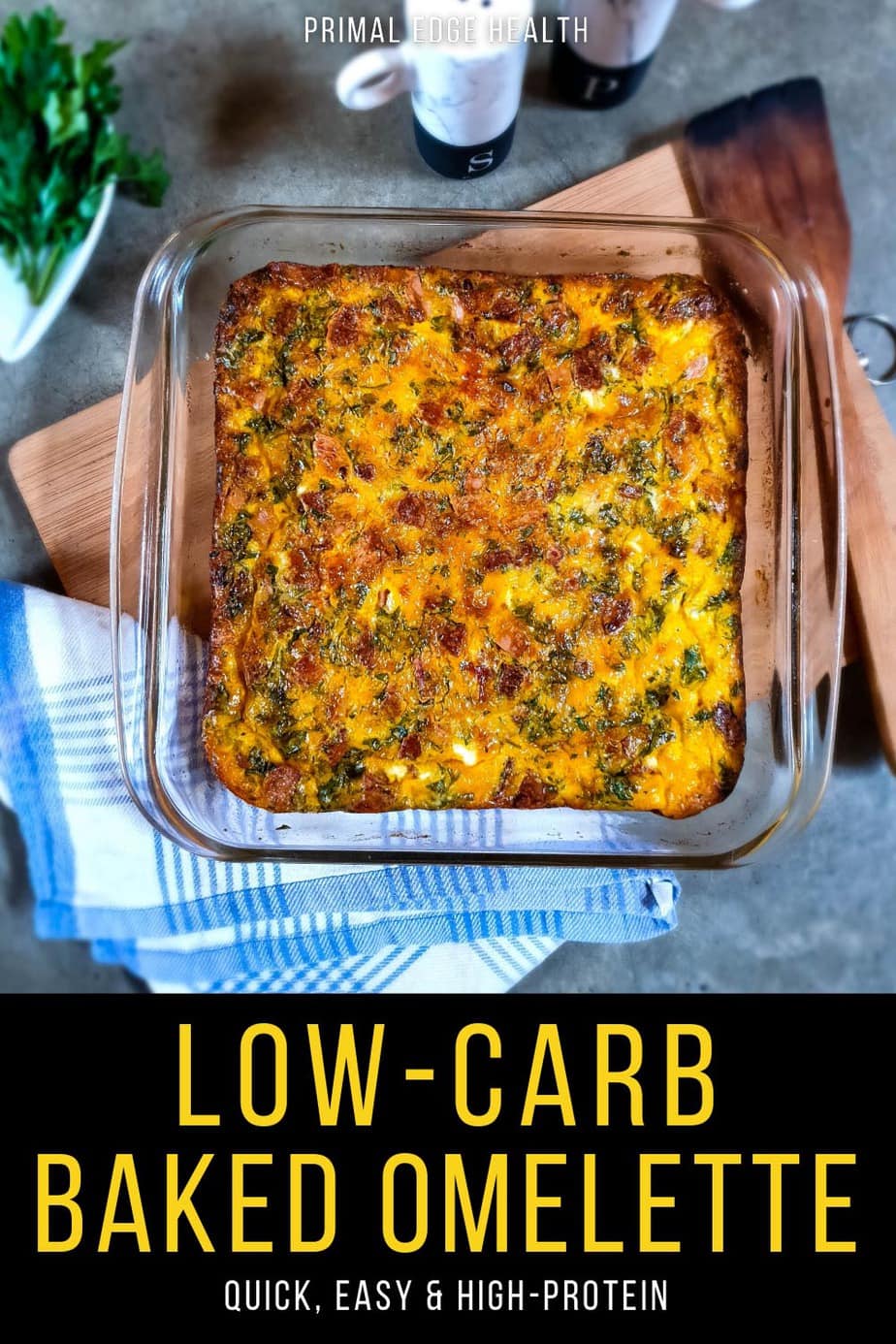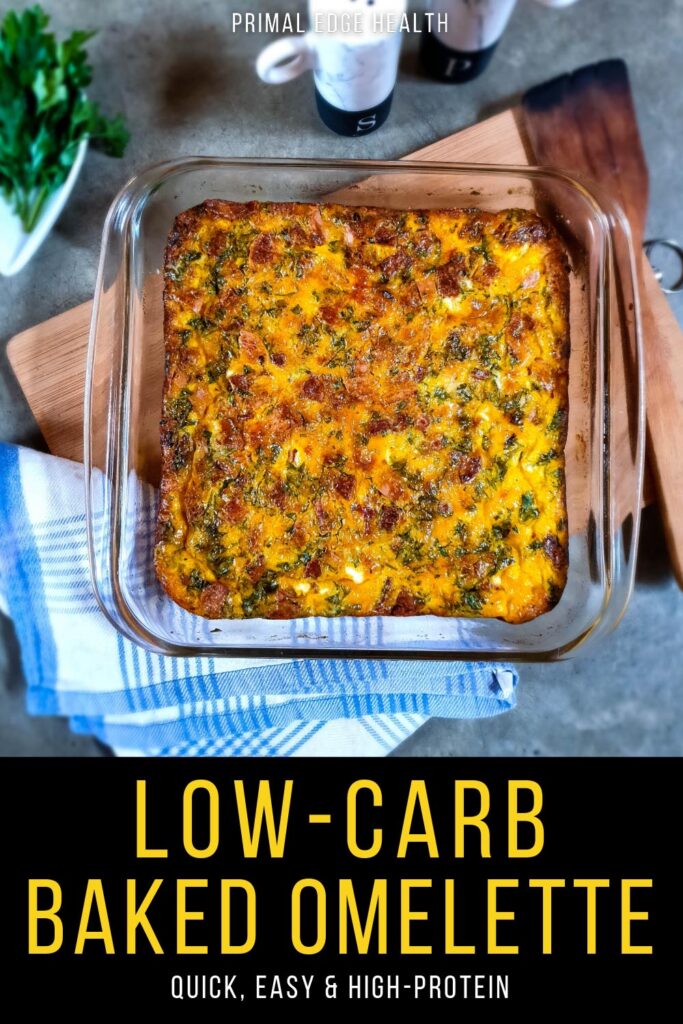 Table of Contents (click to view)
Keto Breakfast Recipes with Eggs
When in doubt, I turn to baked egg dishes for filling my printable keto meal planner
Dump your favorite meat, herbs, and veggies in a bowl of whisked eggs. There are so many yummy variations to try; your options are basically endless.
Eggs are a nutrient-dense yet affordable base that children love too! If you're anything like me, you can always use more family-friendly recipes.
This easy keto frittata and keto breakfast casserole are examples of other keto breakfast recipes with eggs I make all the time.
Not only are they quick and easy, but leftovers are good cold! You don't even need to warm them up before eating if you don't want to.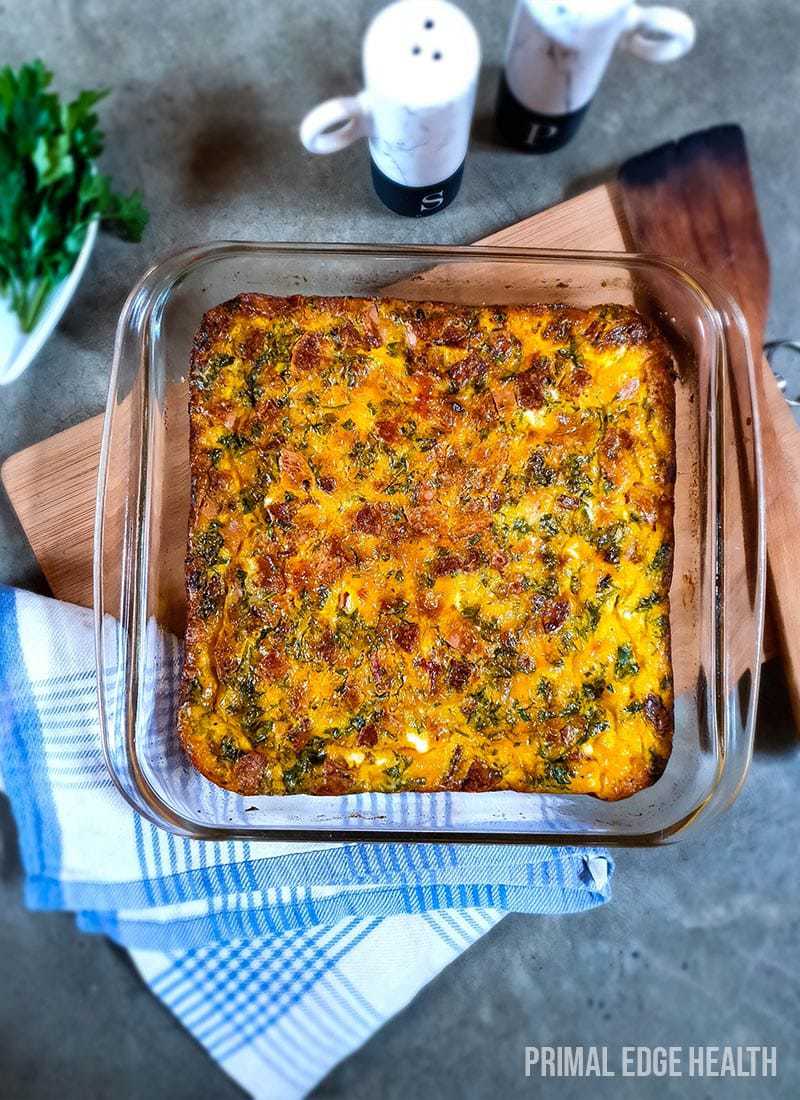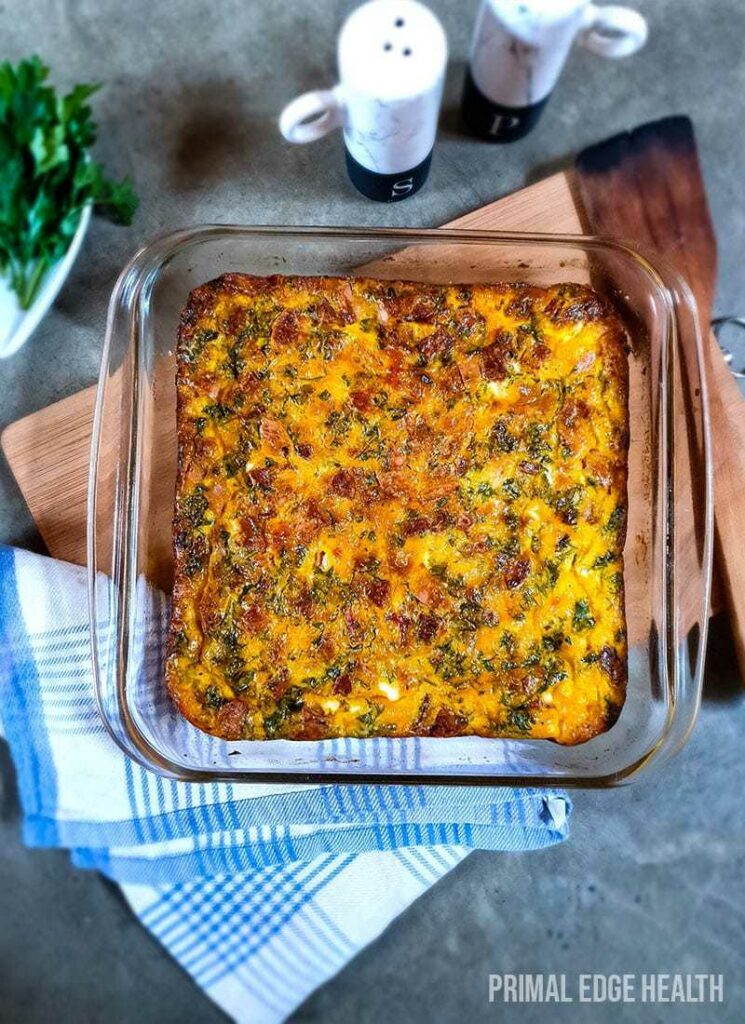 How to Make a Baked Omelette Recipe
Gather 5 ingredients, plus a pinch of salt, and you're already halfway to making a baked omelette in just 10 minutes!
This oven-fresh approach is a fun spin on the stove-top method of cooking omelettes. If you want to learn about the traditional style, review how to make a keto omelette.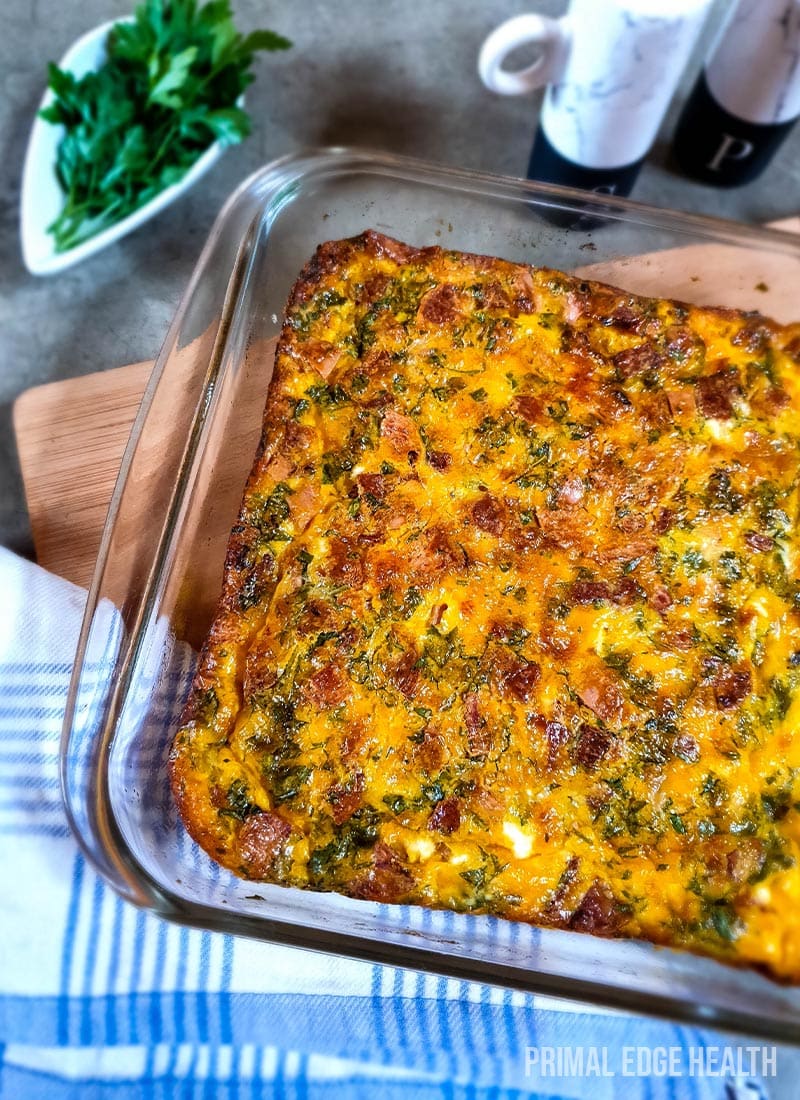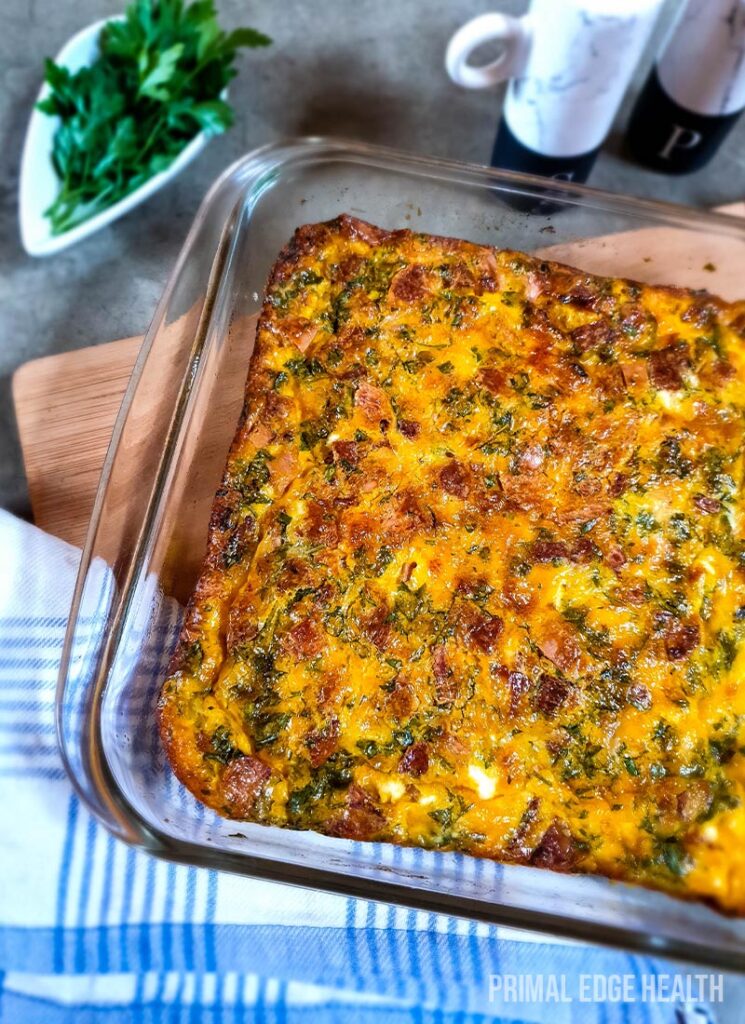 Ingredients
Eggs – Opt for free-range, pastured eggs or get them from your own backyard hens!
Heavy cream – No fear of calories here, we need these healthy animal fats to thrive on a keto diet!
Salt – Just a pinch to season the whole dish. I have a fun time trying different types of gourmet salt.
Sausage – Use bulk sausage or pre-cooked breakfast sausage. They are both delicious! All types of meat will work. Choose pork, beef, chicken, or turkey.
Shredded cheese – I use shredded mozzarella cheese. You can do the same or swap in cheddar, Colby jack, or another type that melts well.
Parsley – Fresh parsley add a touch of color and savory flavor. You may substitute with 1 tablespoon dried parsley if desired.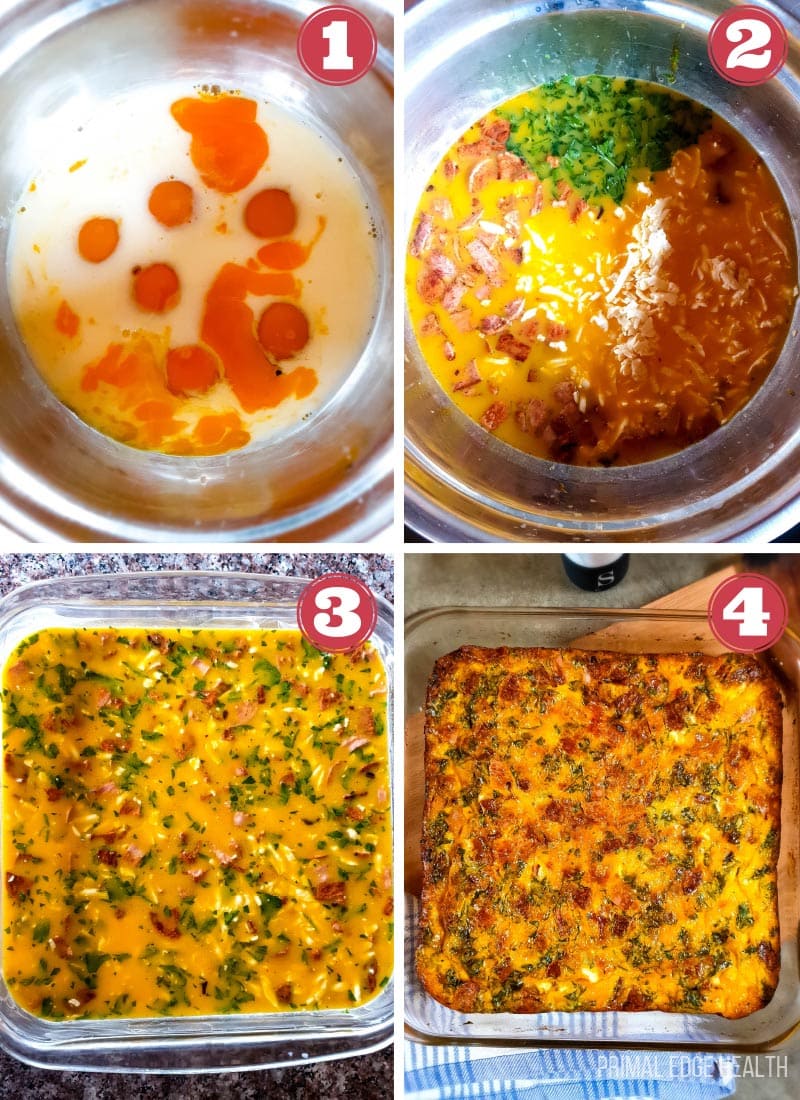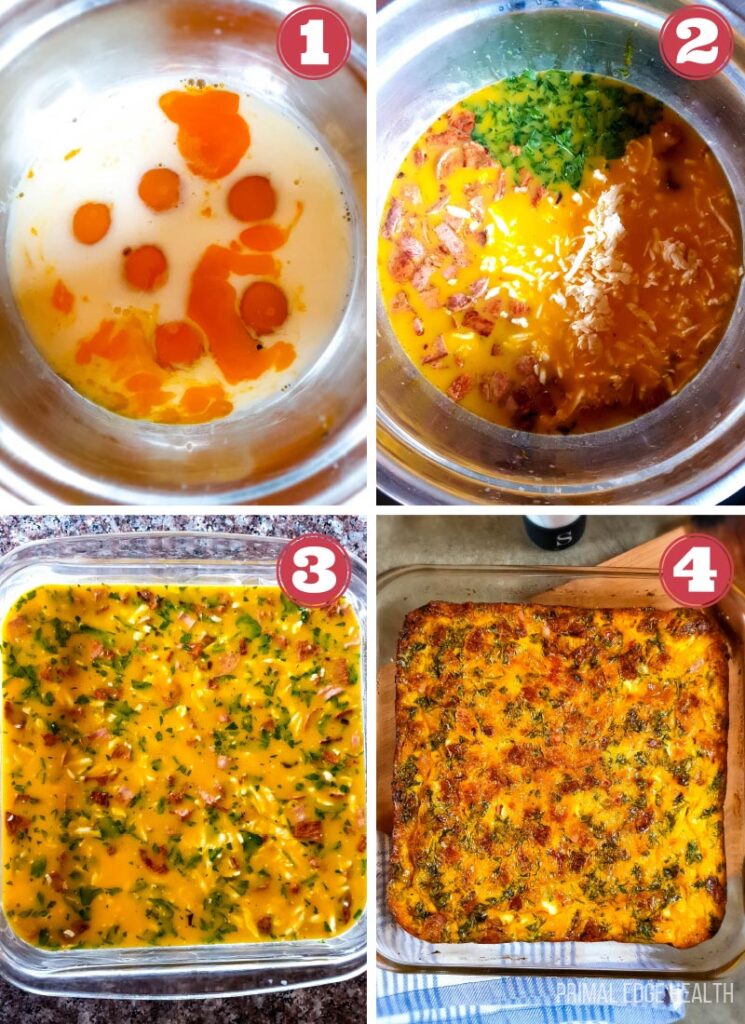 Directions
Begin by preheating your oven to 350°F (177°C).
Next, grab a bowl and whisk the eggs. Add cream and salt, mix well.
Then, remove the sausage from the casing or slice it into small pieces. Brown the meat in a skillet and add to the eggs once cooked. Stir in the shredded cheese and minced parsley.
Now, pour the mixture into a greased 8×8-inch baking dish and bake for 30 minutes. You know it's done when the eggs are cooked through, the top is golden brown, and all the cheese melts!
Finally, cool slightly before cutting into portions. Serve warm and save leftovers for lunch the next day.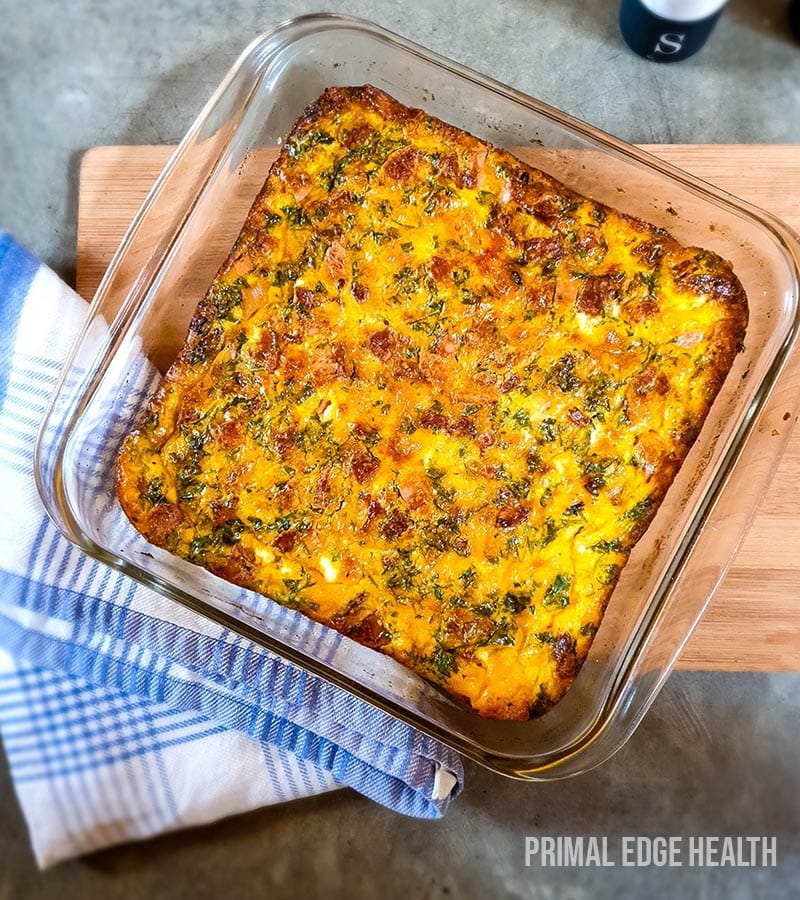 Recipe FAQ
Are omelets high in protein?
This one sure is! Each serving of this recipe has 26 grams of protein from the eggs, cream, sausage, and cheese. In general, omelet macros will vary due to the ingredients used.
What is the lowest carb protein?
All meat is either very low in carbohydrate or completely zero carb. Beef, pork, and chicken are all great staples for a low-carb diet!
Are omelettes good for weight loss?
A ketogenic metabolism is scientifically proven to be an excellent fat loss strategy. In this context, omelettes are a very suitable breakfast and will assist you in reaching your body composition goals.
More Low-Carb Omelette Ideas
There are so many keto breakfast ideas to try! Keto omelette recipes are always a great choice.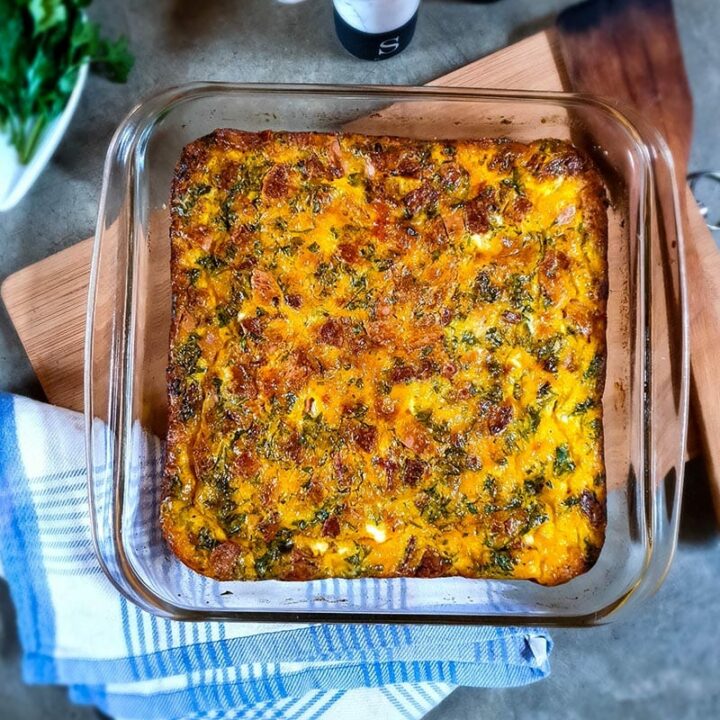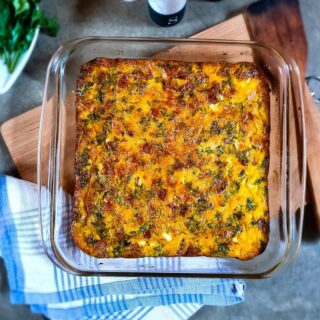 High-Protein Low-Carb Baked Omelette
Make this quick and easy low-carb baked omelette for breakfast or brunch. It's a quick meal idea you can put together during the week or dress up for guests on Sunday. Combine 5 ingredients, plus salt, and bake until done!
Instructions
Preheat oven to

350

°F

(177°C).

Whisk eggs in a bowl, add cream and salt.

8 whole eggs,

½ cup heavy whipping cream,

½ teaspoon salt

Brown sausage in a skillet. Add it to the eggs with cheese and parsley.

8 ounces sausage,

4 ounces shredded cheese,

2 tablespoons parsley

Pour mixture into a greased 8×8-inch baking dish.

Bake for

35-40 minutes

, until eggs are cooked and top is golden brown.

Cool slightly, cut into portions, and serve warm.
Nutrition & Macros
Calories:
431
kcal
Carbohydrates:
1
g
Protein:
26
g
Fat:
35
g
Saturated Fat:
10
g
Sodium:
563
mg
Fiber:
1
g
To obtain the most accurate representation of the nutritional information in a given recipe, please calculate the nutritional information with the actual ingredients and amounts used, using your preferred nutrition calculator. Under no circumstances shall the this website and the author be responsible for any loss or damage resulting for your reliance on the given nutritional information.
Made this? Leave a Rating! ⭐⭐⭐⭐⭐
Tag a photo with @Primal_Mom and #PEHRecipe on Instagram to share with us!
Take a look at Low-Carb 30 Minute Meals for more family-friendly inspiration