Chocolate does not need to be shunned on a low-carb ketogenic diet. You can enjoy this mint chocolate bar and still stay in ketosis!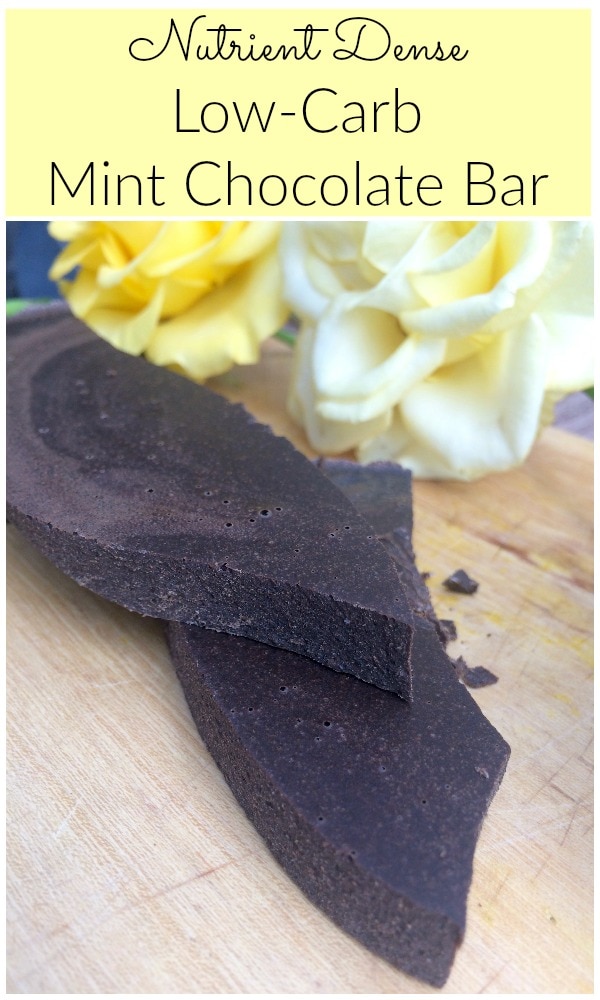 We worked on this recipe for a few days in a row and never grew tired of it – it tastes that good!
After about a week of experimenting, we achieved the ideal texture, maximized nutrient quality and perfected the ratios of mint, cacao, and (a keto approved) sweetener.
Our low-carb mint chocolate bar is sugar-free. We work with Lakanto, which is a zero calorie, zero glycemic, all natural sweetener made from the combination of monk fruit extract and non-GMO Erythritol. The sweet factor is derived from natural mogrosides and research shows that monk fruit extract does not elevate blood sugar or insulin, making it a perfect sweetener for blood sugar and weight management.
>> To order Lakanto, visit their website. Apply the coupon code "primaledgehealth" and receive a discount on your purchase! <<
Enjoy this low-carb mint chocolate bar as often as you like!
Sourcing high-quality ingredients for your homemade chocolate is the key that will set it apart from other chocolate bars. Buying organic ingredients and using "superfoods" like spirulina, collagen, maca, and of course cacao make this low-carb mint chocolate bar more than just a tasty chocolate but a legitimate source of vitamins, minerals, and healthy fats for your body.
Table of Contents (click to view)
What makes this such a nutrient dense low-carb mint chocolate bar?
Cacao
Loaded with antioxidents, iron, magnesium, calcium, and selenium the fermented seed of the cacao fruit pod is a like a mini multivitamin. Cacao can also provide a boost in energy and has been known to elevate mood and relieve depression. Due to industry standards and large-scale modern agricultural practices (ie Nestle/Hersheys monocropping GMO hybridized seed), it is important to source a quality cacao product.
We all love chocolate around here, don't we? Check out 24 Guit-Free Keto Chocolate Recipes and 10 Cacao Butter Recipes for a Keto Diet to find more great ideas!
Coconut Oil
Our favorite fat to cook with and make delicious raw chocolates like this low-carb mint chocolate bar, coconut oil is full of MCT's that provide quick and accessible energy to the body. Coconut oil supports the immune system, reduces inflammation, and assists to improve digestion, brain health, and endurance levels.
Maca
Our love affair with maca began years ago. We've discussed this adaptogenic herb at length in many Q and A's and even published an FREE ebook about it, Maca: The Andean Adaptogen. Download it for free and learn why maca is one of our favorite whole food adjuncts to a healthy diet. We are currently souring a Premium Raw Organic Maca Powder direct from the Andes (only a few hours from our home!).
Collagen
Collagen is best known to minimize physical signs of aging and helps to replace old skin cells. It is essential for healthy skin and hair. The collagen protein is necessary for elasticity and also supports the health and function our muscles, tendons, and even bones. Collagen is ubiquitous throughout the body and used to support healthy gut function and boost metabolism.
Yacon
Yacon syrup or powder can be used. It is a medicinal root vegetable that has been processed into a concentrated form, it imparts a bit of sweetness while helping the body regulate blood sugar, lower blood pressure, and boost digestive health.
Sunflower Lecithin
This powdered supplement gives the low-carb mint chocolate bar a creamy texture. Sunflower lecithin melds the other ingredients together and improves the bar overall. Lecithin is a phospholipid and can do wonders for neurological and cognitive health. It is also very good for the circulatory and nervous systems.
Spirulina
A beautiful dark green algae, spirulina is a concentrated source of vegetable protein, vitamins A, K1, K2, B12 and iron, manganese, and chromium. Evidence shows that spirulina can boost energy, speed up weight loss, and effectively reduce cancerous cells in the body.
Peppermint Spirits
Peppermint Spirits is a liquid product that combines both the leaf extract and essential oil, they are safe for internal consumption and give the special minty flavor to this low-carb chocolate. Peppermint oil is very beneficial to the digestive system and can be used to treat indigestion and stomach pains. It is cooling and relaxing to the whole body, used to relieve muscle pain and headache tension.
Mint and chocolate are two of my favorite flavors. If you like them as much as I do, be sure to try Keto Peppermint Patties and Dairy-Free Thin Mint Chocolate Pudding too!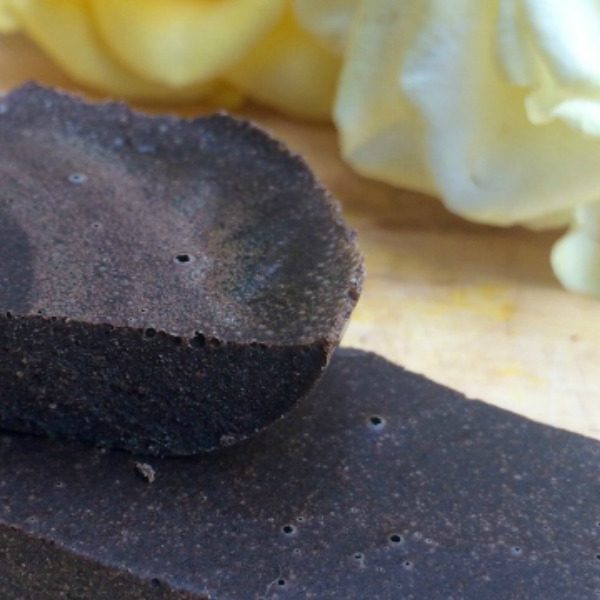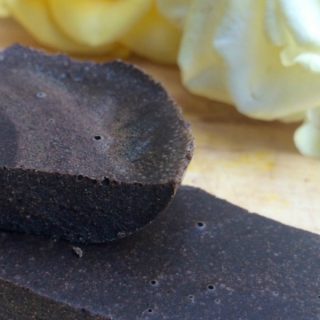 Nutrient Dense Low-Carb Mint Chocolate Bar
A delicious sugar-free minty fresh chocolate bar for a low-carb, ketogenic, and paleo diet.
Instructions
Melt the cacao butter and coconut oil together in a double boiler.

Mix all the dry powders together in a medium mixing bowl.

1/2 cup cacao powder,

1/4 cup Keto sugar substitute,

2 tablespoons maca powder,

2 tablespoons grass-fed beef collagen powder,

1/2 tablespoon spirulina powder,

1/2 teaspoon salt,

1 tablespoon sunflower lecithin

Pour the melted oils over the powders. Stir well to combine.

Drop in the peppermint spirits and mix again until evenly incorporated.

40 drops peppermint spirits

Transfer the chocolate to an 8 by 8-inch glass baking dish or chocolate molds and place into the freezer or fridge and let chill until completely solid.

Once set, break into pieces with a knife or pop out of the molds and store in the fridge in a airtight tupperware.
Nutrition & Macros
Calories:
136
kcal
Carbohydrates:
5
g
Protein:
3
g
Fat:
13
g
Saturated Fat:
10
g
Sodium:
206
mg
Fiber:
2
g
Net Carbohydrates:
3
g
To obtain the most accurate representation of the nutritional information in a given recipe, please calculate the nutritional information with the actual ingredients and amounts used, using your preferred nutrition calculator. Under no circumstances shall the this website and the author be responsible for any loss or damage resulting for your reliance on the given nutritional information.
Made this? Leave a Rating! ⭐⭐⭐⭐⭐
Tag a photo with @Primal_Mom and #PEHRecipe on Instagram to share with us!
Do you like this recipe?
Enjoy more low-carb chocolate based recipes from our free Maca Ebook. It has 17 recipes, many of which contain chocolate because the synergy between maca and cacao is truly special! If you want even more delicious ketogenic dessert recipes, check out The Ketogenic Edge Cookbook or the dessert section here on the blog.