This sugar-free white chocolate recipe takes a spin on traditional flavor combinations. The coconut oil and cacao butter contribute the rich, creamy base and walnuts provide a crunchy texture.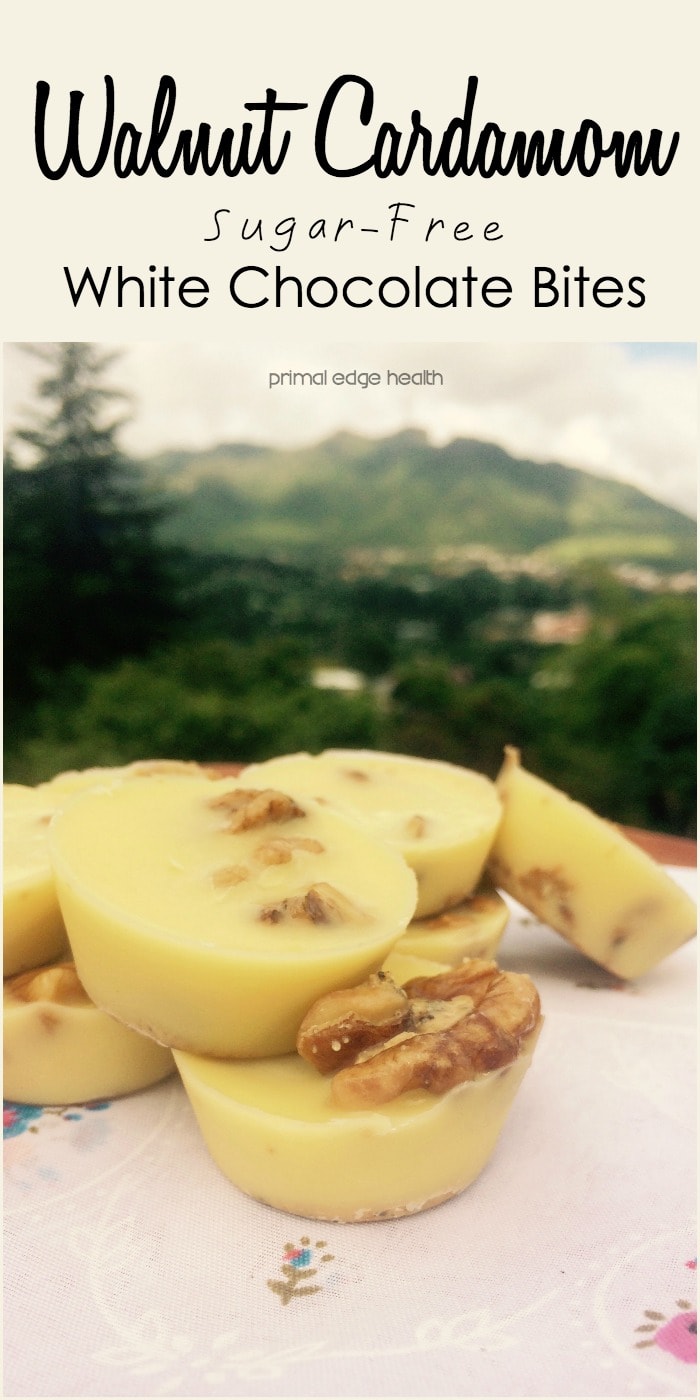 Sweetening with Lakanto keeps these bites 100% sugar-free and ketogenic, while flavors of vanilla, cardamom, and sea salt permeate each bite. The grass-fed beef collagen emulsifies Lakanto with the fats, further enhancing the creaminess and at the same time, adds a pinch of nutrient density.
Each ingredient mixes wonderfully in your mouth – all in perfect harmony!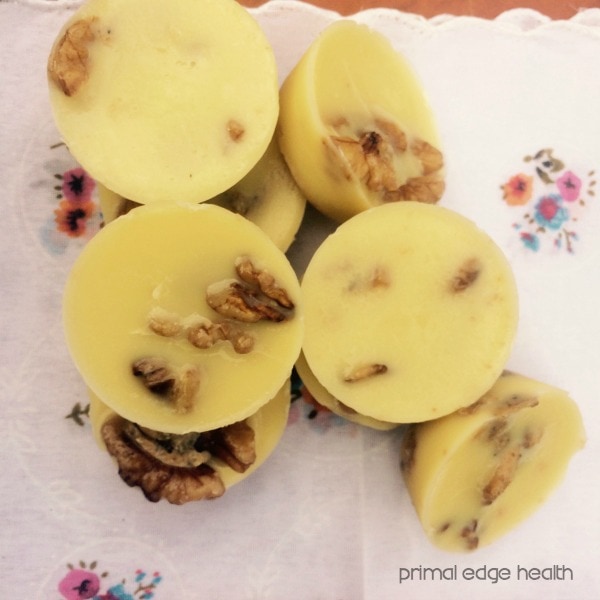 I poured these sugar-free white chocolates into mini muffin tins bought from Amazon. This tin is a great little kitchen tool that I use for chocolates, egg muffins, and homemade pemmican. Using muffin tins to form individual portion sizes is a nifty kitchen hack I often employ. I like that each piece will be uniform in size and ready made to easily add into my meal. This simplifies tracking macros and makes portion control all the more easy.
The most recent thing I added to my mini muffin tins was a stevia extract. I froze small portions to keep on hand until I am ready to use them. Usually I use a locally made alcohol called punta, derived from sugar cane, and follow my Homemade Liquid Stevia Extract recipe. However, my pantry has been "dry" lately and I haven't found any local production. So instead, I made a bit of an experiment with just water. I steeped the whole stevia leaf like a tea, strained it, and warmed the water oh-so-carefully so as not to boil it and let the water evaporate out until it reduced by about half. I have yet to test the result, but I remain hopeful that it will be successful!
If you do not have mini muffin molds, molding the white chocolate in a small glass dish will work just as well. Reusable silicon chocolate molds are also fun to have in your kitchen and play around with.
There are many guilt-free keto chocolate recipes to try too. I know you'll like them as much as I do. This white chocolate is particularly enjoyable during the winter holiday season, nibble away as you plan your keto Christmas dinner recipes!
Making homemade sugar-free chocolate recipes is a lot of fun and something you can do with your children too.
Cacao butter is an ingredient I used in a variety of recipes. Browse through 10 Cacao Butter Recipes for a Keto Diet to find even more ideas on how to use it!
Enjoy our selection of sugar-free, ketogenic desserts. You will find 16 delicious and nutritious, high-fat, low-carb desserts that are centered around chocolate, cream (dairy and coconut), and various nuts. Learn how to sweeten and flavor nutrient dense foods without relying on refined or artificial sweeteners. Vanilla powder, citrus, and hints of salt are just a few hints I can share with you now on how to bring out the natural sweetness of certain foods. Read more about enhancing and making your own healthy keto desserts here!
Make your own:
Panna Cotta (Italian Cream Dessert with grass-fed beef gelatin)
Lemon Curd
Chocolate Mousse
Maca Fudge Brownie (one of our signature dessert recipes)
Double Chocolate Nutella (along with 4 other nut butter recipes and complete tips on how to customize your own flavors)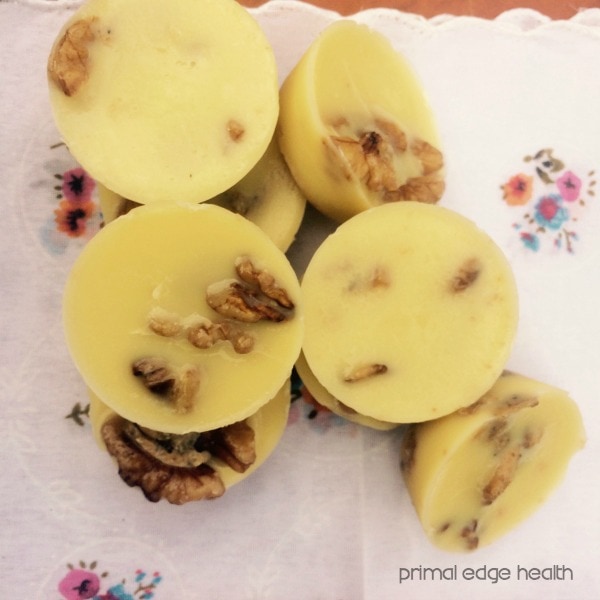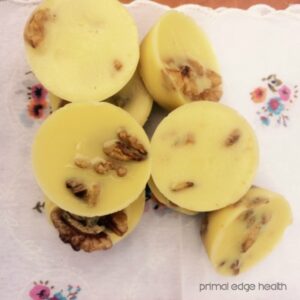 Walnut and Cardamom Sugar-free White Chocolate
A delicious ketogenic and sugar-free white chocolate recipe with hints of vanilla and cardamom.
Instructions
In a double boiler or saucepan over low heat, gently melt the coconut oil with cacao butter.

Remove from heat and add in Lakanto, collagen, cardamom. vanilla, and salt. Continue stirring until smooth.

Distribute the walnuts evenly between 8 mini muffin molds. Pour the melted chocolate mixture equally each muffin well.

Place in the freezer for 30 minutes to chill. Once set, they will pop out easily. Tip upside down and bang on the counter to release or take a knife, run around the edges, and separate the chocolate from the mold.
Nutrition & Macros
Calories:
161
kcal
Carbohydrates:
1
g
Protein:
2
g
Fat:
17
g
Saturated Fat:
10
g
Sodium:
89
mg
Fiber:
1
g
To obtain the most accurate representation of the nutritional information in a given recipe, please calculate the nutritional information with the actual ingredients and amounts used, using your preferred nutrition calculator. Under no circumstances shall the this website and the author be responsible for any loss or damage resulting for your reliance on the given nutritional information.
Made this? Leave a Rating! ⭐⭐⭐⭐⭐
Tag a photo with @Primal_Mom and #PEHRecipe on Instagram to share with us!
SaveSaveSaveSaveSaveSaveSaveSaveSave