White chocolate is now demystified… the secret is cacao butter! Cacao butter is the fat of the cacao bean once the powder has been separated. It is rich, white, and creamy – the essential ingredient in any good ketogenic white chocolate recipe.
This recipe pairs cacao butter with Brazil nuts to achieve a smooth, nutrient dense, good-for-you ketogenic white chocolate.
Brazil nuts are a wonderful source of vitamins, minerals, and trace elements. Everyone loves peanut butter, but what about all the other nuts out there? There are many other options which (in my opinion) are far superior than the humble peanut in both nutrient density and taste.
You may also like: Energizing Maca Chocolates (Raw and Ketogenic)
If you can not access Brazil nuts, replace them with any nut and nut butter combination you see worthy. Almond, macadamia, hazelnut or peanut are all fine substitutions.
For even more ideas on how to use cacao butter, read these 10 Cacao Butter Recipes for a Keto Diet!
[space size="20px"]
[space size="20px"]
Table of Contents (click to view)
Benefits of Brazil Nuts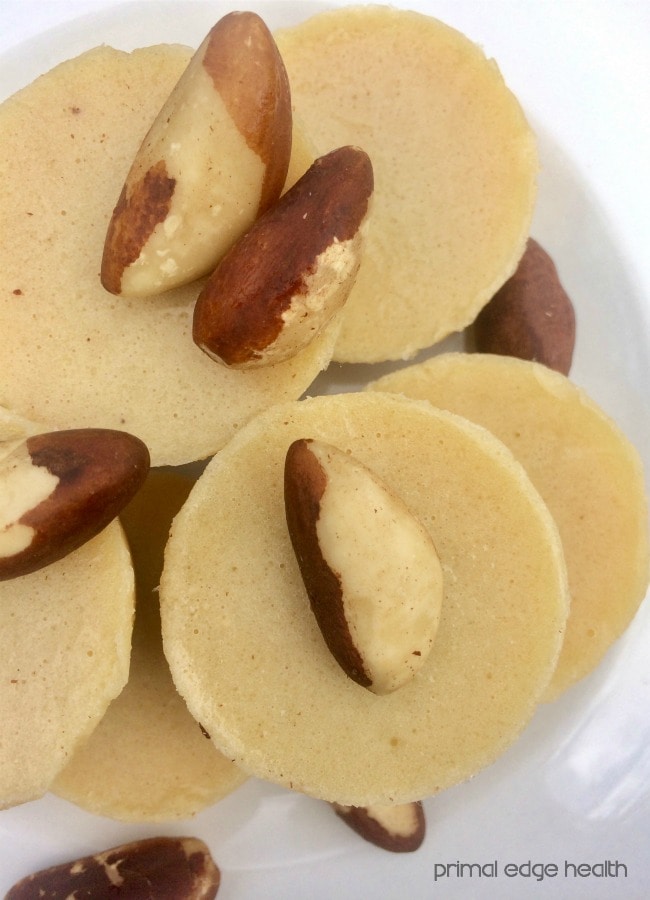 Brazil nuts are so nutrient dense, a few go a long way to promoting health and longevity. Here is a quick snapshot of their benefits and why I chose to add them to this ketogenic white chocolate.
B complex vitamins (thiamin, riboflavin, pantothenic acid, niacin, folate, and pyridoxine
minerals like maganese, potassium, calcium, iron, phosphorus, and zinc
the highest concentration of selenium in a whole food source
ellagic acid known to be anti-inflammatory and possibly neuroprotective
antimutagenic properities
help regulate healthy blood pressure
act as a natural remedy for thyroid health
Brazil nuts will fuel your body in many ways other than simply provide a source of healthy fats.
Be sure to read up on selenium and how important it is for the human body!
Some studies indicate there may be a link between selenium and reduced mercury levels. It is a known anti-inflammatory and anti-cancer trace element. Selenium is also touted as an remedy against anxiety, depression, and tiredness.
Enjoy our selection of sugar-free, ketogenic desserts. You will find 16 delicious and nutritious, high-fat, low-carb desserts that are centered around chocolate, cream (dairy and coconut), and various nuts. Learn how to sweeten and flavor nutrient dense foods without relying on refined or artificial sweeteners. Vanilla powder, citrus, and hints of salt are just a few hints I can share with you now on how to bring out the natural sweetness of certain foods. Read more about enhancing and making your own healthy keto desserts here!
Make your own:
Panna Cotta (Italian Cream Dessert with grass-fed beef gelatin)
Lemon Curd
Chocolate Mousse
Maca Fudge Brownie (one of our signature dessert recipes)
Double Chocolate Nutella (along with 4 other nut butter recipes and complete tips on how to customize your own flavors)
[columns] [span4]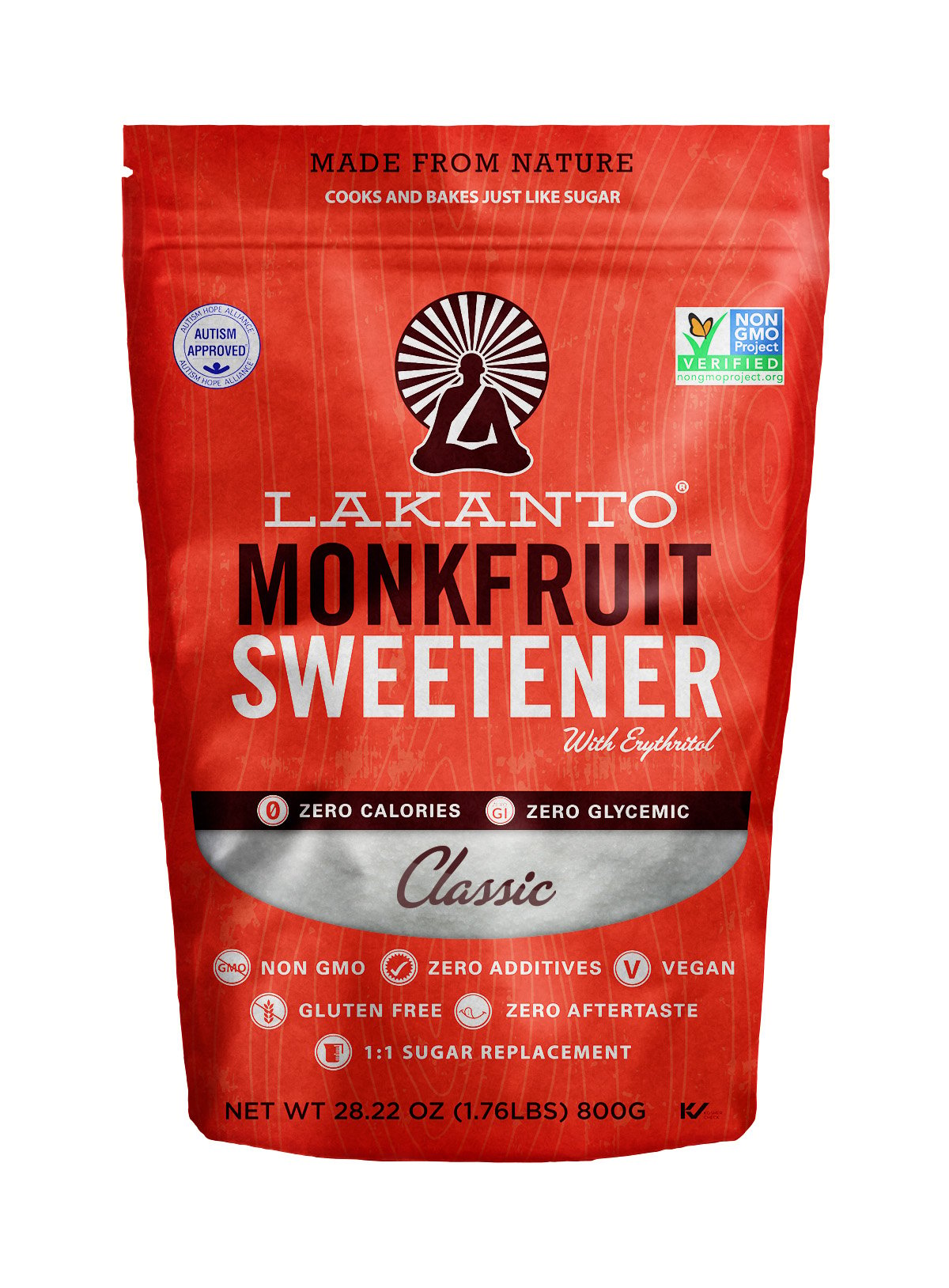 [/span4][span8]
[space size="60px"]Get a discount on your Lakanto order

Visit their website and apply the coupon code "primaledgehealth" and receive a discount on your purchase!
[/span8][/columns]
[space size="15px"]
[space size="10px"]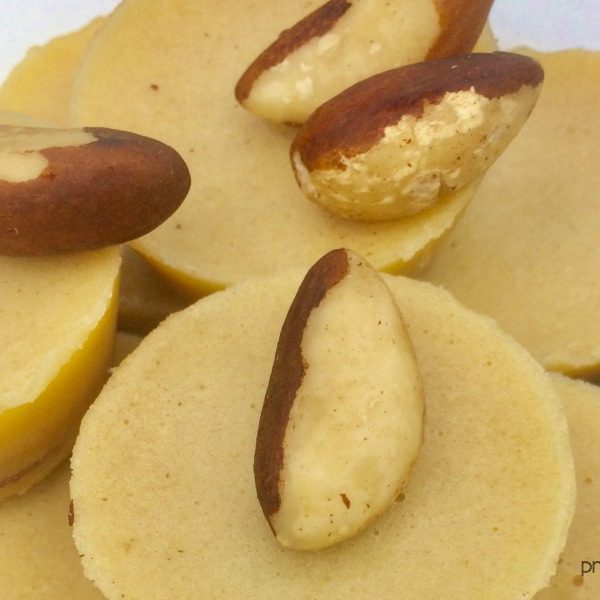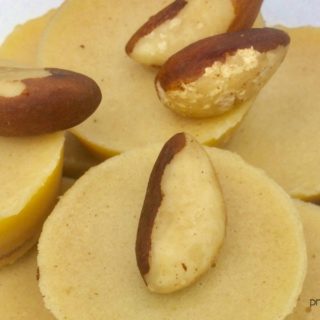 Brazil Nut Ketogenic White Chocolate
This recipe pairs cacao butter with Brazil nuts to achieve a smooth, nutrient dense, good-for-you keto white chocolate.
Instructions
In a double boiler or saucepan over low heat, gently melt the coconut oil with cacao butter.

Remove from heat and stir in the nut butter. Add Lakanto, collagen, vanilla, and salt. Continue stirring until smooth.

Distribute the whole Brazil nuts equally between 8 mini muffin molds or at the bottom of whatever container you choose to shape the chocolate in.

Pour the white chocolate mixture evenly into each of the wells. Place in the freezer for 30 minutes to chill. Once set, they will pop out easily. Tip upside down and bang on the counter to release or take a knife, run around the edges, and separate the chocolate from the mold.
Nutrition & Macros
Calories:
192
kcal
Carbohydrates:
2
g
Protein:
3
g
Fat:
20
g
Saturated Fat:
11
g
Sodium:
108
mg
Fiber:
1
g
Net Carbohydrates:
1
g
To obtain the most accurate representation of the nutritional information in a given recipe, please calculate the nutritional information with the actual ingredients and amounts used, using your preferred nutrition calculator. Under no circumstances shall the this website and the author be responsible for any loss or damage resulting for your reliance on the given nutritional information.
Made this? Leave a Rating! ⭐⭐⭐⭐⭐
Tag a photo with @Primal_Mom and #PEHRecipe on Instagram to share with us!
[space size="10px"]
[space size="15px"]
Pin it for later:
Save
Save
Save
Save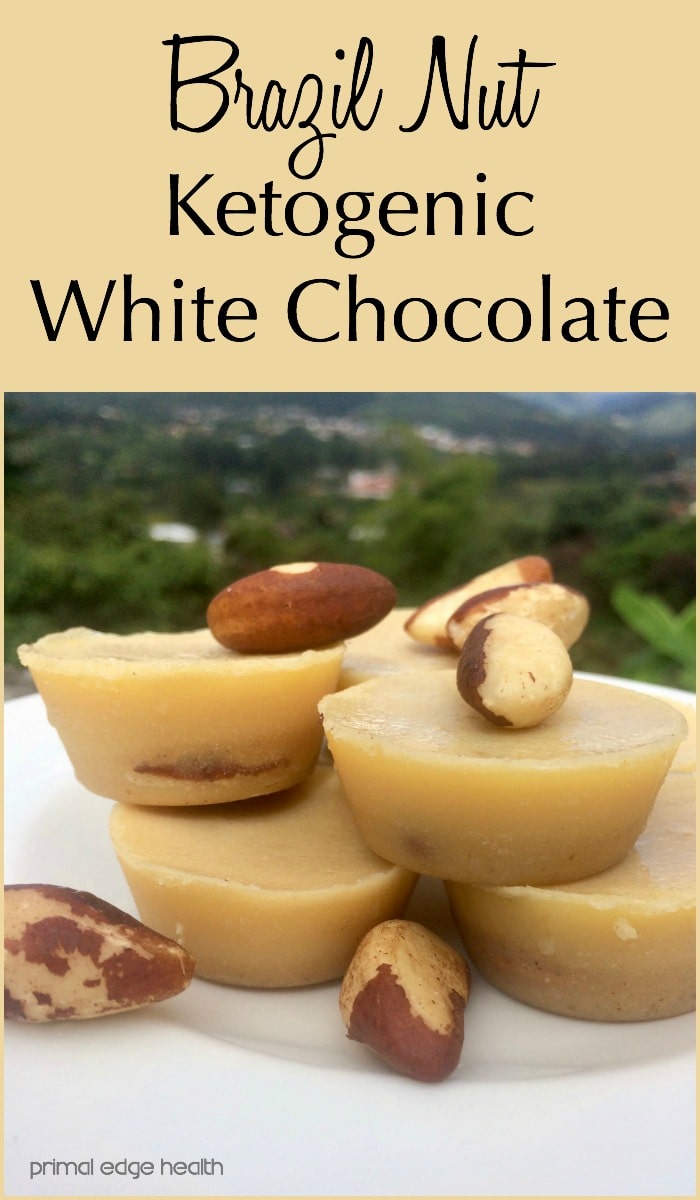 Save
Save
Save
Save