Lakanto monk fruit sweetener is an essential ingredient in all my keto holiday desserts. This sugar substitute is perfect for a sugar-free and low-carb diet because it has zero calories yet is sweet and tasty!
Now you can enjoy seasonal baking in fall and winter plus quick and easy treats in spring and summer too! These keto-friendly holiday desserts are great for anyone on a keto diet and sure to delight all friends and family.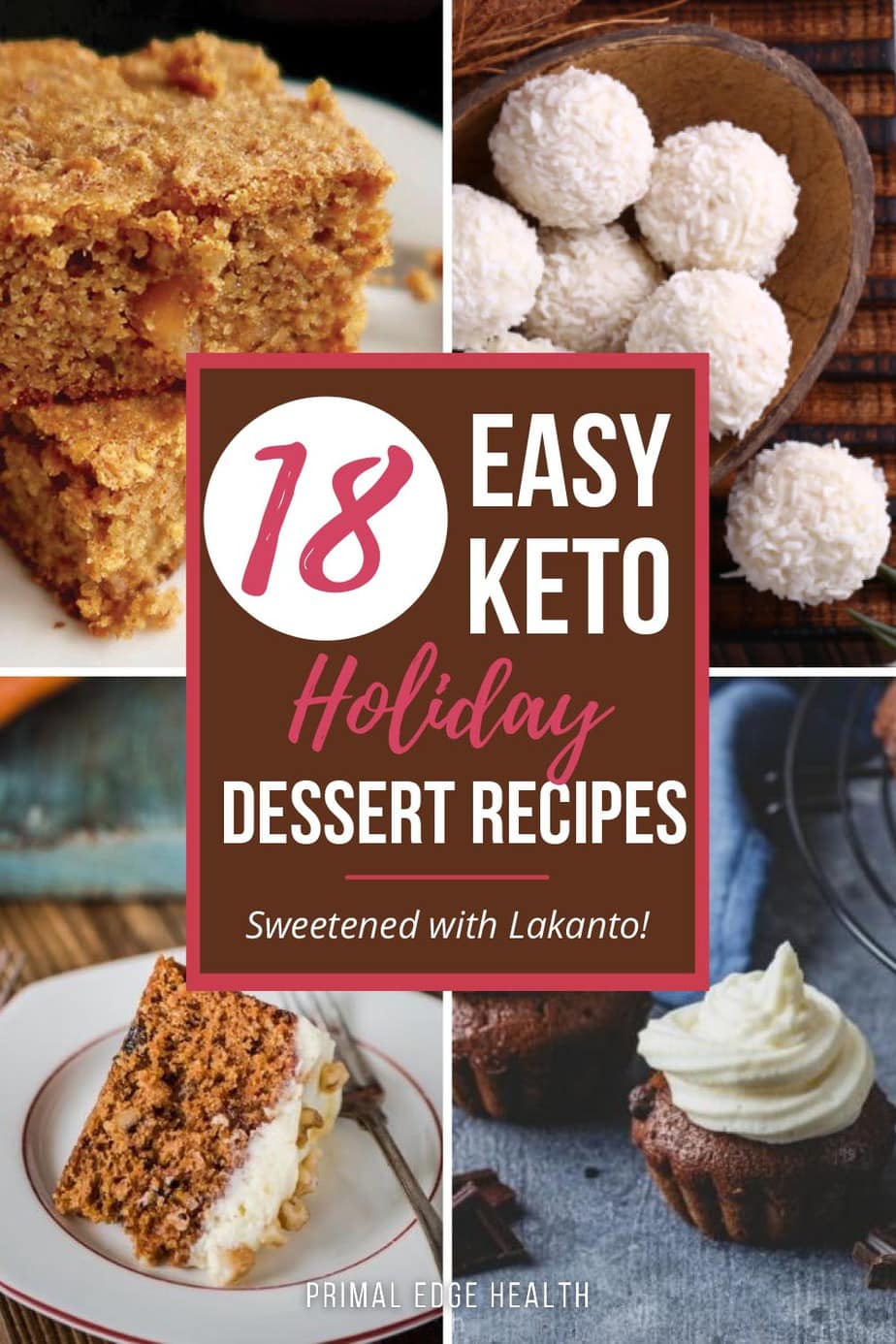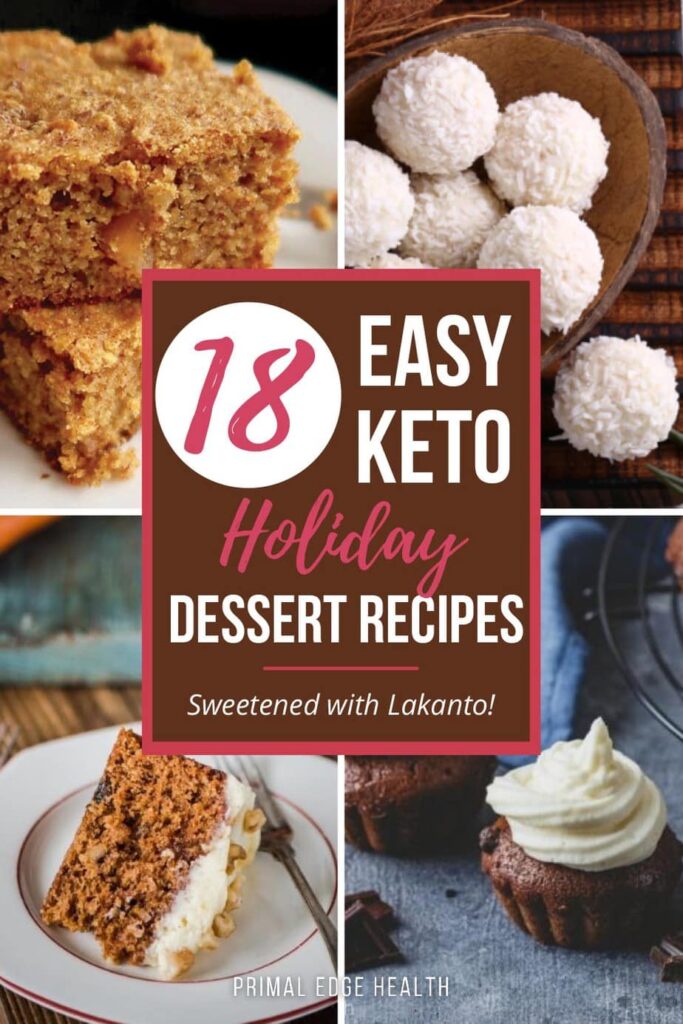 Table of Contents (click to view)
Lakanto Dessert Recipes
What's the best keto sweetener? For me, it's no question. Lakanto is always my first choice for all low-carb sweetening needs.
From no-bake desserst to baked goods and everything in between, the line of Lakanto zero-calorie sugar substitutes is top-notch and works for a wide variety of recipes.
Based on a combination of erythritol and monk fruit sweetener, the flavor is on point (no gross aftertaste!) and the texture is just like sugar.
Lakanto monk fruit sweeteners are
ZERO GLYCEMIC – Lakanto Sweetener will not increase blood sugar
ZERO CALORIES – With no sugar or added artificial flavoring
USEFUL – Flavor teas and coffee, baked goods, desserts, and chocolates
DELICIOUS – With no bitter aftertaste
DIET-FRIENDLY – Perfect for keto, low-carb, sugar-free and other wellness type diets
ALL-NATURAL – Make with Non-GMO Verified Monk Fruit
Making keto baked goods, classic holiday recipes, and homemade chocolate has never been easier!
Try their sweeteners for yourself and save 20% with our coupon code PRIMALEDGEHEALTH.
Keto Holiday Dessert Recipes
Do you have a hard staying sugar-free when big holiday celebrations come around?
Everything can be going well until a birthday, work party, or big seasonal event like Thanksgiving, Christmas, or Valentine's Day happens. If we're not prepared, it's easy for these days (or weeks) to be complete sugar overloads.
The key to success is proper preparation. That's where healthy keto recipes (and a helpful keto meal planner) come in handy. Be sure to stock your keto pantry with all the right ingredients for keto baking.
Even if you need a last-minute idea, there's no excuse not to stick to a keto diet. Lakanto baking mix recipes cover all the best flavors and are quick and easy, just like normal store-bought options.
Whatever you choose, be it a pre-made low-carb baking mix or a homemade recipe from scratch, they are sure to impress everyone around!
All these Lakanto recipes are sweet enough to curb sugar cravings, low-carb enough for a keto diet and tasty enough for any non-keto friends and family members around.
Take a look at all of our favorites in keto holiday recipes for more menu inspiration! And be sure to impress your guests with a fine dining experience just by giving a little extra thought to setting a nice table. You can make impressive results with very little effort.
Lakanto Sweetener FAQ
Are Lakanto products healthy?
All of their sweeteners follow the same health claims and "are safe for people with corn intolerance, sensitivities, or allergies." Furthermore, sweeteners are free of other common allergens such as soy, nuts, egg, and wheat.

Lakanto monk fruit sweetener is also zero calories and zero glycemic.
Which is better Lakanto or swerve?
Once I tried Lakanto, I never tried anything else because I am always happy with the results and never needed to look elsewhere.
Is Lakanto good for baking?
I use the classic and golden formulations for baking because they both work flawlessly. They sweeten as expected and never leave an undesirable aftertaste.
Is Lakanto FDA approved?
This is an important consideration. The FDA officially approved Lakanto products as safe dietary sweeteners.
Keto Baking Recipes with Lakanto Monk Fruit Sweetener
Take a look at these best keto holiday desserts with coconut and almond flour that will satisfy any sweet tooth! Serve warm and oven fresh or make ahead of time for the big day, these recipes are entirely low-carb and gluten-free.
Recipes with Lakanto Liquid Monkfruit Sweetener
You only need a few drops of liquid sweetener to give flavor to the entire recipe! These holiday desserts are simple and great for serving a crowd.
Recipes with Lakanto Maple Syrup
What finishes a recipe better than drizzling sugar-free maple syrup on top? As a fun twist, you can also bake with it mixed into the recipe!
Ultra moist and chocolate-infused, this low carb pumpkin bread is a delicious treat for fall! When you are armed with easy keto recipes like this, a ketogenic diet is simple, sustainable, and enjoyable.
This maple rich and creamy ketogenic frosting has been a huge hit with everyone in the house. It is a simple blend of butter, sugar-free maple-flavored syrup and a special surprise ingredient.
Cozy up with the family and share a keto sweet bread flavored with warming spices and maple sweetness by the fire.
More Sugar-Free Keto Dessert Recipes
References
Why Everyone's Going Mad for Monk Fruit – Healthline
Lakanto Monkfruit Sweetener calories – Fat Secret
Introduction, adaptation and characterization of monk fruit – PubMed