Cozy up with the family and share a keto sweet bread flavored with warming spices and maple sweetness by the fire. As the seasons change, there are many keto breakfast recipes that will keep you inspired and on track with your keto goals.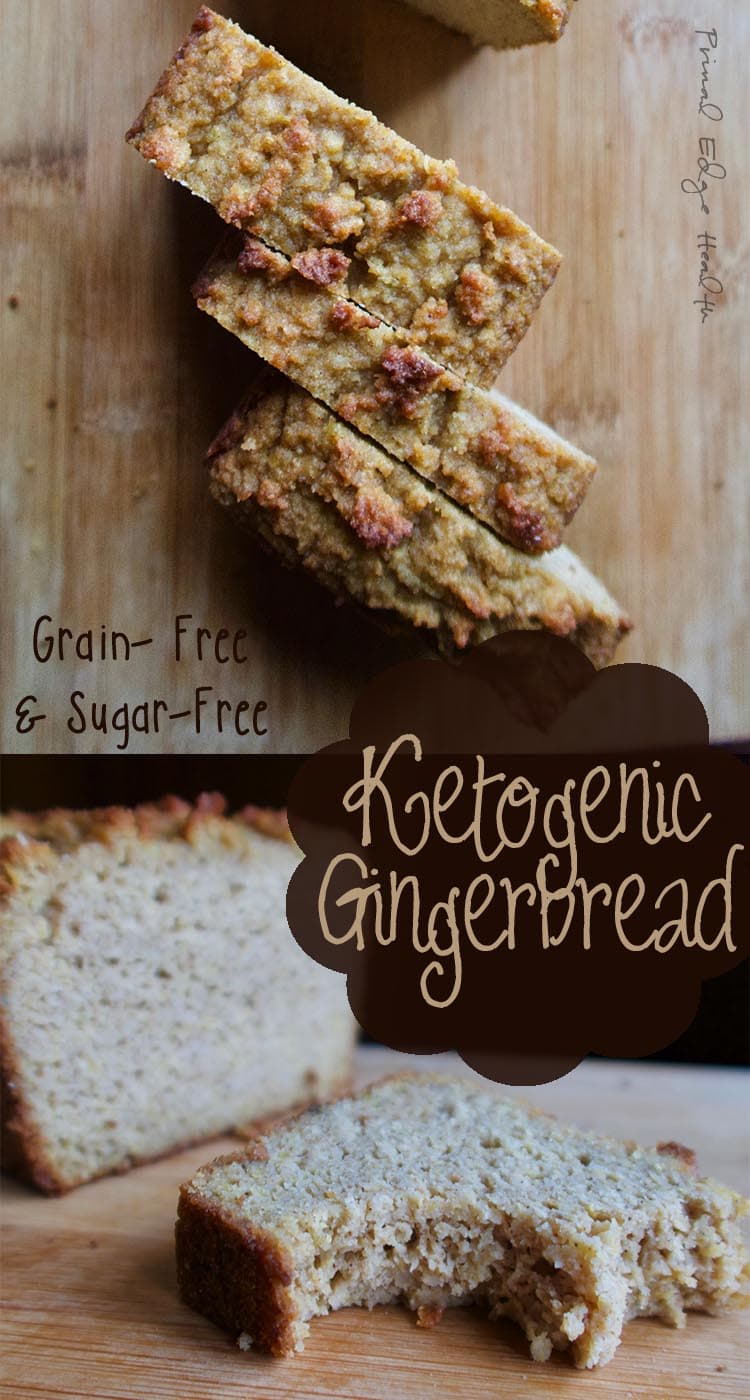 I fell in love with adding gelatin to my keto baked goods after perfecting my Ketogenic Chocolate Chip Cookie recipe.
The addition of this ingredient give a unique composition to foods, making them slightly chewy. The gelatin also retains moisture well which helps guard against over baking and dry, crumbly baking fails.
After pulling out yet another successful batch of cookies from the oven made me think… what if this recipe was baked in a bread tin?
I returned to the kitchen, made some adjustments on the flavor theme annnnd… get to share the success with you!
This is one of my new favorite keto breakfast ideas.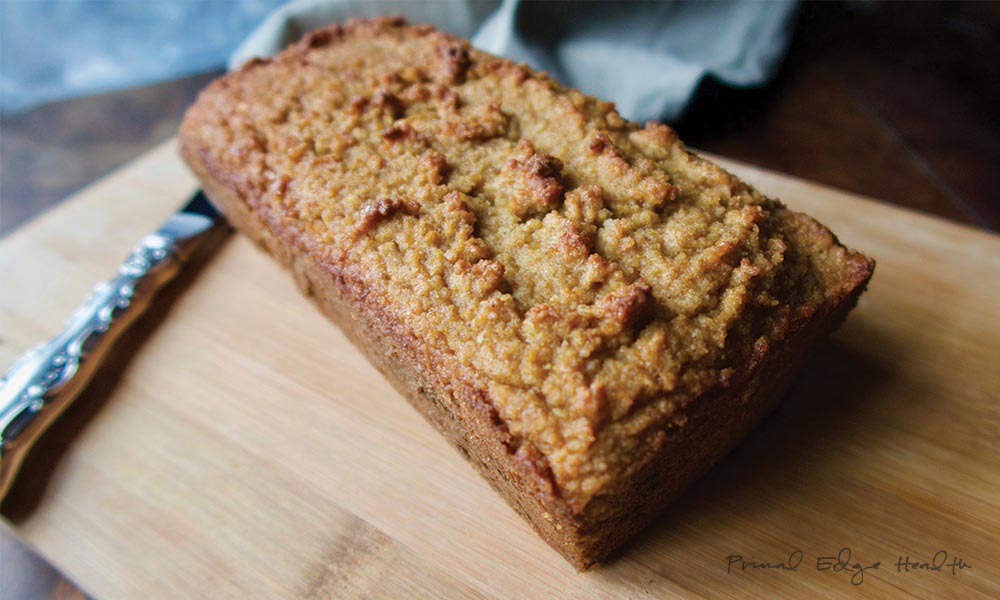 Table of Contents (click to view)
Get Frosty
If you love a good frosting, whip up a Maple Buttercream Frosting or ice this ketogenic gingerbread with a Simple Dairy-Free Icing. My Whipped Ricotta Frosting would be a nice complement as well.
For making delicate designs and criss-cross patterns, nothing works better than Dairy-Free Keto Icing. Plus, there are only 3 ingredients!
In truth, this loaf isn't missing a thing. Spreading a sugar-free frosting will add an amazingly creamy mouthfeel. It also brings a nice charm for nonketo dieters and looks oh-so eye catching!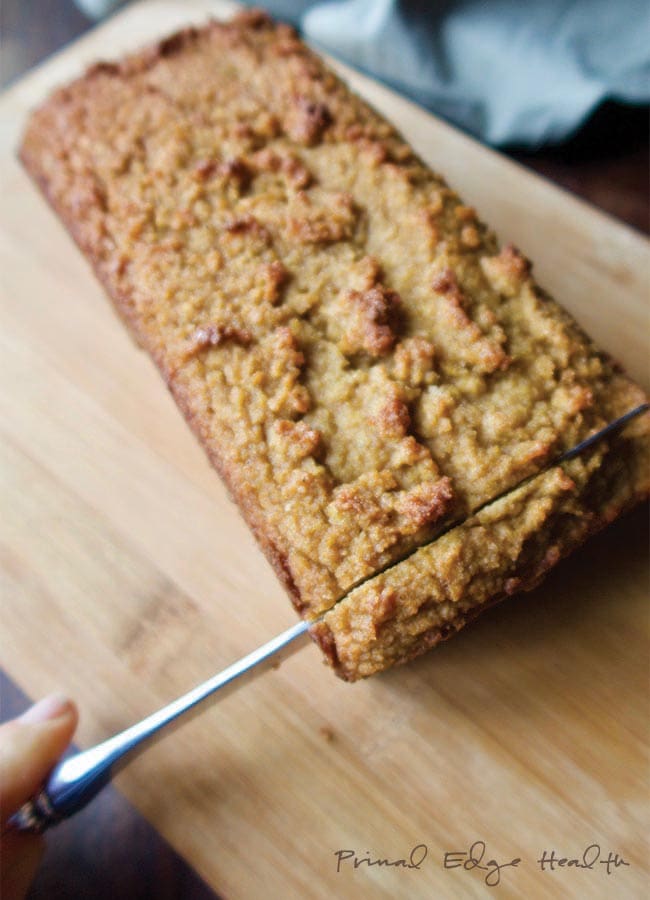 Gut Lovin' Gelatin
I love the texture of this bread, it feels GOOD as I digest.
Gelatin has numerous benefits that are appreciated by all systems through-out the body.
Full of amino acids; glycine, proline, and arginine
A digestive aid

Broth normalizes hydrochloric acid in the stomach and "lines the mucous membrane of the intestinal tract and guards against further injurious action on the part of the ingesta" 1.
Gelatin assists in the digestion of nutrients and is soothing for those with uncomfortable symptoms of food sensitivity.

Strengthens bone health 2
Reduces the pain of osteoarthritis 3
Used to treat diabetes for over 100 years 4
I use this powdered grass-fed beef gelatin in recipes.
A batch of homemade broth (or Kettle & Fire Bone Broth) also has lots of gelatin but it won't help you make gingerbread.
Gelatin is also nice for no bake recipes like Eggnog Cheesecake Pudding and Peppermint Custard.
Secret Tip!
I (heart eyes) the texture – it is the BEST after chilling in the fridge overnight. The cold temp and time sets up a slightly gummy, smooth and cream keto loaf.
Sweetening Ketogenic Gingerbread
I use LAKANTO monkfruit sweeteners because they are excellent, quick and convenient ways to sweeten keto foods. This recipe features a maple flavored syrup and "brown sugar" crystals that lends a caramel sweetness, pairing well with the cinnamon and ginger.
I love the formulation of the LAKANTO products because there is never a bitter aftertaste! My family never liked stevia sweetened recipes much, so for us this is the best alternative! The Monkfruit Sweetener is a great alternative for those who are sensitive to erythritol/sugar alcohols or any other artificial sweeteners.
Take a look at these other keto desserts sweetened with Lakanto to see this keto sweetener in action.
I'm so appreciative to be able to link up with a company that hold such high levels of integrity and provides such a useful product to those interested in cutting out the sugar from their diet.
You can save 20% on an order of Lakanto products with our coupon code: primaledgehealth
Simply enter "primaledgehealth" on the checkout page and you get 20% off your order!
LAKANTO Monkfruit Sweetener is
ZERO GLYCEMIC – Lakanto Sweetener will not increase blood sugar
Zero Calories – With no sugar or added artificial flavoring
USEFUL – Flavor your coffee, chocolates, and keto baked goods
EASY- Convenient for on-the-go everyday use
Non-GMO Verified Monk Fruit
DELICIOUS with no bitter aftertaste
Gut-friendly
Lakanto is my favorite KETO-FRIENDLY sweetener!
Alternatives:
I use Lakanto exclusively, but if you can't get it delivered to your area or it doesn't agree with you, use plain erythritol or stevia drops instead.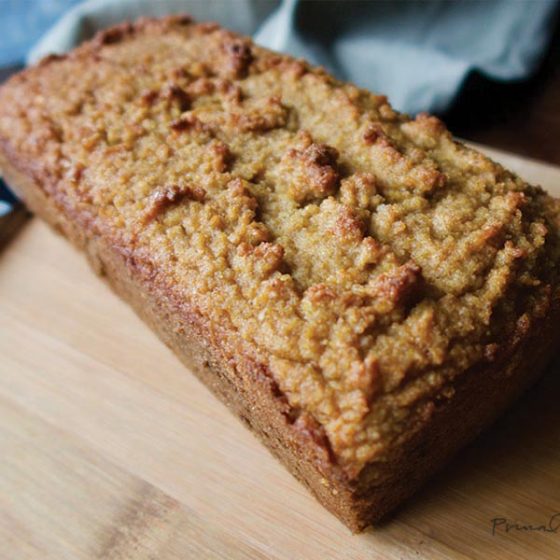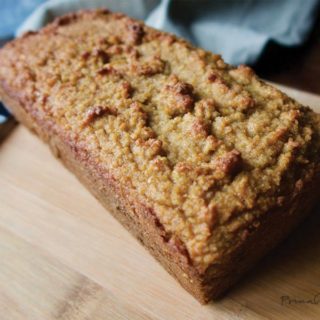 Ketogenic Gingerbread Loaf | with Grass-fed Gelatin
Cozy up with the family and share a gluten-free, sugar-free keto gingerbread loaf flavored with warming spices and maple flavored sweetness. It's a great baked treat for any winter day!
Instructions
Whisk the egg in a medium bowl, add zucchini, butter and maple. Set aside.

1 whole egg,

3/4 cup shredded zucchini,

1/4 cup butter,

1/4 cup Sugar-free maple syrup

In a second bowl, combine all dry ingredients. Reserve the nuts.

1.5 cups almond flour,

2 tablespoons Keto sugar substitute,

1 tablespoon ground cinnamon,

1 tablespoon ginger powder,

1 tablespoon grass-fed beef gelatin,

1 teaspoon vanilla extract,

1/2 teaspoon baking soda,

1/4 teaspoon salt

Blend the wet bowl with the dry bowl in a food processor. Add the nuts and continue blending until smooth. If you don't have a food processor, try a blender. When the nuts are well blended, the bread gets a very creamy texture. If you like chunks or want a crunchy texture, you can finely chop the nuts with a knife and add them to the batter in pieces.

Pour batter into a greased loaf pan or 8 by 8-inch baking dish. Bake for about

30 minutes

, until top is golden brown and firm to touch.

Let cool completely before removing from the pan. This bread is best after it has sat in the fridge for a bit, for at least

2 hours

or overnight.
Nutrition & Macros
Calories:
240
kcal
Carbohydrates:
8
g
Protein:
6
g
Fat:
23
g
Saturated Fat:
5
g
Sodium:
194
mg
Fiber:
4
g
Net Carbohydrates:
4
g
To obtain the most accurate representation of the nutritional information in a given recipe, please calculate the nutritional information with the actual ingredients and amounts used, using your preferred nutrition calculator. Under no circumstances shall the this website and the author be responsible for any loss or damage resulting for your reliance on the given nutritional information.
Made this? Leave a Rating! ⭐⭐⭐⭐⭐
Tag a photo with @Primal_Mom and #PEHRecipe on Instagram to share with us!
Browse through Healthy Cinnamon Recipes for more seasonal treats!
Love Keto Baking?
It's easy once you learn what ingredients to use and know how to adapt your techniques to low-carb recipes.
I highly recommend The Ultimate Guide to Low-Carb Baking for all you need to know about sugar-free, keto sweet and savory baked goods!
Use this low-carb baking guide to prepare for the holidays, appease cookie cravings with healthy, ketogenic recipes, and serve oven-fresh baked goods the whole family can enjoy.
You can sip on a Healthy Hot Chocolate drink or Keto Eggnog while you wait for your baked treats to finish up in the oven.