Here's a delicious round-up of 14 recipes to try with Lakanto, my top-rated, all-natural, ketogenic, zero-calorie sugar replacement.
LAKANTO Classic is the only zero calorie, zero glycemic sweetener that is just like sugar. It is my favorite sugar replacement on a keto diet!
Monk Fruit was used for centuries in eastern traditional herbalism to increase chi and well-being, earning it the nickname "The Immortals' Fruit". LAKANTO takes care to grow and harvest Monk Fruit in the same pristine area with environmental methods in line with the cultural tradition.
Made with a proprietary blend of monk fruit extract and non-GMO erythritol, LAKANTO Classic mimics the taste, texture, and sweetness of sugar without spiking blood sugar or causing sugar rushes and subsequent falls.
Lakanto is…
Zero calorie, zero glycemic

A keto friendly, low-carb alternative to processed, refined white sugar
Gluten-Free and Non-GMO
Our choice for a ketogenic sweetener
Table of Contents (click to view)
LAKANTO is ideal for individuals and families who desire to minimize their sugar consumption, eat healthy foods and avoid artificial sweeteners.
Adding artificial sweeteners is something we do not suggest. While they won't fully prevent the effects of a ketotic state, aspartame, sucralose and saccharin are not ideal ingredients to be using. Tristan explains more on this topic in a video here.
We featured Lakanto as our ketogenic sweetener of choice in many recipes from The Ultimate Guide to Low-Carb Baking.
Ketogenic bakes goods are wonderful tools for introducing others to the food quality found in a ketogenic diet. Your family and friends can enjoy these dishes with you and never have to know they are low-carb. My favorite stories to hear are when children request their moms and dads to replace store bought sweets with the recipes from this book. The Ketogenic Chocolate Chip Cookies have been a HUGE success in many households. Children request these cookies to be brought to school birthday and sports parties. Just think, not only are parents improving their own health, but when they foster a healthy relationship with their children and expose them to healthy foods options, the effects ripple out into the entire community!
Ready to give LAKANTO a try?
14 recipes to try with Lakanto
With Lakanto Classic:
With Lakanto Golden:
With Maple Flavored Syrup:
We enjoy working with LAKANTO, a small business that shares our mission to educate and promote a sugar-free diet. If you are interested in this product, please use our affiliate links here. We get a credit, at no extra cost to you, for referring customers. All income is recycled back into Primal Edge Health and helps us develop new products and content. It's a small choice you can make to say "thank you".
Enter to Win Lakanto's GIVEAWAY!
LAKANTO and BLENDTEC are teaming up to make an awesome GIVEAWAY!
We've used our Blendtec blender for years – it's a great long-term kitchen investment.
ONE lucky winner will be chosen on 3/21 to win (value of $1,000+):
Brand new, high powdered Blendtec Designer Blender (Base + Jar)
A year supply of Lakanto's sugar-free Suntella Chocolate Spread
A year supply of Lakanto's classic sweetener
A case of Lakanto's sugar-free chocolate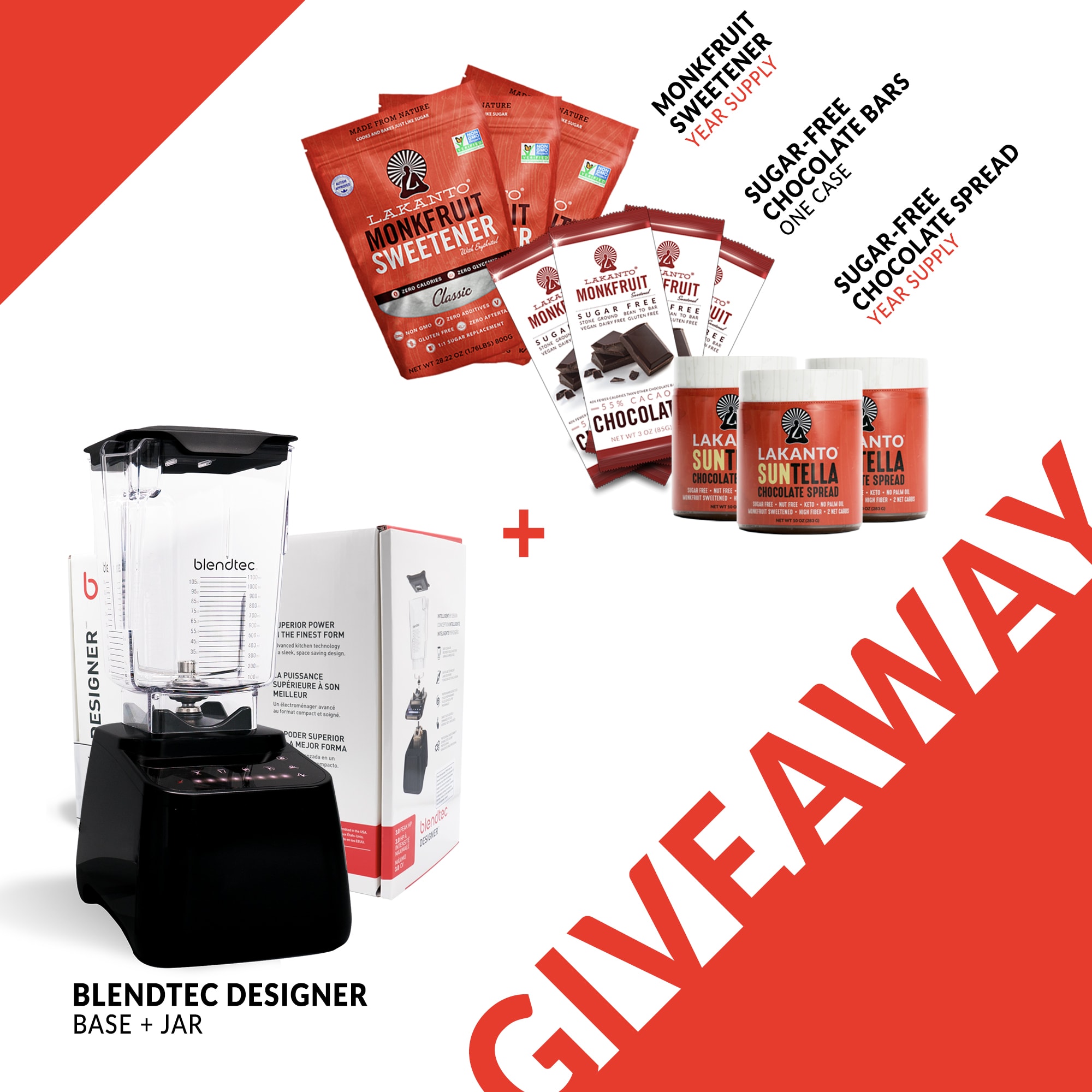 Ways to Win
1. To enter the Grand Prize Giveaway, click here.
2. Enter our own Primal Edge Health Giveaway of 1 Jar of Lakanto's newest product – SUNTELLA! Complete the first two steps below to enter. Do the remaining options to increase your chances. Good Luck!
More Keto Dessert Recipes