Enjoy the mixture of sensations from this beet green salad. It has it all – sweet and bitter, crunchy and creamy, tangy and oily. The balsamic vinegar and olive oil dressing is simple but adds just the right amount of flavorful coating to the plate. I added beet green leaves and a bit of the stems for texture.
Bites gets better the longer the flavors mix around in the mouth.
Each bite of salad is delicious, with two kids, one of which is only 10 months old, I usually eat pretty quickly and sacrifice well-chewed food for a less messy eating area. Our 5 year old will eat nicely with me and do her best to balance bowls and a baby. The baby is full of joy as he alternates smashing his hand in the bowl, smearing food in and/or around his mouth and once this circus is done with, he is happy climbing up my arms and into my lap to share his food exploration (aka mess) with me. Even with all this going on, I enjoyed this beet green salad so much and took the time to chew it well. It was totally worth it.

Beet greens are a fun "unconventional" leafy green to use in sautes, stir-fries and egg based dishes like frittatas, omelettes and quiches. They are an excellent source of vitamin K, vitamin A (in the form of carotenoids), vitamin C, copper, potassium, manganese, vitamin B2, magnesium, vitamin E, fiber and calcium. There are also amounts of iron, vitamins B1, B6, phosphorus and pantothenic acid. One cup (38 g) of raw beet greens has 1 g protein, 0 g fat, 2 g carb, and 1 g net carb.

We can get beef greens for free from a vendor at the local farmer's market. People usually just want the beets and the greens are chopped off for compost. I ask for a big bag, take out the choicest pieces and give the rest to the chickens.
Don't let spinach and kale get all the attention in your kitchen. Share some love with other leafy greens like beet greens and wild, foraged greens. In The Ketogenic Edge Cookbook we use unconventional greens in the following recipes:
Homemade Green Powder
Foraged Wild Greens
Tahini and Lemon Vegetable Stir-Fry
Mushroom Veggie Stir-Fry
Stuffed Cabbage Rolls
Be sure to tag us (@primaledgehealth or #primaledgehealth) on Instagram and Facebook to share your photos with us and others interested in top quality, nutrient dense, low-carb food!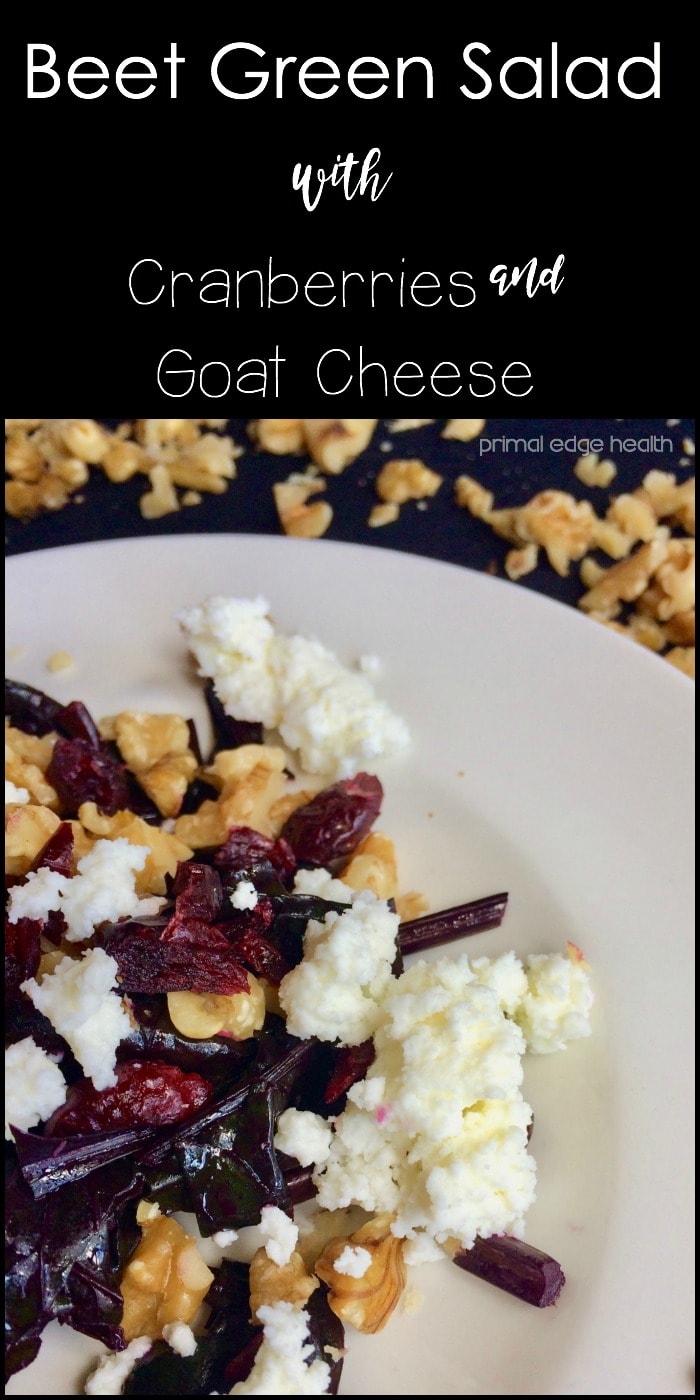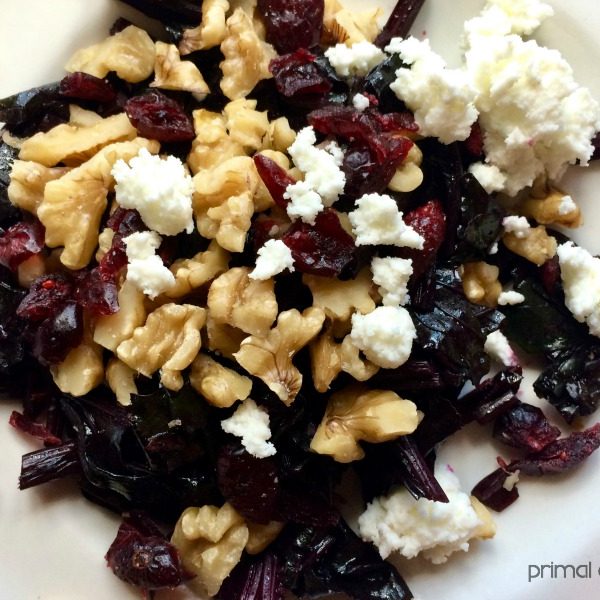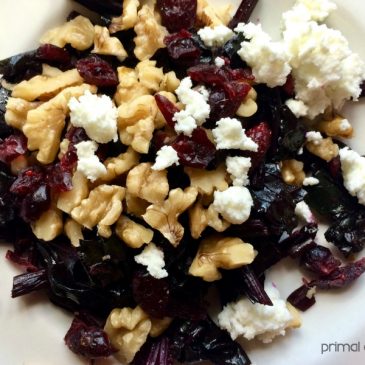 Beet Green Salad with Cranberries and Goat Cheese
A warm salad full of contrasting flavors and textures - bitter greens and sweet cranberries, soft goat cheese with crunchy nuts.
Ingredients
½

tbsp

coconut oil

4

cups

beet greens

chopped

2

ounces

goat cheese

¼

cup

walnuts

chopped

2

tablespoons

cranberries

unsweetened
Instructions
Warm the coconut oil over medium heat in a skillet. Add the beet greens and saute for 5 minutes, until all leaves are tender and bright green. Remove from heat and add to a large serving bowl or individual plates.

Crumble goat cheese over the greens. Add the chopped walnuts and sprinkle in the cranberries.

Prepare the dressing by mixing the vinegar, olive oil, salt, and pepper in a separate bowl. Drizzle over each serving evenly.
Nutrition & Macros
Calories:
130
kcal
Carbohydrates:
4
g
Protein:
5
g
Fat:
11
g
Saturated Fat:
4
g
Sodium:
284
mg
Fiber:
2
g
Net Carbohydrates:
2
g
To obtain the most accurate representation of the nutritional information in a given recipe, please calculate the nutritional information with the actual ingredients and amounts used, using your preferred nutrition calculator. Under no circumstances shall the this website and the author be responsible for any loss or damage resulting for your reliance on the given nutritional information.
Made this? Leave a Rating! ⭐⭐⭐⭐⭐
Tag a photo with @Primal_Mom and #PEHRecipe on Instagram to share with us!
Enjoy maximizing nutrient density in your daily diet?
[columns] [span4]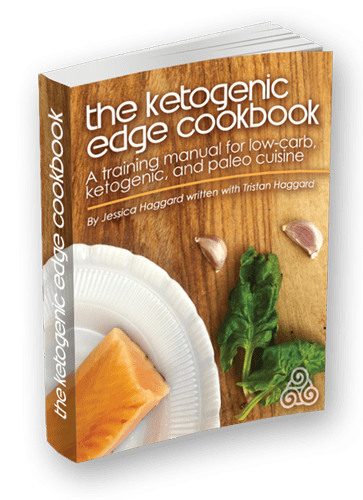 [/span4][span8]
It is a great kitchen resource and inspiration for low-carb, ketogenic, and paleo cuisine!
Available only in our shop – come and support our work!
Check out the free preview here.
[/span8][/columns]
[ulp id="7DYS4KSiNpWpyBVQ"]
Save
Enjoying your salads so much you are in need of more dressing recipes? Check out this round-up of delicious low carb, keto salad dressing recipes.
Save
Save
Save
Save