Enjoy these nutella fat bombs next time you want a quick treat to cut cravings. This creamy keto fudge is an absolutely delicious treat to share on a special holiday too. The recipe is so simple to make, and you can enjoy it guilt-free because it's sugar-free, keto, and low-carb!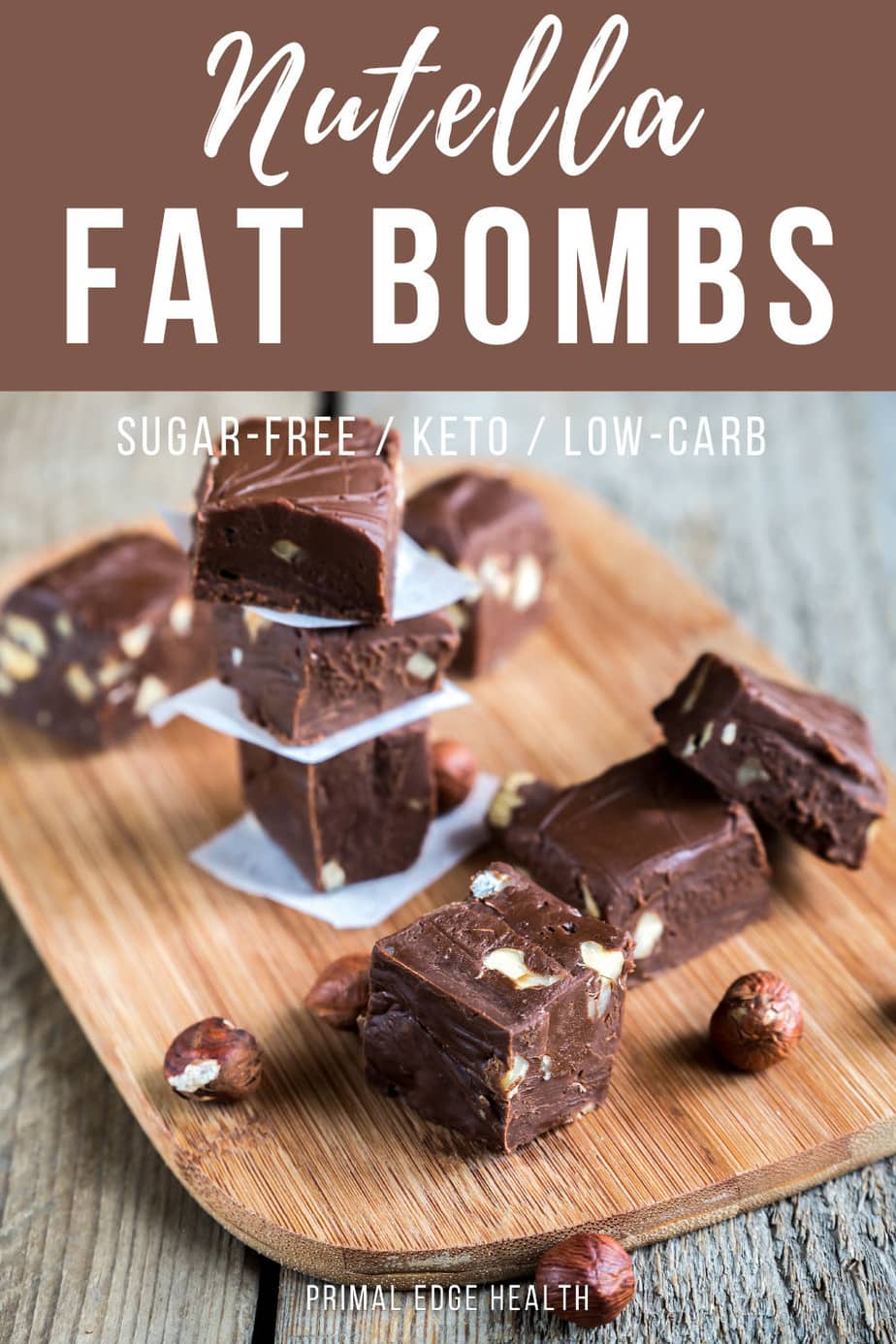 Table of Contents (click to view)
Chocolate Fudge Fat Bombs
I grew up with some very finicky fudge recipes that I could never get quite right or accept as a "good for you" treat. Anything with a candy thermometer and I think it's a science project not a recipe. Marshmallow creme didn't seem like a real food and was too weird to buy. Then, once corn syrup entered the scene… forget about it, that's way too sweet!
Imagine my struggle trying to find a suitable keto alternative! How can I make my Aunt's family famous fudge without the sugar?
Well, many thanks to the Spruce Eats for the inspiration behind this recipe. I love conjuring up a festive feeling with a treat that crosses traditional fudge with nutella.
If anyone doesn't know, nutella is a sweet hazelnut cocoa spread, kind of like chocolate peanut butter.
This high-fat treat is perfect for the holidays, so nibble away as you plan your keto Christmas dinner recipes. However, once you try it, don't be surprised if you're making this fudge all year long.
Nutella fat bombs have healthy fats with a winning flavor combo that will appeal to everyone. From kids to adults, keto or not, there is sure victory with this recipe!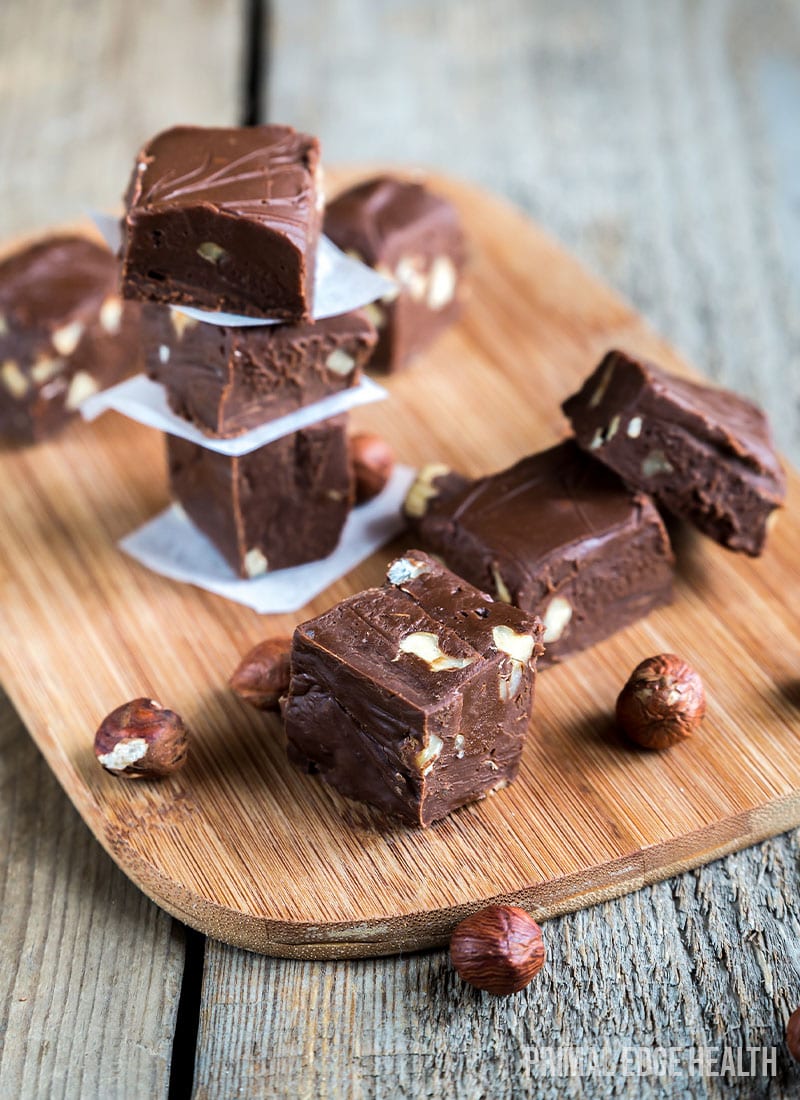 How to Make Nutella Keto Fat Bombs
Gather just six ingredients and you're already halfway to making perfect keto fudge with hazelnuts!
Ingredients
Cacao paste – raw cacao paste is my preference, but you can also substitute with baker's chocolate.
Butter – grass-fed butter whenever possible! The butter gives it the consistency that you want to sink your teeth into.
Keto sweetener – I use powdered Monkfruit Sweetener to add a sweetness without any carbs (or calories!). Powdered sweetener works best for keto fat bombs because it blends perfectly smooth while granular sweeteners tend to leave a gritty texture.
Save an instant 20% off by using the link above and entering our coupon code PRIMALEDGEHEALTH in the checkout.
Heavy whipping cream – fold in the cream and watch the fudge take on a beautiful milk chocolate color.
Vanilla extract – fill your kitchen filled with the heavenly aroma of vanilla when you add it the melting cacao and butter.
Hazelnuts – are essential for the "Nutella" flavor! They also provide that bit of crunch to this festive fudge.
Directions
Not to be redundant, but this recipe is the bomb! It is a simple melt, mix, and set method that is easy to make in minutes and oh so decadent. It will store well in the fridge or freezer so you can meal prep a batch once and have many servings made ahead of time for the whole week.
Begin by melting the chocolate with the butter in a small saucepan or a DIY double boiler over low heat. Remove from the heat once the chocolate and butter have melded together into a hot fudge consistency.
Next, fold in sweetener, cream, and vanilla.
Last but not least, add in the hazelnuts. Pretty simple right?
Line an 8×8-inch dish with parchment paper and pour the melted chocolate mixture into the dish.
Then, chill in the freezer for an hour or until firm.
Finally, pull up the parchment paper and place it flat on the counter. Use a sharp knife and cut fudge into 24 pieces (4 long columns x 6 short rows). If the chocolate sticks to the knife, dip the knife in warm water between slices.
Store in the fridge or freezer. You can make the fudge an hour or a week before and store in an airtight container the freezer before serving.
Chocolate Keto Fat Bombs FAQ
You might be asking these common queries if you're new to making sugar-free desserts or don't have much experience with keto fudge. Let me help!
Can I eat Nutella on keto diet?
No, not if you want to stay in ketosis. Nutella is high in sugar and contains too many low-quality ingredients like vegetable oil and chemical preservatives to recommend for a keto diet.
How many carbs in Nutella hazelnut spread?
One tablespoon of Nutella contains 12 grams total carbs! Skip the commercial stuff and make something even better. I have a list of keto-friendly dessert nut butter recipes in The Ketogenic Edge Cookbook, so be sure to order a copy for the next time you're craving a Nutella copy-cat or just love yummy sugar-free desserts!
Order The Ketogenic Edge Cookbook in print or instant digital download!
How many calories in a keto fat bomb?
In my keto fat bomb recipe, there are 97k calories. These come from 10 grams fat, 1 gram of protein, 3 grams carb, and 1 gram net carb. Store-bought and other homemade recipes vary with ingredients.
More Keto Holiday Treats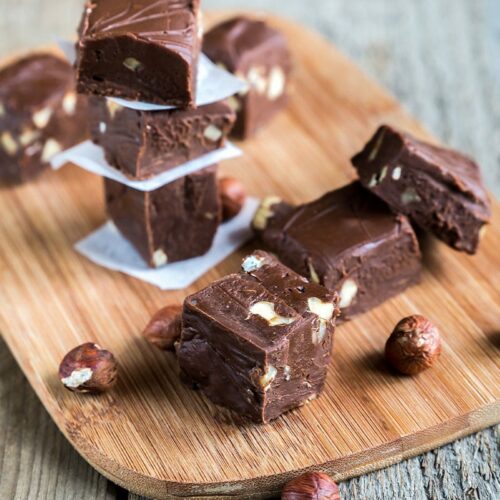 Keto Nutella Fat Bombs
Enjoy these Nutella fat bombs next time you want a quick treat to cut cravings. This creamy keto fudge is absolutely delicious! The recipe is sugar-free, keto, and low-carb.
Instructions
Melt cacao and butter in a small saucepan or double boiler over low heat.

Remove from heat and mix in sweetener, cream, vanilla. Fold in nuts.

Line an 8×8-inch dish with parchment paper and fill it with the melted chocolate mixture.

Chill in the refrigerator for an hour until firm.

Pull up the parchment paper and place it flat on the counter. Use a sharp knife and cut fudge into 24 pieces (4 columns x 6 rows). If the chocolate sticks to the knife, dip it in water between slices. Store in the fridge or freezer.
Notes
Save 20% off Lakanto sweetener with the code PRIMALEDGEHEALTH in checkout.
Nutrition & Macros
Calories:
97
kcal
Carbohydrates:
3
g
Protein:
1
g
Fat:
10
g
Saturated Fat:
6
g
Sodium:
37
mg
Fiber:
2
g
Net Carbohydrates:
1
g
To obtain the most accurate representation of the nutritional information in a given recipe, please calculate the nutritional information with the actual ingredients and amounts used, using your preferred nutrition calculator. Under no circumstances shall the this website and the author be responsible for any loss or damage resulting for your reliance on the given nutritional information.
Made this? Leave a Rating! ⭐⭐⭐⭐⭐
Tag a photo with @Primal_Mom and #PEHRecipe on Instagram to share with us!
I know these 24 Keto Chocolate Recipes will be a success for you too!
Originally published on September 19, 2017 and later republished on November 11, 2022 with new images and tips.
SaveSaveSaveSaveSaveSaveSave