Cook a crispy 2-ingredient chaffle with only eggs and cheese in just minutes! This practically zero carb waffle recipe is suitable for a keto or carnivore diet and anyone who enjoys nutrient-dense meals. Decide on making a serving for one or meal prep for the week ahead. Then, follow the easy step-by-step directions below, and you can't go wrong.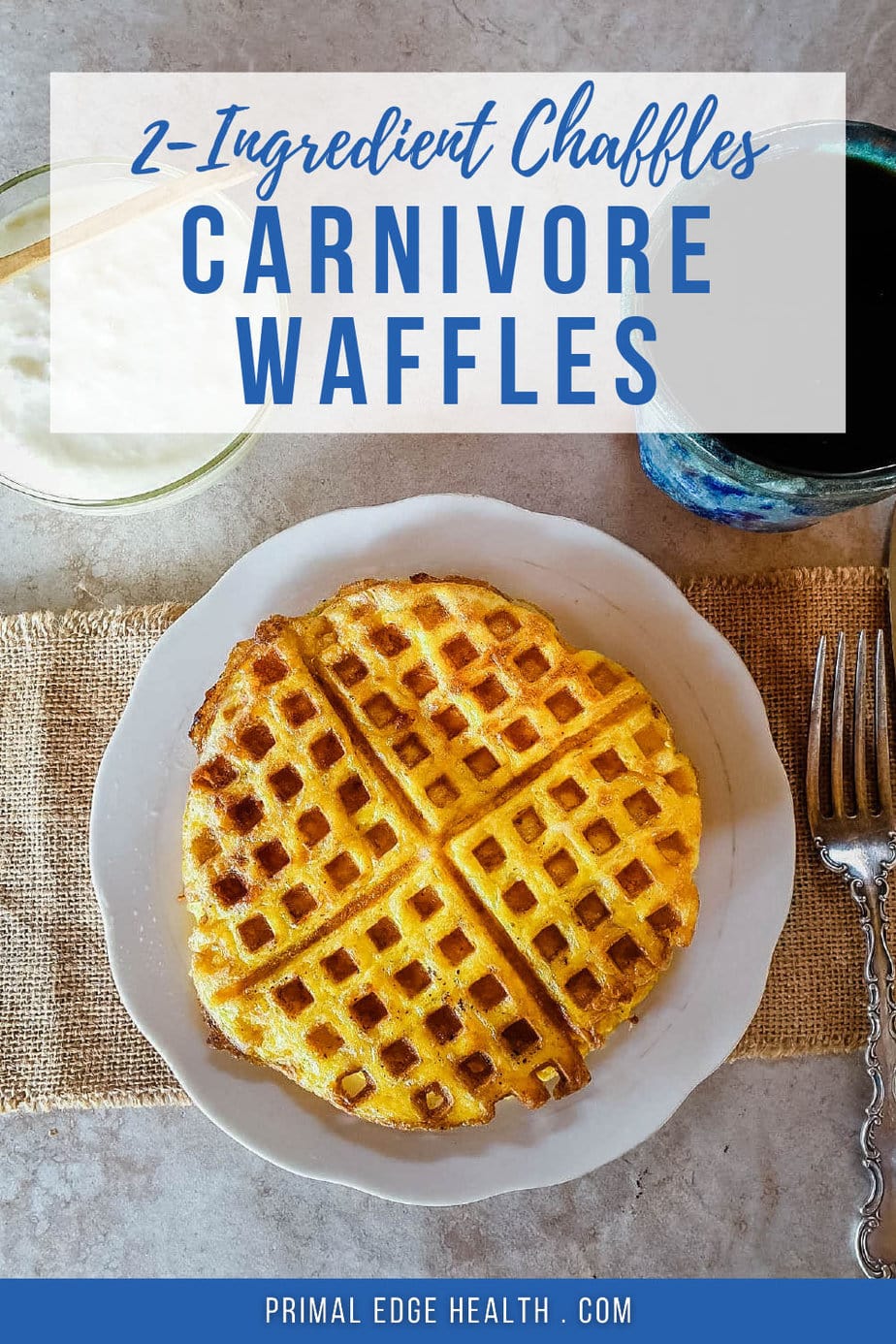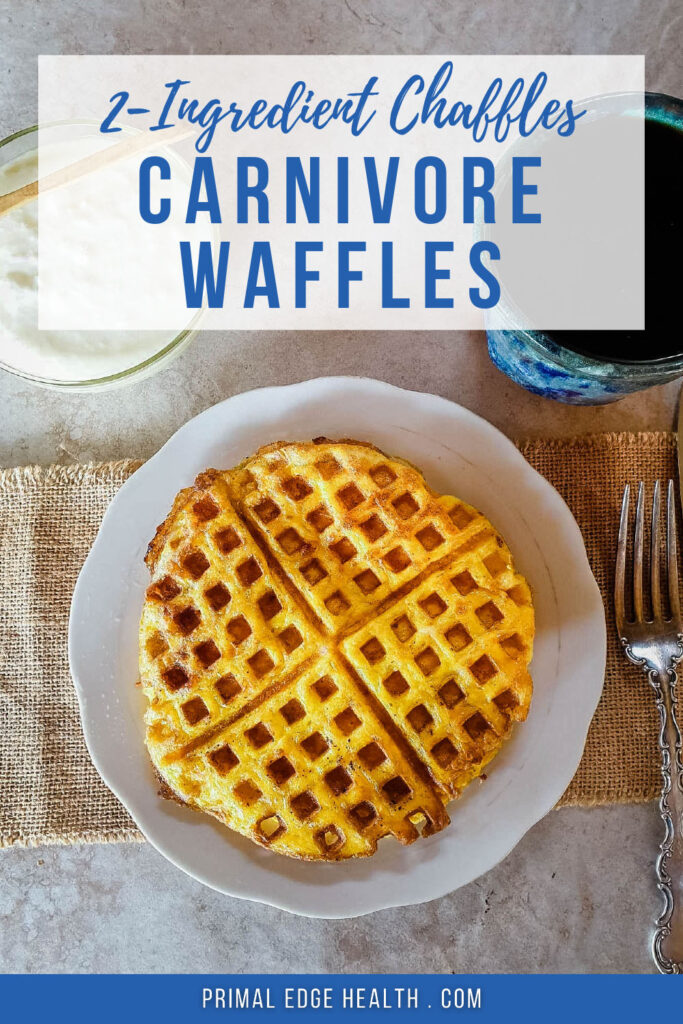 Table of Contents (click to view)
What is a Chaffle?
At the core, a "chaffle" is a newly created word combining the phrase "cheese waffle" into one word.
The chaffle uses cheese, instead of flour, as the main ingredient for shape and texture. Once you get the basic two ingredient chaffle recipe down pat, you'll see an almost infinite number of sweet and savory variations to follow.
A basic chaffle starts with shredded cheese and enough egg to hold it all together while cooking. When done right, these are the perfect replica of a wheat-based waffle but without the carbs!
This is your recipe if you're looking for a quick and easy low-carb, gluten-free breakfast on a carnivore or keto diet!
Rather a pancake over a waffle? We've got you covered with our Carnivore Pancakes Recipe with 2-Ingredients.
Are you craving easy and delicious carnivore recipes? Check out my Carnivore Cookbook for simple and straightforward recipes you'll love!
Best Seller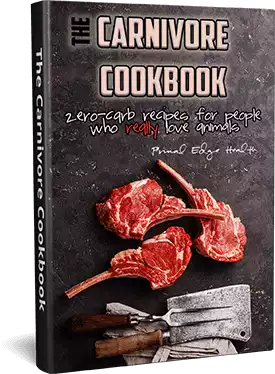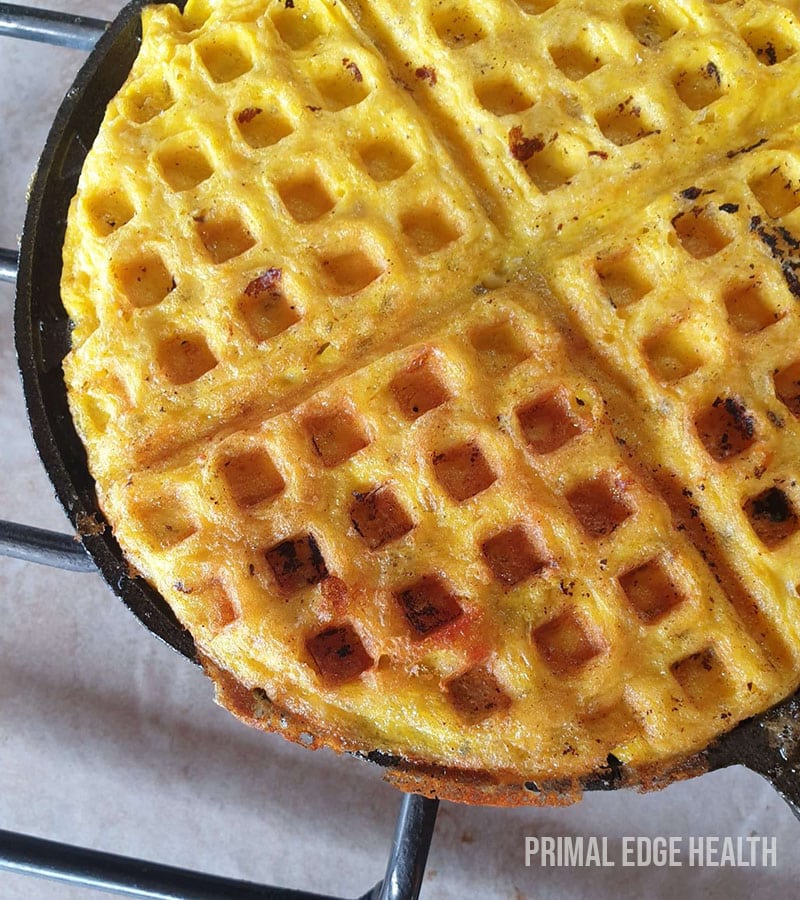 How to Make a Carnivore Chaffle
Gather the basic ingredients, and you're already halfway to making a carnivore waffle recipe in just 5 minutes!
Ingredients
Shredded cheese – I use cheddar because I love the sharp flavor, and it's the classic ingredient for "original chaffles." You can substitute with mozzarella or Colby jack if preferred. Whatever your choice, the cheese is essential for a great tasting waffle and crispy finish.
Egg – If you skip the egg, you'll cook cheese into thin cheese crisps. As good as that may be, it will not look or taste like waffles. I personally don't notice the recipe being too "eggy," but if you're worried about that, use only one egg instead of two. Using just the egg whites and no yolk will also decrease the egg flavor.
Step-By-Step Directions
Now, on to the show! How do we cook a basic chaffles recipe?
Mix the two ingredients together and pour the batter into a hot, greased waffle maker. Then, cook until done. It's really that easy!
After much trial and error, the general consensus on the internet is that a mini waffle iron makes the best result due to the cooking surface area to volume ratio. A mini waffle maker cooks 4-inch rounds crisped to perfection.
You may like serving with an optional bowl of raw milk yogurt on the side! YUM! If you are eating carbs on a carnivore diet, a drizzle of pure maple syrup or raw honey will be super tasty. Additionally, a topping of whipped cream with bacon bits will surely take this dish to the next level!
I'm sure you see how customizable these are. Feel free to add a pinch of Everything Bagel Spice, garlic powder, or Italian seasoning to the batter before cooking, depending on what you enjoy most. There are many delicious adaptations for keto carnivore waffles worth trying!
These egg and cheese chaffles are a great low-carb alternative to bread. You can replace sandwich bread and burger buns with two chaffles instead. Or make proper carnivore burgers instead.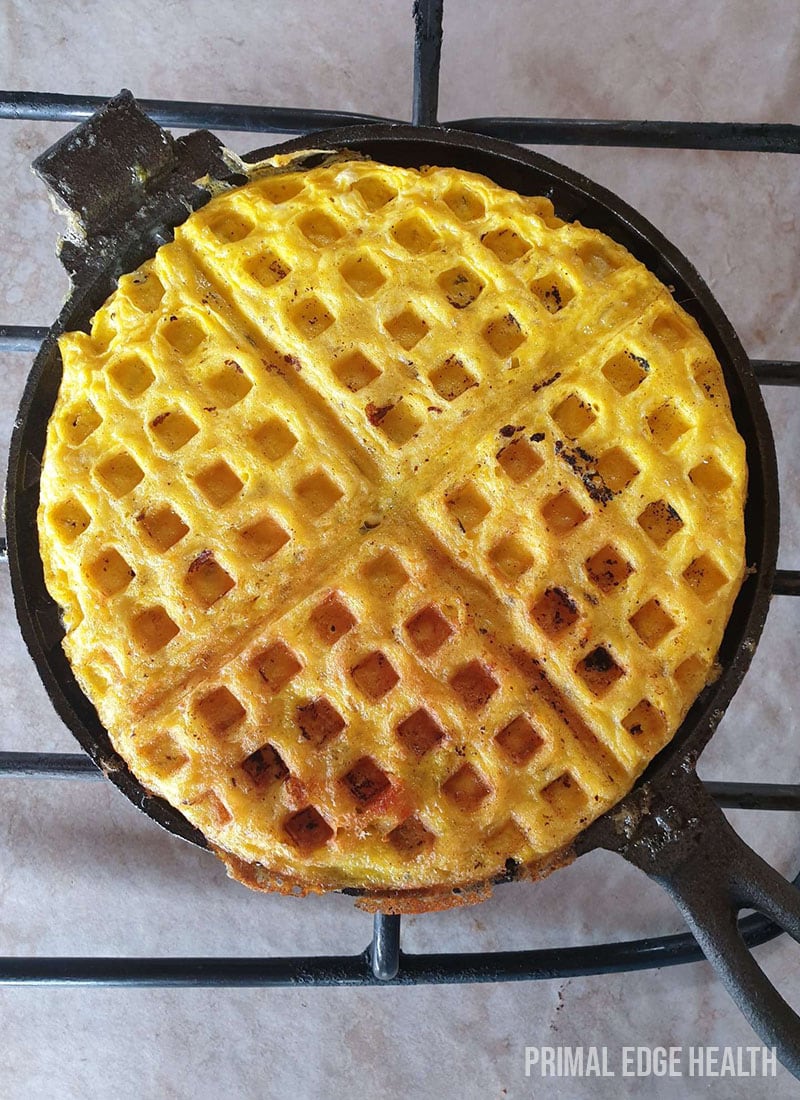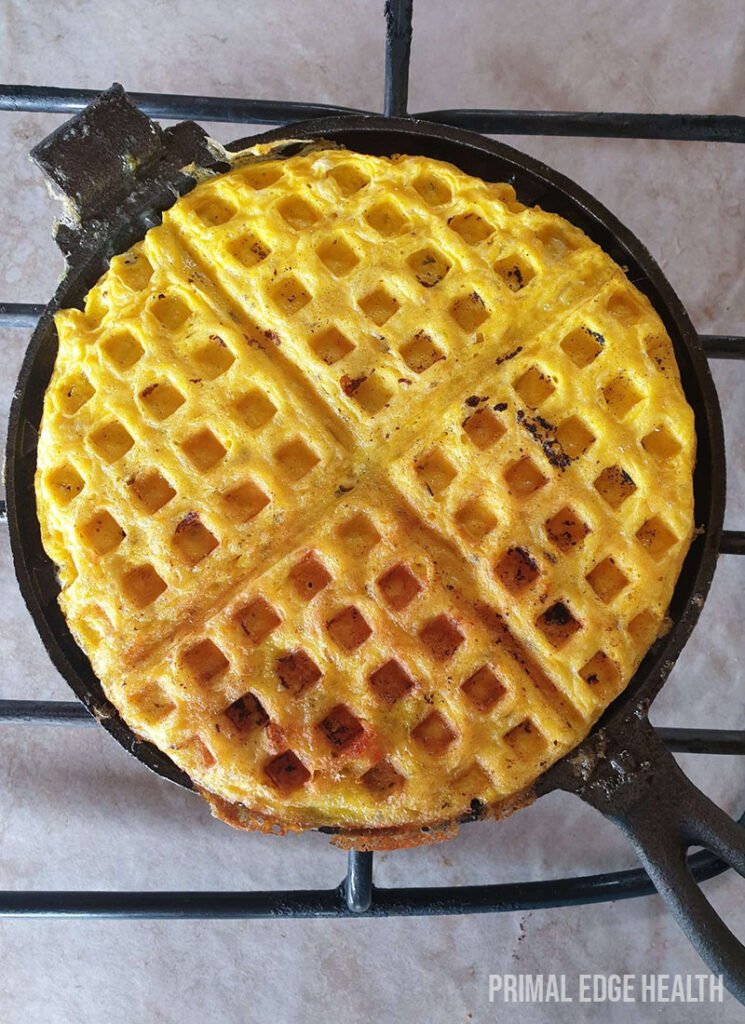 Zero Carb Waffles FAQ
I understand you might have some questions, particularly if keto breakfast chaffles are new to you or you've never made a flourless waffle recipe before. So, let me answer some common queries and clarify the process for you.
How to store chaffles?
Keep a cooked chaffle in an airtight container in the fridge for up to 3 days. Over time they will lose the crisp, crunchy texture. In remedy, reheat a serving in the toaster, toaster oven, or broiler before eating. You can store these in a tightly sealed freezer bag for up to 3 months.
Can you freeze chaffles?
You can freeze chaffles, which is welcome news to anyone who likes to meal prep. Spend some time stocking your freezer now, and you'll have a delicious breakfast later. Lay the cooked chaffle flat on a baking sheet in the freezer. Once firm, transfer to a freezer bag and press the air out. I suggest placing a square of wax paper or parchment paper between the waffles if you freeze a lot all at once. The paper divider will make it easy to separate one at a time in case you don't want to thaw them at the same time.
How much fiber in waffles?
Since these zero carb waffles use two animal-based ingredients, they are very low carb and have approximately one gram of fiber per serving. Normally waffles are very low-fiber, even when made with wheat. The biggest difference is that carbs skyrocket up to a minimum of 18 grams net carbs per single wheat-based waffle.
How many carbs in a chaffle?
Total and net carb count varies by chaffle recipe. This specific recipe contains ONE gram net carb per serving and is practically zero carb. You can't find a recipe with a lower amount of carbs than this one! 
How to make keto chaffles without a waffle maker?
You can cook these chaffles on a skillet like you would pancakes. However, they won't have the iconic waffle grid finish and might not be as crispy either. Before adding the batter, melt a bit of butter over medium heat and grease the pan to avoid sticking. Cook until the edges start to crisp and separate from the pan. Once you can push a spatula under a single round and the center isn't too wet, flip and continue cooking until the second side cooks through.
If you still have questions, visit the Hangry Woman's post on everything you need to know about chaffles.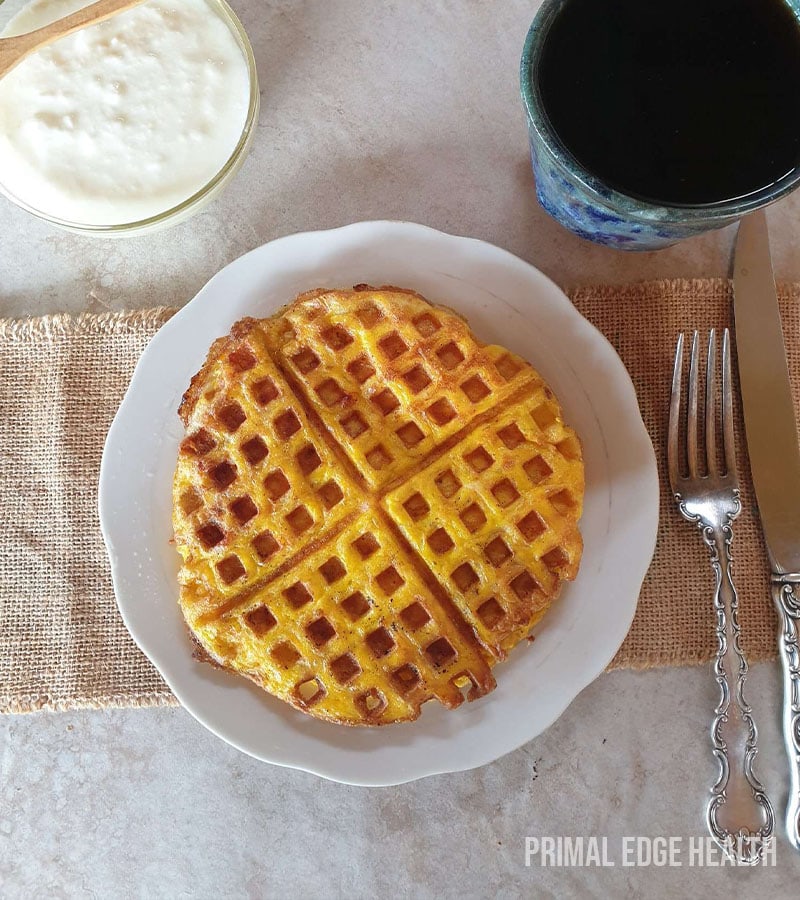 More Carnivore Diet Breakfast Recipes
Browse through all my carnivore diet recipes or start with one of the links below.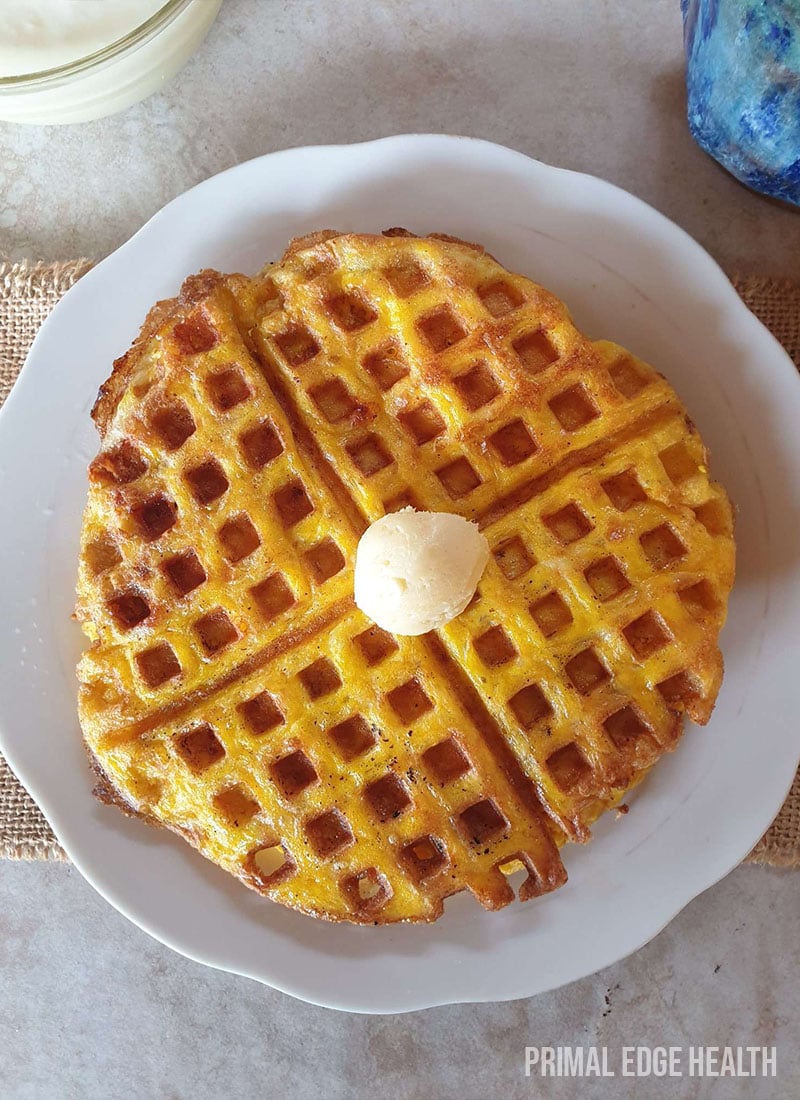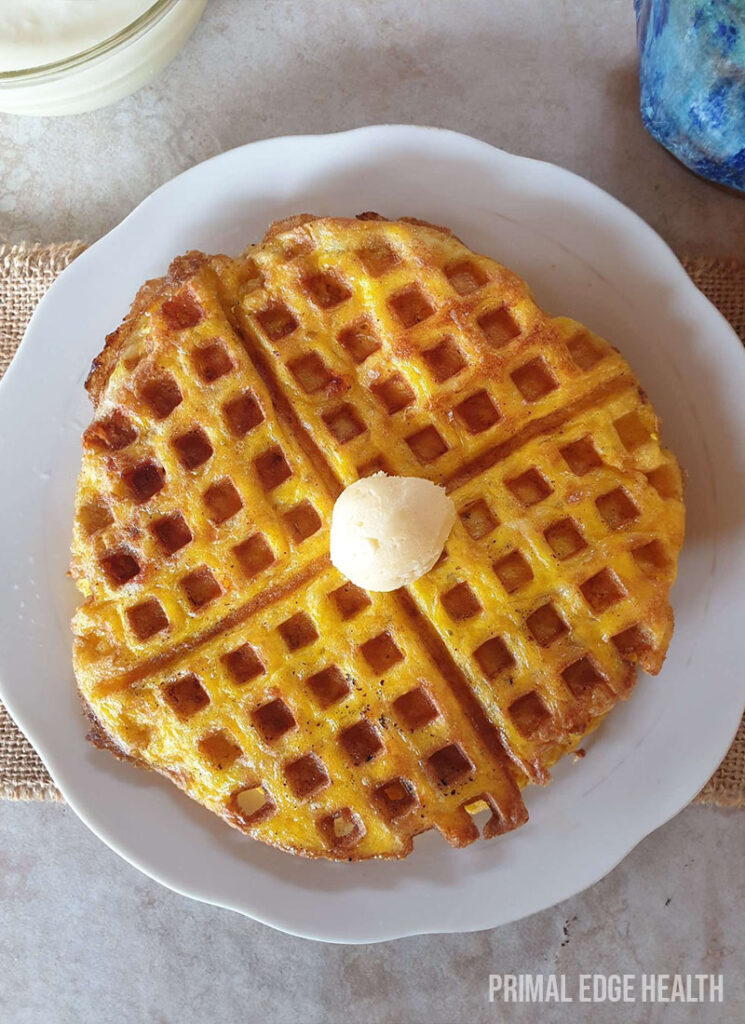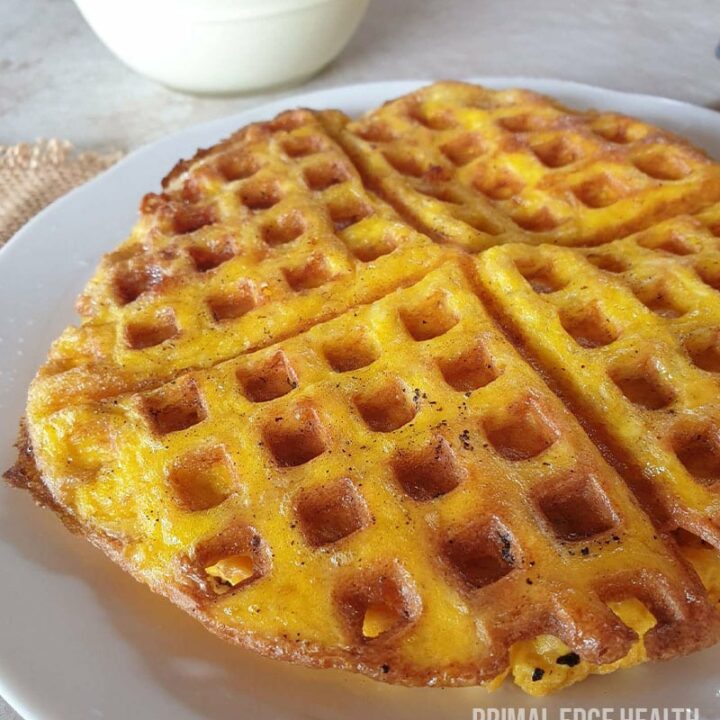 Carnivore Waffles (Animal-Based Chaffles)
Cook a crispy 2-ingredient chaffle with only eggs and cheese in just minutes! This practically zero carb waffle recipe is suitable for a keto or carnivore diet and anyone who enjoys easy nutrient-dense meals. Make a serving for one or meal prep for the week ahead. Then, follow the easy step-by-step directions below, and you can't go wrong.
Instructions
Preheat the waffle maker to medium-high heat.

Whisk the eggs in a mixing bowl. Add the cheese, and stir until combined.

½ cup shredded cheddar cheese,

2 large eggs

Pour batter into the waffle maker once it's hot. Close and cook for

4-5 minutes

until done. Repeat, if needed, until all batter cooks.

Serve immediately. Store leftovers in the fridge for 3-5 days.
Notes
You may notice the chaffles are still soft when removed from the waffle iron. Since they continue to crisp as they cool, it's not a problem. Enjoy!
Nutrition & Macros
Calories:
371
kcal
Carbohydrates:
1
g
Protein:
27
g
Fat:
28
g
Saturated Fat:
15
g
Sodium:
493
mg
Net Carbohydrates:
1
g
To obtain the most accurate representation of the nutritional information in a given recipe, please calculate the nutritional information with the actual ingredients and amounts used, using your preferred nutrition calculator. Under no circumstances shall the this website and the author be responsible for any loss or damage resulting for your reliance on the given nutritional information.
Made this? Leave a Rating! ⭐⭐⭐⭐⭐
Tag a photo with @Primal_Mom and #PEHRecipe on Instagram to share with us!