Carnivore Stroganoff is a hearty dinner and ready in less than 30 minutes! It's an easy recipe to adapt for your family, whether they are on keto or any other diet. This creamy ground beef recipe is classic comfort food, but now made exclusively from animal-based ingredients.
Ground Beef Stroganoff
I grew up with ground beef stroganoff. It wasn't until recently I learned many recipes use beef fillet or steak instead.
Since ground beef is so easy to work with, widely available, and cheap, why change something that isn't broken?
This carnivore dinner recipe is quick and easy to prep without any vegetables while still retaining the classic creamy beefy flavors of traditional stroganoff. (1)
With 24 grams of protein, 20 grams of fat, and 0 grams of carbohydrate per 4 ounces (113 grams), ground beef is a macro-friendly choice for many meals. (2)
How to Make Carnivore Stroganoff
Anyone on a carnivore diet knows no veggies are allowed!
Don't let this baffle you. The simplicity is a gift! Meal prep and cooking have never been so easy. Start meal planning with my carnivore diet meal plan templates and keep all your recipes organized for the weeks to come.
If you doubt me, browse my Carnivore Diet Recipes collection. From breakfast to dinner, and even carnivore diet desserts, you'll be in and out of the kitchen quickly and have more time to spend on other aspects of life.
Ingredients
Ground beef (buy in bulk and save $)
Beef bone broth (or make my carnivore diet bone broth)
Cream cheese
Salt
Directions
Lightly brown meat in a skillet over medium-high heat. Break apart clumps as it cooks.
Pour broth and cream cheese over the meat. Season with salt.
Bring to a simmer and maintain for 5-10 minutes until liquid reduces by half.
Serve hot and enjoy!
If you're a bacon lover, consider adding 4 rashers of chopped bacon to the meat while cooking. Th UK Carnivore Club's Zero Carb Stroganoff recipe adds bacon and liver – it's also amazing!
Organ meat can be an important part of a healthy diet. Particularly liver, learn why and how I like to eat liver on a carnivore diet, then try it out for yourself!
Low-Carb Keto Beef Stroganoff Option
Make this a complete keto meal with a few simple changes.
Sauté 1 cup of chopped mushrooms and 2 cloves garlic in 1 tablespoon of butter in the pan before adding meat.
Continue with the recipe below.
Serve the meat over cauliflower rice or your favorite keto pasta alternative.
You can also follow my slow cooker keto beef stroganoff recipe and use your crockpot instead.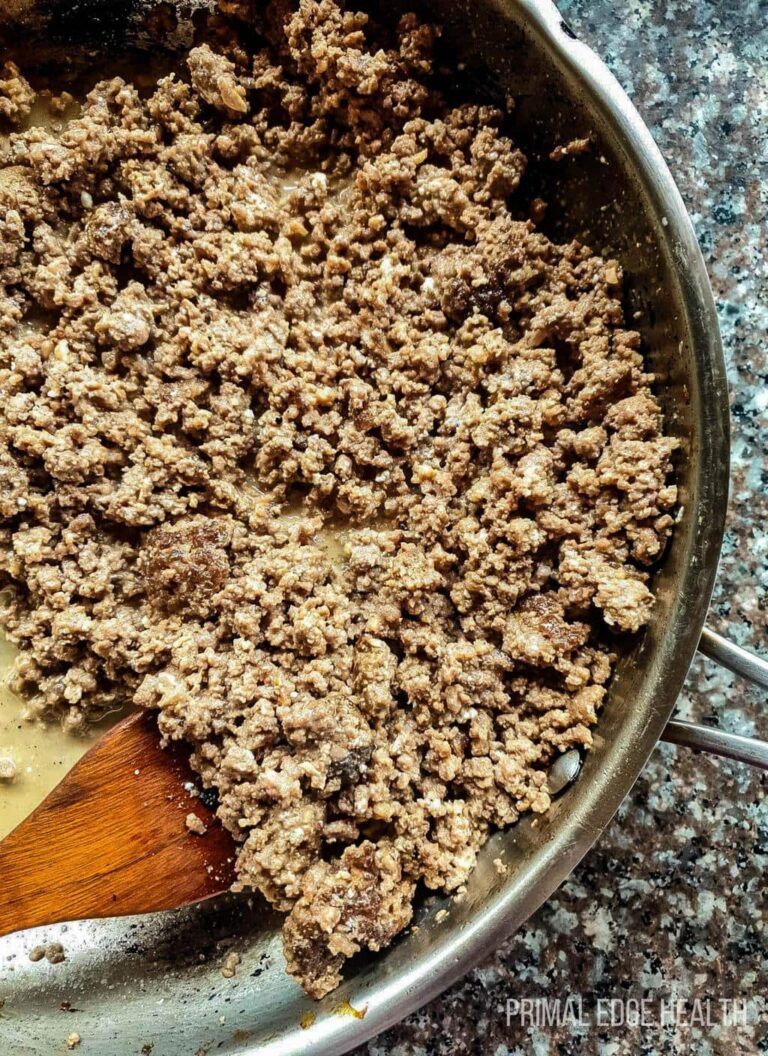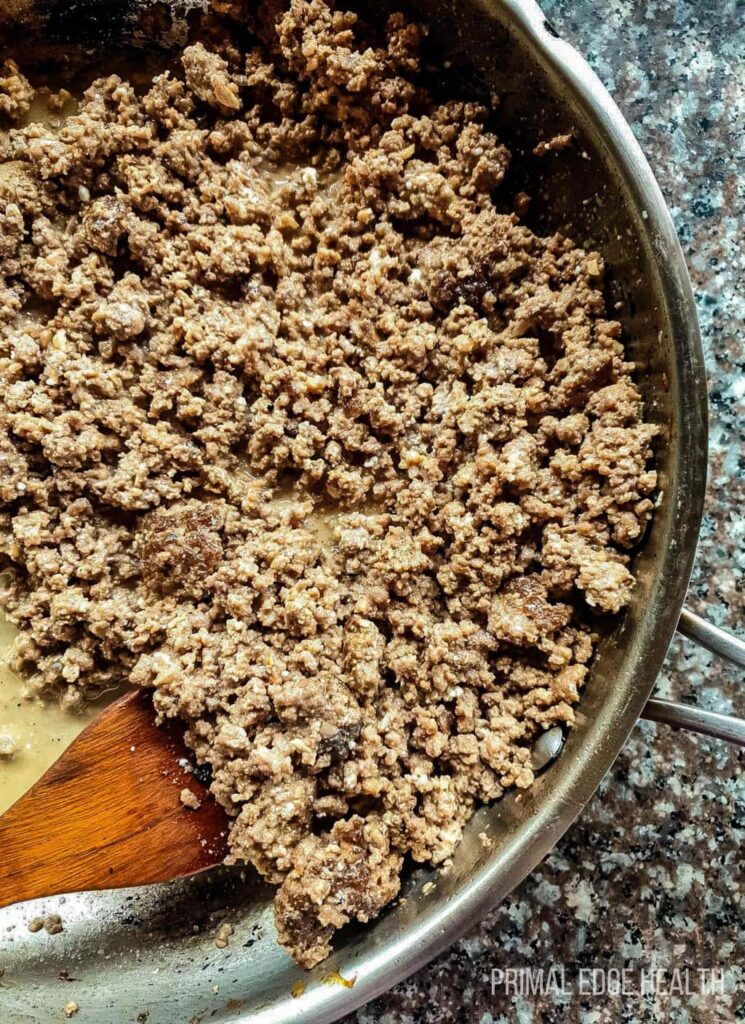 More Carnivore Diet Recipes with Ground Beef
Carnivore ground beef recipes are what I make most often for breakfast, lunch, and dinner. They are just so easy and delicious!
Here are some ideas to get you started:
Do you need meal ideas? Try these 30 Easy Carnivore Diet Meal Ideas.
More Carnivore Dinner Recipes