Are you ready for some truly mouthwatering low-carb seafood recipes? Add these appetizers, sides, and entrees to your holiday menu and wow dinner guests with healthy dishes and amazing flavor.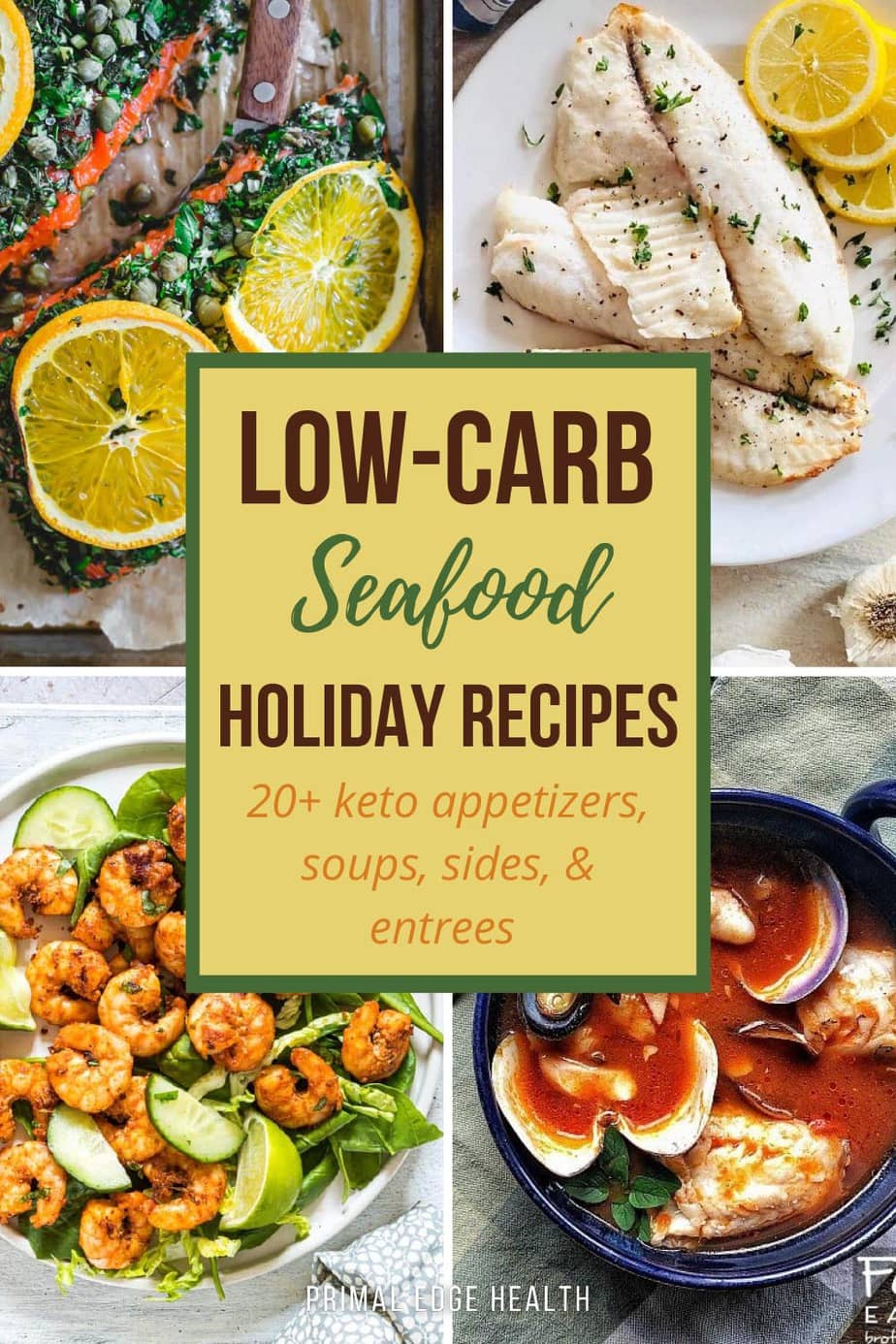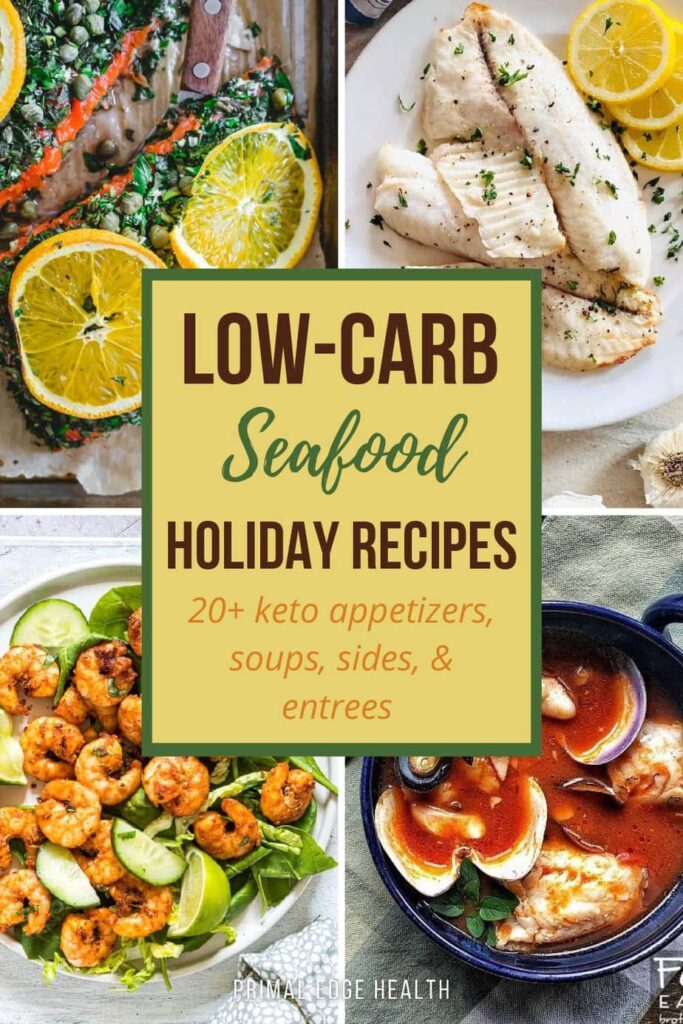 What Seafood is Good for a Keto Diet?
Fill your keto meal planner with these keto seafood recipes that are so good, even your non-keto friends and family will enjoy them. Having a plan ahead makes holiday meal planning significantly easier. We're preparing to celebrate, not stress!
There's no excuse to go off track during Easter, Thanksgiving, Christmas, or New Year's holidays with such delicious, low-carb recipes.
Fish and seafood are just as decadent as any other animal protein if made right. These are lighter alternatives to beef and pork, but still just as special!
I highly recommend homemade fish stock as a base for soups and sauces. It's pretty easy to make but brings an incredible flavor to any dish.
Recommended Products
Appetizers & Hors d'oeuvres for a Keto Party
Nothing gets a party going like serving platters of seafood appetizers. Lavish your guests with these scrumptious recipes. It's a perfect way to prime your party for a holiday feast.
Keto Soups and Sides for the Holidays
Give seafood a co-starring role in your holiday meal. These crowd-pleasing recipes are sure to bring your Christmas spread to star status. Your guests will love them and you'll love how easy it is to prepare them. 
Warm your guests from the winter cold with this spicy Brazilian shrimp soup. It is flavored with roasted tomato, bell pepper, and garlic and made specifically to fit ketogenic macros. This recipe is based on the original Brazilian dish, Moqueca de Camarones.
Photo Credit: www.bobbiskozykitchen.com
Traditional Christmas or New Year's Eve oyster stew just got better with this low-carb version. Satiate your cravings for this classic stew without sacrificing your diet. This gluten-free oyster stew is hearty and simple to make.
Photo Credit: lowcarbquick.com
Take creamy cauliflower mac and cheese over the top with crab! You know it's a party when crab is served with this all-time favorite comfort food. Indulge this holiday without all the carbs.
Photo Credit: fearlesseating.net
Who knew classic Italian fish soup was this easy to make? You can use practically any fish or shellfish you'd like. This is a great recipe to serve your family this Christmas.
Photo Credit: theforkedspoon.com
Make this special one-pot holiday meal this year. Cioppino is a rich San Franciscan seafood stew filled with shrimp, clams, mussels, white fish, and crab legs simmered in a broth made from tomatoes, white wine, and fish stock. This may just become a Christmas staple in your home.
Photo Credit: easyhealthllc.com
Tender shrimp is perfectly seasoned with Old Bay. Simply boil the shrimp with seasoning a lemon for this popular side dish. Plus, you can serve shrimp on a bed of lettuce for a quick and delicious salad.
Keto Seafood Dinners for Special Occasions
Make seafood the main attraction this year for your holiday party. Whether you are cooking for a crowd or an intimate gathering, there is an impeccable seafood dish for you here. They are full of flavor and naturally low carb.
Photo Credit: littleferrarokitchen.com
Citrus Herb Roasted Salmon is an obvious choice for a holiday main dish. It is packed with the fresh flavors of lemon juice, herbs, olive oil, and white wine. Make this dish in a total of twenty minutes!
Photo Credit: whatagirleats.com
Broiled lobster tail screams celebration! You cannot go wrong with this quintessential party food. Paired with champagne and your guests will be talking about this through the New Year.
Photo Credit: organicallyaddison.com
Easy pan-seared fish is just so juicy and good, you've got to try it! Drench this flaky fish in the lemon garlic herb butter sauce and your guests will go home happy. The best part is how simple it is to make.
Photo Credit: allnutritious.com
Herb-crusted salmon is a beautiful centerpiece to your holiday meal. Moist, pink filets of salmon are covered with crispy green herbs and garlic. It is a gorgeous flavor and color combination.
Photo Credit: aubreyskitchen.com
For an intimate holiday dinner, making tilapia in the air fryer is a perfect entree. It's fast, full of flavor, and healthy. Serving with one or all of these sauces is highly recommended: Bang Bang Sauce, Zhoug, Chicken Wing Sauce, Eel Sauce, or Cilantro Dressing. 
Photo Credit: easyhealthllc.com
Bake salmon for your family this holiday season. It's a nutritious entree that can be made in less than 30 minutes. Pair it with classic Christmas sides to round out the feast.
Photo Credit: lowcarbafrica.com
This baked whole catfish recipe is keto-friendly and family-friendly! Blended peppers, ginger, garlic and herbs, thyme, dill, sage gives the dish a warming flavor perfect for a cold, winter night. The presentation is perfect for a holiday spread.
Photo Credit: www.runningtothekitchen.com
Wild sockeye salmon is topped with an herbed garlic caper citrus crust that is mouth-watering. This impressive entree is ideal for entertaining during the holidays. It is absolutely luscious while also being easy to prepare. 
More Keto Holiday Recipes
Are you looking for more of the best keto holiday recipes?
Keep browsing these low-carb recipe collections:
This post was originally published on December 11, 2015.
Save