Read this Xtrema Ceramic Cookware review if you are a health-conscious cook looking for safe and effective alternatives to modern Teflon and aluminum cooking and bakeware. You'll learn more about the pros and cons of ceramic cookware and be able to decide if buying some is the right choice for you or not.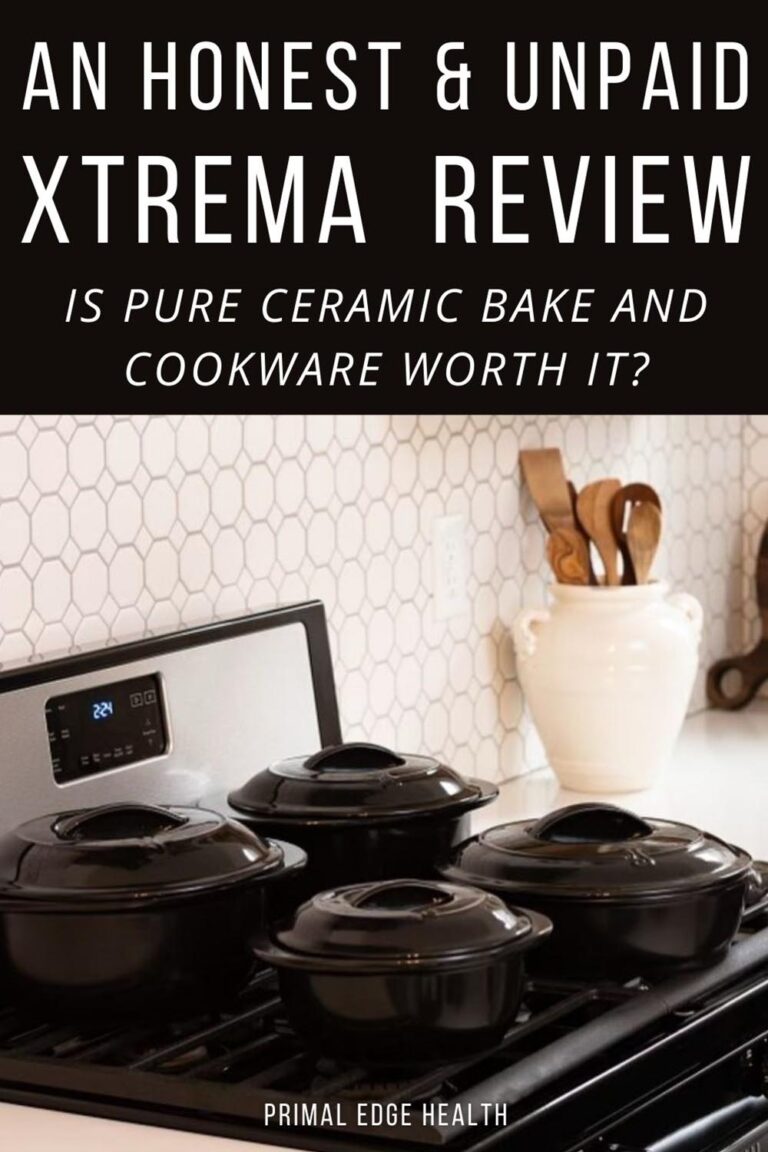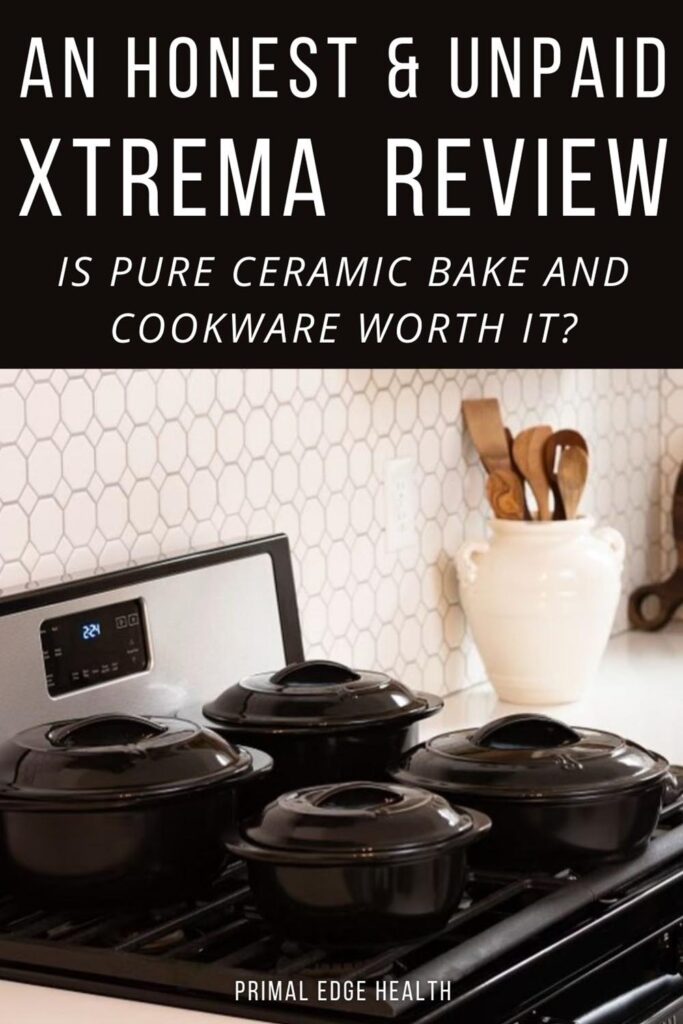 Table of Contents (click to view)
What is Ceramic Cookware?
I love the look and feel of ceramic. There are a few ceramic mugs and bowls in my collection that always get pulled out for use every chance I get.
Have you ever heard of ceramic cook and bakeware?
Consider this: ceramic pans, pots, skillets bowls, loaf pans, dutch ovens, and more!
There are two types of ceramic cookware:
Metal cookware finished with a ceramic coating
100% pure ceramic cookware
Today, I'm focusing on the second option – pure ceramic dishes.
Controversy surrounds Teflon-coated "non-stick" cookware and potentially toxic chemicals that may leach into food as it cooks. According to some research, older models manufactured before 2013 contain perfluorooctanoic acid (PFOA), which suggests an increased risk in multiple forms of cancer. Newer versions still raise the eyebrows of skeptical consumers. (1, 2)
If you're not careful, ceramic cookware is just as bad. Certain types contain synthetic bonding materials and various chemicals, which may correlate to serious health problems. (3, 4)
As an alternative 100% pure ceramic cookware is completely free of heavy metals, plastics, polymers, PFOA, PTFE, and other toxic contaminants. (5, 6)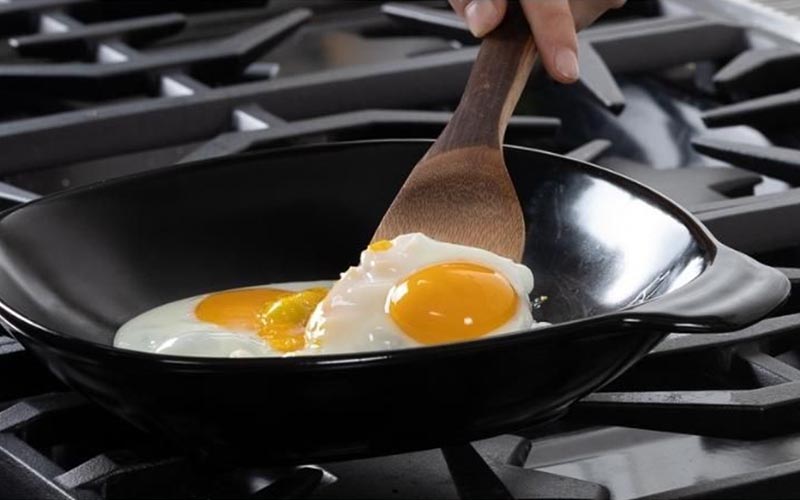 Xtrema: 100% Ceramic Cookeware
Of all the pure ceramic cookware brands, I use Xtrema.
From start to finish, the manufacturing process takes a full 20 days as each piece is cast and triple-fired for quality control and strength.
I recently spent two years in a local workshop making ceramic pieces for the home. This process taught me only the best pieces survive being fired multiple times otherwise, they crack or explode. This practice will weed out any poorly made dishes and yield durable results.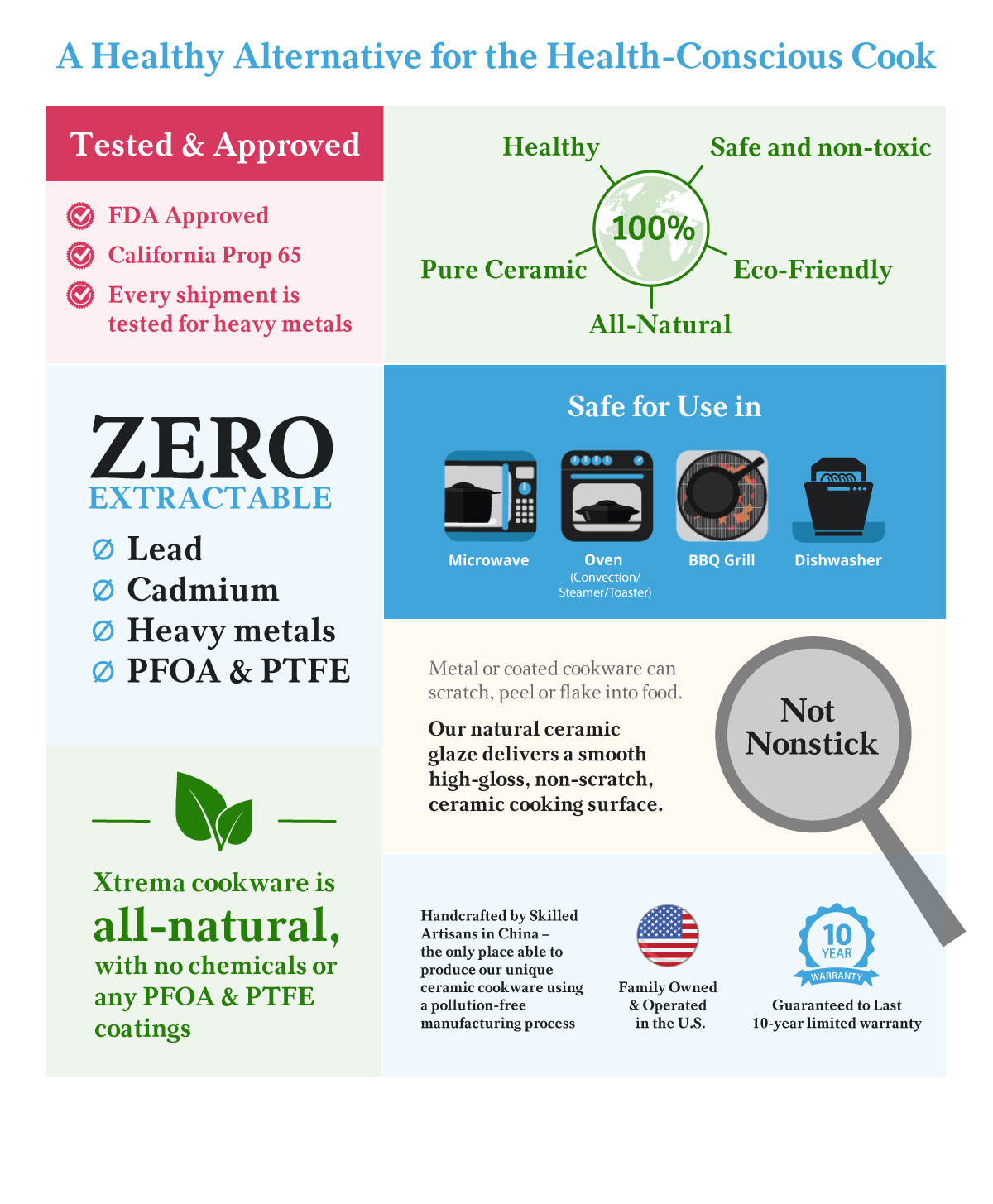 Pure ceramic cookware sets are ready to use on any cooking surfaces straight out of the box. Therefore, you can start cooking with any method right away without worrying about pre-seasoning or finicky cast-iron maintenance.
These ceramic pots and pans are safe for use with:
Oven
Broiler
Microwave
Toaster oven
Convection oven
Grill
Plus, you can store them at all temperatures, including in a:
Fridge
Freezer
Deep freezer
Being able to place the same pot over a direct flame on the stove and store it in the fridge is pretty amazing to me. Talk about versatility! I can do everything with a single dish, from cooking to serving and storing!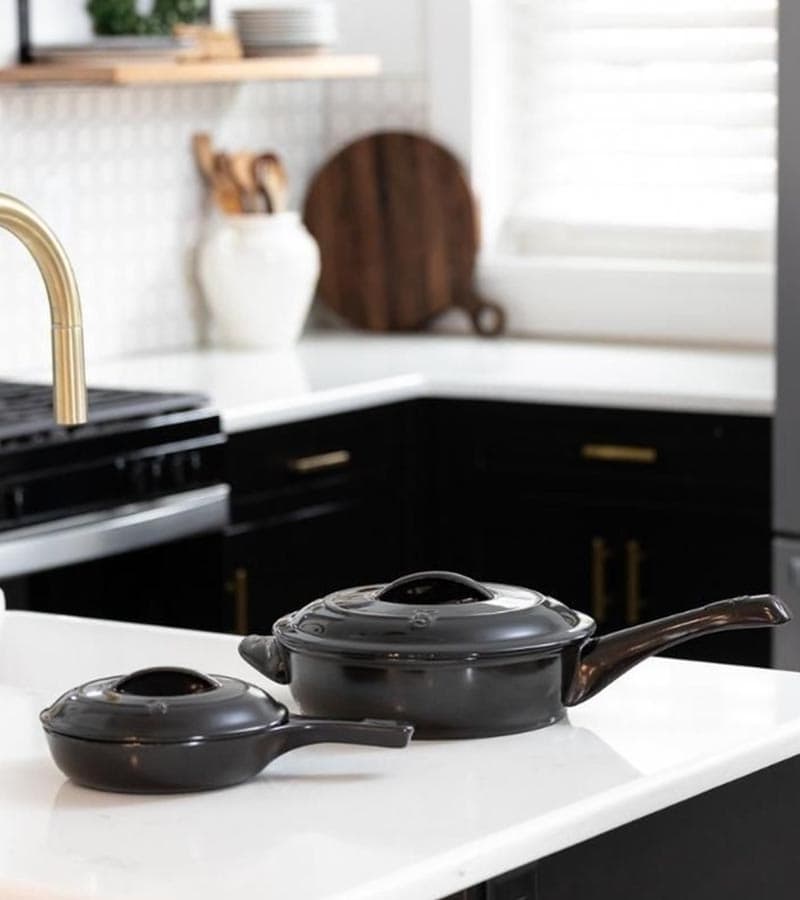 Pros and Cons of Ceramic Cookware
For thousands of years, we've used ceramic pots and pans in our kitchens. They are a practical alternative to stainless steel and cast iron cookware. But more importantly, an all-natural, non-leaching, and non-stick replacement for toxic Teflon and aluminum pots, pans, and baking dishes.
Ceramic Cookware Benefits
Generally known for its superior heat conduction capabilities, ceramic cookware performs exceptionally well. These pots and pans heat quickly and distribute the heat evenly throughout the whole piece, so your food cooks nicely.
If you're not storing leftovers, go ahead and hand wash or put these in the dishwasher. The glossy non-stick coating is scratch-resistant.
I use a variety of scrubbers and occasionally steel wool without making any marks or scratches (which is more than I can say for the cast iron).
I used to struggle with cleaning cast iron before learning the correct way to season this equipment. It takes some experience to figure out.
Ceramic dishes avoid a learning curve.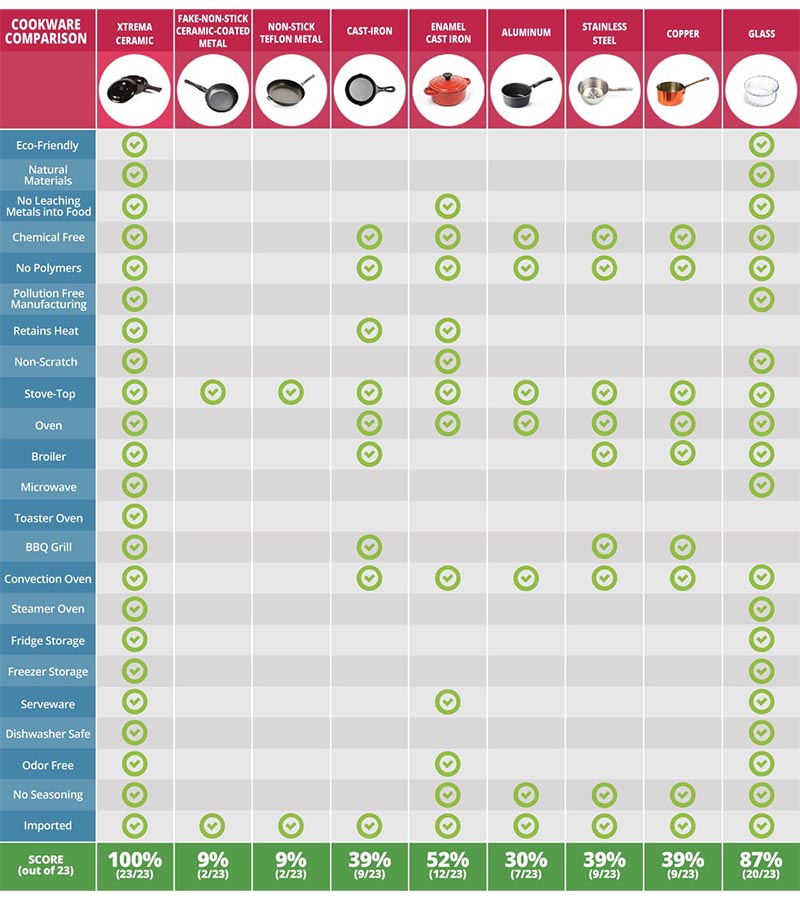 The major pros of Xtrema ceramic cookware are:
Made from non-toxic materials
Won't leach heavy metals or plastics
Safe to use at all temperatures
Versatile for oven, stovetop, and other methods of cooking
Scratch and stain-resistant
Naturally non-stick
Heats evenly and quickly for more energy-efficient cooking
Easy to clean and dishwasher safe
Safe to store at all temperatures
Beautiful appearance!
We go to great lengths to buy clean, high-quality foods. I'd hate to let all that effort go to waste by cooking them in toxic pots and pans.
Furthermore, I'm all for reducing the number of dishes I have to wash, so being able to cook, prep, serve, and store all in one pot is a huge win for me. Plus, when washing time does come, they are very easy to clean. The glossy surface is very durable, and crispy cooked food comes right off with hot water.
Drawbacks of Ceramic Cookware
While ceramic dishes have many benefits, there are some contrasting downsides also.
The first drawback is the main benefit: these are ceramic dishes! Scratch proof and chip resistant high-quality ceramic cookware; nevertheless, these pieces can crack and break if not treated with care. Material damage is inescapable; glass breaks, metal dents, cast iron rusts and ceramic chips. Be mindful, and you won't have any problems.
Hand washing is recommended to maximize longevity. Technically, these dishes are dishwasher-safe, but a soft sponge or dishcloth is preferred.
You'll also want to avoid using metal utensils while cooking. This advice is standard when it comes to non-stick skillets, so you're probably already doing it. Even so, it's worth noting wooden, or in some cases, silicone utensils are best.
Also, be wary of quickly transitioning between hot and cold temperatures. For all the same reasons, you don't take a glass baking dish out of the oven and put it on a cold surface; you don't want to do that with ceramic either. Resist the urge to put a hot ceramic skillet in the sink right after cooking. Instead, let it cool on the stove before washing.
The final drawback of ceramic cookware is the price tag. As we've mentioned, these dishes are made from all-natural, chemical-free materials and held to very high standards. The extra care and craftsmanship make them more expensive than other types of cookware sets.
In summary, the major cons of Xtrema ceramic cookware are:
May require extra care during use
Fragile, so store safely
Hand washing is recommended
No metal utensils
Expensive – look for the discount code below!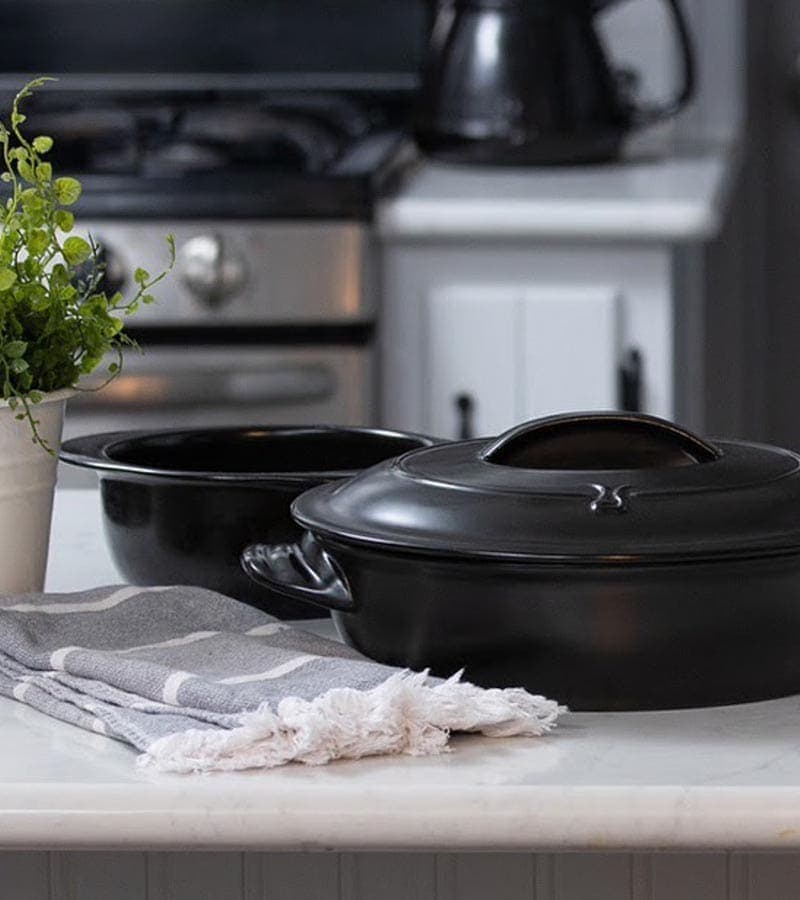 Are Pure Ceramic Pots and Pans Worth It?
This is a personal decision. I invested in a few choice pieces and use them weekly, if not daily, even years later. I appreciate having such quality options for my family.

Aside from knowing these are non-toxic, the convenience of cooking, serving, and storing in one pot, plus multi-purpose use for oven, stovetop, grill, etc. outweighs having to wash by hand and take minimal care not to chip or damage them.
Ceramcor Xtrema Coupon Code & Discount
The price is the biggest hurdle for me when purchasing ceramic baking dishes.
I'm on board with the health claims, and I love the look, but I'm on a budget!
If you're like me and love quality as much as you love deals, apply this Xtrema coupon code upon checkout.
Save 10% off with code SaveX10.
Xtrema also offers free shipping on orders over $100 and payment plans spread over a few months. Both of these factors make the investment all the more possible.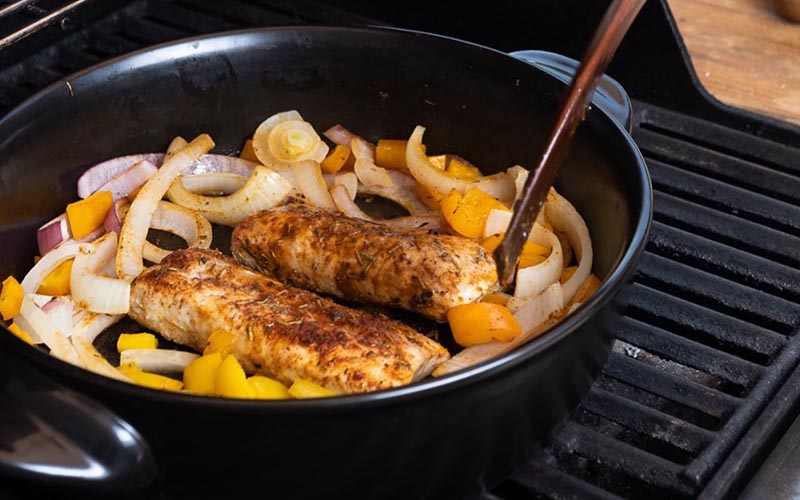 Ceramic Cookware FAQ
Is ceramic cookware healthy?
Even if you cook acidic ingredients, pure ceramic cookware does not leach any potentially hazardous substances into your food.
Is pure ceramic cookware safe?
Pure ceramic cookware contains zero metal, polymers, or synthetic material. It is made exclusively of clay, sand, and minerals. There are no heavy metals, PFOA, PTEE, or untested non-stick coatings.
Does Xtrema cookware contain lead?
Lead contamination can appear in older vintage ceramic coated dishes, but modern, pure ceramic cookware like Xtrema does not contain lead.
What are disadvantages of ceramic cookware?
Number one, they are more expensive than other types of cook and bakeware. Followed by number two, they are also more fragile. I discuss these points in more detail and offer solutions, so scroll up a little to the section above.
Is ceramic coating cookware worth it?
Purchasing an entire Ceramcor Xtrema cookware set is a bit of an investment but possibly worth it for your health and well-being. Buying individual pieces is a more accessible and way of bringing quality pieces into your kitchen.
Please review the FAQ section on Xtrema's website for additional inquires.
I hope all this information is useful and answers all your questions. It's important to consider all the pros and cons while making any purchasing decision.
Xtrema has a great warranty on their products and can answer any further queries you may have.
SHOP NOW and remember the code SaveX10 for an extra 10% off.
More Honest Reviews
All images are courtesy Xtrema.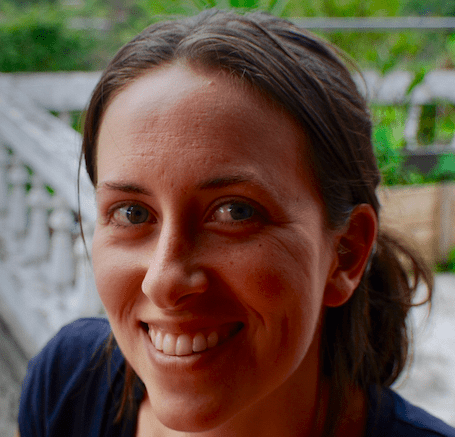 Meet Jessica Haggard
Jessica Haggard is the creator of Primal Edge Health, where she shares simple, nourishing low-carb, keto and carnivore diet recipes. With a focus on from scratch, homemade cooking, animal-based nutrition, and easy DIY beauty and personal care recipes, there's always something new going on in her kitchen! Jessica will teach you exactly how to thrive with all the best ingredients and enjoy the journey along the way.
She has photographed and authored two best selling ketogenic cookbooks, The Ketogenic Edge Cookbook and The Carnivore Cookbook. Learn more about Jessica…