You no longer need to pay hundreds of dollars for a single red light therapy treatment at a fancy spa or pay out of pocket at a qualified doctor's office. Now, you can get all the benefits of red light therapy at home!
Let me share more about the fascinating research on red light therapy, what it is, and why it works. Plus, how it's helped me and how it might help you too.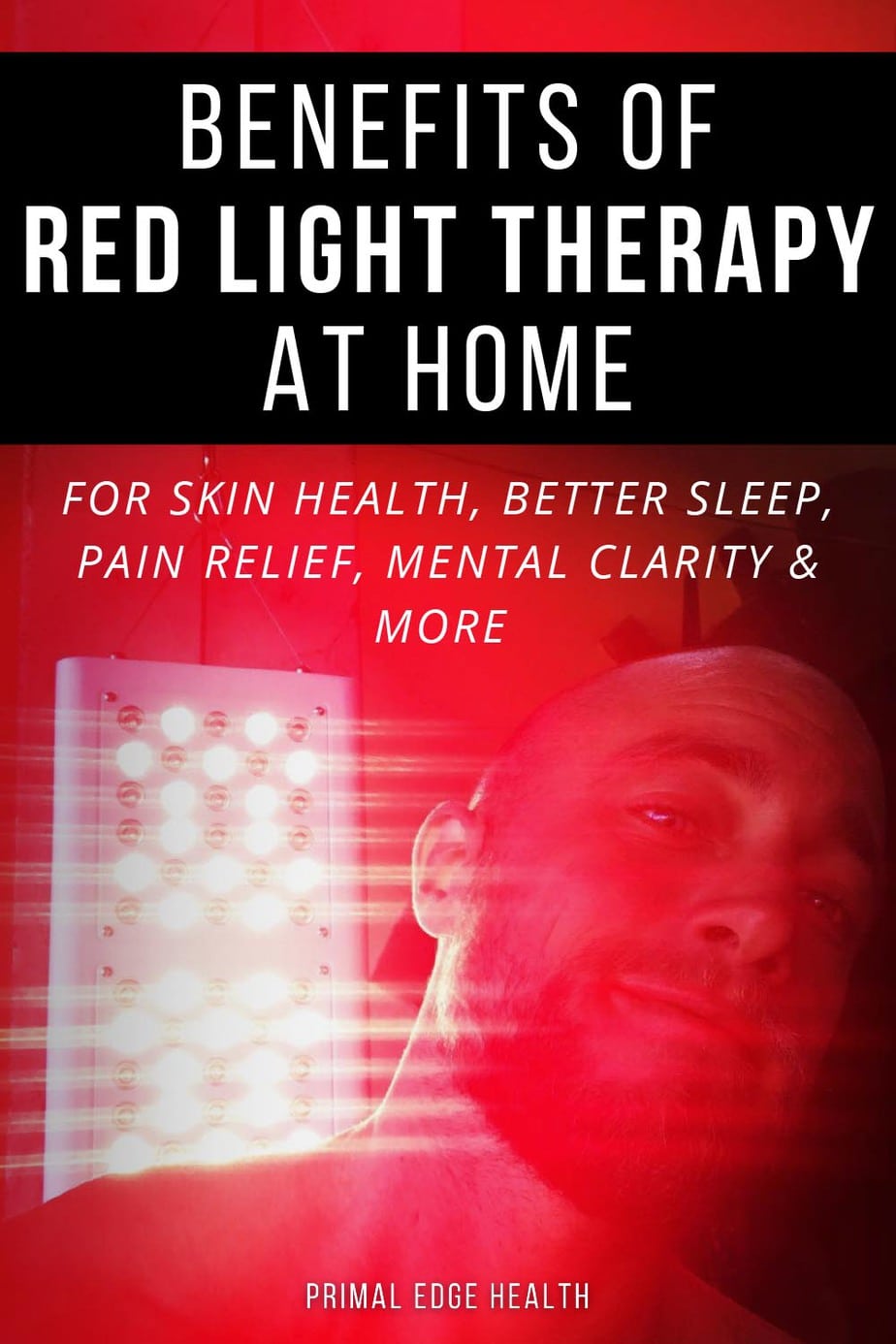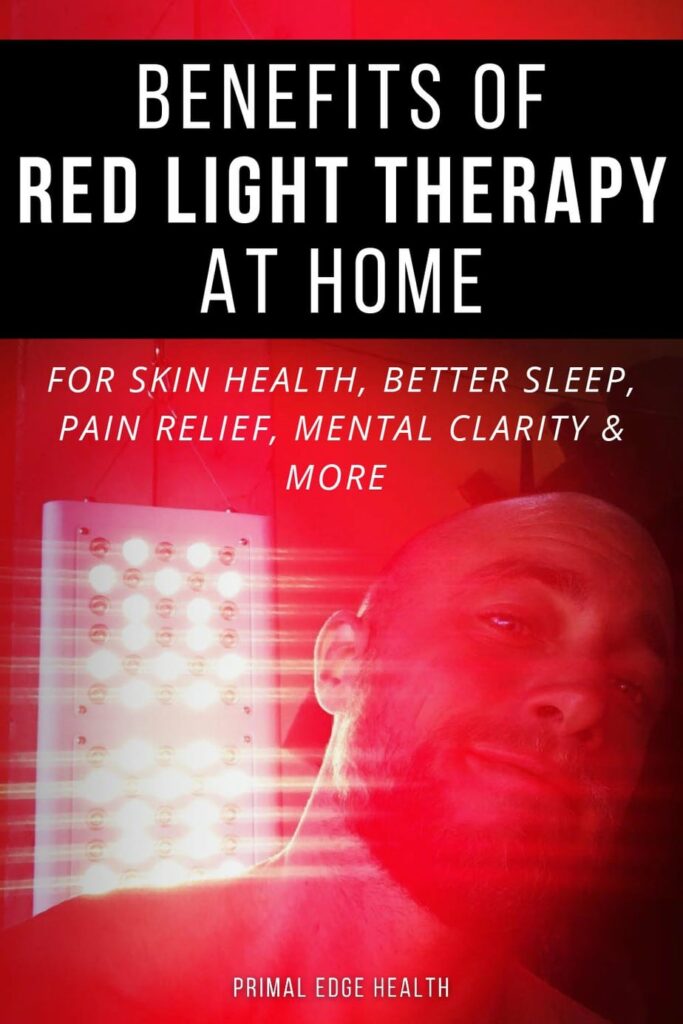 Table of Contents (click to view)
What is Red Light Therapy?
Red light therapy (RLT), or "photobiomodulation," refers to the therapeutic use of specific wavelengths of light. In essence, the process (re)generates biological energy directly from light exposure.
My husband recorded not one but TWO epic podcasts with Scott Nelson from Joovv.
I highly recommend listening (or watching), so you can learn about all the nitty-gritty details and the real-life, practical application.
How Does Red Light Therapy Work?
If you think a keto diet feels amazing, wait until you discover how light affects our health and vitality. It's profound!
Specific frequencies can drop inflammation, improve mitochondrial health, provide pain relief, boost mood and minimize stress.
Interested? Read on…
Rooted in NASA's research concerning healing wounds and burns, red light therapy is now an FDA-approved treatment we can all benefit from at a consumer level. Many high-end spas offer professional red light therapy services. Some gyms, like Planet Fitness, offer members the use of their devices. Personal devices are also available, so you can enjoy all the benefits at the session frequency and length you prefer, all from the comfort of your own home.
The best red light devices work with a combination of infrared and near-infrared frequencies, usually falling between 600-900nm.
These specific wavelengths create a biochemical affect in our cells that directly impacts adenosine triphosphate (ATP). In other words, we're manipulating the basic building blocks of cells and mitochondrial function.
ATP is the energy source of each and every cell. If we don't have enough ATP, it's incredibly difficult to get through the day because we need sufficient ATP for all of our biological processes to work correctly.
Photobiomodulation has a positive effect on ATP and gives us more energy to use at the cellular level!
Benefits of Red Light Therapy
Widely recognized in the beauty industry, red light is one of the most popular methods for healing and rejuvenating skin. (1) While it's true RLT does wonders for improving collagen elasticity, minimizing scars, and soothing acne, rosacea, and eczema, there are more than just surface-level benefits. (2, 3)
People can experience a range of life-changing benefits after consistent red light treatments. I'll note the main ones here, but this is not a complete list.
Common red light therapy benefits:
There are so many published clinical studies on low-level light therapy. A high percentage is double-blinded, randomized, and placebo-controlled. If you have a specific condition, I encourage you to search "[condition] red light therapy study." You're likely to find results!
Red Light Treatment with Breakfast
Breakfast is a great time to sit by the device. Take a look at the video below and see how we do it!
My Experience with Red Light Therapy
Deciding to invest in a personal red light therapy device was a big decision for us. Unfortunately, the good ones aren't cheap, so we considered all the variables carefully and made an effort to weigh pros and cons of different options.
I still remember the first thing I said to my husband after we flicked on our Joovv for the first time in 2017.
Honey, we should have gotten the bigger one!
Feeling an immediate mental calm and decrease in anxiety was invaluable.
My husband introduced RLT for the first time when my son was a newborn. I know using the Joovv for a few short sessions every day was a tremendous help in keeping me relaxed and rested, even after intermittent sleep at a fairly high-stress time.
Now, years later, I continue to use red light regularly to maintain healthy, vibrant skin, a regular sleep cycle, and high cognitive function.
How to Use Red Light Therapy At Home
Best Red Light Therapy Devices for Home Use
As of writing in 2021, there are many brands offering safe and effective at-home devices with LED bulbs. They come in all shapes and sizes, from small hand-held gadgets and molded face masks to full body panels.
It was important for us to find a device that uses a combination of high and low wavelengths so we can get the benefits of both. Based on our experience and research, these are the top three we recommend for home use.
Joovv has the most popular full-spectrum, full-body devices for at-home use on the market. They do an excellent job of combining all the variables into an easy to use yet powerful therapy tool.
Use coupon code PRIMALEDGEHEALTH & save $50!

Do you want to take a look at the product in action? Our Joovv unboxing video shows exactly how we set it up and use it, plus some pros and cons from our experience.
Photo Credit: emr-tek.com
I like the EMR-Tek style because they are smaller and more compact than other options. It's important to consider storage space, particularly if you live in an apartment or small home. Fortunately, the size does not compromise the benefits since these devices are engineered to distribute the light frequencies to a wide area. Therefore, EMR-Tek could be a budget-friendly alternative to Joovv that saves space too.
Use coupon code for PRIMALEDGE for 20% off all products!
Photo Credit: redlightman.com
Ideal for all UK and Europe readers. Red Light Man is an England-based company that can supply a quality product with affordable shipping to United Kingdom and EU locations. 2021 UPDATE: They are currently offering FREE shipping worldwide!
More Healthy Lifestyle Tools
Our resource page is the best place to find all the things we recommend for a low-carb diet and healthy lifestyle.
If you're interested in red light therapy, you might also like:
More product reviews: