My honest Butcher Box Review includes information about the service, how much it costs, pros and cons of a subscription, plus the best ButcherBox recipes, and a personal opinion if signing up is worth it or not.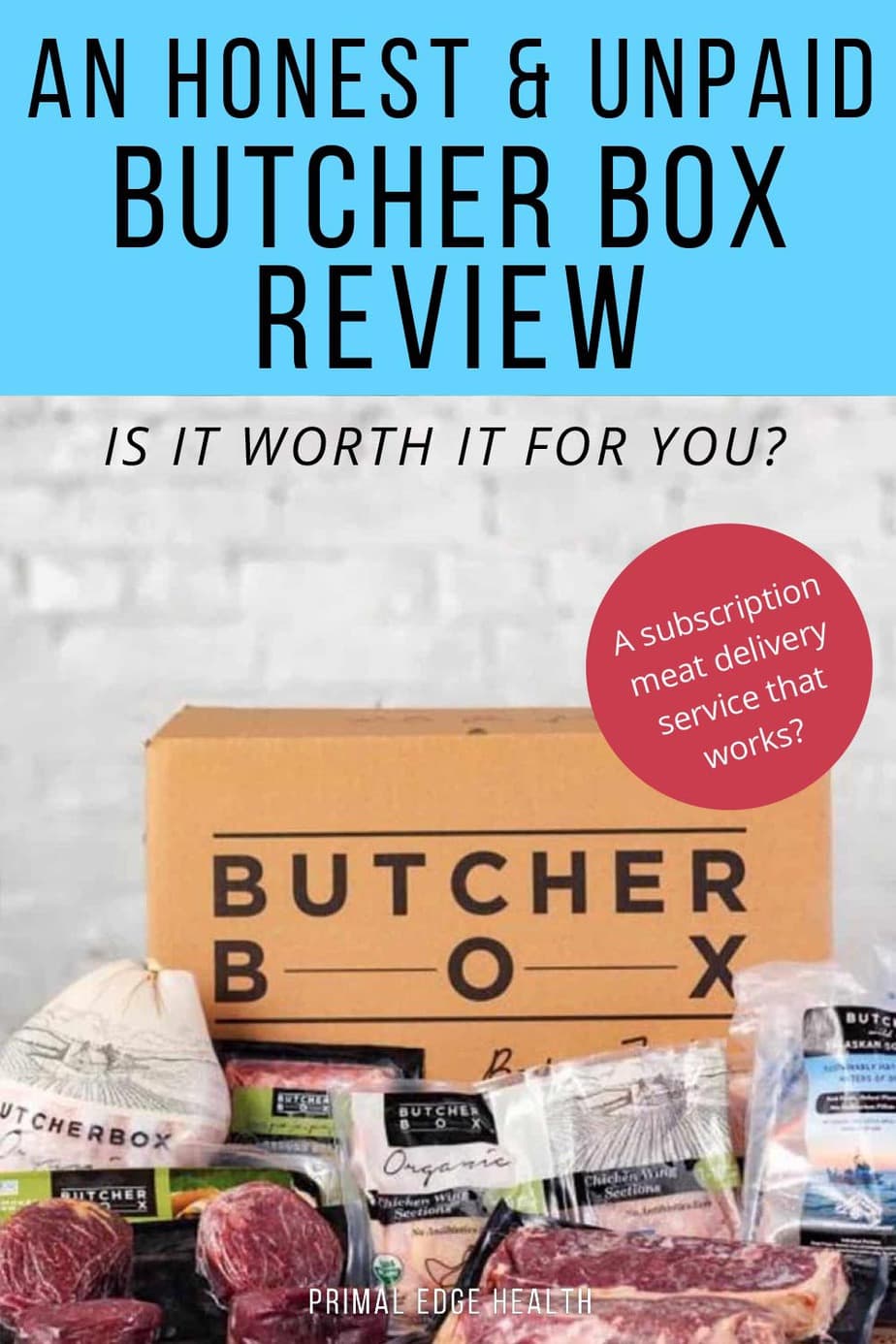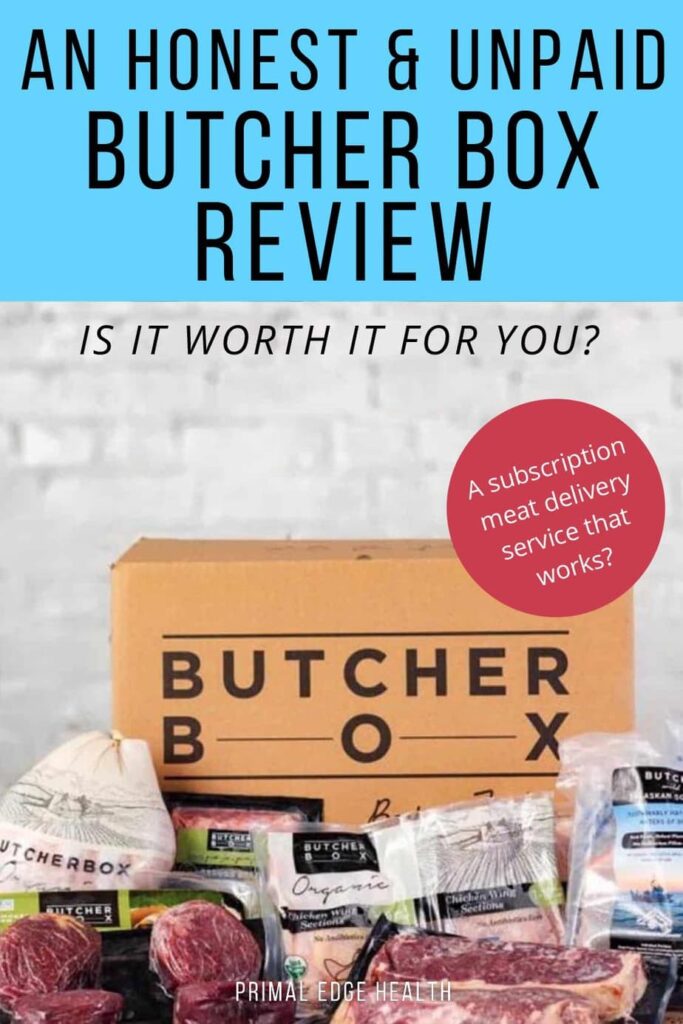 What is Butcher Box?
ButcherBox is a subscription food delivery service. They serve customers by delivering a customized box of meat set to the frequency they desire, directly to their door.
The company is a middle man between customers looking for quality meats and a large network of farms and fisheries. This is great if you struggle to find these options locally or think navigating all the different food labels at the store is confusing.
These are the highlights:
Subscription meat service
Home delivery + free shipping
100% grass-fed beef, free-range organic chicken, heritage-breed pork and wild-caught seafood
Easy customization for your orders
Get Ground Beef for LIFE: New customers get 2 packs of ground beef FREE in every box for the lifetime of their subscription!
Butcher Box Discount – Limited Time Offer
I'm all for saving money whenever possible, so it's exciting to see how ButcherBox offers discounts.
On principle, they don't offer a discount code or coupon code. Instead, they give away FREE products for all new sign-ups!
New customers get 2 packs of ground beef FREE in every box for the lifetime of their subscription!
It's a great time to try this subscription meat service if you're interested. Be sure to claim the offer before you checkout!
This offer is valid through Dec 26, 2022, only.
Click the image below if you want to catch the deal before it's gone!
How to Sign Up for Butcher Box
Here are easy step-by-step directions that make it clear exactly how to sign up for ButcherBox.
Choose between 5 different types of boxes

Custom
Mixed (chicken, pork & beef)
Beef & Pork
Beef & Chicken
All Beef

Set your frequency: every 2, 4, or 6 weeks
Choose the size box you want each delivery
Customize exactly what you want in it
Pay and confirm the order
FAQ for Butcher Box Meats
Is the subscription easy to change?

You don't need to call customer service or wait on hold to change your subscription. Options to edit box type, size, bill date, frequency are located within your customer dashboard. You can also delay or stop your subscription anytime you need.
Can you cancel Butcher Box?

You can stop your membership at any time, without penalty. Go to "Box Settings" and click "Stop subscription" after logging in to your account.

Where is Butcher Box Meat From?

ButcherBox's meat comes from domestic and international sources. Their chicken and pork are sourced from farms in the U.S. Their fish is wild-caught from various locations within U.S. territory. At the time of writing this post, their beef is imported from Australia, which they say has higher standards for grass-fed beef production than the U.S.
Is Butcher Box Worth it For You?
There are pros and cons to ordering from ButcherBox. I'll outline the ones I see, and you can choose if the service is worth it for you or not.
PROS
Convenience: getting groceries delivered to your door is super convenient
Flexibility: subscription settings are user-friendly and easy to update if needed
Speed: shipping is fast and free
Savings: access to discounted member's only deals
Quality: grass-fed, organic, heritage meats – always antibiotic and hormone-free
Thoughtful packaging: meat arrives frozen, box includes recyclable materials as much as possible
CONS
Only available within 48 contiguous United States
Not farm direct
Not necessarily local
Orders take some planning ahead
Extra packaging due to shipping (they do their best with recyclable materials, but it's still there)
Delivered frozen (if you only eat fresh meat, this is a deal breaker)
The Cost
Quality meats are always more than conventionally raised beef. If price is all that matters and you want $0.79/pound chicken wings, you're better off going to your local big box grocer. The large grocery chains focus on low prices, unfortunately, this is often at the sacrifice of quality. (1, 2)
However, if you can invest in a structure that strives to support higher standards, selectively chooses their sources, and promotes holistic animal husbandry, ButcherBox could be a good option. (3, 4, 5)
The best budget-friendly choices from ButcherBox are:
Beef shoulder roasts
Chicken thighs
Chicken breast
Whole chicken
Chicken tenders
Bacon
Subscribers have exclusive access to members-only deals too. These deals are another way to save money on your food budget.
Various offers on staple ingredients like ground beef, chicken breast, bacon, (and more!) are available throughout the year. Check for them in your dashboard and add on to your order whenever you like.
When ButcherBox isn't for You
You shouldn't use ButcherBox if you like shopping in person and don't value home delivery.
If you're a bargain buyer and love the thrill of hunting for the best deal, a monthly subscription with this company won't be good for you.
Finally, don't buy from ButcherBox if you already have a strong connection with local meat producers or butchers.
Recipes for Butcher Box Meat
Grass-fed ground beef – ground beef stir-fry recipes, carnivore ground beef recipes, or healthy ground beef skillet recipes
Boneless chicken breast – Chicken Keto Curry with Pumpkin
Grass-fed burger patties – 10 Keto Burgers
Grass-fed steak tips – Easy Slow Cooker Keto Carnivore Beef Stew
Organic chicken wings – Easy Keto Chicken Wings
Heritage ground pork – Fried Cabbage and Sausage Skillet, Keto Breakfast Casserole, or Low-Carb Breakfast Lasagna
Click the image below and get the deal while you can!
More Honest Reviews