With a hearty combination of eggs, sausage, cream and cheese this lasagna is packed with nutrient density. Each ingredient is valuable, together they fuse into a rich synergy. With so many keto breakfast recipes like this one at your fingertips, it is plain to see that you'll never get tired of a keto diet!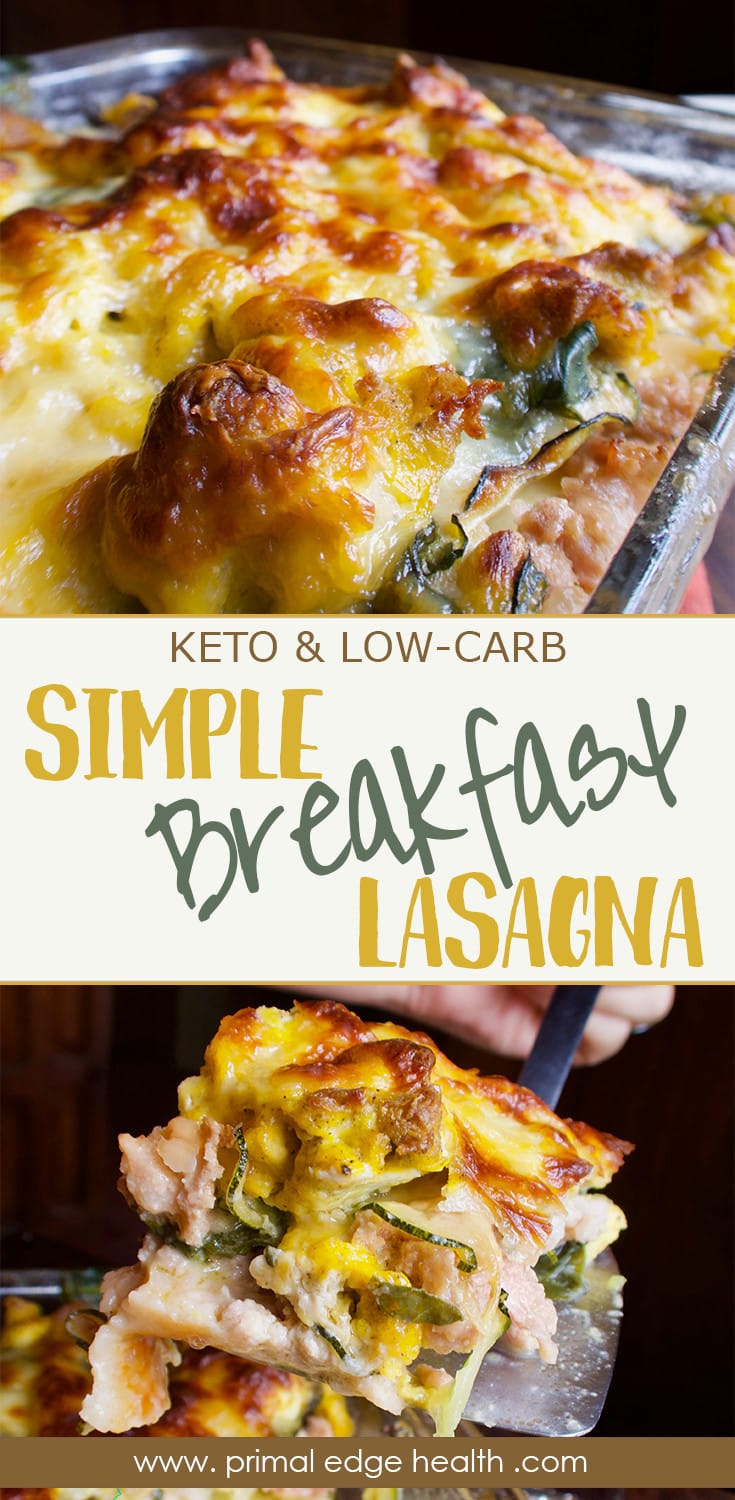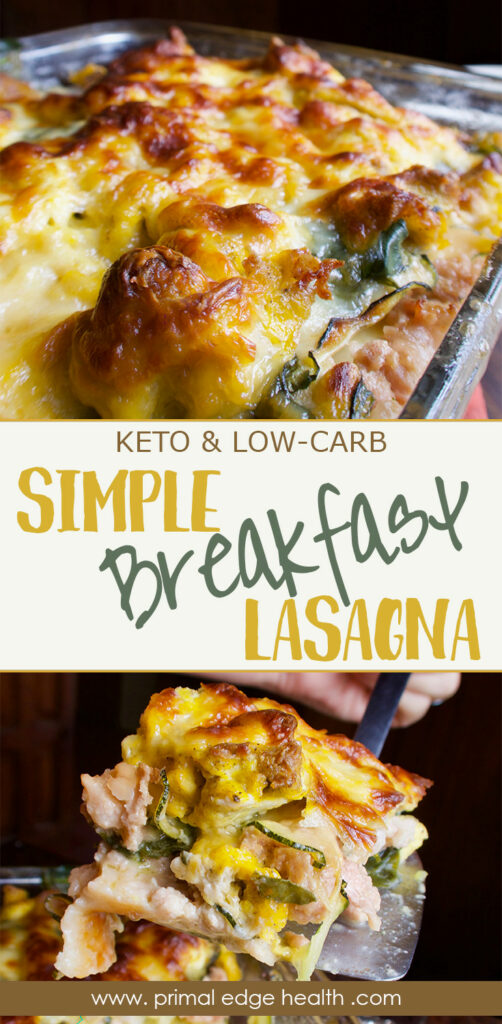 I've adapted a standard breakfast lasagna recipe with wheat noodles and flour to a low-carb, ketogenic, gluten and grain-free alternative.
The zoodles do a decent job of mimicking grain based noodles, they crisp on the outside and remain soft in the center. No complaints there! Over all, vegetable noodles are a satisfying noodle replacement on a keto diet.
If you like carnivore diet recipes, you can take this a few steps further and skip the noodles all together.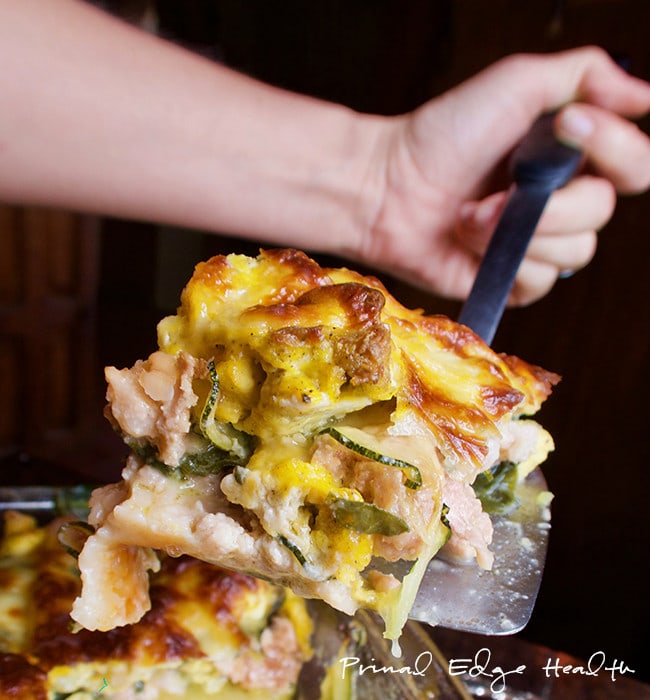 The biggest difference I see between standard and keto versions of breakfast lasagna is that the sauce puddles up a bit in the bottom of the dish.
For me I didn't mind this too much because it keeps the lasagna from drying out. The moisture steams up from the bottom through the layers while it bakes in the oven.
In the standard preparation, all-purpose flour binds the ingredients together and helps keep a firm shape.
It may be possible to add a small amount of low-carb flour to the recipe but I prefer to have the majority of our foods made from unprocessed and minimal processed ingredients. I do use coconut and almond flours occasionally, but only when they are really necessary.
In this case, I prioritized a simpler ingredient list over a certain texture.
Eggs, meat, veggies, and cheese are great all baked together!
This is one of my keto breakfast ideas you don't want to miss.
Tips for Baking the Perfect Low-Carb Breakfast Lasagna
Have a busy morning? Prep the lasagna the night before (just don't bake it) and refrigerate. All you have to do is bake it in the morning!
Love to meal prep? Add this recipe to your weekly routine, simple recipes like this one make meal prepping so easy.
The leftovers are incredible cold or reheated in the oven.
Have a favorite cheese? Use it! The recipe is created with mozzarella because that's a classic choice that melts well. Other cheeses like goat cheese, smoked mozzarella, and Gruyere would all be good replacements. Ideally, you want a cheese that will melt and bind the layers together.
Have house guests? Double the recipe and bake in a large 9 by 13-inch glass baking dish.
Love baking? I highly recommend The Ultimate Guide to Low-Carb Baking for all you need to know about sugar-free, keto sweet and savory baked goods.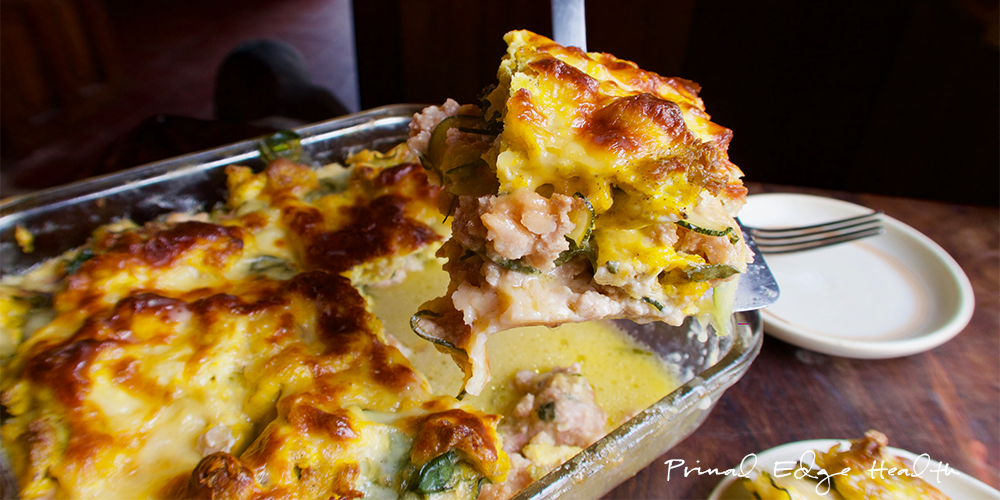 This Low-Carb Breakfast Lasagna is:
Auto-Immune friendly
Intentionally tomato-free, the recipe is safe for those with autoimmune conditions and people with nightshade sensitivities.
Carnivore Friendly
While not exclusively made from all animal-based foods, all the main ingredients are Carnivore which makes it great to save in your list of keto carnivore recipes. To adapt for a carnivore diet, you may omit the zucchini, mix all the ingredients together, and bake as a casserole. No need for layering.
If you're looking for more delicious zero-fiber recipes, check out The Carnivore Cookbook with over 100 recipes made from just the essentials: animal protein and fats or browse through my free collection of Carnivore-Friendly recipes.
Nut-free
No nuts are used as binding or bulking agents. For those with nut allergies, this won't trigger a reaction.
With 8 g net carbs per serving, a Low-Carb Breakfast Lasagna is a delicious way to start the day on a ketogenic diet.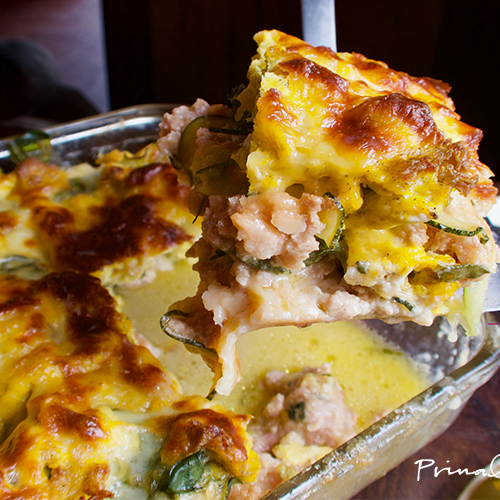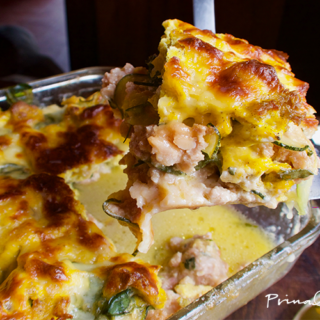 Low-Carb Breakfast Lasagna
Serve as a warm breakfast or enjoy cold leftovers for lunch - this cheesy low-carb
breakfast lasagna is great for the whole family!

Instructions
Preheat the oven to

350

°F

.

Whisk the eggs with salt and pepper. Warm a bit of butter or coconut oil in a skillet and scramble the eggs. Remove from heat and set aside.

9 whole eggs,

1 tablespoon salt,

1 teaspoon ground black pepper

In the same skillet, brown the sausage. Once it is cooked, add the cream and broth to the pan. Simmer together with the sausage for

5 to 10 minutes

, until the liquid reduces a bit.

1 pound chicken sausage,

1/2 cup coconut cream,

3/4 cup bone broth

Spiralize or julienne the zucchini, go for long, broad pieces.

In an 8 by 8-inch baking dish, spoon a layer of sausage and liquid to the bottom of the dish. Arrange half the slices of zucchini across in one direction. Divide the scrambled eggs in half and spread over the first layer of zucchini. Top this layer with 1 cup shredded cheese.

Repeat the layers again. Sausage with creamy broth, zucchini, egg and cheese. Press down on the layers to flatten. My dish was almost overflowing but the volume greatly reduces as the lasagna bakes.

Bake for

40 minutes

until the cheese is golden and bubbly. Slice and serve warm. Save leftovers in the fridge. Its great cold! I had a cold slice for lunch the next day.
Nutrition & Macros
Calories:
513
kcal
Carbohydrates:
9
g
Protein:
33
g
Fat:
39
g
Saturated Fat:
20
g
Sodium:
3280
mg
Fiber:
1
g
Net Carbohydrates:
8
g
To obtain the most accurate representation of the nutritional information in a given recipe, please calculate the nutritional information with the actual ingredients and amounts used, using your preferred nutrition calculator. Under no circumstances shall the this website and the author be responsible for any loss or damage resulting for your reliance on the given nutritional information.
Made this? Leave a Rating! ⭐⭐⭐⭐⭐
Tag a photo with @Primal_Mom and #PEHRecipe on Instagram to share with us!