Are you looking for a way to enjoy your favorite noodle dishes while getting more veggies in your diet? With various vegetables turned into noodles, the possibilities for tasty and healthy meals are endless.
In this article, we will look at some of the most popular veggies to spiralize and turn into noodles.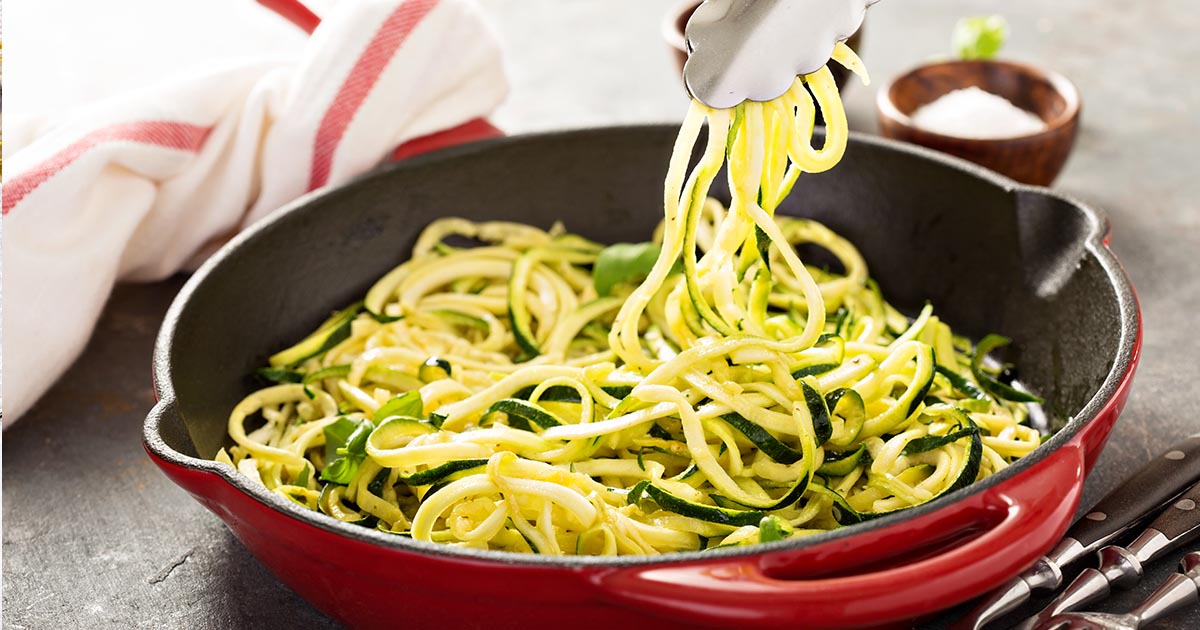 Noodles are a staple of many cuisines, from Italian pasta to Asian noodles like Japanese ramen. Veggie noodles are a great alternative if you are looking for a healthier and lower-carb option.
Not only are they packed with nutrients and fiber, but they also add color, flavor, and texture to your dishes.
Table of Contents (click to view)
How To Use Veggie Noodles
There are different methods you can use to enjoy your vegetable noodles. You do not have to cook them like ordinary pasta. Plus, most of the time, all you need to do is mix them with your cooked sauce.
They are also a great addition to a cold salad tossed with different dressings.
You can quickly sauté them with seasoning, herbs, pesto, or soy sauce for additional softness. 
How To Pick the Best Vegetables for Making Noodles?
If you're new to making veggie noodles, there are a few things to remember. Make sure you choose firm and relatively straight vegetables, as they will be easier to spiralize.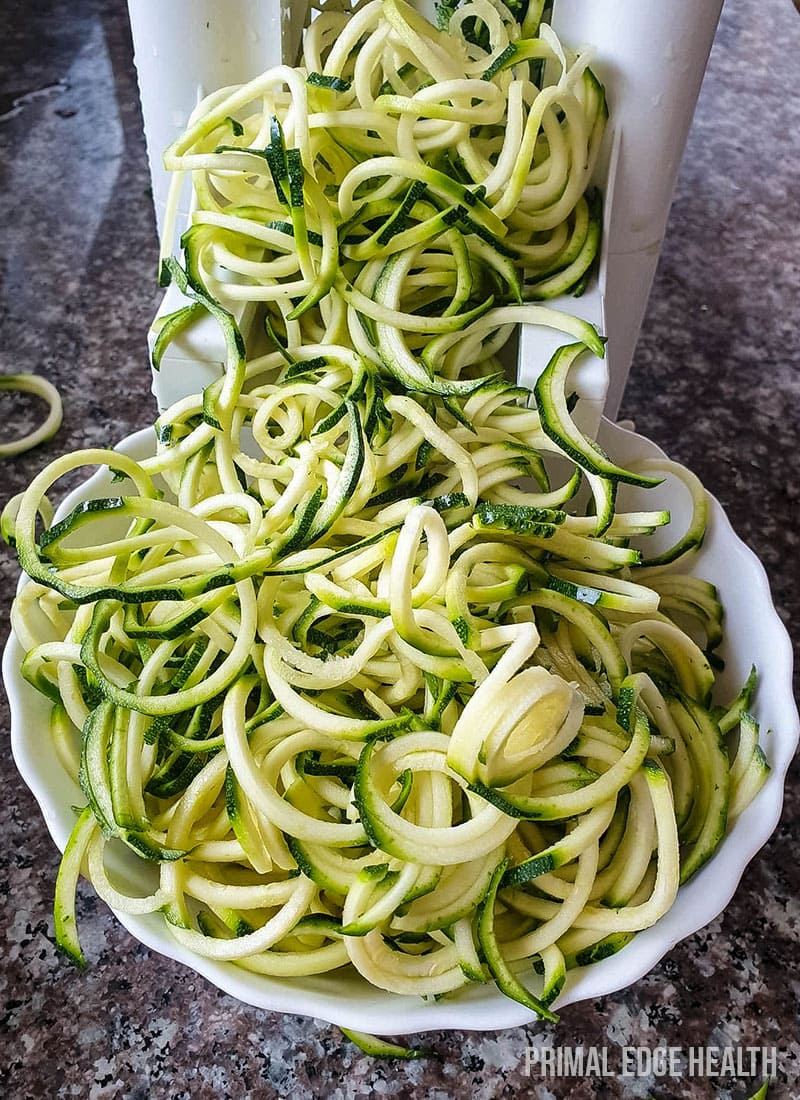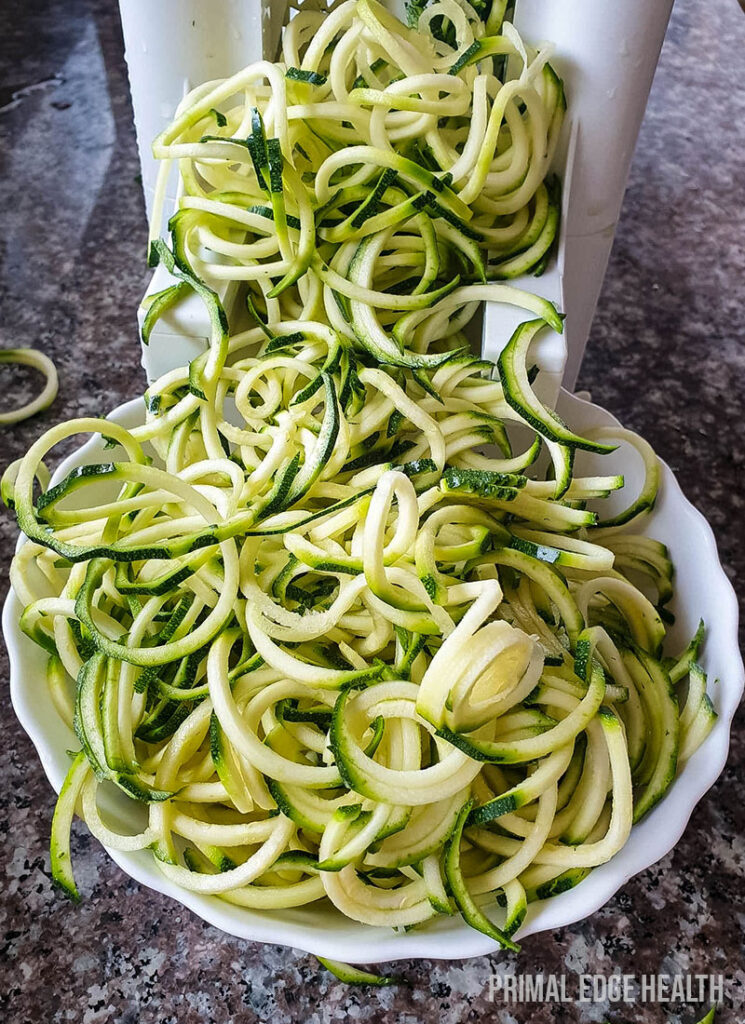 Gadgets Used for Making Vegetable Noodles
There are several gadgets for making vegetable noodles. Some of the most popular include:
Spiralizer: A spiralizer is a device that creates long, thin noodles from vegetables. It has different blades that can make different shapes and sizes of noodles.
Julienne Peeler: A julienne peeler is a handheld tool to create thin, uniform strips of vegetables. It works similarly to a regular vegetable peeler but has a serrated edge that cuts the vegetables into thin strips.
Mandoline Slicer: A mandoline slicer is a kitchen tool that allows you to slice vegetables into thin, uniform strips or slices. It has an adjustable blade for different thicknesses, depending on the type of noodles you want to make.
Vegetable Spiral Slicer: Can be used to create spiral-shaped noodles from vegetables. It works by inserting the vegetable into the device and turning it to make the noodles.
Regular vegetable peeler: A regular peeler to make wider slices if no other gadgets are available.
Each gadget has its advantages and disadvantages, and the best one for you will depend on your preferences and needs.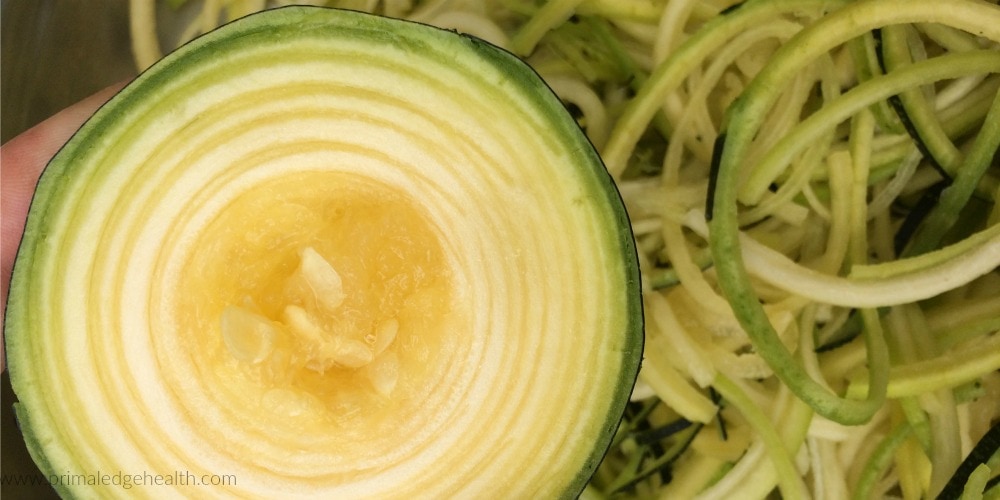 Type of Vegetables Make Veggie Noodles
From classic zucchini noodles to unconventional options like broccoli and parsnip noodles, here are some of the vegetables you can use to get started.
Zucchini Noodles
Zucchini noodles, also known as zoodles, are the most popular veggie noodle. They are easy to make, low in calories, and have a mild flavor, making them an excellent keto substitute for traditional pasta.
You only need a spiralizer or a vegetable peeler to make zucchini noodles. Once you have your zoodles, you can cook them in various ways, such as by sautéing, boiling, or baking.
"Making spiralized noodles out of veggies is incredibly easy to do! Zucchini is the most common you'll see and one of the easiest. They are a great low carb noodle substitute if you're trying to reduce your carbohydrate intake or go gluten-free."

— Lara Clevenger, Lara Clevenger
Cucumber Noodles
Cucumber noodles are a refreshing and light option for veggie noodles. They have a mild flavor and are high in water content, making them an excellent choice for salads or cold noodle dishes.
They can be eaten raw or lightly sautéed. To make cucumber noodles, all you need is a vegetable peeler. Thicker slices are great for Naruto or cucumber sushi rolls.
Squash Noodles
Butternut squash noodles have a sweet, nutty flavor and a slightly softer texture than zucchini noodles. Squash varieties such as acorn, delicata, or spaghetti squash can be spiralized into thin, long noodles that work well in dishes.
Parsnip Noodles
Parsnip noodles have a slightly sweet, nutty flavor and a soft, noodle-like texture. When spiralized, they have a soft, noodle-like texture that works well in fall and winter dishes.
Asparagus Noodles
White asparagus is a popular ingredient you can enjoy to make delicious and nutritious noodles. Unlike green asparagus, white asparagus grown underground is much thicker and has a milder flavor and a more delicate texture.
When used to make noodles, white asparagus adds a subtle sweetness and a creamy, slightly nutty flavor to the dish. Asparagus noodles need to be cooked for at least 10 minutes to soften up, but then are enjoyed as one of the best asparagus tagliatelle one can have.
Broccoli Noodles
While most people are familiar with using broccoli florets in their cooking, you can also turn stems into long, thin noodles. They work well in stir-fries or as a base for cold noodle salads.
Bell Pepper Noodles
Bell peppers are colorful and nutritious vegetables that can be sliced into thin, curly noodles. They add a sweet and crunchy texture to dishes and work well in stir-fries or as a colorful garnish for salads.
Cabbage Noodles
Cabbage can be sliced thinly or spiralized into long, thin noodles with a slightly sweet and crunchy texture and work well in salads or stir-fries.
Onion Noodles
You can also use onions as thin noodles that add a savory, slightly sweet flavor to dishes. They work well in stir-fries or as a topping for burgers and sandwiches.
Radish Noodles
Radishes are easily turned into thin, curly noodles that add a spicy and crunchy texture to dishes. They work well in salads or as a garnish for tacos and sandwiches.
Turnip Noodles
Turnips are a root vegetable with a slightly sweet and earthy flavor. Turnip noodles are great as a base for cold noodle salads.
Palmini Noodles
Palmini noodles are pasta made from hearts of palm, a vegetable harvested from the inner core of certain palm trees. They have a slightly crunchy texture and a mild, neutral flavor that can be enhanced by adding sauces, seasonings, or other ingredients.
They are a low-carb, gluten-free alternative to traditional pasta and great as keto baked pasta.
Overall, vegetable noodles are a fun and nutritious alternative to traditional pasta noodles. Experimenting with different vegetables can help add variety to your diet while providing essential vitamins and minerals.
Storing Veggie Noodles
Storing veggie noodles is easy. You can keep them in an airtight container in the refrigerator for three to four days. I like these transparent ones, so I can see what's inside.
If you want to store them longer, you can freeze them in a single layer on a baking sheet and then transfer them to a freezer-safe container. To reheat, sauté them in a pan with oil or butter until heated.
The possibilities for delicious and healthy meals are endless with so many different vegetables and various ways to prepare them.
More Low-Carb Noodle Options
If you're looking for more than just a way to add vegetables to your diet, consider exploring other low-carb noodle options to help you stay on track with your diet goals.
When it comes to pasta alternatives, a few viable options make a world of difference. Cravings can't compete with the low-carb options that are available.
Take a look at this list of recipes to find your new favorites and see vegetable noodles in action.
30 Keto Pasta Recipes
These 30 Keto Pasta Dinner Recipes use a variety of keto noodles. From personal favorites like Shrimp Scampi with Zoodles to Keto Cauliflower Mac and Cheese and Low-Carb Eggplant Lasagna, you're sure to find a recipe that inspires you to try something new!
This article originally appeared on Food Drink Life.