My 4-ingredient baked cauliflower keto mac and cheese is better than the "real" thing. With my easy keto recipes, you can still enjoy classic carby foods like mac and cheese made keto style!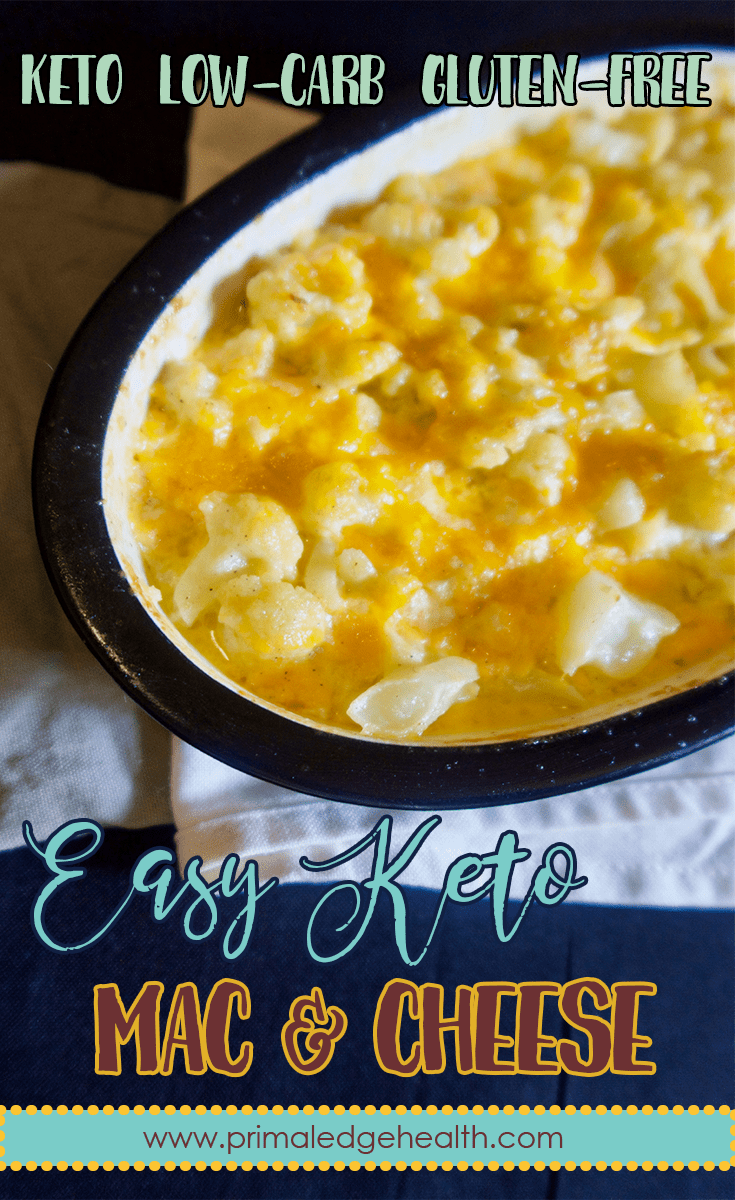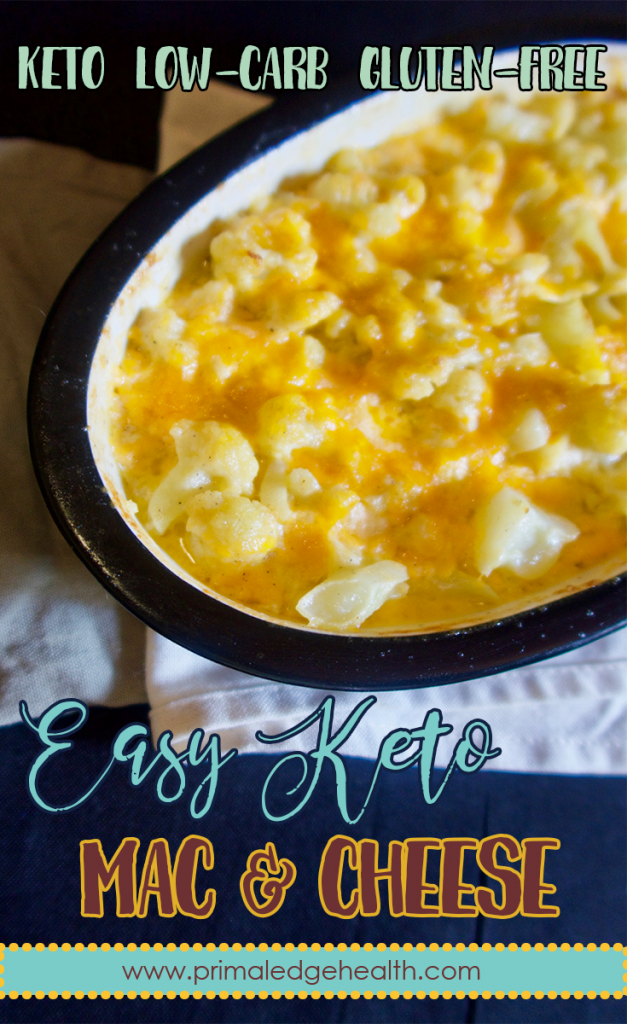 With just 4 ingredients (plus salt and pepper) and in less than 30 minutes you can easily adapt a traditional macaroni and cheese recipe to suit a keto diet.
Oven-baked keto cauliflower mac and cheese is an uper duper cheesy side to serve with a bun-less burger or baked fish. It's 100% kid-approved and will be great to share with the whole family!
Do you love baking? I highly recommend The Ultimate Guide to Low-Carb Baking for all you need to know about sugar-free, keto sweet and savory baked goods!
I grew up on boxed Kraft mac and cheese. We made the switch to the Annie's "homemade" formula and I remember thinking I was getting such an improvement, never realizing the ingredients are essentially the same! My family would stock up on a giant package from Costco. You know the ones, something like 32 boxes in one huge brick. Many a high school evening was spent ripping open a box of "food" to make dinner. The whole scene is pretty cringe worthy now. I thought I was so mature, making my own food and felt a level of pride at being able to cook a meal.
If only I knew then what I know know.
This is especially true after learning how easy it is to make a grain-free/gluten-free KETO mac and cheese recipe!
No matter, that is all in the past now and we can all rejoice with mistakes behind us. I know that our children will grow up with a stronger grasp on real food nutrition and be educated to make better food choices. Instead of living off food-like substances, our kids can grow up on homemade meals of unprocessed, non-allergenic ingredients.
Recommended: Learn How to Source Quality Foods
Hurray, Hurrah, Cauliflower is Here to Save the Day!
Many classically carb heavy foods like rice and potatoes are replaced with one of our favorite unassuming vegetables, cauliflower. In this baked keto mac and cheese, cauliflower mimics the pasta noodles with way less carbs and zero gluten.
Other keto cauliflower recipes include:
What Cheese is Best for Cauliflower Mac and Cheese?
This recipe is far from being dairy-free. As long as it is cheese, you can use pretty much whatever kind you like. I've replaced the cream cheese with various soft cheeses like sheep and quesillo. In my experience, it seems like any soft cheese can be used. You want something that will emulsify and thicken the cream.
If anyone uses Brie, invite me over!
Cheddar cheese can be replaced with any firm or semi-firm types. Asiago, Parmesan, Edam, Fontina, Gruyere, or Havarti would all be fine. You can even mix and match to make a 3 cheese blend.
This is one of my delicious low carb vegetable recipes you don't want to miss!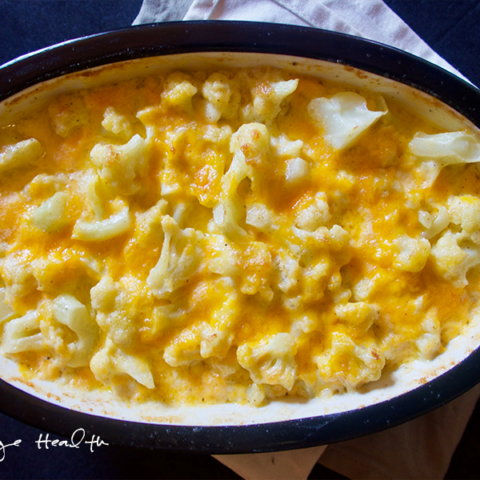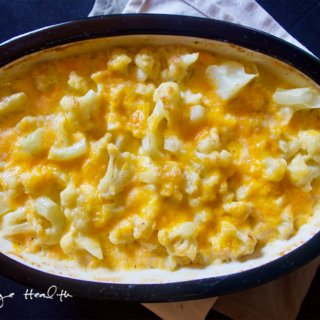 Cauliflower Mac and Cheese
Our 4-ingredient baked keto cauliflower mac and cheese is better than the "real" thing.
Instructions
Preheat oven to 375 degrees F.

Cut cauliflower into small pieces. Steam in a saucepan until soft. Strain out and discard the water.

Whisk the cream and cream cheese in the saucepan over medium heat until smooth. Stir in 1.5 cups shredded cheese (save the other 1/2 cup to sprinkle on top). Continue warming until sauce is smooth and thick. Season with salt, pepper, and optional mustard or garlic.

Arrange the cauliflower in an 8×8-inch or 2 quart oval baking dish. Pour the sauce over and mix to combine.

Top with remaining 1/2 cup cheese and bake for 15-20 minutes, until brown and bubbly.

Cool slightly and serve warm.
Nutrition & Macros
Calories:
266
kcal
Carbohydrates:
6
g
Protein:
13
g
Fat:
21
g
Saturated Fat:
13
g
Cholesterol:
68
mg
Sodium:
704
mg
Potassium:
478
mg
Fiber:
3
g
Sugar:
3
g
Vitamin A:
699
IU
Vitamin C:
67
mg
Calcium:
320
mg
Iron:
1
mg
To obtain the most accurate representation of the nutritional information in a given recipe, please calculate the nutritional information with the actual ingredients and amounts used, using your preferred nutrition calculator. Under no circumstances shall the this website and the author be responsible for any loss or damage resulting for your reliance on the given nutritional information.