Cauliflower tortillas are the answer to all your low-carb taco, quesadilla, burrito, and gyro needs. They are flexible, fold over without splitting in the crease, and can be stuffed to the brim with carne asada or cheesy taco skillet.
With my easy keto recipes, you can enjoy classic high carb foods like tortillas made keto style!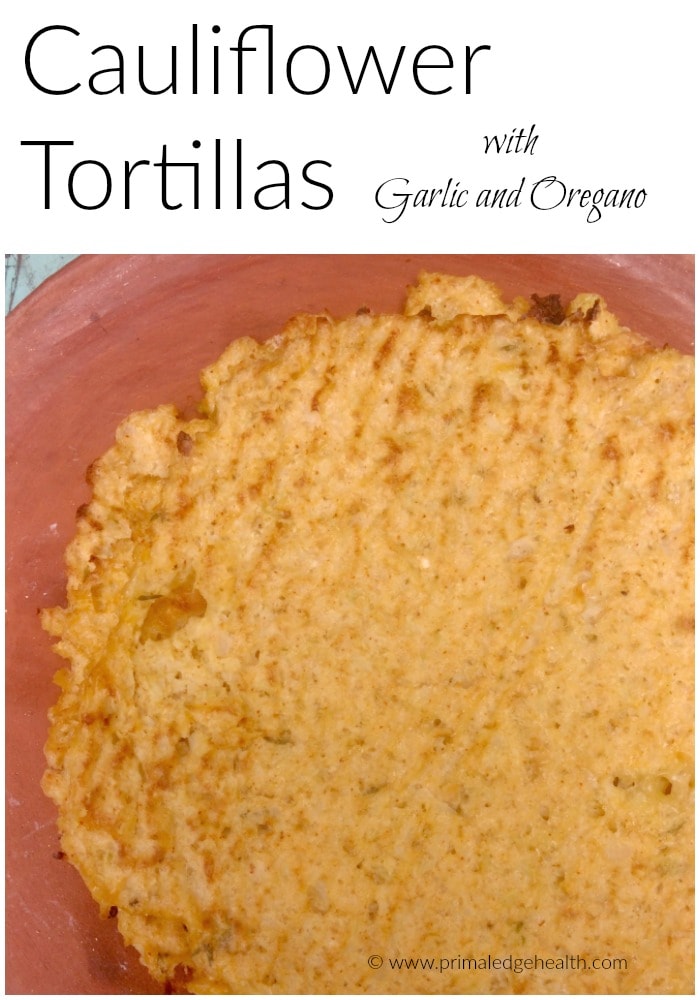 Similar to cauliflower rice, these low-carb and gluten-free cauliflower tortillas are a nutrient-dense addition to any meal. Cauliflower contains sulforaphane, a sulfur compound that is shown to kill cancer stem cells and slow tumor growth. Anti-inflammatory nutrients are also found in cauliflower as well as choline, which fuels the brain.
You may have first seen us raving about these cauliflower tortillas in the Vlog: Our Ketogenic Kitchen Today where I show off the awesome plate of carne asada served with a cauliflower tortilla.
Table of Contents (click to view)
Wondering what is in the carne asada wrap?
It is a mixture of carne asada beef cooked in coconut oil, with cilantro and garlic. The meat is chopped up in thin slices and mixed with fresh tomatoes, avocado, and one of my weekly staples – cauliflower rice. The meal is simple, filling, low-carb, and ketogenic. it is nice to make for yourself or share with others when you what to display the diversity and possibilities of a well formulated ketogenic diet.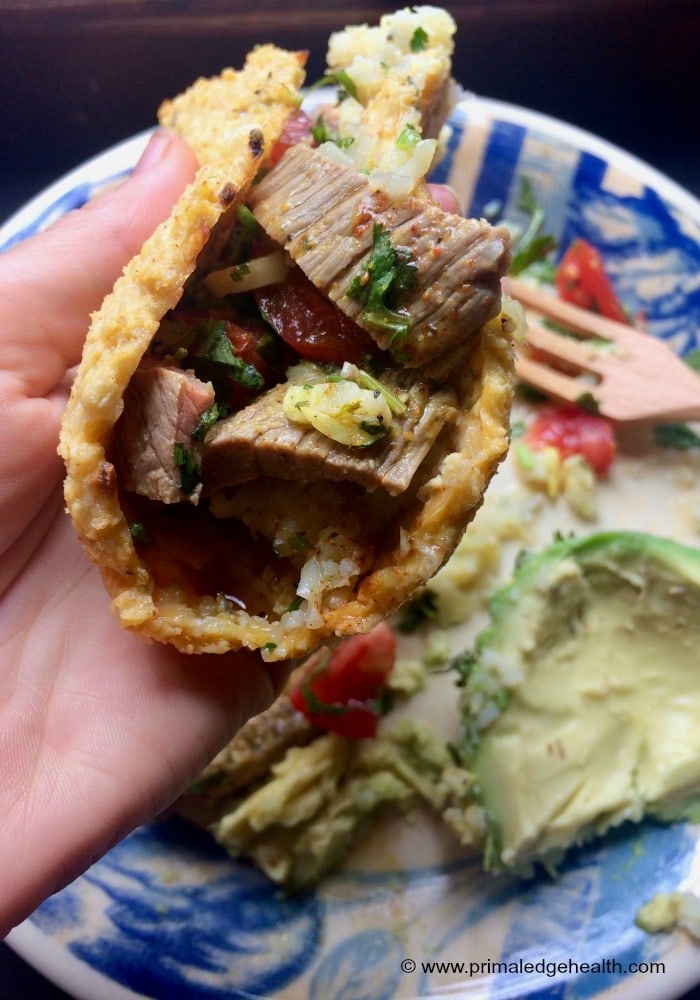 Make Cauliflower Tortillas in Bulk
On a day when you have a bit of time to spend in the kitchen, think about making a double batch of these cauliflower tortillas. They can be stored in the fridge for a few days or frozen. Reheat the tortillas in a pan over low-heat just before you are ready to serve them.
Never underestimate your freezer space! Make the most of this space by stocking up on healthy, nutrient dense keto foods that nourish your body and brain.
Our clients have the most success when they are prepared. Having a plan for what to do when you need a quick meal decreases the likelihood of grabbing a non-keto options. These cauliflower tortillas may prove to be a helpful tool in this regard. If you are interested in coaching, please contact us through the coaching form.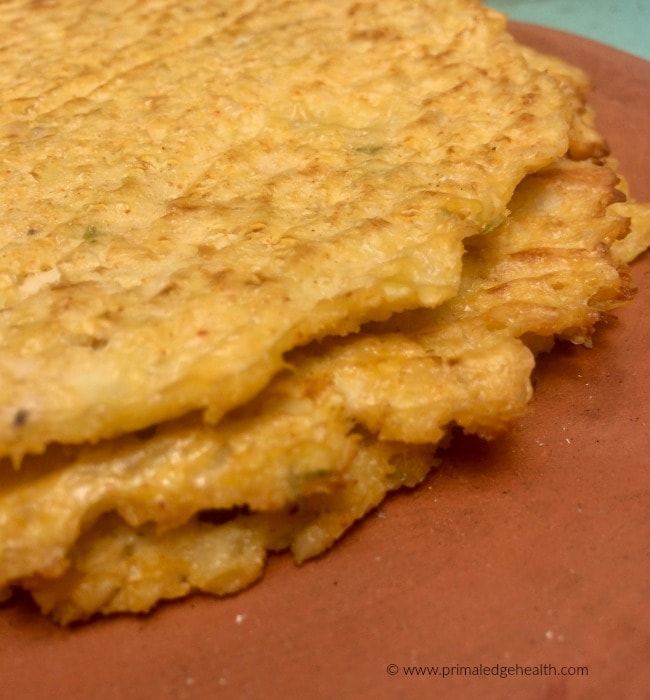 Tips for making Cauliflower Tortillas
Using a cheesecloth to remove any liquid from the cauliflower is an important part of the recipe process. Essentially this step is how you make a flour-like material to bind the rest of the ingredients together. If the cauliflower is too wet, the tortillas are not likely to hold together well.
In place of a cheesecloth, you may use a nut milk bag or kitchen towel. I suggest purchasing either a cheesecloth or nut milk bag because they are so handy to have in the kitchen. You can use them for homemade cheese, yogurt, nut milks, juices, as well as for recipes that call for cauliflower or broccoli as substitutes for flour.
Removing as much water as possible is the best tip I can give, otherwise the recipe is fairly straight forward! Steam the cauliflower, shred the cheese, crack in the eggs and mix the dough all together and bake until golden brown.
Can Cauliflower Tortillas be Dairy-Free?
It is possible to make a dairy-free version of these cauliflower tortillas. Removing the cheese and adding a bit of gluten-free, ketogenic friendly flour will make these a viable option for people who prefer dairy-free foods. Substitute the cheese with almond or coconut flour. You do not need much. Start with 2 tablespoons of flour and increase as needed until the dough holds together.
Enjoy cauliflower tortillas the following ways:
Fill with spicy marinated flank steak and top with favorite taco fixings.
Swap crispy cheese tortilla for these soft ones in a low-carb tostada.
Cook a quesadilla with a high-quality aged cheese and "Gourmet Guacamole"
Spread a layer of "Zucchini Hummus", top with sliced tomatoes and lettuce. Serve with a portion of lamb.
Add sliced "Ecuadorian Churrasco" and a spicy "Aji Criollo" sauce
Top with "Oven-Baked Turmeric Shrimp in Butter Sauce"
Fill with slow cooked beef pulled from a pot of "Grass-fed Beef Bone Broth" and served with "Mushroom Veggie Stir-Fry"
These are just a few ideas to get you going! Cauliflower tortillas will mix and match with a wide variety of recipes. The Herbs and Spices Chapter will be helpful for you to learn how to customize the herbal profile of these tortillas to best suit your meal.
I know you'll also like this Mexican Omelette recipe!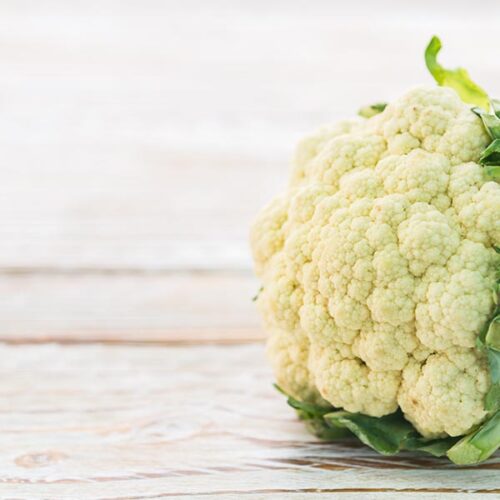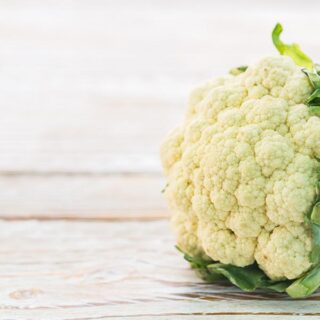 Cauliflower Tortillas with Garlic and Oregano
Use these flexible cauliflower tortilla for soft tacos, quesadillas, or whatever your tortilla need is! Family friendly and great for Tuesday Taco night, this gluten free option is also keto and low carb.
Instructions
Preheat the oven to 400° F.

Prepare a medium sized pot to steam the cauliflower, chop the head into florets, and steam until soft, about 10 minutes. Once done, strain, cool and add to a food processor. Pulse with the "s" blade into small rice-like pieces. Transfer the cauliflower to a cheesecloth and squeeze tightly until all liquid is removed.

Place cauliflower in a medium bowl and add the remaining ingredients. Mix well to combine.

Divide into 4 large tortillas (similar to a normal flour tortilla) or 8 mini tortillas (similar to a corn tortilla) and place on a baking sheet lined with parchment paper. Bake for 10 to 15 minutes, until the edges are dry and the bottom is golden. Flip over and back for another 5 minutes. Cool on a wire rack before serving.
Nutrition & Macros
Serving:
1
large tortilla
Calories:
122
kcal
Carbohydrates:
12
g
Protein:
9
g
Fat:
5
g
Saturated Fat:
3
g
Sodium:
492
mg
Fiber:
5
g
Net Carbohydrates:
7
g
To obtain the most accurate representation of the nutritional information in a given recipe, please calculate the nutritional information with the actual ingredients and amounts used, using your preferred nutrition calculator. Under no circumstances shall the this website and the author be responsible for any loss or damage resulting for your reliance on the given nutritional information.
Made this? Leave a Rating! ⭐⭐⭐⭐⭐
Tag a photo with @Primal_Mom and #PEHRecipe on Instagram to share with us!
Tortillas got you on a burrito kick? Try this recipe from Tasteaholics for Keto Slow Cooker BBQ Beef Burritos.
Food photo created by lifeforstock – www.freepik.com