Dive into this keto mac and cheese recipe next time you are looking for a low-carb way to satisfy comfort food cravings. Indulge in the creamy, cheesy goodness you love, ready in 15 minutes with only a handful of ingredients.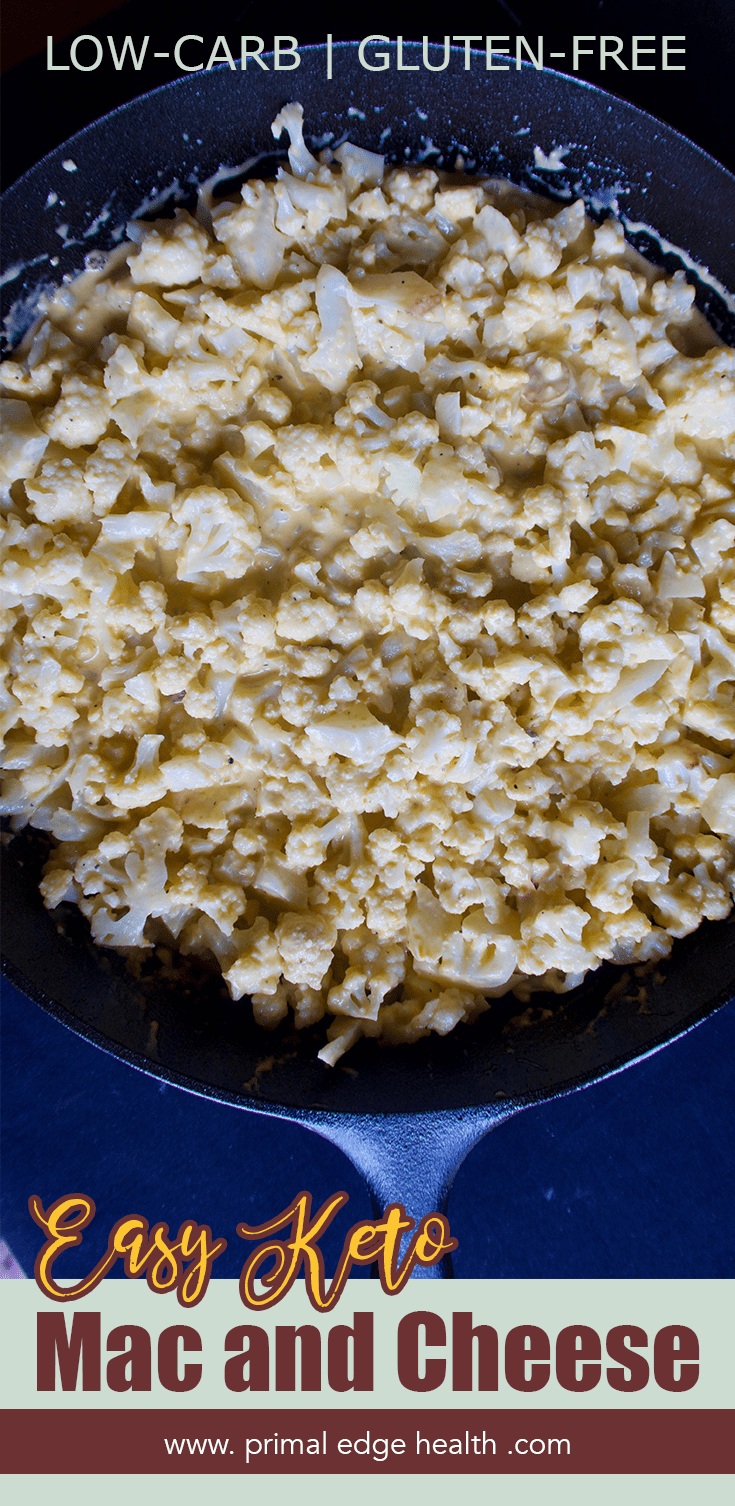 Easy keto recipes can still be family-friendly, delicious, and low-carb.
I'm always searching for tasty low-carb choices, and this dish has truly made a difference for me.
It satisfies my hankering for creamy, cheesy comfort food while staying in line with my keto goals.
Cauliflower steps in for pasta, and the cheesy sauce is pure delight.
It's also super speedy for those hectic days when I crave a quick, comforting meal.
If you're into keto or like eating gluten and grain-free, this recipe is a must-try in your kitchen!
Table of Contents (click to view)
Why You'll Love This Dish
Why should you give keto cauliflower mac and cheese a try?
Here are a few reasons that might convince you:
Low-Carb Goodness: This dish is a game-changer if you're following a keto or low-carb diet. It lets you enjoy the creamy comfort of mac and cheese without the excess carbs.
Cauliflower Magic: The secret ingredient here is cauliflower. It's a fantastic low-carb substitute for pasta, and it soaks up that cheesy goodness like a champ.
Quick and Easy: This recipe won't keep you tied up in the kitchen for hours. It's perfect for busy weeknights when you want a comforting meal without the hassle.
Customizable: You can get creative with the cheese blend and seasonings to suit your taste. Mozzarella, cheddar, or a mix of your favorites – it's all up to you! Make it a complete meal by folding in pre-cooked protein like shredded chicken, smoked salmon, or canned tuna.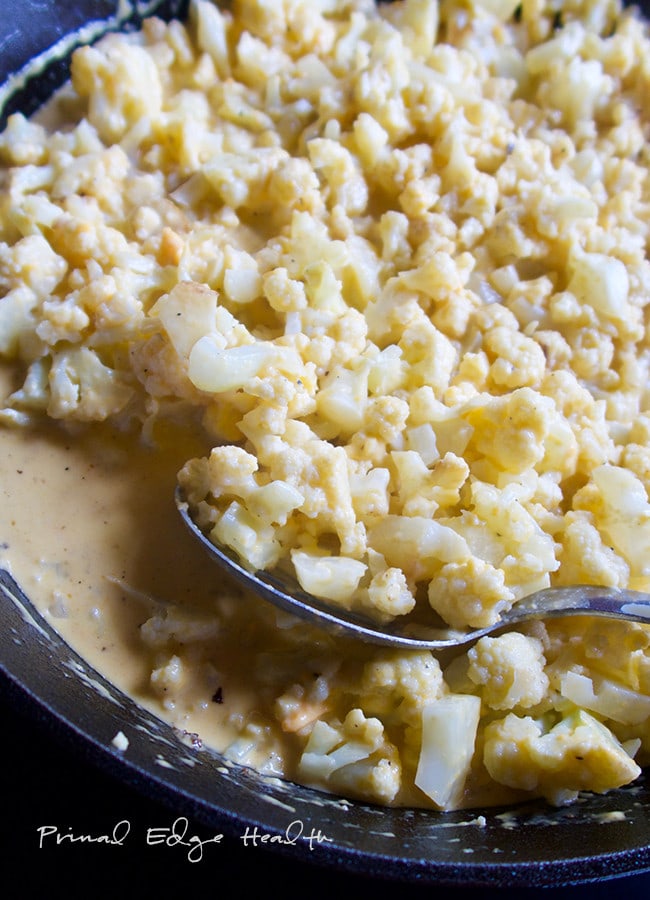 Ingredients You Need
Before we dive into cooking, let's make sure we have everything on hand. Here's what you'll need:
Cauliflower (approx 2 pounds): This humble veggie is the star of the show, standing in for traditional pasta.
Heavy cream: Adds that rich, creamy texture to our sauce.
Shredded cheese (mozzarella, cheddar, etc): The cheesier, the better! Mix and match to your heart's content.
Garlic powder: For that aromatic kick.
Oregano (optional): Adds a subtle herbal note. Feel free to skip it if you're not a fan.
Salt and ground black pepper
Xanthan gum: This low-carb thickening agent works its magic here.
Now that you've sorted your ingredients, let's move on to the fun part – cooking up some keto mac n cheese!
How to Make It
Let's break it down into simple steps:
Cut and Steam: Cut the cauliflower into small, bite-sized pieces. Steam them in a pot until they're tender but not mushy. Once done, strain them and set them aside to cool.
Creamy Cheese Sauce: Warm the heavy cream over medium-low heat in a small saucepot. When it simmers, add in your shredded cheese, garlic powder, oregano (if using), salt, and ground black pepper. Stir until that cheese is melted and the sauce is uniformly creamy.
Thicken It Up: Sprinkle the xanthan gum over the surface of the sauce. Stir it in well and let it sit for about five minutes. This little trick helps our sauce thicken up beautifully.
Combine and Serve: Finally, pour the luscious cheese sauce over the steamed cauliflower. Give it a good mix to ensure every floret is coated in creamy goodness. Serve it up warm, and get ready to savor the keto-friendly comfort!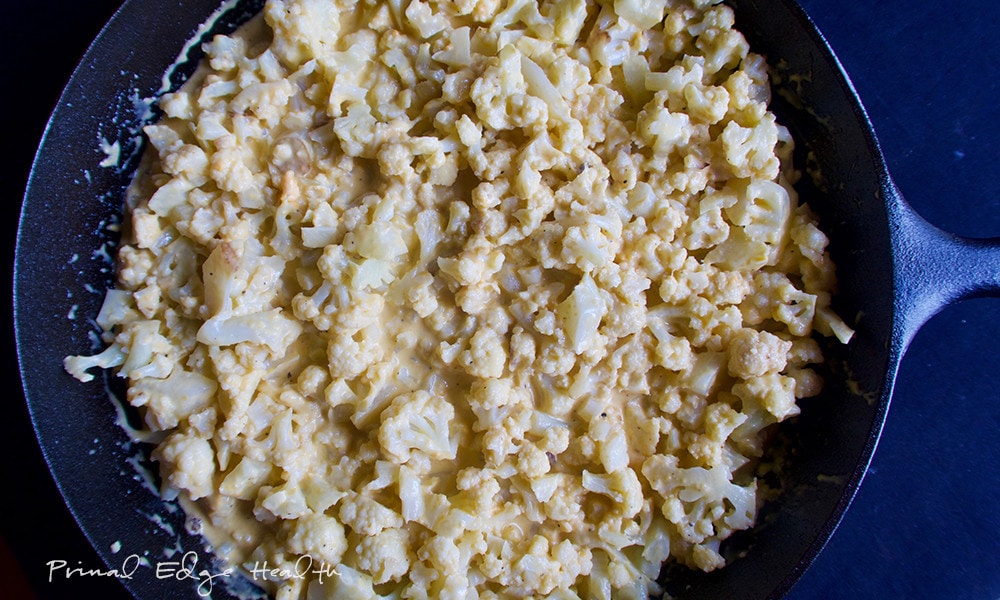 How to Store It
Now, if you somehow manage to resist gobbling up the entire batch in one go, here's how to store your leftover Keto Mac and Cheese:
Refrigeration: Pop it in an airtight container and store it in the fridge for up to three to four days. Just be sure to reheat gently to maintain that creamy texture.
Freezing: You can also freeze this dish for longer storage. Place it in a freezer-safe container or resealable bags. Remove as much air as possible. It'll stay good for about up to three months, so label and date clearly. Thaw and reheat when you're ready to enjoy.
What to Serve with It
Keto cauliflower mac and cheese is delightful on its own, but you can take it to the next level, and make it a more satisfying meal, by pairing it with these tasty additions:
Shredded Chicken: Easy to batch cook ahead of time and keep on hand for quick prep meals.
Pot Roast: Make a classic comfort food dinner with a hearty pot roast.
Grilled Pork Chops: Savor the smoky flavor and juiciness of grilled pork chops. Great for summer cookouts.
Baked Salmon: Delight in the rich taste of baked salmon, or try salmon burgers for a twist.
Bacon Bits: Because everything's better with bacon, right? Crumble some crispy bacon on top for a flavor explosion.
Keto Chicken Fried Steak: Double up on comfort with a low-carb dish straight out of the South.
Cauliflower keto mac and cheese is proof that you can have your comfort food and eat it too, even on a low-carb diet.
It's easy to make, utterly delicious, and opens the door to endless customization.
So go ahead, whip up a batch, and savor the cheesy goodness – guilt-free!
More Low-Carb Pasta Recipes
Replacing wheat-based and gluten-containing pasta noodles with vegetable alternatives is surprisingly easy.
Zucchini transforms into perfect "zoodles," while spaghetti squash can be baked and used under a marinara sauce with meatballs, much like traditional spaghetti.
You might like these other keto pasta recipes: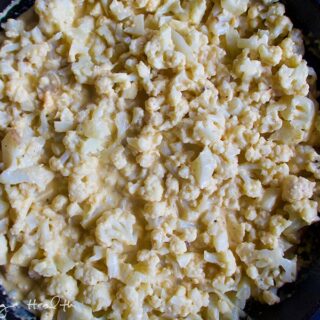 Easy Low-Carb Keto Mac n Cheese Recipe
Dive into this keto mac and cheese recipe next time you are looking for a low-carb way to satisfy comfort food cravings. Indulge in the creamy, cheesy goodness you love, ready in 15 minutes with only a handful of ingredients.
Instructions
Cut the cauliflower into small bite sized pieces. Steam it in a pot. Once tender, strain and set aside to cool.

Warm cream over medium-low heat. Once simmering, add the cheese, salt and optional seasonings. Mix to combine. Remove from heat once cheese is just melted.

1 cup heavy cream,

2 cups shredded cheese,

1 teaspoon garlic powder,

½ teaspoon oregano,

½ teaspoon salt,

¼ teaspoon ground black pepper

Sprinkle the xanthan gum over the surface of the sauce. Stir in well and leave to sit and thicken for

five minutes

. Finally, pour the sauce over the cauliflower, mix to thoroughly coat the cauliflower, and serve warm.
Nutrition & Macros
Calories:
282
kcal
Carbohydrates:
8
g
Protein:
12
g
Fat:
23
g
Saturated Fat:
14
g
Sodium:
287
mg
Fiber:
3
g
Net Carbohydrates:
5
g
To obtain the most accurate representation of the nutritional information in a given recipe, please calculate the nutritional information with the actual ingredients and amounts used, using your preferred nutrition calculator. Under no circumstances shall the this website and the author be responsible for any loss or damage resulting for your reliance on the given nutritional information.
Made this? Leave a Rating! ⭐⭐⭐⭐⭐
Tag a photo with @Primal_Mom and #PEHRecipe on Instagram to share with us!