This Real Plans review examines the pros and cons of a popular keto diet meal plan app by discussing the features, user experience, and prices. We want you to be informed to decide if this tool will help you successfully meal plan a keto diet even while cooking for non-keto dieters in your family.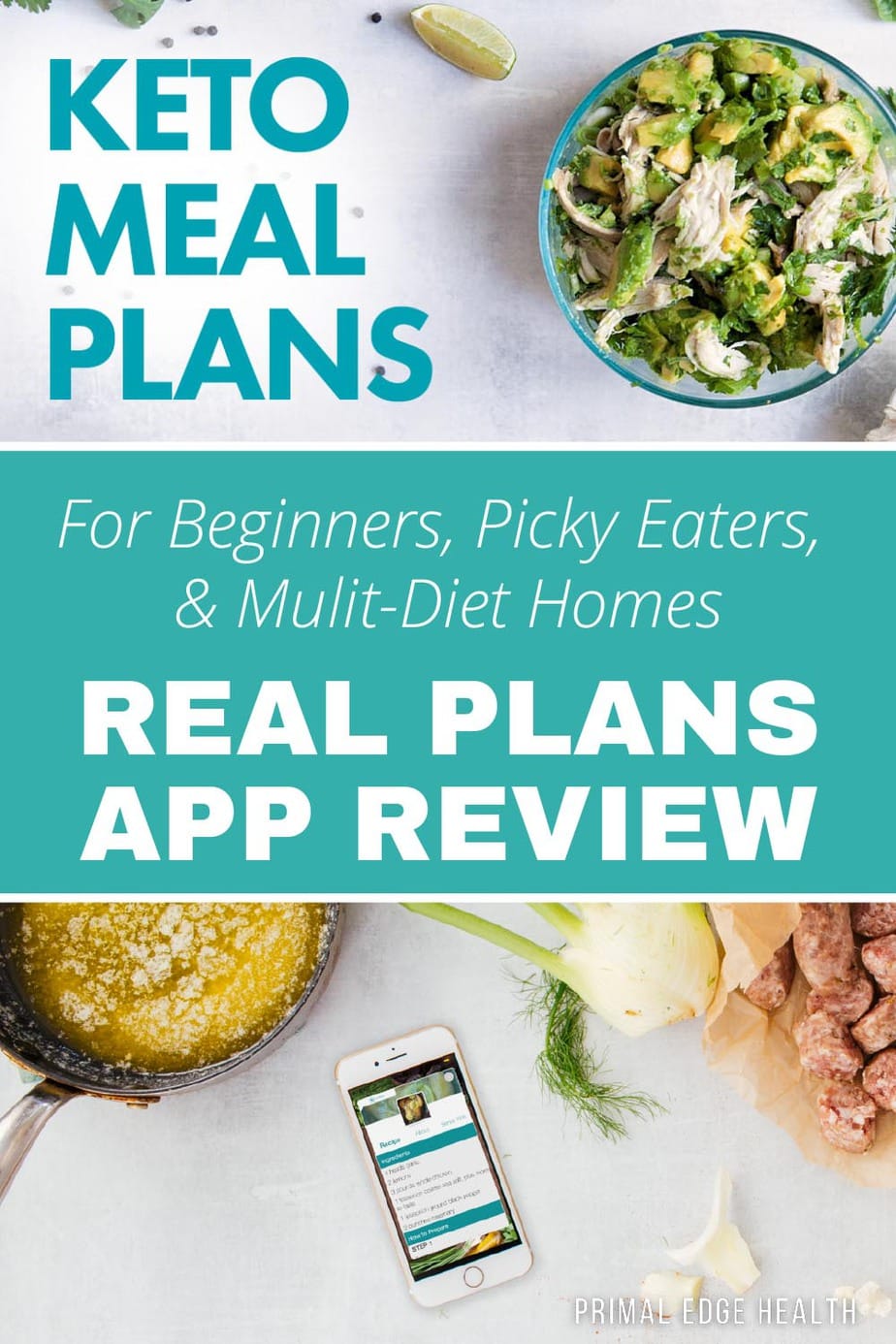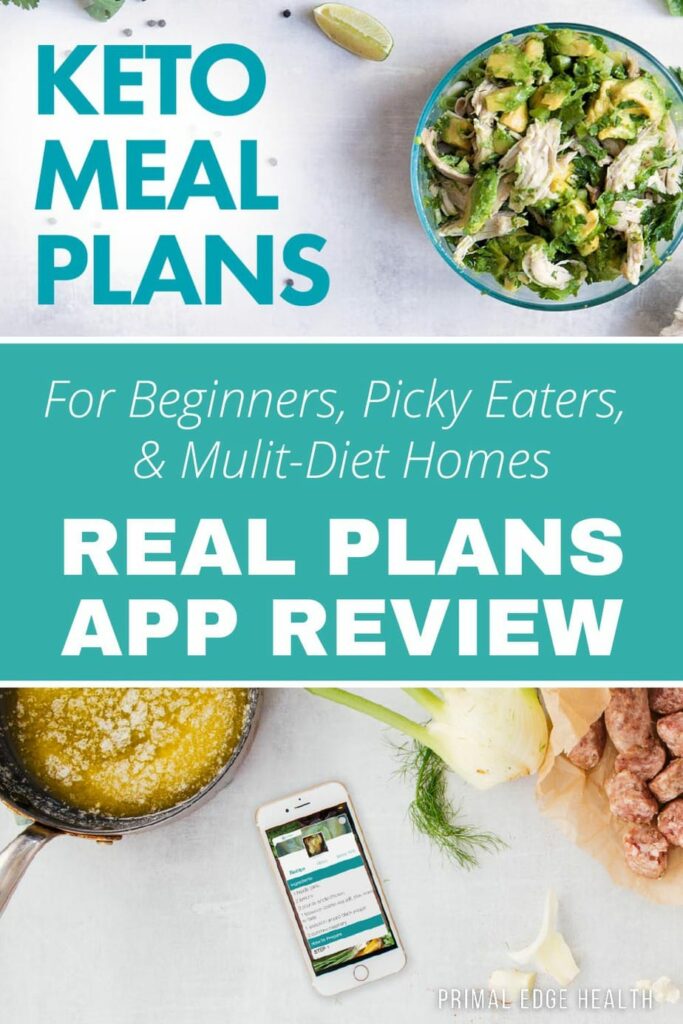 Table of Contents (click to view)
How to Keto Meal Plan with a Family
Figuring out a new low-carb way of meal prep is a big challenge for many beginners on a keto diet. It makes sense because so many of us learned to eat carbohydrates (bread, pasta, grains, etc.) with every meal. After all, carbs are the foundation of the food guide pyramid that was pushed into our brains during our younger years.
Contrast that upbringing to a keto diet where we use substitute ingredients to minimize carbs, eat fatty foods, and follow keto macros. What a flip around!
This new process becomes more manageable when you use easy keto recipes as the foundation of your diet. Cooking simple meals with everyday ingredients allows you to quickly build healthier daily meal prep habits, learn macros, and stray on track towards your goals.
Sounds good so far, right? However, what about all of us who cook for the family and are responsible for feeding people on multiple diet types?
This is where the Real Plans app might change your life. Read on and learn more about weekly meal planning, tracking macros, shopping lists, and unique customizations.
Benefits of Meal Planning
If you're anything like me, stress brings out your worst qualities. And it will do the same for your meal plan. As soon as life introduces tension, the weaknesses in our planning become painfully apparent!
We're more likely to overeat and eat off plan when we're caught unprepared.
Do yourself a favor and think ahead, so you don't wait until the last minute to shop, prep, or cook.
Plus, with a meal plan, you will also:
Learn portion control
Save money
Avoid wasting food
Save time
It's a simple truth that having a meal plan makes life so much easier.
I've signed up for different planning apps and programs, downloaded meal planning packets, and even made a keto meal planner template. With all this experience under my belt, I can honestly tell you: nothing compares to the quality and detail of Real Plans.
Real Plans is a meal planning app that helps you and your family consistently enjoy healthy, home-cooked food. Their award-winning meal planner is brimming with delicious recipes and is easily personalized for your unique tastes and lifestyle.
It is the best meal planning app I've seen, especially for those who cook for multiple diet types.
Real Plans Review for Keto Diet Meal Plans
Instead of rigid plans of what you "have to" make and eat, Real Plans provides the flexibility of adjusting to your family's specific (and changing needs).
With a visual dashboard, you can swap out ingredients that you don't eat, discard dishes you don't like, and pick recipes based on the ingredients you do.
Dial-in your weekly menu according to dietary restrictions, family size, ingredient preferences, and even your kitchen tools.
Filter out allergens, add non-compliant foods to your customized diet and even exclude single ingredients.
Import recipes – Your own or from the web; just copy and paste the website address, and Real Plans does the rest.
Edit your recipe box – Whether it's a Real Plans recipe or one you imported, you can go into each recipe card and edit it as needed.
Create your own tags – To help keep everything organized your way.
You create a realistic keto meal plan that matches your specific preferences and enjoy cooking along every week.
If something unexpected happens, you can easily adjust portion size for leftovers, guests, and family size too.
Using this keto food list with macros is very useful if you want to memorize macros and accurately track food intake mentally, the pen and paper approach isn't for everyone. If you're looking for a keto diet meal app, try Real Plans!
Real Plans App FAQ
How much does Real Plans cost? 
A Real Plans subscription renews monthly, quarterly, or annually depending on your settings. Sign-up monthly for $19, quarterly for $42 ($14/mo), or annually for $79 (6.37/mo). You can cancel the subscription at any time.
How does Real Plans work?
This app creates dynamic shopping lists, meal plans, reminders, and everything you need (even keto recipes!) when it comes to meal prep for your specific family size, diets, tastes, and budget.
How to meal plan multiple diet types on one menu?
Finally, this process gets easy because the Real Plans app allows users to select or filter out ingredients based on personal settings. You can pick premade templates or customize them with your own ideas. This process helps transition the entire family to healthier eating.
What are the drawbacks of Real Plans?
I suppose it won't make the food for you, but the app does put together grocery lists (complete with the exact amount and a picture of what you're looking for) and reminders if something needs to be defrosted or put in a slow cooker.
Is Real Plans Worth It?
I decided to write a Real Plans review because I'm so impressed with the functionality and recommend this to all readers and clients.
If you're unsure if Real Plans is for you, try it out and test. There is a 30-day money back guarantee, so if you don't love it, you get a refund in full.
You can also take advantage of their excellent customer service! The reps are super personable and will answer any questions.
If you struggle with complicated meal prep, last-minute cooking, and picky eaters, give this app a try and see if it helps.
For me, Real Plans is a huge help for simple planning and cooking for multi-diet households!
More Honest Reviews
First published August 23, 2018.