Use this keto food list with macros as an easy reference cheat sheet to fast-track your success on a low-carb diet. Learning about macros is one of the most confusing parts of starting a keto diet, but my free printable list will help you know how many macros are in each keto-approved food. You'll be able to keep track and lose weight without any problem.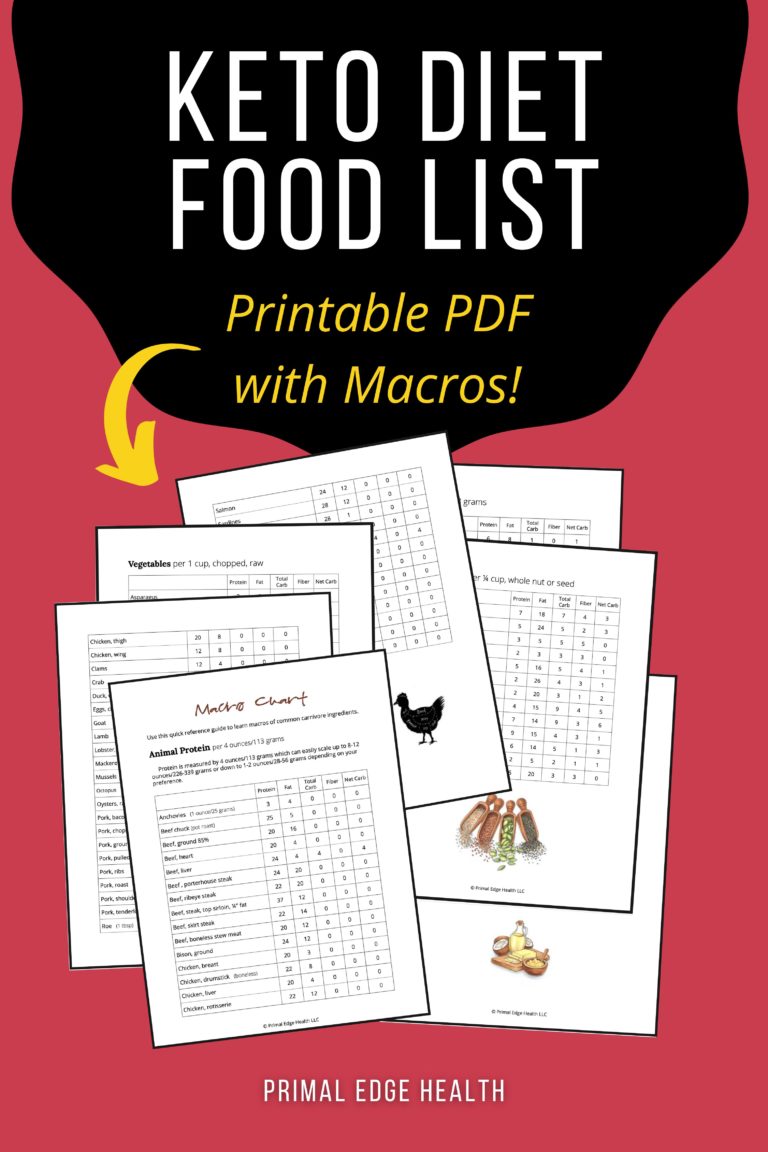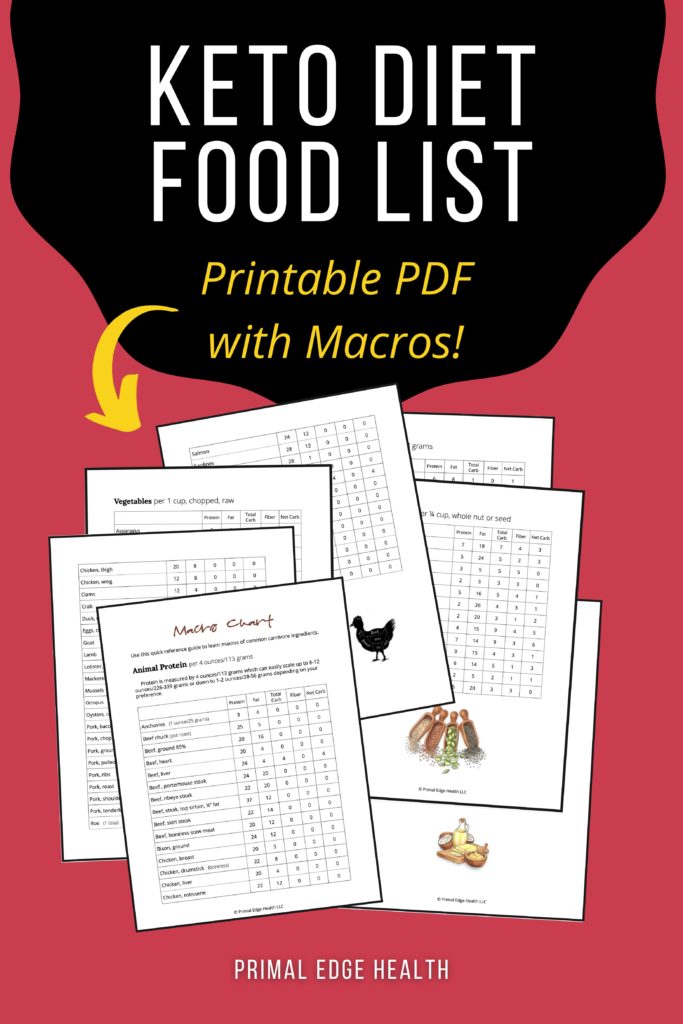 Table of Contents (click to view)
Keto Diet Macros
I was a total beginner when I started a keto diet more than half a decade ago. I didn't have a clue about macros!
Let me help you get started with keto macros.
Follow along with these important points:
Eat simply – Simple meals are easier to track because you have less ingredients to record.
Focus on homemade meals – From-scratch recipes based on whole foods (like all my keto recipes) won't have hidden sugars, flour, or starch. Plus, they are way more affordable than eating out at restaurants.
Be consistent – You'll do yourself a favor if you follow the above two points. Make simple homemade meals the majority of your diet, and eating out or buying ready-made food an occasional occurrence.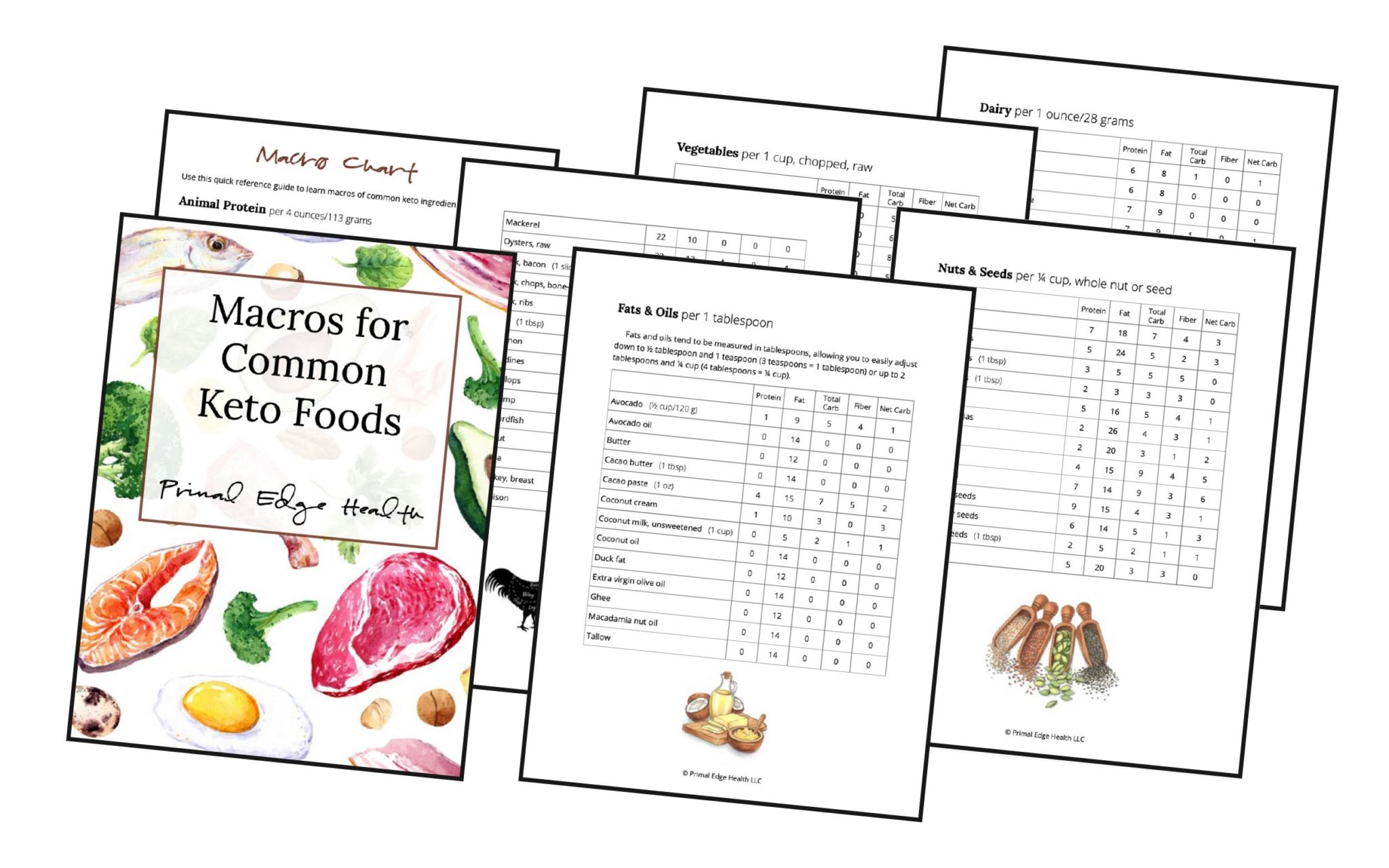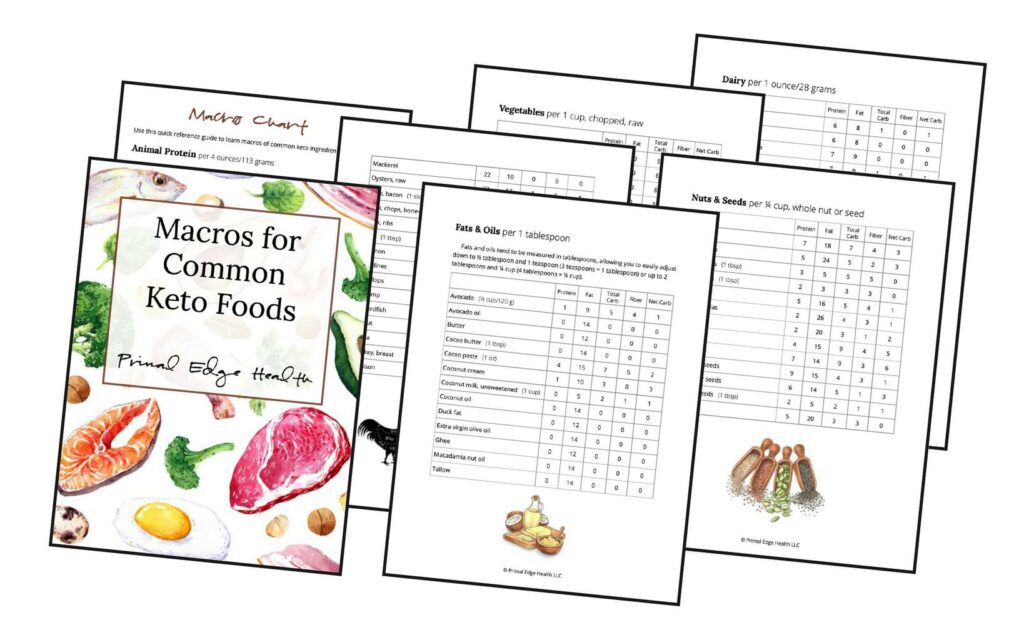 Tracking Macros for Keto Beginners
The more you memorize macros for ingredients you eat all the time, the easier it is to track and mentally calculate daily intake.
Learning macros of your staple foods is a huge benefit. It helps with
Intuitive eating
Properly estimating portion sizes
Know that you're on track
Not being dependent on an app or mobile device
Traveling and eating out without stress
I recommend starting a food journal and writing out what you eat for three days. Then, identify your main ingredients and portions sizes and remember those numbers!
For me, I know macros for my usual protein (eggs, ground beef, and steak) and a roughly estimated serving size of various low-carb vegetables and fruits. With these in my mental catalog, I can cook, eat, and feel assured portions aren't out of balance for my goals.
I rely on this Keto Macro Tracking Guide + Worksheets to keep everything in order.
Understanding and being comfortable with tracking macros is integral to making a keto diet work for you long-term. This relaxed attitude about food also allows the transition from following a keto diet to participating in a keto lifestyle. (1, 2, 3)
It's good to know weighing and tracking for food doesn't need to last forever. However, I strongly recommend putting forth the effort initially because it's much easier to stand once you have a strong foundation. Train your body and mind now, so you don't have to struggle and correct them later.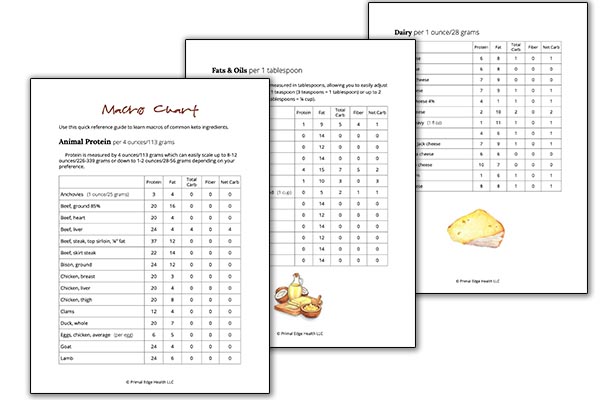 What to Eat and What to Avoid on a Keto Diet
Why not learn the grams of protein, fat, and carbs in each ingredient as you also begin to understand what to eat and what not to eat on a keto diet?
Once you get a feel for the two categories, choosing keto-friendly substitutions for all your favorite foods will become second nature.
All ingredients are categorized by food type: protein, fats and oils, vegetables, nuts and seeds, and dairy. Each listing has total grams of protein, fat, carb, fiber, and net carb per serving size.
It's a helpful display of information for beginners and those who have followed keto for a while but haven't seen the results they want. Dialing in macros is a big deal!
I hope this chart helps you as much as it helped me.
Keto Food List with Macros Printable
Subscribe to Primal Edge Health via GROW to download our free printable list!
(Be sure to allow the pop-up window, so you can sign in)
If you're already logged in, the content will display below.
👇👇👇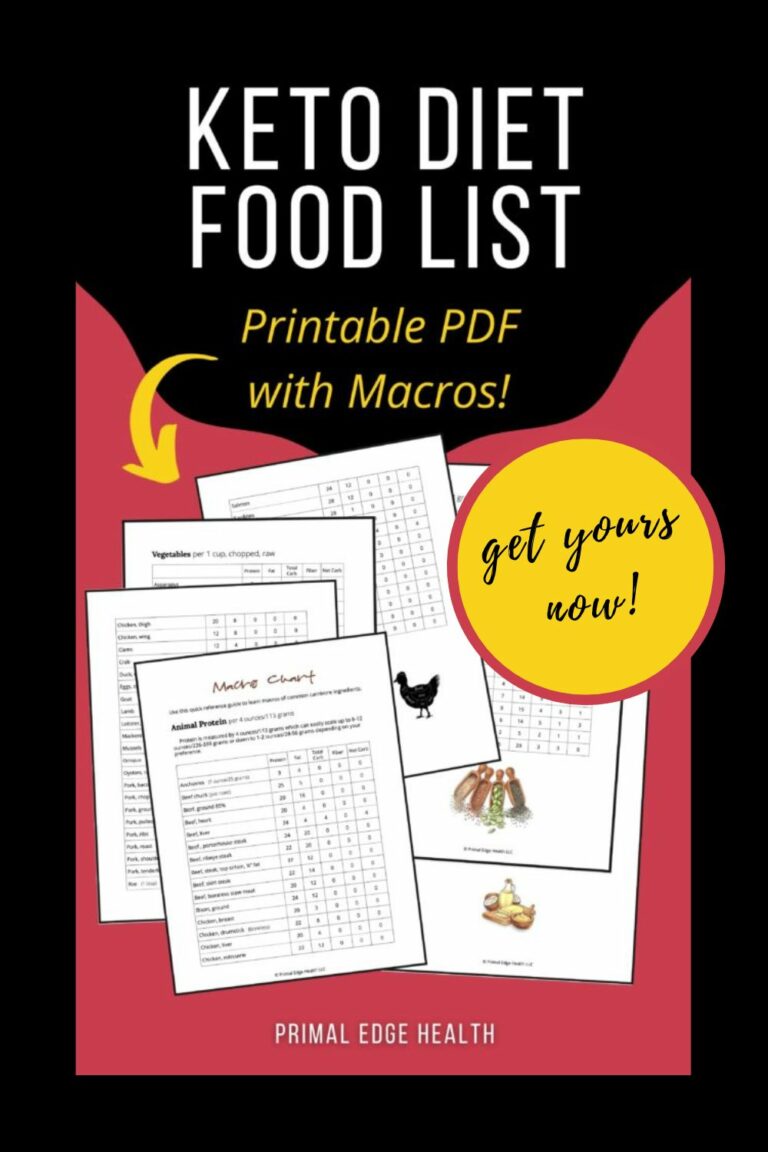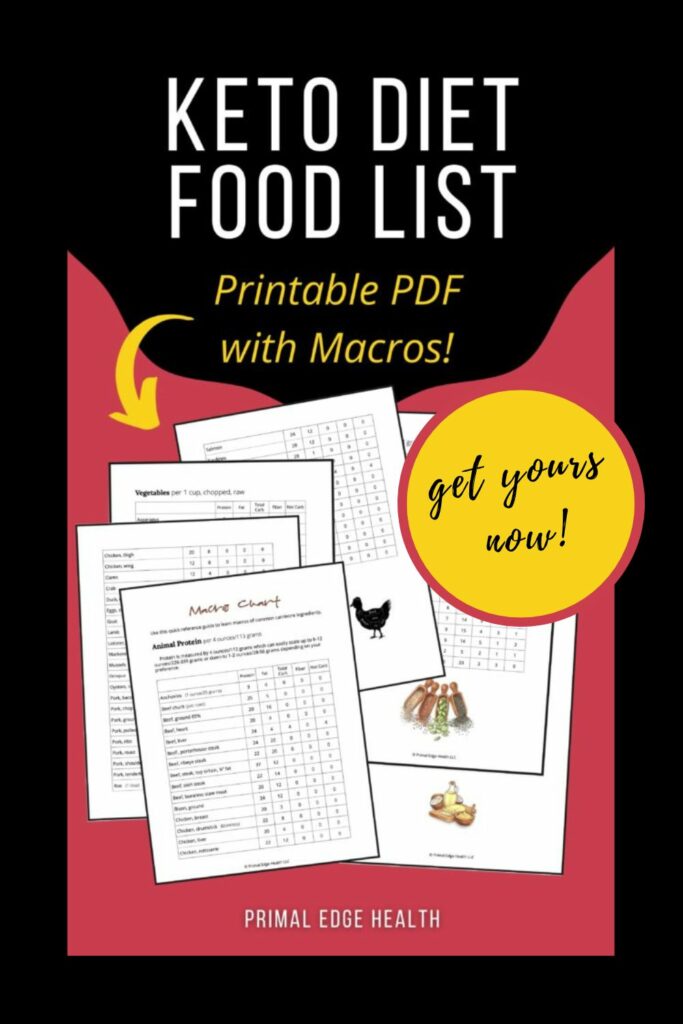 Keto Macro FAQs
Do you still have questions when it comes to keto macros? Let me answer the most common ones.
What are the macros for a keto diet?
In short, a keto diet is high-fat, moderate-protein, and low-carb. Typically, the maximum carb intake is 50 g carb or 30 g net carb per day. Quickly scroll back up to the first header, "keto diet macros," and review that section again.
Do I have to eat all the macros for a keto diet?
High fat and protein intake helps us reach satiety quickly and efficiently. If you're hungry, eat a little more. Otherwise, stop once you feel full because that's a sign your body is nutritionally satisfied. You don't have to eat all your macros if you aren't hungry.
What foods ruin ketosis?
All sugary foods will ruin ketosis! Eliminate soda, fruit juice (except lemon juice), most bottled drinks, cereal, grain, starches, dessert, candy, and most fruit. Stick with me because I have keto-friendly alternatives you'll love!
Get More Free Keto Printables
Keep organized and stay focused by mapping out your info in a visual form you can reference whenever needed. Follow these lists, so you know exactly what to eat and what to avoid on a keto diet.
Originally published June 22, 2019.