Do you know how to track macros on keto? Before your eyes go screwy, take a deep breath, and read this article. I will share simple tips for beginners that will make your weight loss journey so much easier. So take notes and then download our free printable worksheets to get started!
Table of Contents (click to view)
Guide to Keto Macros for Beginners
Keto macros are an important part of a keto diet. Even though many people may see weight loss without considering or tracking macros, their success usually doesn't last forever. Sooner or later, people hit a stall or plateau and are left raising their hands, wondering what to do.
Tracking macros could be one of the reasons you're not losing weight on keto. Learning about keto macros takes the guesswork out of your approach and refines your strategy. Daily macro goals dial you into specific nutrient intake determined by your unique body composition, activity levels, and preferences.
Watch Tristan's video "Keto Macros Made Easy" located above in the video player of this post. It's so informative!
How to Track Keto Diet Macros
Our guide to keto macros takes beginners step-by-step through a few simple exercises so you can determine the level of fat, protein, and carbs that works best for you.
I would avoid copy and paste advice or cookie-cutter recommendations as much as possible. A diet will work best when it's customized specifically for you!
The guide shared below will be suitable for any goals: weight loss, weight gain, muscle building muscle, and maintenance.
Begin by downloading the printable keto macro guide. Then, pick the macro tracker template that works best for you. You can also mix and match, rotating between a few at a time. I like storing the worksheets in a binder or folder.
These keto macro tracking worksheets will help you:
Set keto macros the easy way
Track daily food intake
Record progress
View changes over time
Stay motivated and on track
The user-friendly tracking templates are intuitive, colorful, and easy to read. Bright colors and an engaging design make the whole process fun!
Set your numbers first, then record your daily food intake and weight loss trajectory. It's very gratifying to see the progress laid out on paper before you. It feels good to make progress on long-desired goals!
You can also employ other ways to track progress on keto without a scale.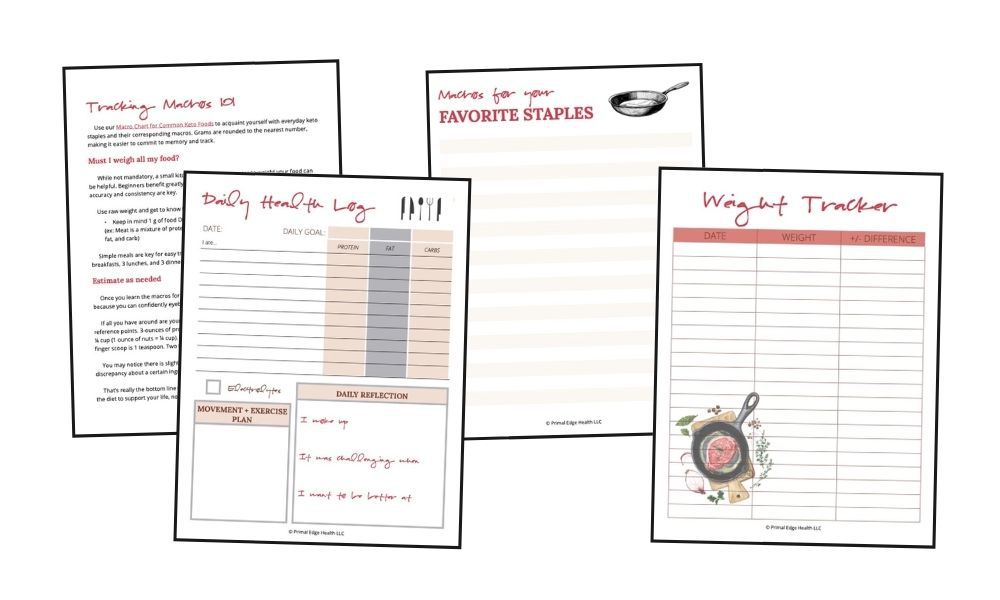 How to Calculate Macros for Keto
Forget the complicated apps and confusing percentages. Instead, we give you a simple, easy to follow, and practical approach to keto macros for fat loss that will make your keto journey successful and enjoyable!
Calculate your macros using our step-by-step directions located in the pdf.
Learn the basics of macro tracking with our simple tips.
Pull all the information together in a real life, practical way with printable templates for daily food (macro) intake and body measurements.
Customize daily or monthly planners for any month or year.
Print out as many copies of each template as needed, staple them together in a packet, or store them in a meal planning binder/folder.
Review and revisit your plan monthly.
Macro Tracking for Beginners FAQ
What should my macros be on keto?
We teach you how to calculate macros based on activity, build, and current body composition. You will set protein, fat, and net carb goals. Emphasizing net carb over total carb excludes indigestible fiber, which does not contribute toward nutrient (calorie) intake. This practice also allows you to enjoy low-carb vegetables, nuts, seeds, and other healthy foods more liberally without worrying about numbers.
Does the keto diet macro ratio matter?
Some people push percentages and say 70% of calories must come from fat, 25% from protein, and 5% or less from carbohydrates. We this approach is misleading and doesn't get the best results. We don't suggest calculating macros based on a ratio or percentage for those reasons.
How to count macros on keto?
You'll want to use a food scale for the most accurate results. We recommend weighing your food often in the beginning until you feel comfortable with correct portion sizes and have a good eye for estimating. Once you know how much you're eating, you can sum the total macros for each ingredient. Be aware of how quickly carbs can add up!
How to keep track of keto macros?
Personally, the best way for me to track keto macros is with the printable keto diet food tracker from our downloadable keto macro guide. Navigate to the form below, add your email, and tell me where to send the file!
Free Keto Macro Tracker Printable Guide
Get your personal keto diet food tracker printable right now! These macro tracker templates are perfect for beginners and anyone who wants to break a stall.
More Free Keto Printables
Keep organized and stay focused by mapping out your info in a visual form you can reference whenever needed. Follow these lists, so you know exactly what to eat and what to avoid on a keto diet.
First published May 19, 2019.