A proper strategy and simple, practical carnivore diet meal prep tips will save you time, energy, and sanity in the kitchen!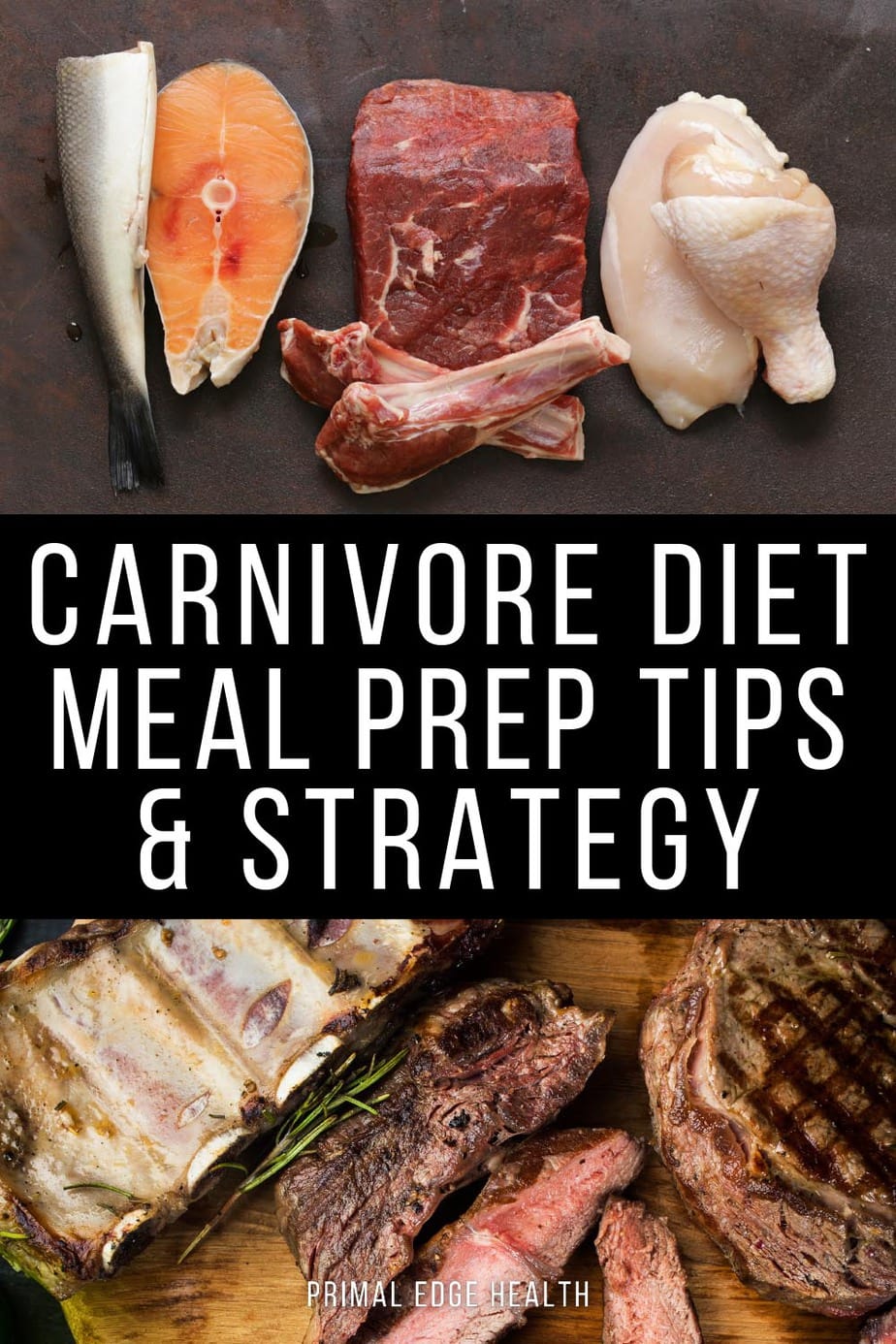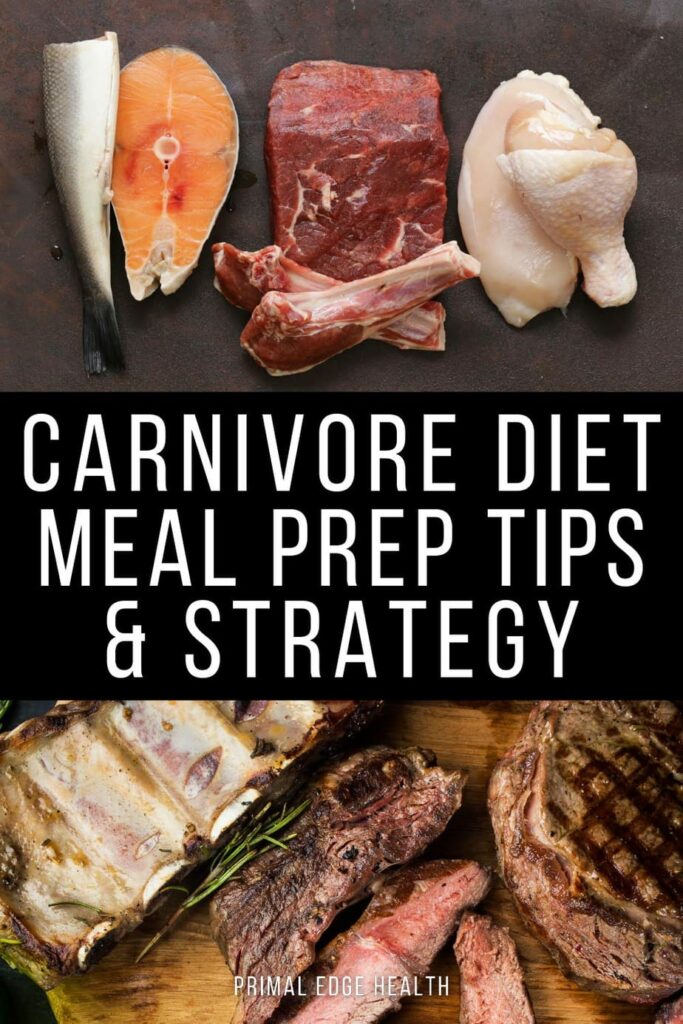 Table of Contents (click to view)
Easy Carnivore Diet Recipes
Meal prep is a huge task to take care of every day. Help yourself out and simplify this task by dedicating some time to dialing in your efforts.
In my experience as a homesteading, homeschooling, busy work-at-home mom, carnivore diet recipes are the absolute easiest recipes to cook. There's no question, elemental recipes made around essential nutrients (aka animal protein and fat) are quick and painless to get on the table.
When you're ready to get started, I recommend reading What to Eat on a Carnivore Diet. You'll get a clear picture of what's allowed and what's not allowed on a carnivore diet, so you can make the best choice possible.
I also have a complimentary Carnivore Diet Food List you can download and save on your phone or print and keep attached to your fridge. I'm a pen and paper kind of gal and always choose the print option whenever possible.
If you want to track macros on a carnivore diet (you don't have to!), I have a handy carnivore diet food list with macros too!
Carnivore Diet Meal Plan
Are you ready to get started?
What's the first thing to do when you want to improve your meal prep?
You have to plan!
Planning ahead is the key to being prepared and ready for the week to come.
You don't have to get every nitty-gritty detail down. However, focusing on the big picture and planning at least one meal a day will bring success.
To help, I made awesome Carnivore Diet Meal Planner printable templates! Print out a few copies each month and jot down all your ideas. These clear and easy-to-follow pages will eliminate confusion around carnivore meal prep. Plus, the file is completely FREE for you!
If you prefer a premade meal plan, I have one of those too. Take a look at my 21 day carnivore diet meal plan and see if it's right for you. This packet has answers to beginners' common questions, expert tips on optimizing your dietary success, and 3 weeks of meal plans with individual shopping lists, recipes, macros, and bonus tips!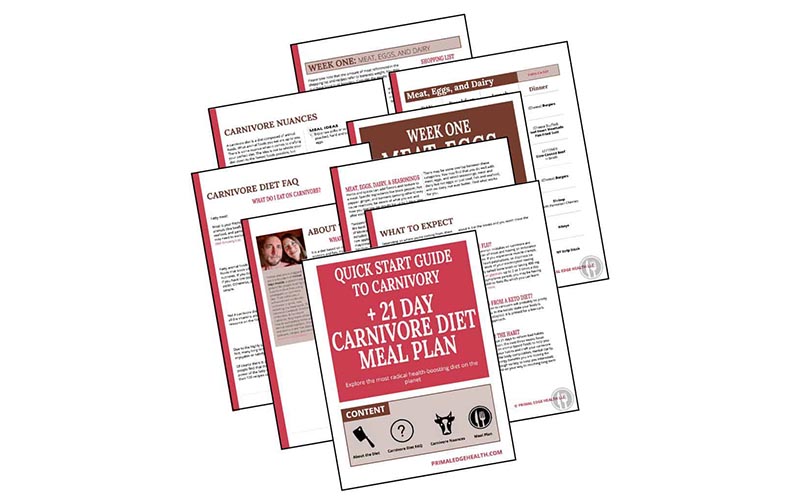 Carnivore Meal Prep Tips
Hopefully, you're as inspired as I am about all the easy carnivore-style cooking ahead.
Allow me to share my top three carnivore diet meal prep tips.
Follow along to fast-track your success!
Batch Cooking Once a Week
Think about your favorite meals.
What do you eat most often?
Pick a day to bulk prep these one time a week. Double, triple, or quadruple batch them, so you have enough to grab-and-go or reheat during the week.
If once a week isn't enough, block out a chunk of time to do this two or three times, so there's enough food to last for multiple meals in-between.
Here are some things I prepare this way:
Make-Ahead Meals
Make-ahead meals use a similar approach as batch cooking. The idea is to have food on hand and pre-prepped before you're ready to serve a meal.
Slow-cooked dishes are great for this purpose since they are usually prepped earlier in the day, then served hot from the slow-cooker or reheated another time.
Here are some ideas to get you started:
Freezer-Friendly Recipes & Storage
Make the most of your freezer space by filling it with delicious meals!
In addition to all the mentions above, these recipes also freeze well:
Freezer-Friendly Meal Prep FAQs
How to safely store meat in the freezer?
First, wash your hands and pick out clean, freezer-safe containers or bags for storing. Then, pack the food and arrange it in a single layer in the freezer. Once the material is frozen, you can move it around to fill the space best.

For best results, store frozen meat for up to 3 months. After this time, the flavors and texture may deteriorate.
Check out these tips on how to store and pre-portion ground beef for the freezer. Then, organize a chest freezer the right way
References: 1
How to freeze recipes in the freezer?
Let the foods cool slightly before packing them in storage containers or freezer bags. You don't want to put hot food directly in the freezer.

I use bags often because they store beautifully. First, fill the bag with food, then place it flat in the freezer for a few hours or overnight. Next, once it's completely frozen, you can arrange it vertically or stack it horizontally.

Always label and date your packages before putting them in the freezer!

Here are some great tips from Jamie Oliver and The Spruce Eats for freezing cooked meat.
Once you get the basics down, follow our Carnivore Diet Challenge and take your experience to the next level with fun, out-of-the-box ideas to expand your horizons!
More Carnivore Diet Guides for Beginners