Download this free carnivore diet macro food chart to help correctly track macros and reach your goals! Plus, read over the tips below to dial in your tracking strategy for fat loss, muscle building, or maintenance.
Table of Contents (click to view)
Carnivore Diet Macros
Once upon a time, I didn't have a clue about macros! If you feel the same and aren't sure how to make numbers out of the food on your plate, rest easy.
I want to give you this chart as a quick reference cheat sheet to make your carnivore diet easier.
First of all, not everyone needs to track macros on a carnivore diet. Many people see positive results by eating to satiety and following their natural hunger cues. This approach seems to work best on an animal-based diet due to the highly satiating nature of fatty animal protein. (1, 2, 3)
Even so, there are certain times when tracking will prove beneficial.
When to Track Macros on a Carnivore Diet
Consider tracking macros if you:
Have specific or time-sensitive goals
Need to break a plateau
Want to dial in your fat loss and get accelerated results
How to Track Carnivore Diet Macros
We highly recommend you begin by tracking macros by hand rather than an app on your phone.
Not only are tracking apps confusing and time-consuming, but the extra time on your phone isn't doing you any favors in terms of long-term health. Long-term term exposure to EMF and mobile phones is associated with headaches, sleep disturbance, tension, fatigue, and dizziness, among other concerns. (1, 2, 3)
Tracking by hand might seem like a pain at first, but hang in there!
Employing a pen and paper to record your daily macro intake will:
Set you up for long-term results
Commit common macros to memory quicker than relying on an app
Pave the way for intuitive eating
Keep your mind young by practicing simple math equations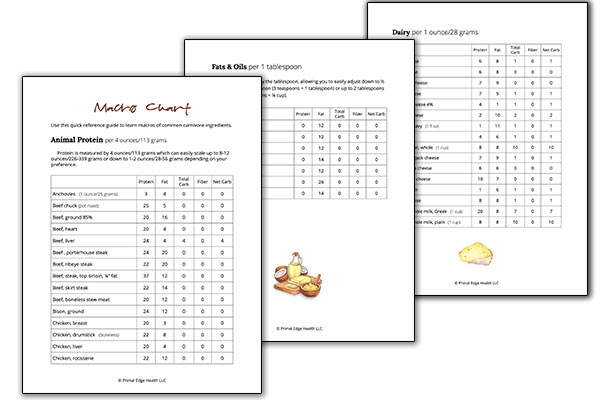 Carnivore Macros for Weight Loss
Your specific context will determine the exact macros you need to follow. We work closely with all members of our private support forum to dial in daily macros and habits.
Weighing and tracking usually doesn't continue forever. Put in the effort for a few weeks and then sooner or later, it will become second nature and you'll be well on your way toward intuitive eating.
Printable Macro Food Chart
Previously, this was a resource reserved exclusively for our private coaching clients. However, after hearing how useful the printable pdf is, we want to share it with everyone!
This downloadable carnivore diet macro food chart is now available to all email subscribers.
Download the pdf and print it out to save with your food log, or keep it on your device and view it digitally.
Each entry contains grams of protein, fat, carb, fiber, and net carb per serving in an easy to read chart.
The list follows along with our Carnivore Diet Food List. Now, you have corresponding macros for everything on your shopping list!
Macros for Carnivore Foods
I'll share the macros for carnivore foods I eat most often. I hope this gets you off on the right foot!
There's nothing scary or difficult about tracking.
Top 10 Carnivore Foods with Macros
85% lean ground beef: 5 g protein 4 g fat per ounce
Beef ribeye: 5 g protein and 3-5 g fat per ounce (grass-fed is leaner)
Beef heart: 5 g protein and 1 g fat per ounce
Ground bison: 6 g protein and 3 g fat per ounce
Bacon: 3 g protein, 3 g fat per slice
Salmon: 6 g protein and 3 g fat per ounce
Eggs: 6 g protein and 5 g fat per average chicken egg
Butter: 12 g fat per tablespoon
Tallow and lard: 14 g fat per tablespoon
Heavy cream: 1 g protein, 11 g fat per 1 fluid ounce
Best Carnivore Diet Recipes
All the best carnivore diet recipes have a healthy protein to fat ratio and are easy to make!
Pick up a copy of my third cookbook, The Carnivore Cookbook, so you can fully master the art of fiber-free carnivore cooking style! This book is more than just a recipe collection; it's a useful guide for anyone interested in the benefits animal-based nutrition and the mindful lifestyle that accompanies it.
Do you need more meal ideas to get started? Try these 30 Easy Carnivore Diet Meal Ideas.
If you need help with your plan, use my carnivore diet meal plan to get started.
I also have a page of 70+ carnivore diet resources you can use!
Top 5 Macro-Friendly Carnivore Recipes
Originally published June 24, 2019. Updated March 26, 2021.