When I first started eating nose-to-tail, over six years ago, bone broth was one of the first recipes I learned to make.
Never-ending bone broth is great to have around once soup season arrives! Bone broth stews and soups are easy, quick, and so comforting. Browse our keto soup recipes for all the ideas you need for low-carb and weight loss-friendly options.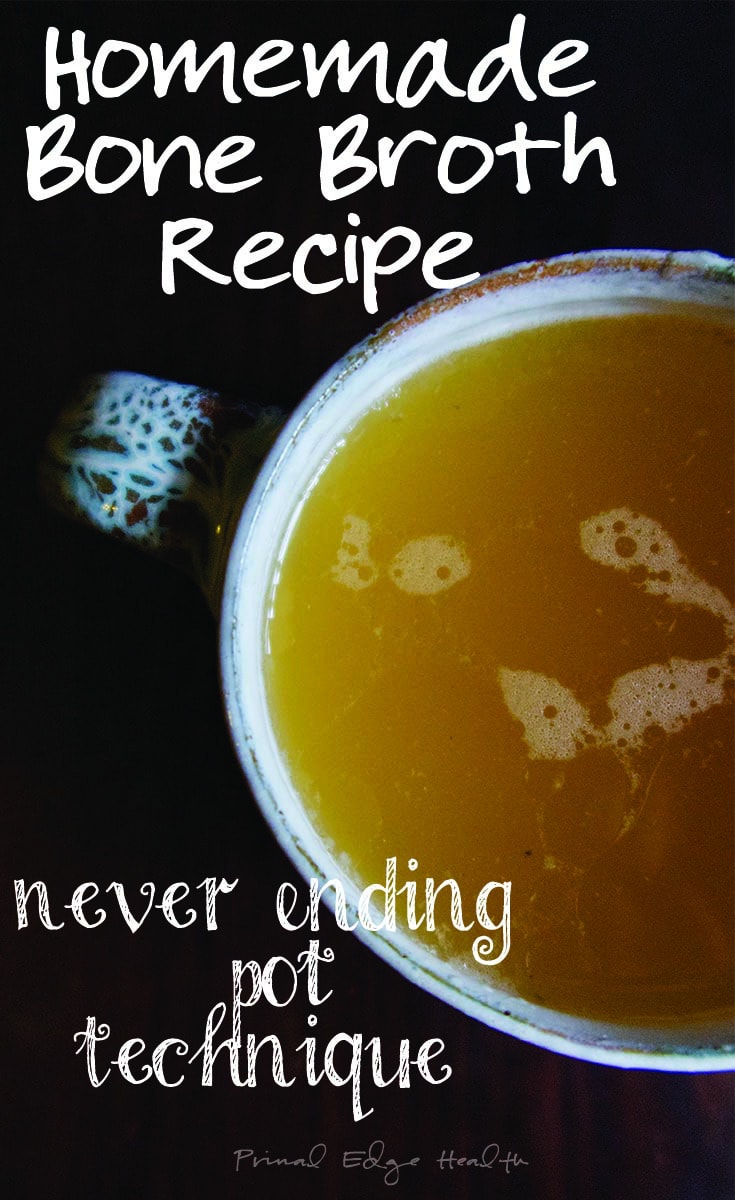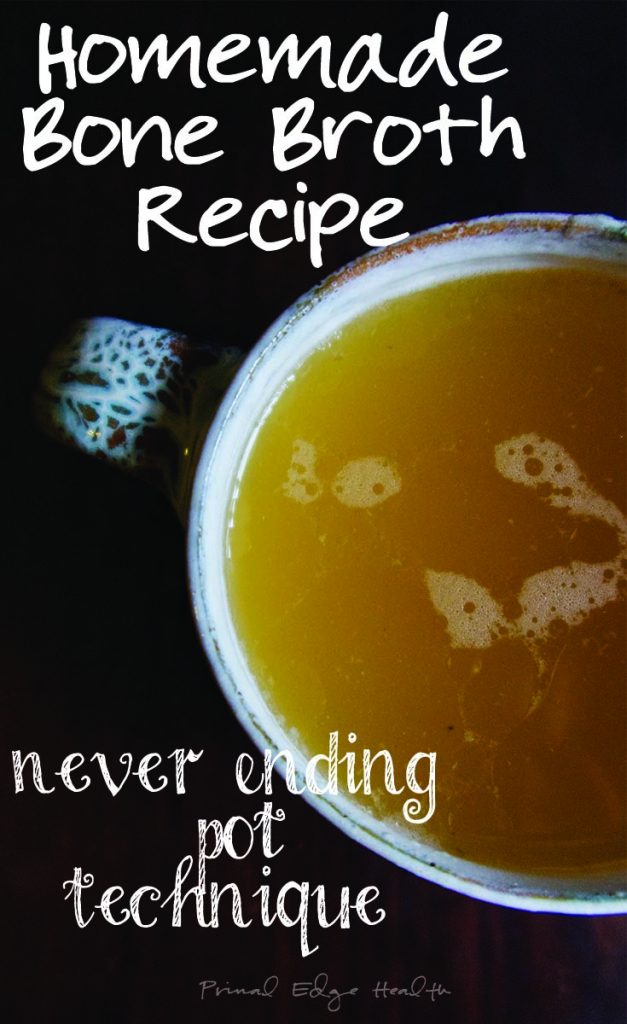 It quickly became a favorite recipe. I can still remember standing in my kitchen fishing out the slow-cooked meat and sucking the collagen off the bones. I really needed the nutrients at the time! It was a very primal moment.
I used this "endless" way of making bone broth because we were drinking it so fast and demand was high! The whole family and all the animals (dogs, cats, and chickens) share my batches of broth.
Tips for Homemade Bone Broth
When you get really into broth and enjoy eating the slow-cooked meat on a regular basis, knowing how to make endless broth takes your food prep skills to the next level!
Nose-to-tail eating can have a very important role for our health and is a respectful way to use all the animal, with little to zero waste.
Bone broths are great for the keto diet or carnivore diet.
Use a mixture of meaty bones, marrow bones, and knuckle bones. Tails and feet are nice too – they will add lots of collagen and gelatin to the broth! (I recommend US Wellness if you don't have a local source!)
Homemade bone broth can be used in so many ways: sauces, dips, soups, purees, and for braising vegetables
Broth can usually be stored in the fridge for 3-5 days; freeze for longer
Tallow rises to the top and will solidify at room temperature. It is an excellent fat for frying and cooking. Your skin will love it too.
A thick tallow cap will seal the broth below and preserve it well, possibly upwards of 2 weeks.
Add scraps or diced pieces of onion, carrot, celery, rosemary, thyme, oregano, bay leaf, garlic, salt and pepper for extra flavor. This step is completely optional and best done for a normal batch of broth when you don't need to fish out reusuable material for "endless" batches
I prefer to skip the veg and use a variety of mineral rich salts instead, they are just enough for me
Want to make a Slow Cooker Beef Bone Broth instead? No problem!
If you're just not ready to make your own, buy organic, shelf-stable broth from Kettle and Fire and sit on this information for a little longer until you're feeling inspired
The history of bone broth has always interested me and I'm happy to be able to continue the tradition in our home and share with others. One of our very first Youtube recipe video/vlogs features this homemade bone broth recipe. It's a fun blast from the past! Our daughter was so young back then!
Get started with the Traditional Homemade Bone Broth Recipe or a zero-carb Carnivore Diet Bone Broth Recipe.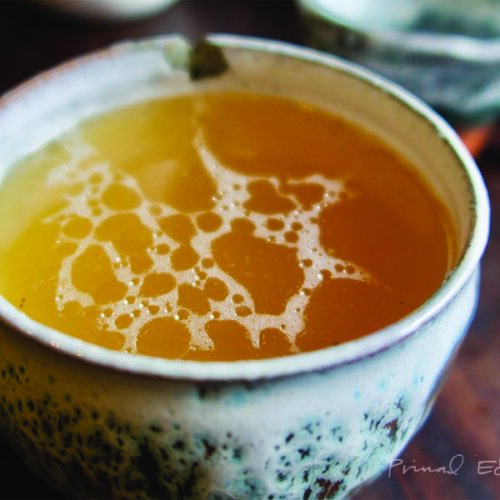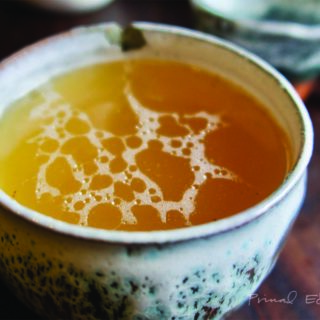 Homemade Bone Broth Recipe | The "Endless" Method
A warm and nourishing "Endless" bone broth recipe dedicated to all y'all that can't get enough of homemade bone broth!
Instructions
Dry roast bones at 350*F until lightly golden brown by placing the bones in a roasting pan or glass pyrex, (no butter or oil). Roast for about 20 minutes.**

In a large pot, add the bones and cover completely with water. Pour in vinegar or lemon/lime juice.

Bring to a simmer over low heat and maintain for 24 hours. Do not boil. Keep an eye on the water line, make sure the bones stay covered with water. Top off as needed.

Add optional herbs and veggie scraps like onion, carrot, celery, rosemary, thyme, and/or oregano in the last two hours of the cooking time.

Remove from heat and let cool a little. If there is any film on top, skim it off. Strain contents through a cheese cloth or fine mesh strainer. Store in the refrigerator for up to 5 days, freeze for longer.

To make ENDLESS broth: Strain the bones and separate what ever meaty parts you want to eat. Return the cooked bones to the pot and add an additional 1-2 pounds of fresh meaty bones. Begin the process again from step 2. Repeat this process over and over again all week (month?) long. You'll see when the bones are done; there marrow will be gone and the porous parts will have disintegrated. Keep the cycle going by tossing the old bones and replacing with fresh meaty ones until you've had enough.
Notes
Classic bone broths are made with onion, carrot, celery, rosemary, thyme, oregano, bay leaf, garlic, salt and pepper. Add what you like.
*Use a mixture of meaty bones, marrow bones, knuckle bones. Tails and feet are nice too - they will add lots of collagen and gelatin to the broth!
**Roasting is optional. The purpose is mostly to affect flavor although some argue that it allows more minerals to go into the broth. To make the recipe ultra fool-proof, just put fresh bones in a pot and move on to step 2.
This recipe makes a base of 4 quarts; 8 2-cup servings.
Nutrition & Macros
Serving:
2
cups
Calories:
2
kcal
Carbohydrates:
1
g
Sodium:
1
mg
Net Carbohydrates:
1
g
To obtain the most accurate representation of the nutritional information in a given recipe, please calculate the nutritional information with the actual ingredients and amounts used, using your preferred nutrition calculator. Under no circumstances shall the this website and the author be responsible for any loss or damage resulting for your reliance on the given nutritional information.
Made this? Leave a Rating! ⭐⭐⭐⭐⭐
Tag a photo with @Primal_Mom and #PEHRecipe on Instagram to share with us!