Check out these Easy Keto Soup Recipes to cozy up with during the winter months and enjoy year-round. Packed with flavor and nutrition yet low in carbs, this collection of the best keto soup recipes has something for everyone. If you are new to keto soups or want some inspiration, you've come to the right place.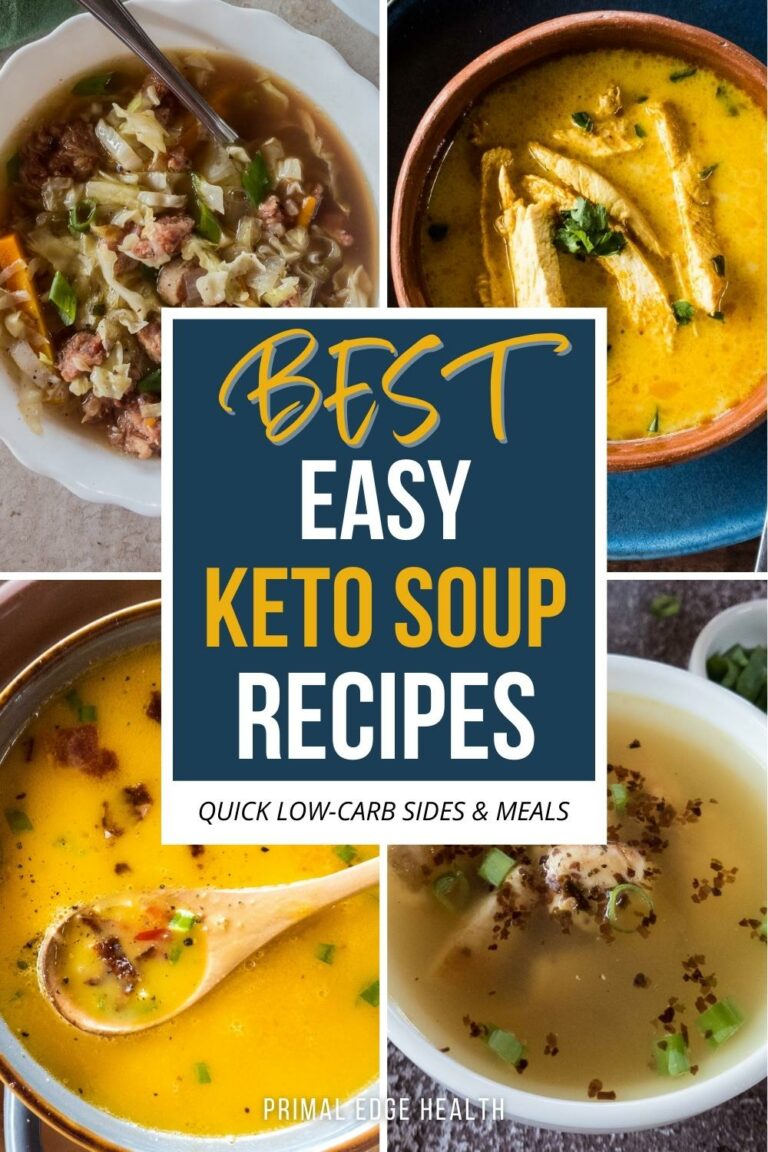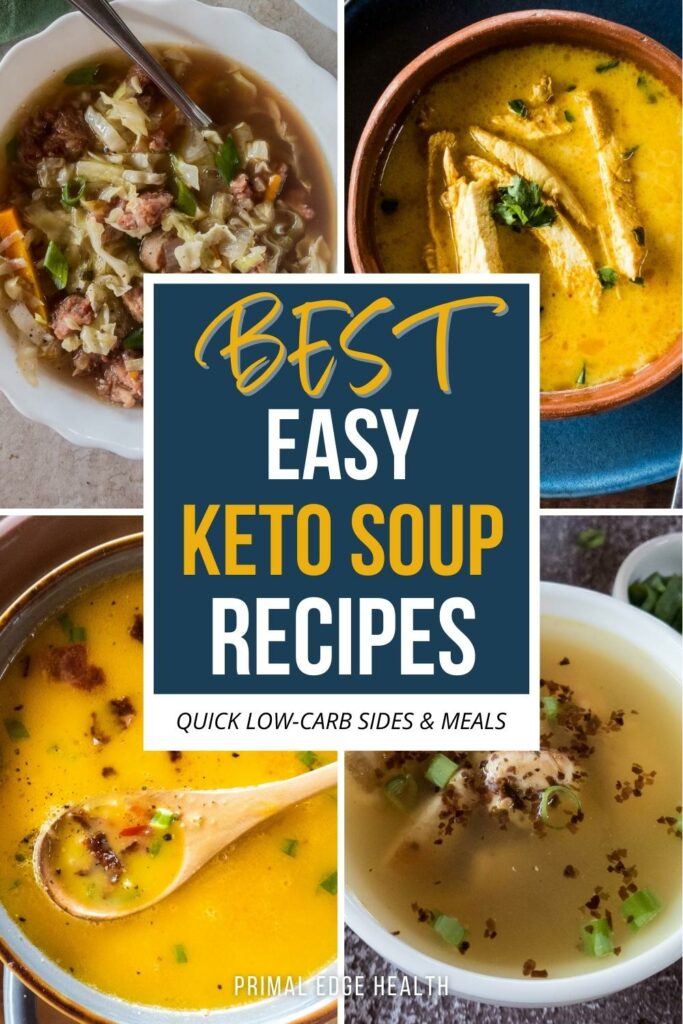 Table of Contents (click to view)
Best Keto Soup Recipes
Are you looking for a keto-friendly soup to warm up to this winter season? Look no further; we have you covered. This collection has everything from brothy and light soups to creamy and hearty.
Soups should be on regular rotation in every kitchen. They are delicious, healthy, and versatile family-friendly meals.
Did you know that soups are an example of traditional meal prep? Back before meal prepping was trendy, soups were made in large pots and could last for days. Most soups taste better after simmering for a while and which gives the flavors a chance to meld.
So, make a big batch of your favorite recipe, and you'll be set with a healthy keto option for several meals.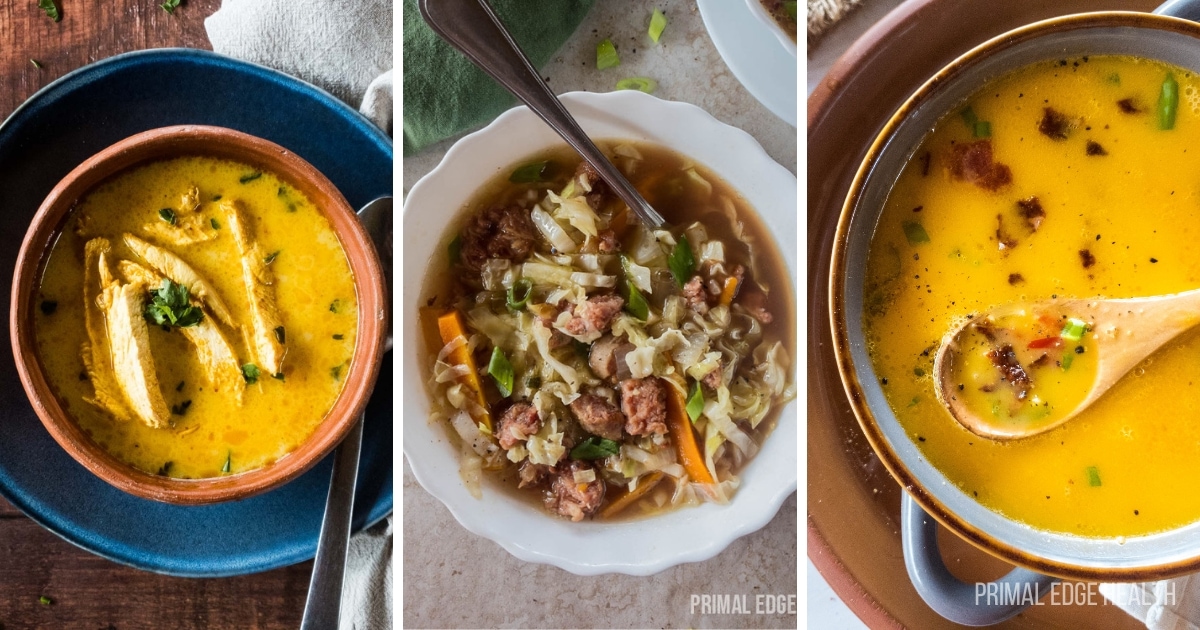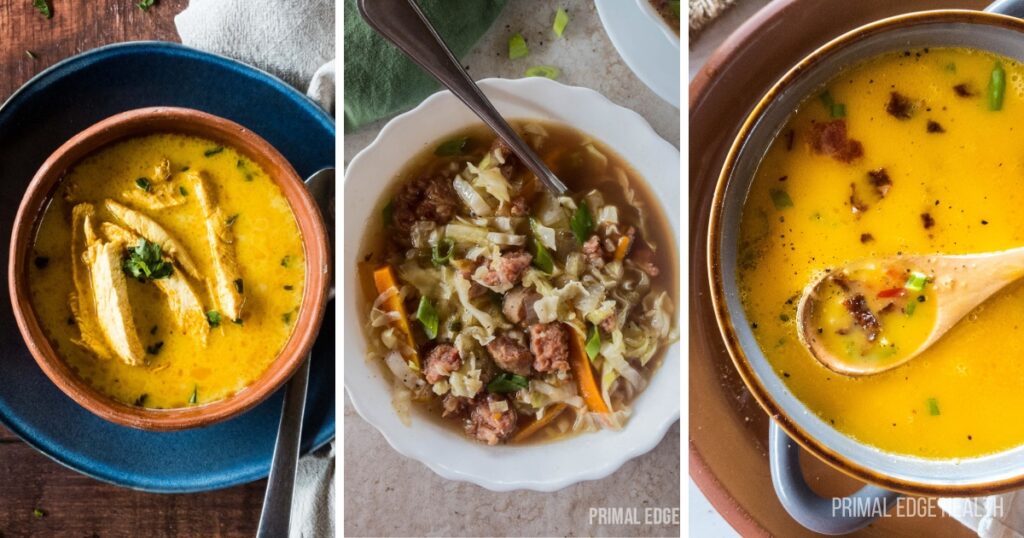 Common Ingredients for Keto Soup
The common ingredients for keto soup are broth, meat or other protein sources, and vegetables. These make the backbone of most soups. From here, you change the flavor profile by using various seasonings and flavorings.
Let's break down these key players further.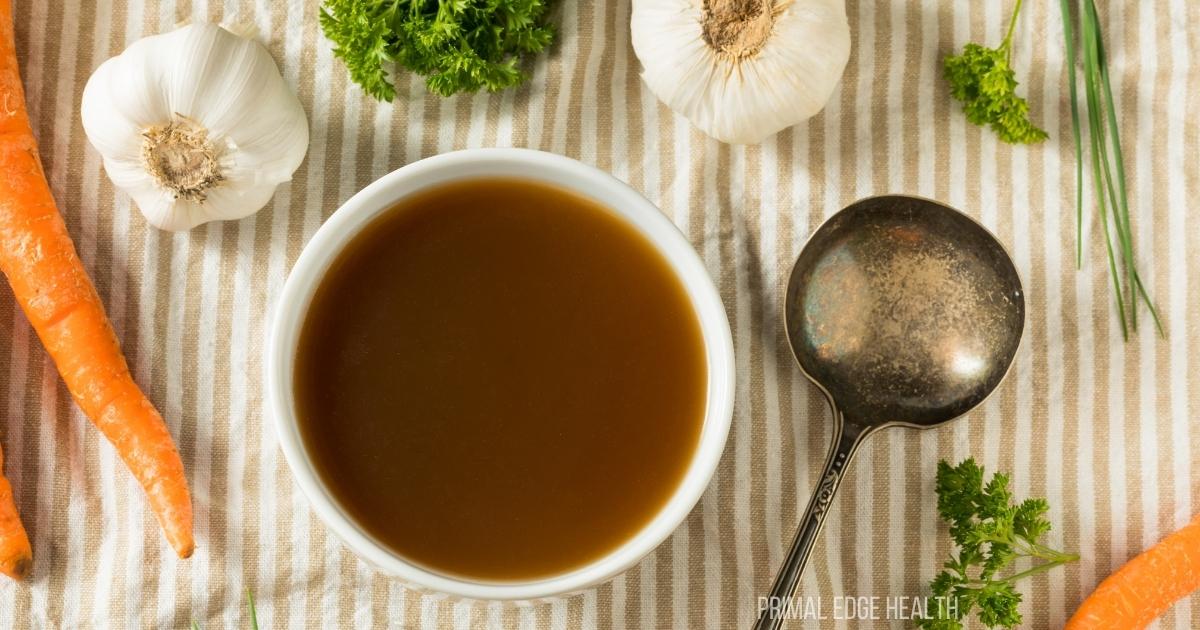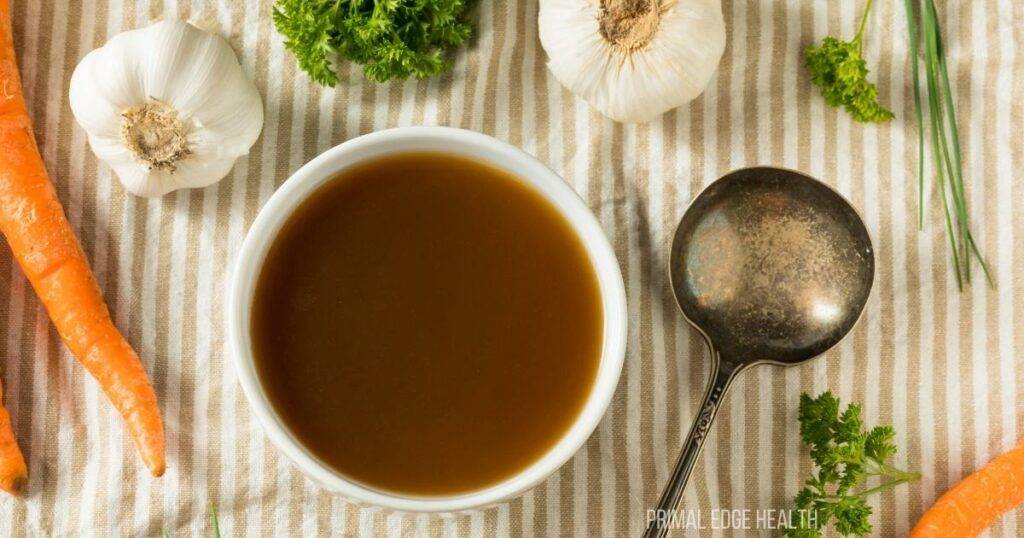 Bone Broth or stock
Gut-healing bone broth is highly recommended for success on a keto diet because it's an easy way to include protein, healthy fats, and bioavailable nutrition.
The best quality broth is made from free-range, pastured chicken or grass-fed beef bones. Homemade broth is an inexpensive ingredient you can add to all keto soups. Check out the Ultimate Guide to Bone Broth to learn more about this amazing superfood.
Here are some nutrient-dense broth recipes that make an excellent base for keto soup.
Since we understand homemade bone broth isn't always feasible for everyone, we recommend the Kettle and Fire bone broth as a high-quality alternative. Check out our complete review and how to best use it for more information about this ready-made broth.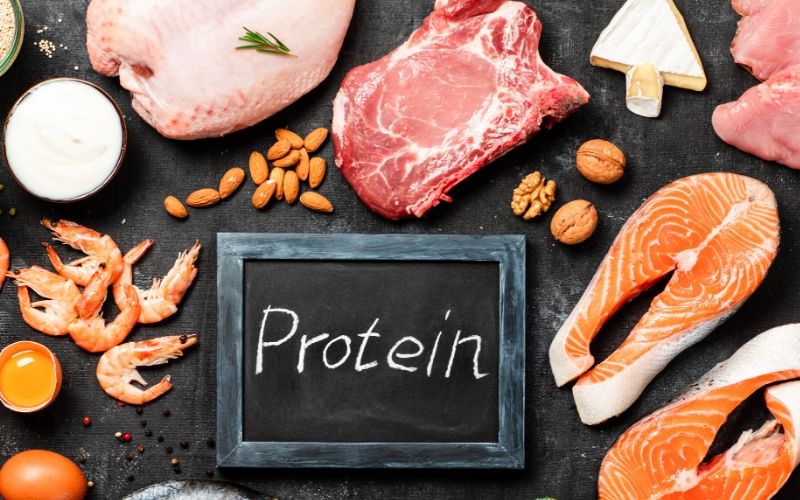 Protein
The next item in the lineup is usually some kind of protein like chicken, ground meat, stew meat, or eggs. The type of protein completely depends on the specific soup recipe.
Check out these ideas:
Ground beef – great for hamburger soup or taco soup
Ground sausage – fantastic in Keto Egg Roll Soup
Chicken breast or thighs – a staple ingredient in Keto Chicken Noodle Soup
Shredded chicken – leftover roast chicken is great to include in soups for extra protein
Stew meat – otherwise tough muscles that break down into deliciously tender and collagen-rich bites. The top choice for slow-cooked keto beef stew.
Eggs – these are a great low-carb protein source and are the star in Egg Drop Soup 
Organ meats – don't gloss over these nutrient-dense protein sources. They make some of the best keto soup like this Slow Cooked Organ Meat Stew.
Seafood – like shrimp, scallops, or fish are all great. Spicy Brazilian Shrimp Soup proves the point.
White Oak Pastures and US Wellness Meats are two of my favorite places to buy grass-fed and high-quality meats online. Not everyone has a farmer in their backyard, but we can find and support them online!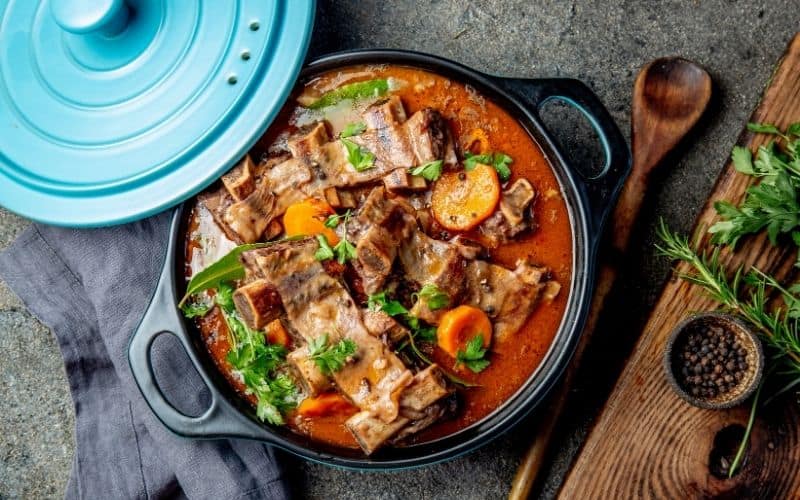 Vegetables
As with protein, the type of vegetables also depends on the kind of soup. For example, taco soup uses onions, bell peppers, and corn. While beef stew traditionally includes potatoes and carrots. Here at Primal Edge Health, we love taking these cultural favorites and remaking them for a low-carb, keto diet.
It's also important to note when to add the vegetables during the cooking process. If you add spinach at the beginning, it will lose its vibrant green color and become dull and mushy. Likewise, if you toss hardy vegetables like carrots and celery towards the end, they will be too dense and crunchy for soup. Stick to the specific recipe directions, and you'll do just fine.
Follow this easy guide concerning low-carb vegetables in keto soup recipes.
Slow-cooking veggies
These need 6-8 minutes of cooking time:
Mushrooms
Celery
Celeriac root
Parsnip
Hardy squashes like butternut squash
Slower-cooking veggies
These need 4-6 minutes of cooking time:
Green beans
Asparagus
Brussels sprouts
Onions
Delicata squash
Fast-cooking veggies
These need 2-4 minutes of cooking time:
Broccoli florets
Cauliflower florets
Cabbage (green or red)
Zucchini
Bell peppers
Quick-cooking veggies
Add these towards the last 1-2 minutes of cooking time:
Riced cauliflower
Leafy greens like kale, spinach, or leafy parts of bok choy
Fresh leafy herbs like parsley, dill, and basil should be added at the end
The above is a rough guide, which also depends highly on personal preference. If you like a bite to your bell pepper, add it towards the end. Likewise, if you want the zucchini more cooked through, give it a few more minutes of cooking time. The best keto soup is one that gets eaten. So tailor it to your taste buds and personal preferences.
To help you navigate the grocery stores for keto-compliant ingredients, grab the printable Keto Shopping List.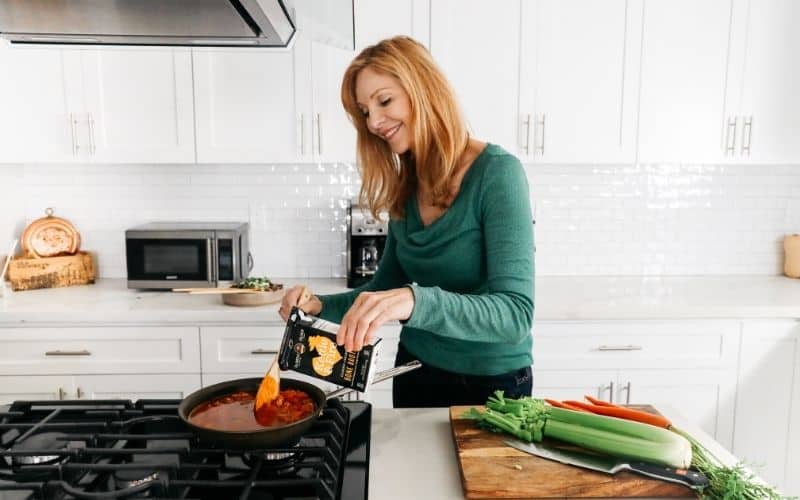 Keto Soup FAQ
If you're new to keto or have little experience making soup, it's common to have questions. Let me help!
Is soup keto?
Yes, soup can absolutely be keto provided that you use low-carb and keto ingredients in your soup. Soup usually starts with some kind of broth or stock, typically made from beef or chicken but sometimes vegetable broth is used instead. If using storebought broth, it's important to check the ingredient label and avoid fillers, starches, and preservatives. However, the best keto soup recipe starts with homemade broth because you know it's high-quality and probably cheaper too.
What soups are keto?
Keto soups are classified by their ingredients. You want to avoid soups with pasta and noodles as they are high in starches and carbs. Instead, focus on animal-based soups and low-carb vegetables. Our list of soups only contains low-carb and keto recipes. From easy 5-minute Egg Drop Soup to heartier Tom Kha Gai soup, this collection has it all.
Does soup have carbs?
Most soups contain carbs, but the amount varies based on the ingredients. Meats like chicken, pork, beef, seafood, and lamb are all excellent low-carb ingredients in a soup. Additionally, low-carb vegetables like broccoli, kale, green beans, cauliflower, and celery are great ingredients. Avoiding high-carb vegetables like potatoes, carrots, and beets will keep the carbs low.

I suggest searching a database like FatSecret for a specific ingredient or product when you have calorie or macro related questions.
How to make keto soup?
Keto soups are generally an easy way to include nutrition in your diet. They are full of gut-healing bone broth, protein-packed meats, and fiber-rich vegetables. Generally, there are three main components of any soup: broth, meat or another protein, and vegetables. Prepare the ingredients and then simmer them on the stovetop or in a slow cooker until done. Nothing fancy needed.
How to store keto soup?
Depending on the ingredients used, most keto soups can be stored in an airtight container in the refrigerator for 3-5 days. Most soups actually taste better after flavors have melded for a day or so.
Easy Keto Soup Recipes
More Homemade Easy Keto Recipes