Homemade Sauerkraut is a very user friendly introduction to the world of fermented foods.
It is becoming a familiar sight at local farmer's markets and on the shelves of health food stores. It is a simple, straight-forward process for a wonderfully delicious, nutrient dense food.
In the words of fermenting expert, Salvador Katz "chop, salt, pack, wait" is mostly what it amounts to.
Through the natural fermentation process, foods were traditionally preserved and stored either for pleasure (namely alcoholic beverages) or nutritional needs (sauerkraut, kim chi, yogurt).
In fact, many of the most popular foods today – bread, beer, wine, cheese, and chocolate – are produced via fermentation.
Let me show you my favorite recipes for FREE!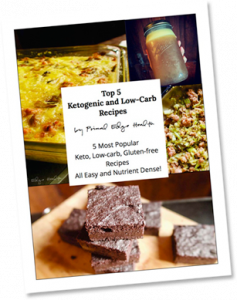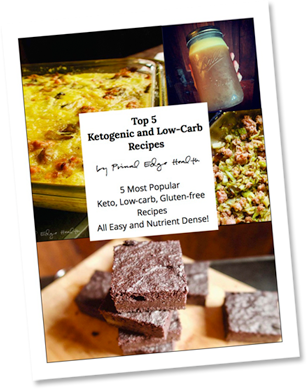 Sign up to get my new recipe ebook
Homemade Sauerkraut – Probiotic Rich!
The gut flora is a hot topic these days giving a lot of attention to the micro-biome. Consuming naturally fermented foods is an easy way to support the delicate balance by providing your body with a nutrient dense source of naturally occurring probiotics.
Homemade sauerkraut may have a probiotic count that surpassing that of over-the-counter probiotic pills and yogurts. There is no starter needed other than the "wild" cultures already present on fresh veggies (even after washing). A high quality salt helps to regulate the bacterial environment to ensure a healthy space for just the right strains to flourish.
Raw Fermented Foods Contain Special Health Benefits
The beneficial microbes making your veggies oh-so-spritzy kill pathogens, replenish the digestive flora, support your immune system, and facilitate in the repair of a leaky gut. Unfortunately the health benefits do not translate to store bought sauerkraut. This second rate slop does not pack an equal nutritional benefit as raw homemade ferments do – the heat treated, pasteurized product is void of the live microbes that are the main reason for eating sauerkraut in the first place.
Watch our recipe video here!
Tips for a Successfully Fermented Sauerkraut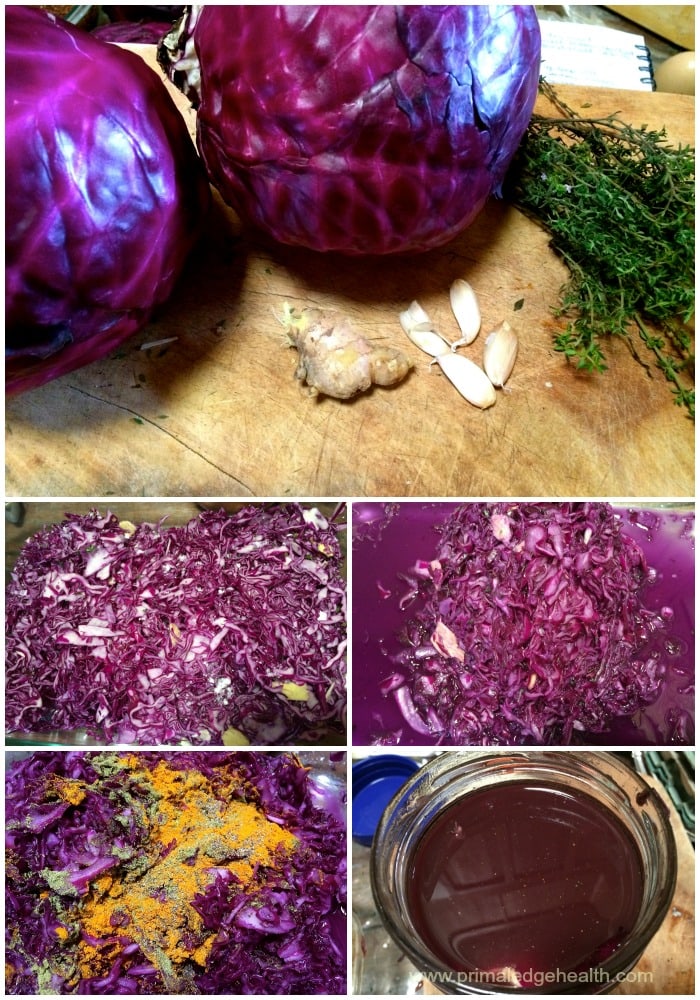 Keep all your veggies under the water level. This is mandatory, the salt creates a safe environment in the brine.
Any veggies/leaves that rest above water will wilt, turn brown, and should be discarded. The neat thing is that if this does happen, you simply take off the top layer that looks funky and add it your compost. What lays beneath is fine to enjoy.
Use a weight, glass jar, sterilized rock, or cabbage leaves to give pressure to the rising veggies. During the ferment, the mixture will try to rise upward. Open the lid and press all materials down to keep them under water. Keep an eye on your batch, sometimes I have to push everything down a few times before it is done fermenting.
I like to use 1 quart mason jars. With these smaller jars, the ferment is always timely, they are easy to keep in the fridge, serve on the table, and give as gifts. There is some fancy fermenting equipment that looks like a lot of fun to play around with but I would recommend leaving these until you are more experienced and comfortable with fermenting.
Once you get comfortable with the base of the recipe and have regular ferments, you can start experimenting and put almost anything in a kraut. Veggies, roots, herbs, you name it, you can try it. Horseradish makes a great zippy flavor. Caraway and dill are classic herbs used in sauerkraut (although usually used separately). I like playing around with hot peppers, fresh herbs, aromatic seeds and seaweeds.
How long does homemade sauerkraut need to ferment?
Pay attention to temperature. Ferments are faster in warmer environments, slower in cooler. The ideal temperature would be 50-60*F/10-15*C.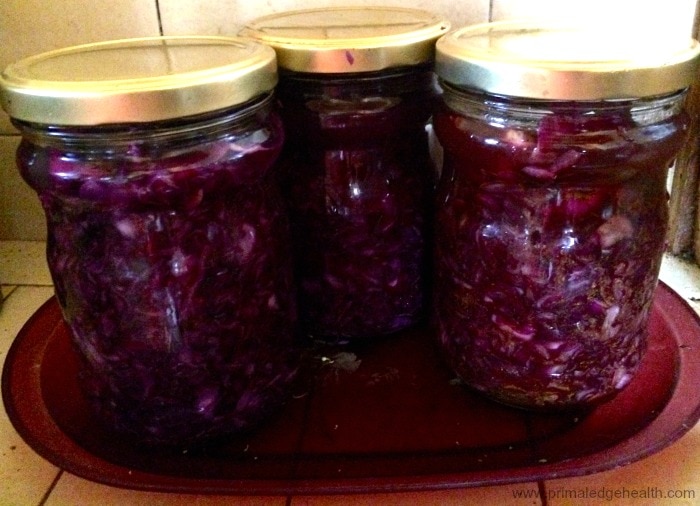 Salt also affects the fermenting time. Generally, you can make it saltier in the summer to slow down fermentation and less salty in the winter.
Be patient. The entire point behind fermenting foods is to improve their longevity and preserve them for at least one season. After at least 3 days, you can start tasting the kraut and become familiar with the flavor and texture. I like to eat sauerkraut once all the crunch is gone. This usually takes 7-10 days, all depending on the weather. There is nothing wrong with leaving it to ferment for a longer time, in many cases the longer the better. If you do leave it for an extended period, check every now and then that all parts are under water and there is no scum forming on the top. Scoop off any that appears.
Be creative with your sauerkraut flavors!
Here are some combinations to get your mind thinking:
Version #1: green cabbage, dulse, garlic
Version #2: purple cabbage, shredded carrot, ginger root, turmeric root and black pepper
Version #4: purple cabbage, carrots, curry powder, coriander seed
Sauerkraut is great to have on hand. I like taking it to family get togethers and it is always a popular dish at pot-lucks. It tastes awesome with all types of food, even soups!
★ FOLLOW PRIMAL EDGE HEALTH on INSTAGRAM, PINTEREST and FACEBOOK for more low-carb, ketogenic recipes and diet tips!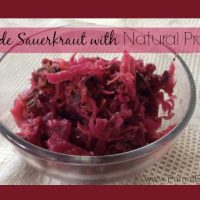 Homemade Raw Sauerkraut
Lacto-fermented sauerkraut is naturally a probiotic-rich fermented food. Flavored with any of your favorite herbs, crunchy cabbage is transformed over time into a soft, tangy, spritzy addition any entree.
Print
Pin
Rate
Ingredients
1

medium

cabbage

green or purple

4

tablespoons

herbs

fresh or dry

1

cup

leafy greens

like swiss chard or kale, optional

1

large

onions

optional

4

cloves

garlic

optional

1

small

hot pepper

optional
Instructions
Rinse herbs and prep the cabbage. Discard outer layer of leaves. Remove a few fresh, clean looking ones and save them to use as a weight to pack the shredded material down. Adding a cabbage leaf on top helps hold the cabbage down and keep it under the brine to ferment properly.

Shred cabbage in small slices either a food processor or with a sharp chefs knife.

Transfer shredded cabbage to a large bowl, salt the cabbage and mix up until well incorporated. As a general rule, it is 3 tbsp of salt per 5 pounds of cabbage.

Leave the salted cabbage to sit for about 5 minutes and "sweat". Through osmosis the salt extracts water from the vegetable cells and the cabbage softens, making it easier to squeeze.

Squeeze the cabbage with your hands until it is well broken down, feels limp, and has secreted a significant amount of juice. It takes a few minutes of massaging before there is enough juice in the bowl. This liquid is used to cover the cabbage once placed in the jar.

Add in herbs, spices or whatever flavorings you like to the shredded cabbage.

Pack all cabbage, juice and herbs into glass jars and press down firmly so all air bubbles escape. Cover this mixture with a cabbage leaf to hold it down under the water line. Add water if needed to ensure all material is under the water. Leave at least 1 inch space between the top of your soon to be sauerkraut and the lid to allow room for the veggies to ferment properly.

I have successful results with a cheesecloth securely fastened over the opening of the jar. It is also possible to have a lid screwed on, sauerkraut is versatile. Play around with how the different techniques work with your weather/environment.
Macros and Nutrition
Nutrition Facts
Homemade Raw Sauerkraut
Amount Per Serving
Calories 41
Calories from Fat 9
% Daily Value*
Fat 1g2%
Sodium 23mg1%
Potassium 253mg7%
Carbohydrates 10g3%
Protein 2g4%
Vitamin A 274IU5%
Vitamin C 53mg64%
Calcium 54mg5%
Iron 1mg6%
* Percent Daily Values are based on a 2000 calorie diet.
Want to learn even more?
The Art of Fermentation: An In-Depth Exploration of Essential Concepts and Processes from around the World by Sandor Ellix Katz
Nourishing Traditions: The Cookbook that Challenges Politically Correct Nutrition and the Diet Dictocrats by Sally Fallon
Wild Fermentation: The Flavor, Nutrition, and Craft of Live-Culture Foods by Sandor Ellix Katz
The Nourished Kitchen: Farm-to-Table Recipes for the Traditional Foods Lifestyle by Jennifer MacGruther
Pin it for Later:
Save