Healthy hot chocolate does exist! Sometimes cold and raining mornings call for a cup of something special to start the day and this nutrient dense mug of goodness is just the thing.
A nutrient dense healthy hot chocolate is far superior than the mug of Nesquik cocoa many of us grew up on. Sure it seems easy to grab a container from the shelf and add a scoop or two into a warm cup of nut milk but the consequence of consuming all the extra ingredients like maltodextrin, sucralose, acesulfame potassium (non-nutritive sweetener) and so on is not beneficial to long-term health or optimal bodily function. The "no sugar added" option still contains a list of 18 ingredients and cautionary alert that the product has "milk and soy ingredients and may contain wheat". All these additives and non-food ingredients do not promote life enhancing qualities for you or your children.
Sure this is just one example of a pre-made hot chocolate mix. Even so, I challenge you to find a mass produced alternative that will be as nourishing and nutrient dense as this healthy hot chocolate recipe.
Instead of grabbing a can of processed powders, make this recipe in bulk and store it in a airtight container to use whenever you want!
Double or triple the dry ingredients in this recipe, combine them all in a mixing bowl, and stir until evenly incorporated. Transfer this ready made hot chocolate mix into an airtight glass jar, label, and store on your shelf or in the pantry. Bonus idea: wrap a jar with a pretty ribbon and share it with a friend as a nice winter time gift!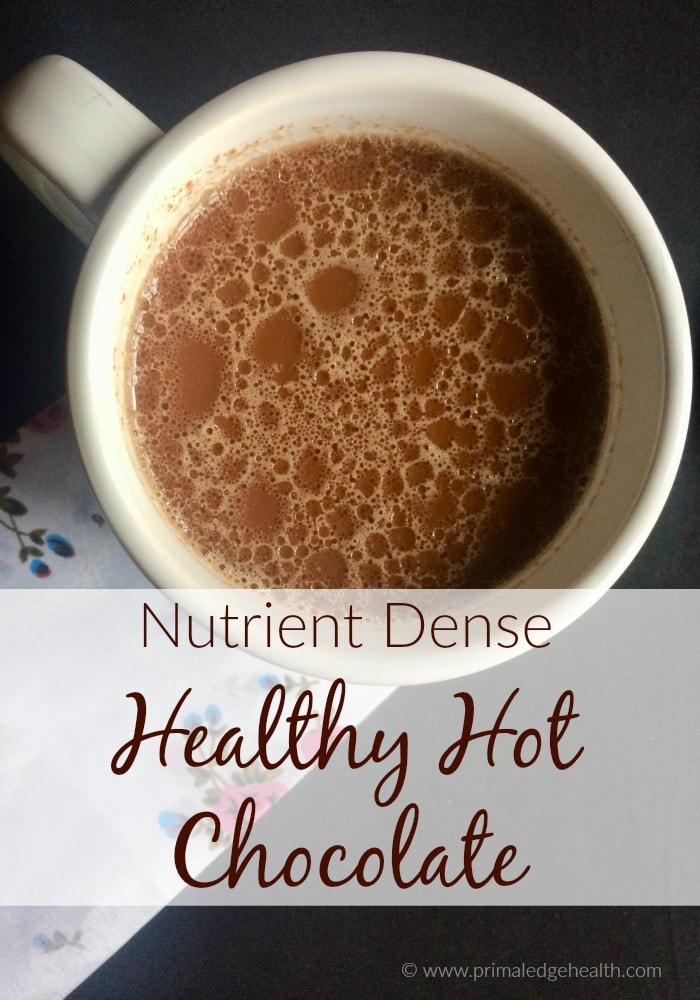 Reap the benefits from your own Healthy Hot Chocolate Mix:
stress relieving (maca helps you adapt to stress, cacao provides a boost of energy)
nutrient dense (all the ingredients are rich in vitamins and minerals, most notably: cacao, maca, coconut oil, and nut milk)
no artificial flavors or sugars (the herbs provide a rich and robust flavor profile, nothing extra needed)
nourishing to the gut (collagen soothes and supports the muscles and membranes in the digestive system)
full of healthy fats (which in turn nourish and protect brain health and function)
When you're wanting to hold a warm cup o' something chocolatey and delicious this healthy hot chocolate with a wealth of nutrition is the way to go!
We live in the Andes of Ecuador and have been fortunate enough to source the top quality maca from the pristine highlands of Peru.
Find Raw Organic Premium Maca Powder available in our shop now!
Rating

Prep Time

5

minutes

Cook Time

10

minutes
Warm the milk in a small saucepan over low heat.

Whisk in all ingredients until evenly combined.

Taste and adjust as needed.

Serve warm or blend briefly for 30 seconds in a blender or with an immersion blender to make frothy and then serve.
Macros per serving: 9.1 g fat, 11.3 g carb, 5.6 g net carb, 9.7 g protein *formulated using unsweetened almond milk, adjust as needed
Bonus Recipe Tip:
This special blend of cacao, maca, and collagen can also be mixed into a cup of coffee instead of the nut milk. The combination will give a mocha, butterscotch flavor that is super good!
Enjoy maximizing nutrient density in your daily diet?
The Ketogenic Edge Cookbook is a great kitchen resource and inspiration for low-carb, ketogenic, and paleo cuisine!
Available only in our shop – come and support our work!
Save
Save
Save
Save
Save
Save