Low-Carb Focaccia Bread is an oven baked delight with crispy, crunchy crust and soft bready inside without the use of yeast or carb heavy flours. With my easy keto recipes, you can recreate all your favorite breads and high carb foods keto style!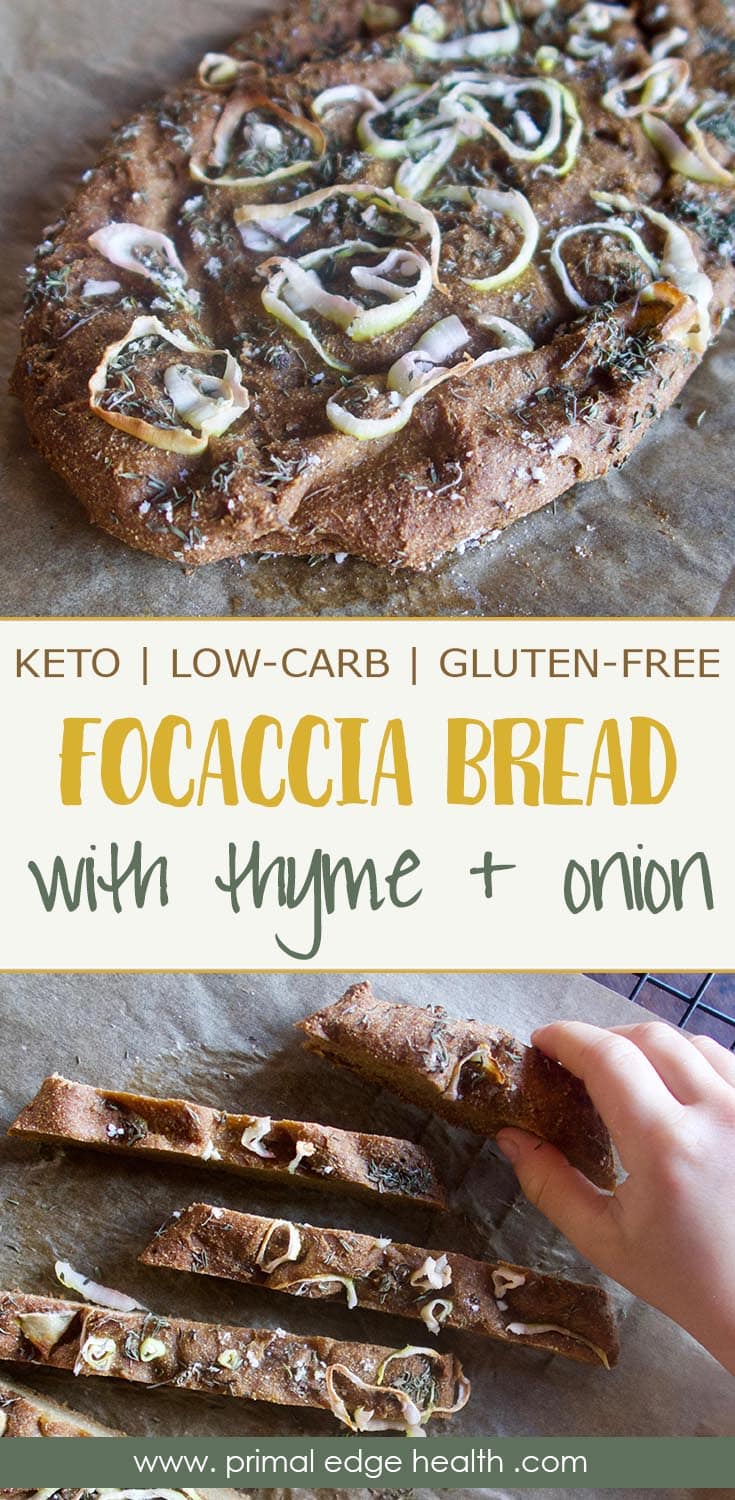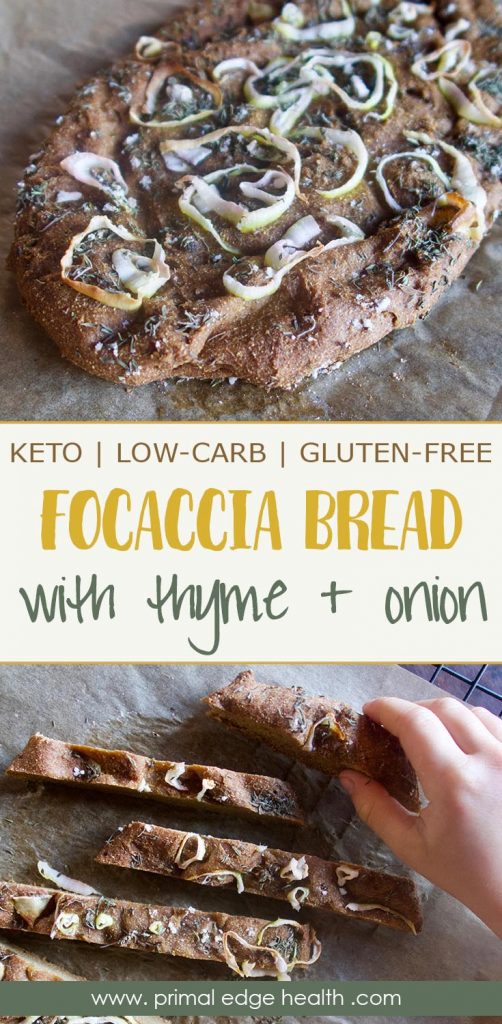 This low-carb focaccia bread is made with a handful of ingredients you probably already have and still be 100% keto diet approved.
Mix them all together in a bowl. Transfer the dough to a lined baking sheet, pop it in the oven, and let it bake for 30 minutes. Once done, the loaf will be crisped and firm to the touch. Let it cool slightly before slicing and serving.
Keto baked goods are excellent "bridges" to share with friends and family. Is there someone special in your life that is hesitant to drop the bread habit? Ease them into healthier eating with the grain-free, gluten-free bread alternative.
I brought this low-carb focaccia bread to friend's birthday party and its was gone in a few minutes! Thanks to the unique properties of psyllium husk powder, no one was able to tell it wasn't wheat based until they asked.
Serve this easy keto bread recipe anytime you need a keto appetizer for a crowd.
Shopping Suggestion: Psyllium Husk Powder
Psyllium husk powder is my favorite keto-friendly ingredient for making quality breads. It retains moisture well and creates a perfectly fluffy, bready inside.
Tips for Making Low-Carb Focaccia Bread
Serve slices of low-carb focaccia bread fresh from the oven, toasted, or cold. It's excellent with butter, cheese, or liver pate spread thickly over the cut side.
Follow the tips outlined below and modify your own loaf as desired.
Will it be too "eggy"? If you are sensitive to the "eggy" taste, be sure to flavor it up with lots of thyme and onion! Feel free to modify the recipe by adding more flavoring agents like roasted or minced garlic and fresh rosemary.
Can I change the flavor? This loaf can easily be modified with other flavors. Any seasoning blends are great or individual ingredients such as basil, lemon, or pepper may also be used. Additional things like tomatoes, olives, goat or feta cheese may be sprinkled over the top. Experimenting with different flavors of salt is fun! Try some of our favorite 7 mineral-rich salts.
Have everything ready Work quickly once the hot water is added! The dough will thicken up quickly since the psyllium husk is highly absorbent. Be ready to mix it together thoroughly.
Travel-friendly The bread travels well and can be packed into a lunch or taken on the go.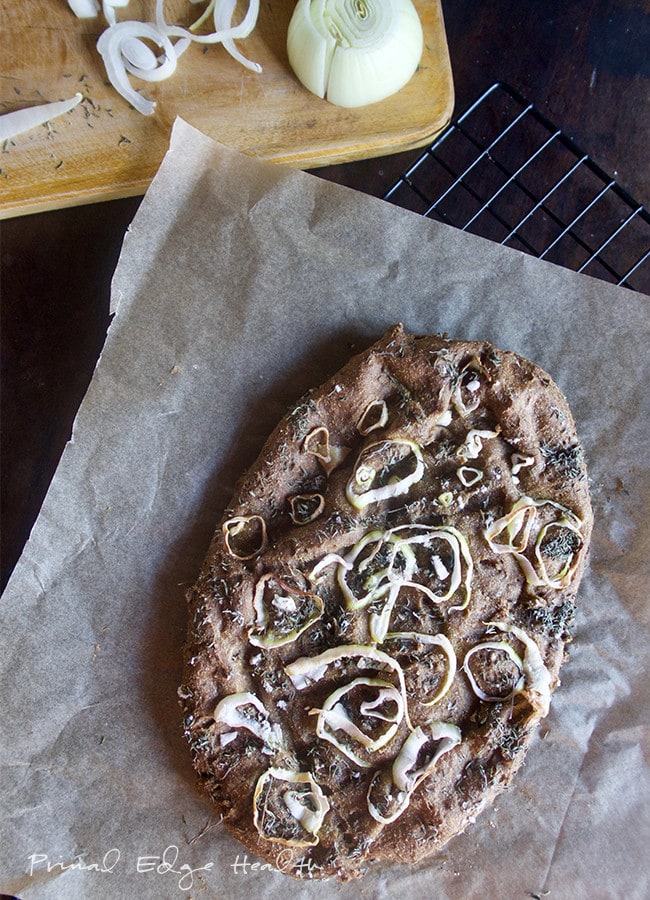 Simple and Easy Keto Baking
With days full of homeschooling two wildlings, tending to our garden and growing collection of farm animals, writing cookbooks (check out the NEW book here!) and running the Keto & Carnivore Collective maximizing the nutrition in our meals while minimizing the time I spend in the kitchen is one of my top priorities
Like many of my ketogenic baked recipes, this low-carb focaccia bread does not call for any special ingredients or fancy equipment. I'm all about simple, staple recipes!
More Keto Bread Recipes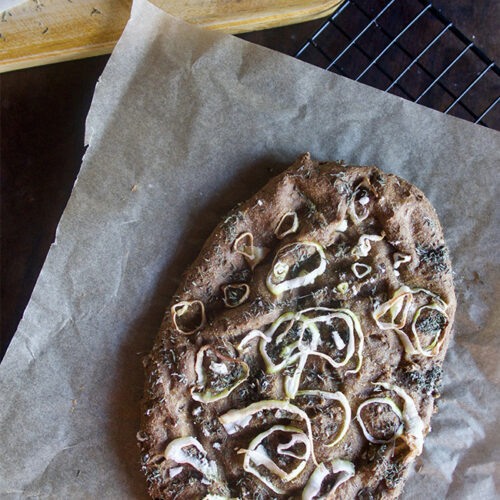 Low-Carb Focaccia Bread with Thyme and Onion
This delicious Low-Carb Focaccia Bread recipe is easy to make, and tastes so rich and wonderful with the addition of thyme and onion.
Instructions
Add coconut flour, psyllium husk, baking powder and salt in a mixing bowl and combine.

Mix in the eggs. Work quickly, stirring until the powders firm up into a thick dough.

Add a cup of boiling water and mix thoroughly.

Line a baking sheet with parchment paper. Form dough into a flat oval on top of the paper. Use a sharp knife to score diagonal cut through the dough. Sprinkle the top with thyme and additional salt. Thinly slice the onion into rings and arrange evenly over the thyme and salt. Press gently into the dough to stick.

Bake at 350 degrees F for 25-30 minutes. The dough rises about twice as high, with a firm crust once done. If the bread feels spongy to the touch, continue cooking.`

Remove from the oven and cool slightly before cutting; serve warm or cold. Store in the fridge.
Nutrition & Macros
Calories:
56
kcal
Carbohydrates:
11
g
Protein:
1
g
Fat:
1
g
Saturated Fat:
1
g
Sodium:
66
mg
Fiber:
7
g
Net Carbohydrates:
4
g
To obtain the most accurate representation of the nutritional information in a given recipe, please calculate the nutritional information with the actual ingredients and amounts used, using your preferred nutrition calculator. Under no circumstances shall the this website and the author be responsible for any loss or damage resulting for your reliance on the given nutritional information.
Made this? Leave a Rating! ⭐⭐⭐⭐⭐
Tag a photo with @Primal_Mom and #PEHRecipe on Instagram to share with us!