Making your own homemade coconut oil-based toothpaste recipe is an easy way to provide a natural DIY toothpaste alternative for the whole family.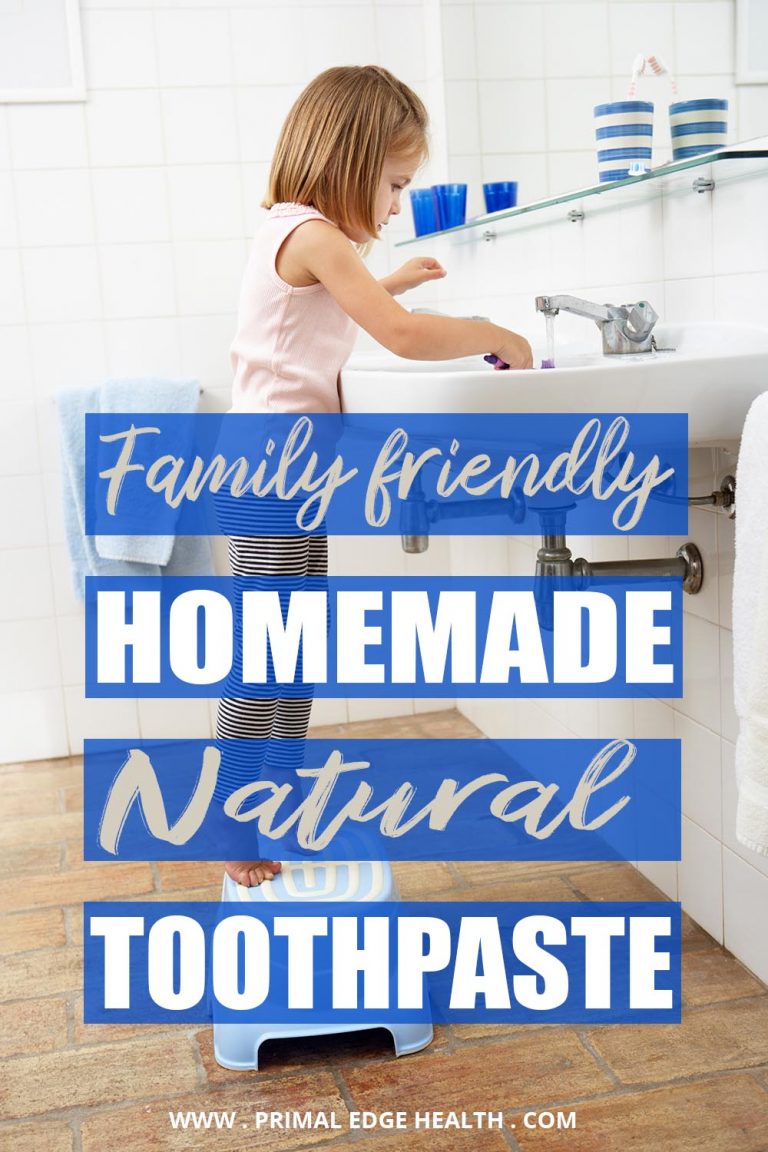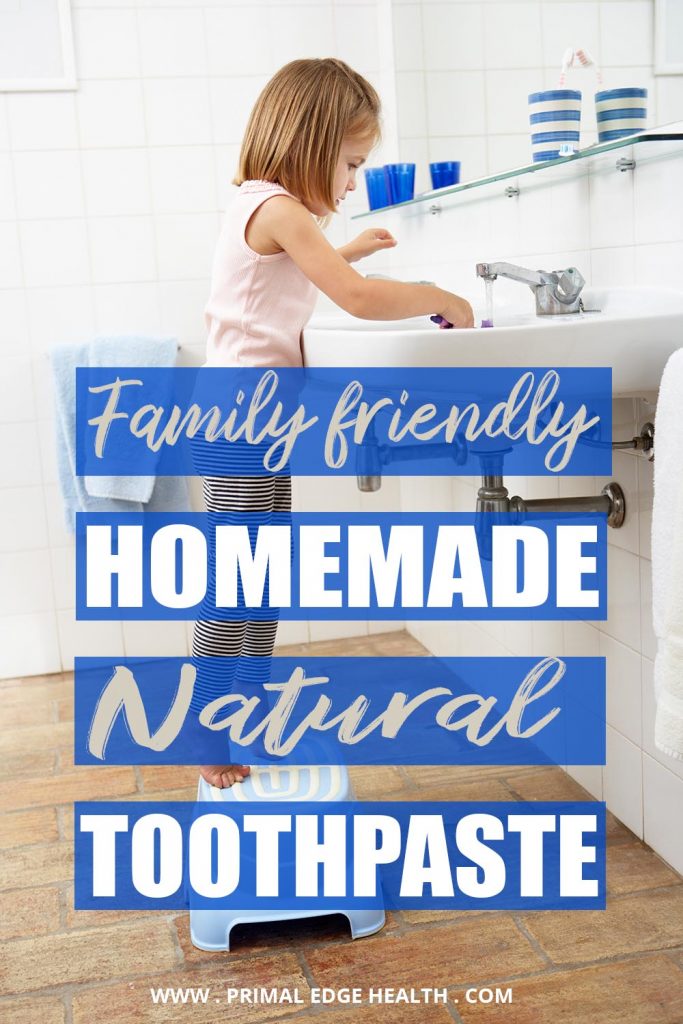 The smooth and creamy blend is soothing to gums and 100% non-toxic. Peppermint oil gives the signature minty fresh feeling!
This post is sponsored by my friends at Mountain Rose Herbs. All thoughts and opinions are my own. Whenever I'm feeling DIY-y, I turn to Mountain Rose Herbs for inspiration. By sourcing top-quality herbs and essential oils from Mountain Rose Herbs, I know my homemade lotions, soaps, and home cleaners are 100% non-toxic, natural, and safe for my family.
It is my goal to use and recommend only the highest quality herbal products from companies that I fully trust and support. Industry standards including sustainable harvesting, quality control, organic / fair trade standards, and responsible sourcing are all things I care deeply about. I have been using Mountain Rose Herbal products for almost a decade and would recommend them for anyone looking for quality herbs, essential oils, carrier oils, clays, and more.
Table of Contents (click to view)
Why make toothpaste at home?
There are a number of reasons I make my own homemade toothpaste recipe
Saves money
Increases your sense of self-sufficiency
Reduces the toxic load of daily life
Save some money
Crest and Colgate are two of the top leading brands of toothpaste worldwide. The average value of a 4 ounce 3-pack is $10.26. Which breaks down to $3.42 a tube and $0.86 an ounce.
Natural brands like Tom's and Jason run $7-9 per 4-ounce tube (average $2 per ounce) and drop down to $5.50 per 4-ounce ($1.38 per ounce) when you buy a pack of 4 on Amazon.
How does that compare to the cost of a homemade formula? Let's see…
$1.98 coconut oil
$0.50 sweetener
$0.40 essential oil
The total spent on 4 ounces of a DIY version is $2.89.
Plus, there's no cardboard box, plastic tube, and lid to throw away.
Increases your sense of self-sufficiency
When you make toothpaste at home, it becomes one less thing to worry about when you're out shopping.
You'll never need to think about toothpaste at the grocery store. You don't have to store a stockpile under the sink for your family and you'll never run out just when you need it most.
All the ingredients are probably already in your pantry; you just have to take 5 minutes to stir them together. It's a great alternative to continuously buying unnecessary products, extra packaging, trips to the store, and all that goes with that.
Reduces the toxic load of daily life
With 3 ingredients, you already know and probably already use, this toothpaste is 100% natural, safe, and non-toxic.
Is a natural DIY toothpaste recipe effective?
The ultimate DIY project finds a way to make something you need with the ingredients and materials you already have.
But we don't want to rub just any goo on our pearly whites. We want something that works.
If you have concerns about tooth decay or want to learn more about remineralization, I recommend my Bentonite Clay Toothpaste Recipe.
In this family-friendly homemade toothpaste recipe, each ingredient is intentionally chosen for optimal oral health.
Coconut Oil is one of the best oils for tooth brushing because it reduces the acid-producing bacterium, Streptococcus mutans, responsible for tooth decay. See J Indian Soc Periodontol. 2014 Jul;18(4):441-6, for more.
Peppermint Essential Oil freshens breath and cleans the teeth and gums of germs. Did you know some dentists even add the oil to their patient's post-operative oxygen, as a means to help relieve mouth pain? Peppermint oil is useful for many purposes, oral health is only one!
Erythritol is a zero calorie, all natural sweetener that helps prevent bacteria from sticking to your teeth and decreases the formation of plaque and cavities.
No xylitol You may see xylitol listed in other toothpaste recipes but I no longer use it. Xylitol is extremely toxic to dogs. After having a few close calls, I have decided it's not worth the risk of having it in our home.
Also, since I use Lakanto's erythritol based sweetener for sugar-free brownies and our family's favorite ketogenic carrot cake. It's in my pantry anyway so I don't have to buy any extra ingredients.
This paste is creamy smooth and will leave your mouth minty fresh.
It has an amazing peppermint stick flavor which is pretty awesome for me. Since being on a whole foods based, low-carb ketogenic diet for years and years, it's been a loooong time since I've licked a candy cane. York-inspired peppermint patties are about as close as I get to a peppermint stick these days. I can't say I ever missed or think of them much but I did get some pleasant throwback memories of childhood when I brushed my teeth for the first time.
Family-Friendly: Edible and Safe for Babies and Toddlers
Dedicated to any family who struggles with tooth brushing. We went from having the whole process be a drag to my children asking if it was time to brush their teeth. It's been a big turn around!
If you have babies and toddlers in the house, I recommend substituting peppermint extract or peppermint spirits in place of essential oil. Children under 2 years old should not use EO's in their toothpaste. This modification is also suggested if you are concerned about a child swallowing or eating the toothpaste.
If peppermint is too strong for your child, other flavor extracts may be used.
Orange extract for "creamsicle" flavor
Lemon extract for "lemon drop" flavor
Toothpaste making is a great activity to do as a whole family. Children find such delight in hands-on experiences that produce something tangibly useful. Both young and older children will learn practical life skills, practice measuring, and strengthen fine motor coordination.
An Easy Homemade Toothpaste Recipe
I'm already mentally adding this to my daughter's chore list once she is old enough.
As long as the coconut oil is already soft, there isn't any prep work involved. It's a 1, 2, 3 step process and you're ready to go.
Measure all ingredients in a bowl, mix them well, and transfer to a small glass jar for storage.
Travel Safe
It is perfectly portable. If you need to travel or have a sleepover, the toothpaste can be packed into a bathroom cosmetic bag just like a normal tube. For children, you may want to use a plastic container rather than glass to protect it from cracking or breaking.
How much to make at a time?
This recipe makes approximately 1 ounce, which is a few days' worth for a family of 4 when used generously.
I double it to get a week's supply and would 4x for a batch that will last 2 weeks. To maximize the freshness factor, it is unlikely I would make anything bigger than that.
I recommend making a small amount at first to test and see if this kind of toothpaste works for you. Scale-up 2x, 3x, or 4x as needed.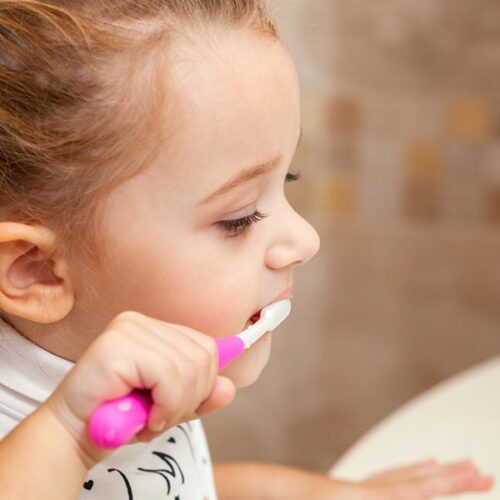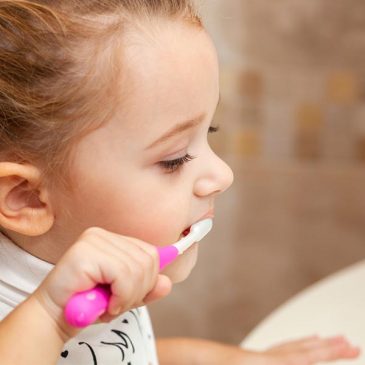 Homemade Coconut Oil Toothpaste
Save some money and reduce toxic load with a creamy smooth DIY homemade toothpaste recipe that will leave your mouth minty fresh.
Print
Pin
Rate
Instructions
Mix all ingredients together in a bowl.

2 tablespoons coconut oil,

1 teaspoon Keto sugar substitute,

3 drops peppermint essential oil

Transfer to an airtight lid and seal until ready to use.

Add a label with name and date, if desired.

Apply by scooping oil out with a popscicle stick and spreading on a toothbrush or by dipping a toothbrush into the jar directly.
Notes
*Use a mortal and pestle to grind erythritol into a powder or buy powdered erythritol. Use code PRIMALEDGEHEALTH to save 20% in the checkout here!
**Edible version: substitute with peppermint extract
Recipe is makes 1 ounce. Great for testing to see if this kind of toothpaste works for you. Scale up 2x, 3x, or 4x as needed.
Made this? Leave a Rating! ⭐⭐⭐⭐⭐
Tag a photo with @Primal_Mom and #PEHrecipe on Instagram to share with us!
Many thanks to Mountain Rose Herbs for partnering with me to bring you this recipe! They offer unparalleled quality of organic herbs, spices, teas, and essential oils. I've been supporting them for 10 years and highly recommend you consider making your next order of botanicals with them. Read my honest review of Mountain Rose Herbs: Are they Good? to learn more.
Do you love DIY beauty care?
Don't miss these other great recipes! Keep your bathroom stocked with all the best personal care essentials.
Tallow balm – Make a Simple Tallow Balm in 3 easy steps. The whipped spread is a luxurious all-purpose DIY lotion for legs, arms, and face.
DIY Natural Facial Cleanser – Grab your favorite essential oils and make this DIY natural facial cleanser today. You can avoid the pricey store-bought cleansers and the harsh chemicals when you make your own homemade facial cleanser.
Best Nail Strengthener – This homemade nail strengthening oil smells great while nourishing your nails. Have healthier nails and cuticles with this simple oil.
Cold Process Soap for Beginners – Making soap is a fun, creative and healthy way to do something nice for yourself (and others). A Cold Process Soap Recipe for Beginners is the perfect place to start and gain soap making confidence before diving into the next level!
Homemade Dry Shampoo – Making your own dry shampoo is simple and inexpensive. Save yourself big dollars over salon and drug store brands, and know exactly what is in your dry shampoo by learning how to make your own sweet-smelling dry shampoo with this simple three-ingredient formula.
Rosemary Mint Shaving Cream – Homemade shaving cream is thick and rich to protect skin from nicks and rashes. Easy to make and smells wonderful.