The solid, white, creamy fat known as tallow has been a staple in my home for years. I featured it heavily in The Carnivore Cookbook as a healthy (and super affordable) fat source. It is made with the fat of any ruminant and an excellent introduction in to nose to tail eating.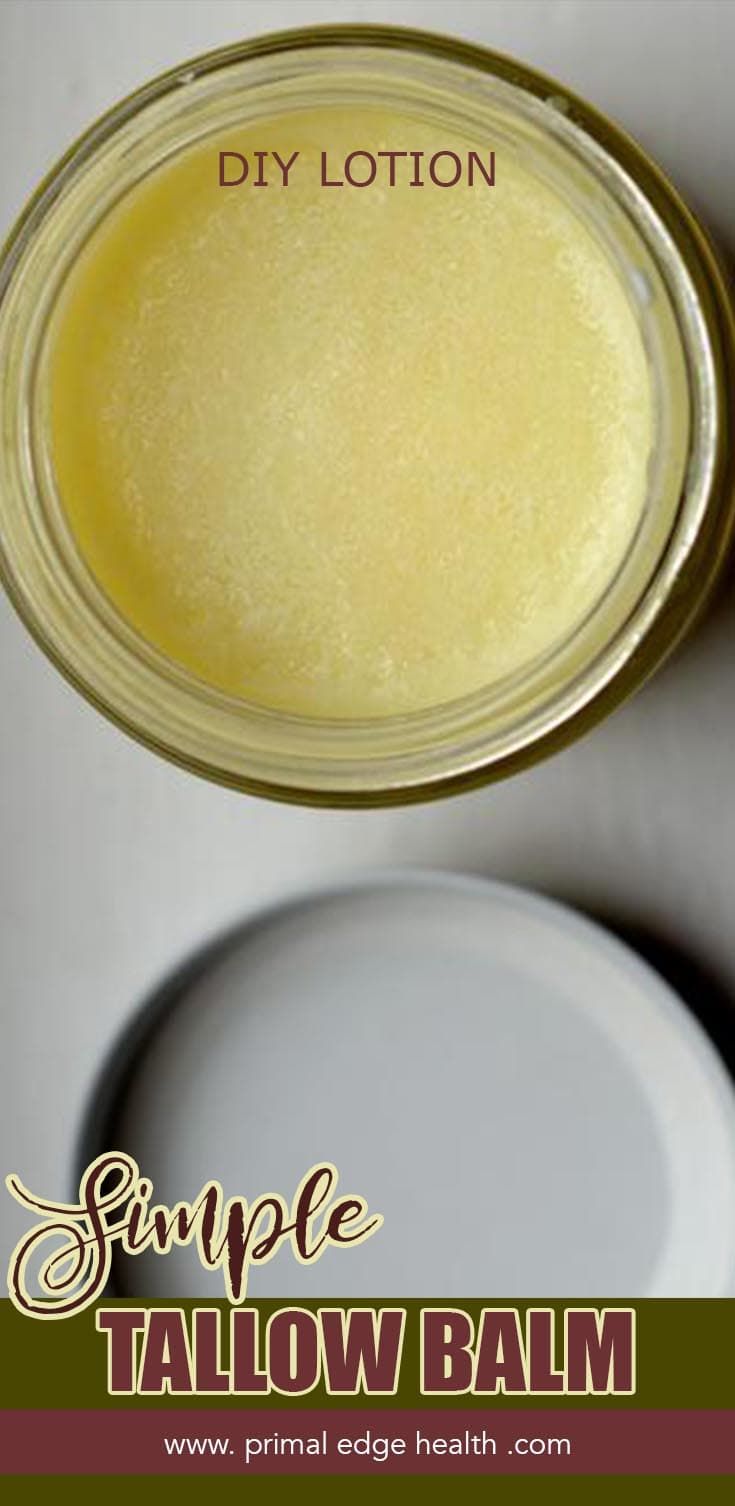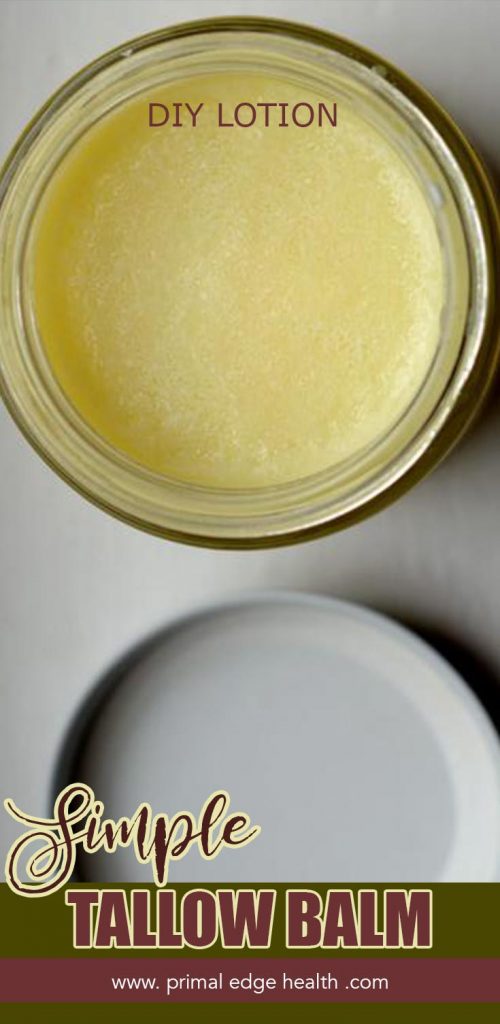 Did you know tallow is not only nutritious in your diet but can also be used on your skin?
No lie!
This time tested simple tallow balm recipe is generously shared by Paige of Elder N Honey Co. Her online Etsy store has been selling quality tallow based skin care products for years. She is a master of making tallow balm!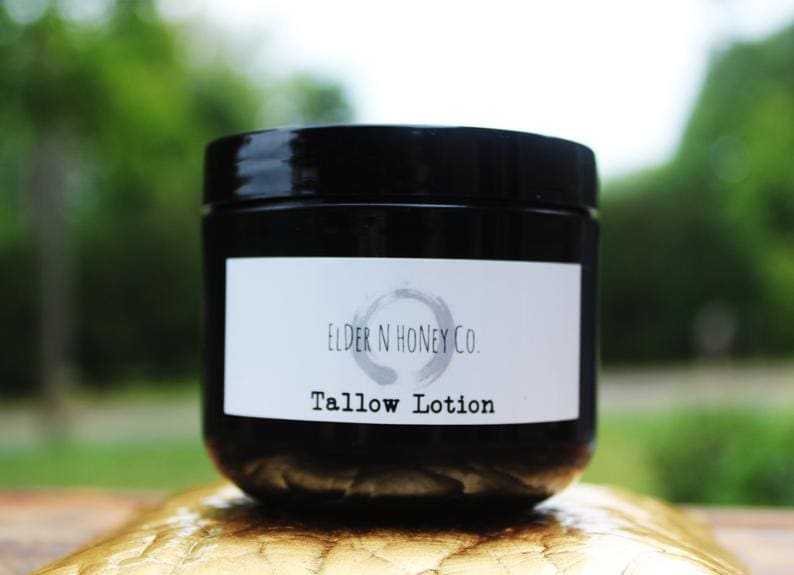 Tallow is the best part
Tallow may be one of the very best ingredients for skin care. Ever.
Fat soluble vitamins A, D, E & K, natural fatty acids and lipids are found in abundance in tallow. Beef tallow is highly compatible to our skin.
From Traditional Nourishing and Healing Skin Care by Andrew J. Gardner, Weston A. Price Foundation
Our ancestors overwhelmingly used tallow for skin care. For example, a book of "recipes" for all facets of life, written by Dr. A.W. Chase, MD in 1866, lists ten formulations of salve, eight of which contain tallow, in addition to other natural ingredients.

The healthy traditions of our ancestors were not haphazard but had a purpose that seems to have been rooted in their very being… We might even say that the ancestral wisdom on nutrition and health is more reliable than modern scientific studies, which are subject to manipulations and misinterpretations and can only look at one small piece of the puzzle at a time.
Tallow is excellent for sensitive skin, it is know as a non-reactive ingredient in DIY skin care for all types of skin. Elder N Honey Co has NEVER had a reported reaction to plain tallow in the 8+ years of selling their balms.
It's as nourishing on lips as it is on skin. Try our DIY Tallow Lip Balm Recipe and see for yourself!
3 Steps for Simple Tallow Balm + Essential Oil Choices
Melt. 2. Combine. 3. Blend
That's it!
Store your Simple Tallow Balm just like any other lotion. A vessel and cap is all you need as long as it is air-tight and clean. Mason jars are our friends for all things DIY and this is no excpetion!
The only "complicated" part of making your own lotion is choosing what optional essential oils you want to add in.
Here are a few recommended options, but feel free to experiment with what you like
3 drops Lavender, 4 drops Lime, 2 drops Peppermint
3 drops Lemon, 2 drops Lavender, 1 drop Rosemary
3 drops Wild Orange, 2 drops Ginger, 2 drops Ylang Ylang
Completely customize your own body lotion; the sky is really the limit!
You can also use coupon code PRIMALGLOW in the Elder N Honey etsy shop for 15% off any tallow lotion or creams!
Simple Tallow Balm Tips & Tricks
I usually render tallow at home but you can also purchase grass-fed beef tallow from US Wellness Meats.
Each batch of tallow will be different, textures, colors & consistencies WILL vary. As each cow is a little different, so is each batch of tallow.
A little goes A LONG WAY! It is easy to overdo it with tallow, start small, especially with facial applications but also go nuts, you can use this anywhere on the body. Elder N Honey Co has even made a vanilla flavored personal lubricant with this balm.
Slather it on your feet and cover with socks to find the softest tooties ever in the a.m.!
Hair treatment Apply to the tips of your hair and gently tousle the roots for volume.
Chlorinated Swimming Barrier Tallow is almost identical to our natural barrier oils, an application reduces chlorine exposure.
Completely shelf stable, well rendered tallow will keep basically forever if kept well stored, but for sure a good 2 years without refrigeration.
Do NOT ADD WATER or anything containing water to these lotion recipes, you can completely avoid the world of preservatives (this includes most aloe based additives, etc.).
If you like making your own skin lotion, I know you will also enjoy homemade toothpaste. This Bentonite Clay Toothpaste recipe is now my favorite!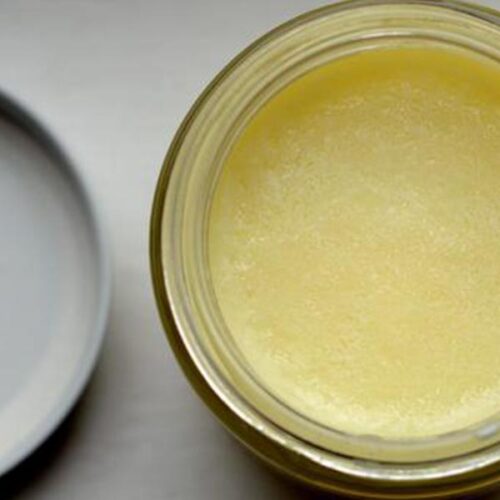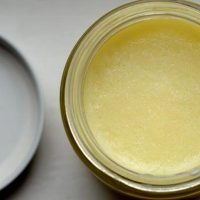 Simple Tallow Balm | DIY Lotion
Make a Simple Tallow Balm in 3 easy steps. The whipped spread is a luxurious all-purpose DIY lotion for legs, arms, and face.
Print
Pin
Rate
Equipment
Electric mixer

Container with lid for storing
Instructions
Place tallow in a mixing bowl.

Pour soft oil and optional essential oils over the tallow

2 tablespoons extra virgin olive oil,

5-10 drops essential oils

With an electric mixer, mix the ingredients until fluffy.

Store just like any other lotion in a clean air-tight vessel with cap.
Made this? Leave a Rating! ⭐⭐⭐⭐⭐
Tag a photo with @Primal_Mom and #PEHrecipe on Instagram to share with us!
Try all of my other easy tallow skin care recipes too!